Opinion
NYU Class on BDSM Promotes "Affectionate Cruelty" to Students
A course at New York University subjected undergraduates to a class session on "BDSM, kink, and polyamory."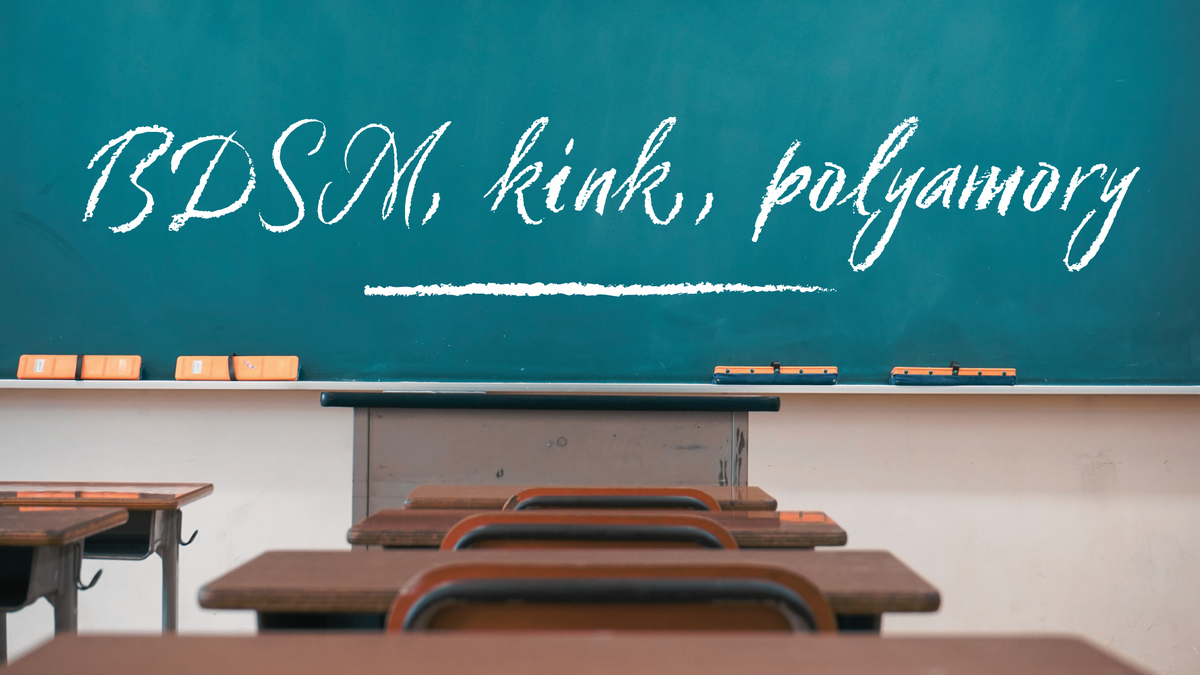 On March 22nd a course at New York University titled "Sex Matters: Identity, Behavior and Development" subjected undergraduates to a two-hour class session on "BDSM, kink, and polyamory" over Zoom. One purpose of the lecture, as stated in the Prezi presentation, was to enlighten students with the notion that "the BDSM lifestyle is valid and should be seen as a positive aspect of one's life." The letters in "BDSM" stand for Bondage, Dominance, Sadism, and Masochism.
A student in the class, who wished to be addressed by the pseudonym "Mina," provided a copy of the recorded lecture to 4W and spoke to us about her experience.
The professor leading the course, Adriana Rego, MD, is faculty at Columbia University but teaches part-time at NYU. The two educators she invited to guest lecture were a sex therapist named Rachel Klechevsky, LMSW, and a self-proclaimed former sex worker and Dominatrix who "educates under the name of Domina Franco." The duo met at a master's degree program on Human Sexuality Education at Widener University.
BDSM Lecture Teaches Students to Normalize "Psychological Torture"
The lecture began with an introduction by Franco, who informed the class that "I also guest lecture a lot on sex workers' rights" and that her interests are not limited to BDSM but also kinks and "paraphilias that people consider problematic such as bestiality" and "necrophilia."
Franco explained that BDSM incorporates a wide range of "play."
"Play," in Franco's words, refers to "danger or pain or psychological torture" including, but not limited to, "flogging, whipping, tying"; "knives, breath play, fire, electric"; and "blood play, cutting"–all of which is intentionally given and received with "joy."
"I'm a joyful sadist," said Franco, "I love giving pain to people who want to receive it."
Because there wasn't enough time to catalog all the joys of torment, a diagram titled "Jars of Kink" was provided to students as a supplemental resource. Some notable kinks include "orgasm denial," "caging," "CNC" (consensual non-consent), "manhandling," "humiliation," "degradation," "Marks & Bruises," "Master / Slave," "pain," "punishment," and "knife play" complete with an emoji knife: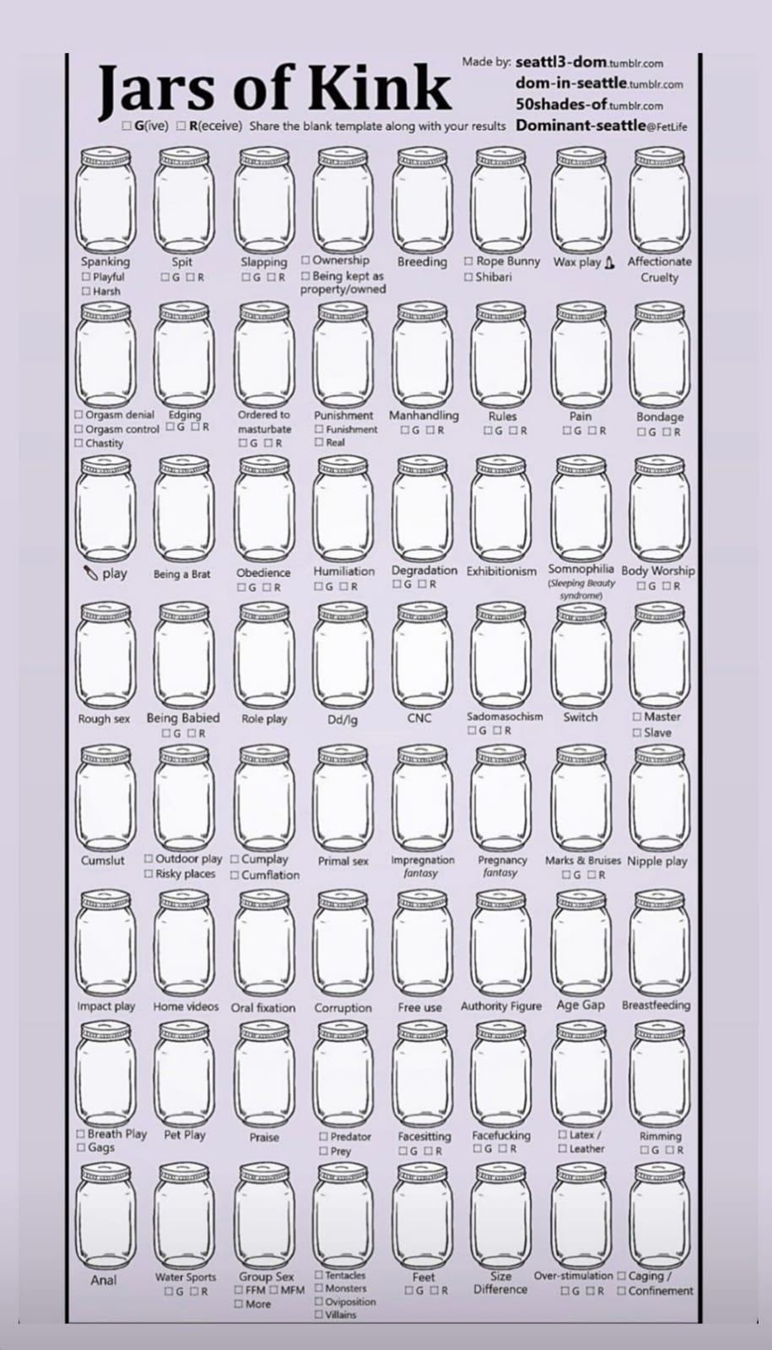 The kink "affectionate cruelty," (rightmost jar in the first line) as Mina explained to me, "is where you beat the shit out of somebody and then you give them affection…that's like trauma bonding."
Other additional resources given to Mina and her peers included a link to the BDSM website Fet Life and a mention of "Pennsylvania candidate former sex worker tik tok: Alexandra Hunt."
"It's Orwellian, like an indoctrination program," Mina said in our interview after class, "I felt like everyone around me was brainwashed. I really felt like I was sitting here in a dystopian novel, like it's 1984. I felt like I was in a cult setting and they were trying to program me."
Culture of Fear and Silence Prevents Students from Speaking Up
Though she found it "horrible to see this normalized" Mina said she was too scared to say anything.
"I let it run its course because I knew I didn't stand a chance there. I knew I couldn't say anything there, not against the experts, not against everyone there. My feelings would not have been validated at all if I raised my hand and said this is misogynistic or as a victim of abuse and gaslighting this offends me."
According to Mina, the "experts" made it clear that objections to BDSM are considered regressive. After Franco's introduction, Rachel announced, "we're going to discuss sex positivity." She emphasized that "sex negativity came first."
"Sex positivity suggests that there is no inherent meaning to sex and sexuality."
Klechevsky set up a dichotomy between puritanism and BDSM:
"In the U.S. sexuality is associated with Morality. Morality meaning that anything that's considered non-procreative sex is considered immoral and it [sex negativity] prohibits pleasure."
She added that, "There's a lot of white supremacy living in sex negativity" since "sex negativity assumes the inferiority of cultures that do not only value procreative sex."
Students next learn that the positive way to look at sex is to view it as utterly worthless:
"Sex positivity suggests that there is no inherent meaning to sex and sexuality," said Klechevsky. "Sex positivity denies a moral association with sex and acknowledges that values of sexuality are culturally substantiated."
"It's absolutely like a religious cult."
Mina disagreed with this lesson: "I don't think we should teach kids that it doesn't have meaning. Sex is an important thing, and it should be a sacred thing and, like, a good thing under certain circumstances," she told 4W.
The speakers also insisted that you "cannot be sex positive without being intersectional," which means that you must reject the "white feminism" of the past, which was "sex worker exclusionary," "trans exclusive," "classist," and "exclusive of black, brown, Asian, disabled women."
Franco insisted, "we're actively trying to be anti-racist, anti-capitalist."
"It's absolutely like a religious cult," Mina said, "They try to make you feel like you're crazy and like you're the one who's uneducated and you don't know something and everybody else knows and you're not enlightened. You're not woke. You're bad and wrong and all you have to do is repent. Admit that you're wrong."
Rape and Underage "Fantasy" Sex Condoned
After having told the class that "sex positivity denies a moral association with sex," Klechevsky asserts the correct moral position on sex: "any sexual fetish which violates the consent of others–that is a moral issue."
Except, of course, when participating in "consensual non-consent" (referred to as CNC in the jars diagram). As Franco explained, "Consensual non-consent fantasies, or what has been formerly known as rape fantasies, are actually incredibly common, incredibly common." Though, "socially it's not acceptable" there are luckily "fetish places where perhaps they find acceptance" and "that sort of dissolves some of the shame."
The rape scenario was one of the fantasies that distressed Mina the most: "now I know that a lot of men fantasize about raping women so when I walk down the street, I'm like that man might fantasize about raping me, great," she said.
"It's the whole myth women want to be raped. They ask for it. Why would a man get off on hurting a woman? Why just accept it? Because in the past people were sex negative the opposite is being 'sex positive'?"
"They're upholding the patriarchy and violence against women. It's grooming and it's normalizing abuse."
Even underage sex scenarios were sanctioned so long as the parties involved are of age. "As long as that person is a consenting adult, regardless of how young they look, there is no pedophilia there," said Klechevsky in response to a student who asked if fantasizing about being a high school coach getting with his students was okay.
"As long as they are in a mutual dynamic in that role play. Does that person want to be an adolescent? Are they enjoying playing an adolescent, dressing like an adolescent, looking like one? If that's joyous from them and the person playing the adult, the coach or whatever…I don't see an issue with it."
"This is going in the direction of pedophilia, rape, violence against women," Mina told me, "Some things are wrong even if they said not to take a moral stance on it. Some things have a stigma for a reason. They're upholding the patriarchy and violence against women. It's grooming and it's normalizing abuse. It's normalizing abusive tendencies and gaslighting."
Lecturers Raise Questions About Validity of "Consent Culture"
"There's a lot of nuance around giving consent for someone to physically abuse you," said Franco.
Klechevsky followed this up by providing a critique of consent ethics, stating that "consent is a legal term which doesn't apply to interpersonal dynamics – not sex." She offered in its place a more sophisticated sexual morality grounded on what she termed "mutuality." Rachel criticized consent for being merely "transactional," whereas mutual sex is "enthusiastic" and "freely given."
Klechevsky observed that "we consent to things we don't want to do" and, for that reason, consent "isn't good enough." Consent is, as she put it, "a very black and white transactional concept" and "interpersonal relationships are nuanced." The "consent framework" is "living outside of nuance."
Franco, who supports what she calls "sex work," lamented that "People are still deeply entrenched in consent culture" which makes it difficult for them to see how "the ones with the most power, privilege and money" get away with abuse on the basis of consent. We need to have "Privilege and power awareness," since "some of us carry more privilege and power."
"They're collecting partners. They're not treating people with respect."
Franco gave her own example in which "Financial power was used against the submissives there [in the dungeon] who relied on that place for housing." She noted that there are often "bad players in the scene" who use "contracts to try to manipulate people beyond what they are actually comfortable doing."
Klechevsky stated that situations of power are ones in which "you're not prioritizing the other person's personhood. You're not prioritizing their needs and wants" since "The abuser only focuses on what they want." In polyamory, for example, "you get to be an abuser with consent," said Klechevsky, "because it's easy to find victims." There are "white cis het men" who "have harems. They're collecting partners. They're not treating people with respect." If someone "wields their power over them and as long as they didn't break the law it's considered consensual." For all these reasons, she advocated, consent is an insufficient moral criterion.
When asked if she thought people, especially women, would be more likely to consent to abusive sex acts in order to prove that they were 'sex positive' Mina responded, "Absolutely."
"If not, you're a bigot and you're a prude and you're being sex negative and you have to know how racist that is, how that upholds the cis-white heteropatriarchy."
---
As a feminist philosopher watching this lecture from the outside, the failed logic and moral inconsistencies of the ideology presented in the lecture were as numerous as they were baffling.
For starters, the foundation on which their entire argument rests is itself a fallacy. By making puritanism the only alternative to "sex positivity," they set up a false dichotomy–a strategy I examine at greater length in another article.
Despite advocating for the view that sex is meaningless, the presentation itself seemed to refute the notion that sex is meaningless. After all, if sex were truly meaningless how could it come to be a significant locus for power? People engage in elaborate sexual fantasies and scenarios precisely because sex is imbued with psychological, interpersonal, spiritual, and political meaning.
Sex Positivity: Where all Desires Are Valid?
What the lecturers proposed was not a rejection of morality or nihilism when it comes to sex. "Positive" and "negative" are value terms. What they offered was a perverse new morality that demands we approve all sexual desires, regardless of how cruel or self-hating they are, simply because people have them. Those who judge BDSM negatively are themselves to be judged and re-educated.
Ironically, their new definition of sex negativity would seem to apply to several of the kinks the lecture listed, such as "orgasm denial," since they prohibit pleasure. Perhaps we ought to consider sex negativity itself a kink and arrive at the delightfully absurd conclusion that it's sex-positive to be sex-negative? Denying sex and pleasure is only "negative" when it's done for a religious or political reason, not because you just like suffering.
One also wonders where the line is drawn, if at all. Is fantasizing about being a white slave master raping a black slave woman sex positive? If this fantasy is not okay because racist thoughts are bad and BDSM is supposed to be anti-racist and intersectional, then why are other thoughts such as misogynistic rape fantasies not also bad?
Inconsistencies in Views on Consent, Mutuality, and "Sex Work"
While the presenters' differentiation between consent and mutuality produced a nuanced sexual ethic, the educators failed to realize that their own insight undermines their earlier advocacy in favor of the buying and selling of people for sex, or, what they refer to as "sex work."
In Franco's own words, sex is not mutual if "someone has a money–like a financial–power over somebody else."
Given that many sex buyers are white middle-class men, many of whom are married, and prostituted persons in the US are disproportionately black women, wouldn't the "power dynamics" at play in much prostitution be those of the white heterosexual capitalist patriarchy Franco and Klechevsky presumably despise?
The very act of purchasing a body implies non-mutuality and transactionality. Sex is paid for because it is unwanted. The prostitute unenthusiastically "consents" to sex for cash and the buyer's payment gives him power over her. The buyer's money establishes that she must submit to his sexual demands without making any of her own. It's hard to see how anyone who believes sex should be mutual, enthusiastic, and pleasurable for women could celebrate prostitution.
One might also ask Klechevsky, who complained that straight "sex is very male-oriented, very penetration oriented," what she believes occurs between a John and a prostitute.
BDSM Language: Orwellian Doublespeak
Mina, who is a lesbian, felt that Franco's equation of top and bottom with domination and submission was homophobic: "they appropriate gay terminology and equate it with degeneracy and kink. "Top" means the same thing as "dom" and they talk about giving and receiving pain. They equate sex with pain."
She compared Franco and Rachel to the Party in Orwell's 1984: "They asked you to reject the evidence of your eyes and ears. It was their final and most essential command. And I could just feel everyone in front of me saying 'having a rape fantasy is okay.' It's not okay."
By both celebrating and condemning power-structured relationships the lecturers exemplified Orwell's concept of doublethink, namely, "the power of holding two contradictory beliefs in one's mind simultaneously, and accepting both of them."
Mina also compared the claim that cruelty is "positive" to the Party's famous threefold mantra from the book: "War is peace. Ignorance is strength. Freedom is slavery."
"This is exactly what it is. Pain is pleasure. Hurting is loving."
Indeed, when anti-morality is morality, cruelty is love, positivity is meaninglessness, domination is liberation, anti-capitalism is sex work, and men are women, we have entered an Orwellian dystopia from which it is difficult to imagine an exit since even the most seemingly self-evident principles of reason and reality have been abandoned.
---
4W provides paid writing work for over 50 women in countries spanning the globe. This work is made possible thanks to our paid monthly subscribers. Join today to support our work!
Enter your email below to sign in or become a 4W member and join the conversation.
(Already did this? Try refreshing the page!)