Gender Identity
Athletes Speak Out Against Males Competing in Female Categories at the Olympics
"This is unfair," said Chris Tomlinson about the decision to allow Laurel Hubbard to compete in women's weightlifting.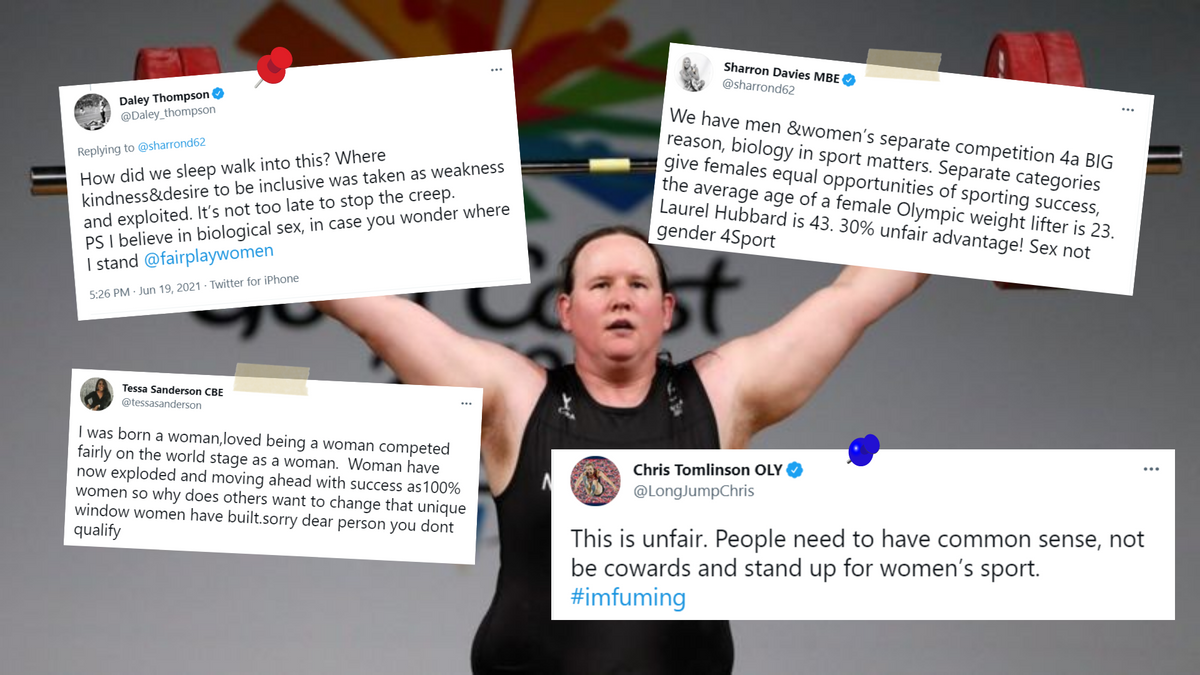 On June 21, New Zealand announced that Gavin Hubbard, who calls himself Laurel now, qualified in the women's weightlifting category for the New Zealand team at Tokyo Olympics 2021, sparking a wave of support for fairness in women's sports among athletes.
Celebrity athletes like swimmer Sharron Davies and decathlon champion Daley Thompson are among some of the many athletes who have spoken out openly on social media and for media outlets about the announcement by Reuters, even though that is not the first time some of them have addressed the issue.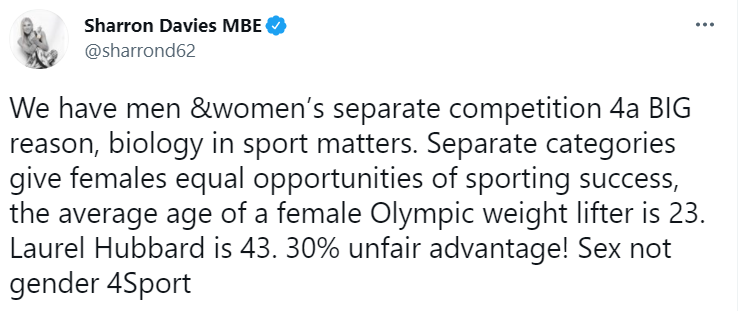 On the same day Hubbard's qualification made the news, Davies wrote on Twitter that there are men and women's separate competition for "a big reason." She added that "biology in sport matters," and categories separated by sex give females "equal opportunities of sporting success." In response to one of her tweets about women's rights, Daley Thompson enquired "How did we sleep walk into this?" and stated that he believes in biological sex.
Davies and Thompson are joined in their concerns by several other sportspeople who have been speaking on this matter for months, such as Olympic champion Dame Kelly Holmes, former marathon runner Paula Radcliffe, tennis player Martina Navratilova, former Samoa rugby player Daniel Leo, Olympian medalist Inga Thompson, and former paralympian Tanni Grey Thompson.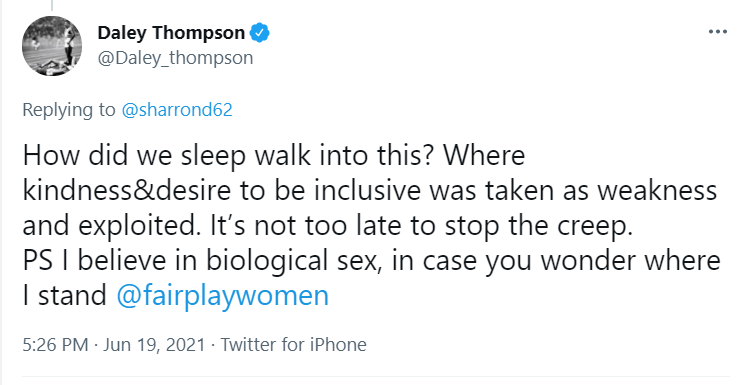 According to the Daily Mail, in May 2019, Davies, Dame Kelly Holmes, Paula Radcliffe and "60 other top-class athletes" wrote to Thomas Bach, president of the International Olympics Committee (IOC) expressing their concerns about the inclusion of male-born athletes in women's competitions, but they never received a response until the present moment.
After the announcement of Hubbard's qualification, other athletes who had not spoken before on males' participation in women's sports challenged the rulings, including Andy Turner, James Guy, Tessa Sanderson, Kyle Langford, Chris Tomlinson, Brett Frave, Ellie Baker, Lorraine Moller, Anna Van Bellinghen, Nigel Bakewell, Kate Allenby, Tracey Lambrechs and Mara Yamauchi.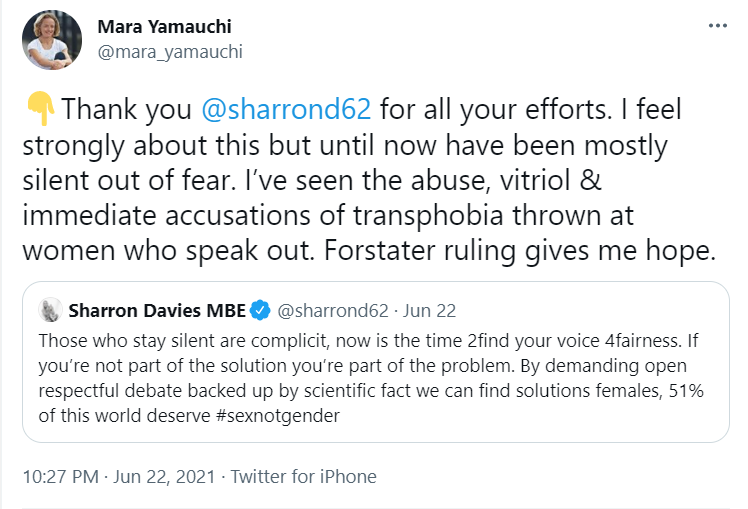 Long-distance track and road running athlete Yamauchi thanked Davies for her efforts and admitted that until now she kept silent out of fear of "abuse, vitriol and immediate accusations of transphobia thrown at women who speak out". She added that the ruling in Maya Forstaster's case, which recently gave gender critical feminists the right to not be discriminated against when talking about biological matters, gave her hope.
When thanked by a Twitter user for speaking out, gold medalist Tessa Sanderson responded: "I was born a woman, loved being a woman, competed fairly on the world stage as a woman. Women have now exploded and are moving ahead with success as 100% women so why do others want to change that unique window women have built?", she asked. Others, like Leo, Guy, Thomlison, Turner and Langford all stated that Hubbard's qualification was unfair to female athletes or called sports bodies to "common sense."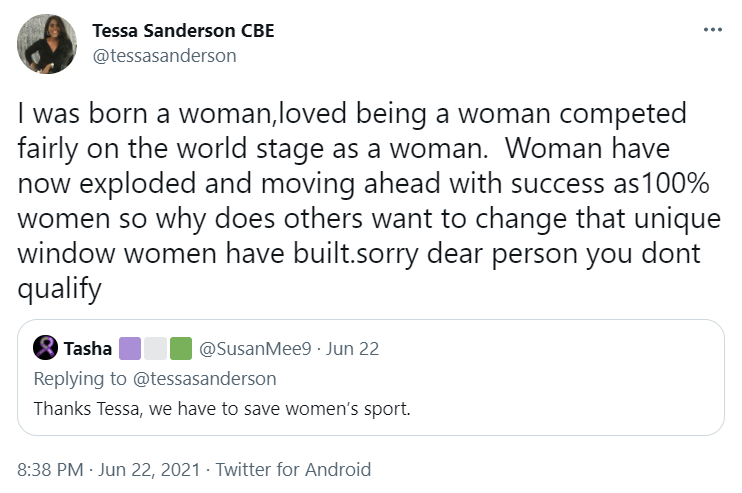 For MSN sports, football player Brett Favre called the ruling and Hubbard's subsequent qualification unfair. Favre has been open about his opinion of the inclusion of males in women's categories since 2020, after he discussed head trauma in a sport's podcast. Since then he has been speaking up on his own podcast, "Bolling With Favre," about other male athletes who have been allowed to compete with women.
New Zealand sportspeople are some of the most outspoken ones about Hubbard's qualification. On June 7, about two weeks before Hubbard's qualification was widely reported by the media, former Olympic athletes announced a challenge to New Zealand's government guidelines which allow males to qualify for Tokyo 2021 in women's categories.  Some of the most successful sportspeople in the country wrote an open letter to Prime Minister Jacinda Ardern and Minister for Sport Grant Robertson. The letter, signed by 43 athletes, including Barbara Kendall, Dean Kent, Alison Roe, All Blacks, Jeff Wilson and Alison Sydor, raised concerns around "fairness and safety" and urged the government to become aware of the rights of female athletes.
Retired professional cross country mountain cyclist, Alison Sydor, was challenged by a Twitter user about her qualifications to speak about males in women's categories. Her response went viral when she retorted that her qualifications were irrelevant, but since she has competed in four Olympic Games, has an Olympic Medal and a 20 years career as a professional athlete, she will keep "speaking up on this issue that affects all the female athletes coming up after her."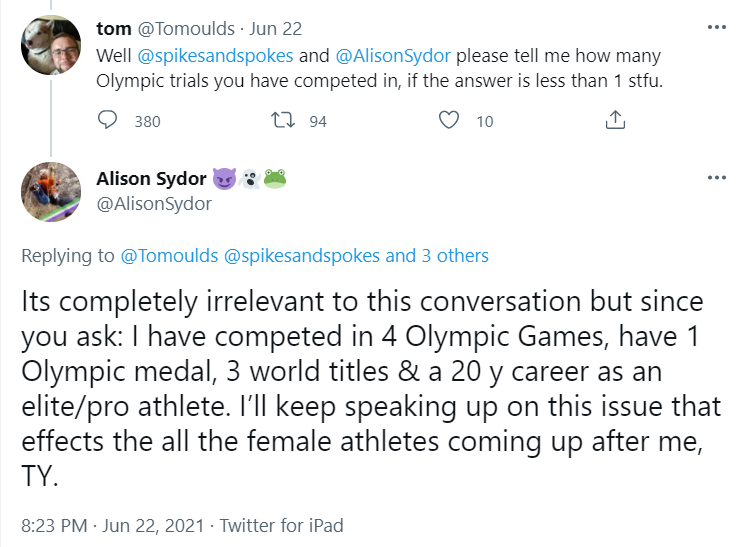 Elite athletes have also been speaking out on social media about Kuinini 'Nini' Manumua, the 21 year old weightlifter of Tongan descent who was left out of what would have been her first Olympic competition because of Hubbard.
Sydor said that "Sport's a zero sum game - #KuininiManumua was excluded," while middle distance runner Kyle Langford tweeted that he felt bad for the 21 year old "whose dreams have been snatched away." Tessa Sanderson wrote that it's "sinful that this lady who's worked her real socks off to be kicked out of her 1st olympics," and Andy Turner echoed the sentiment, writing that Manumua "had her dreams literally stolen from her."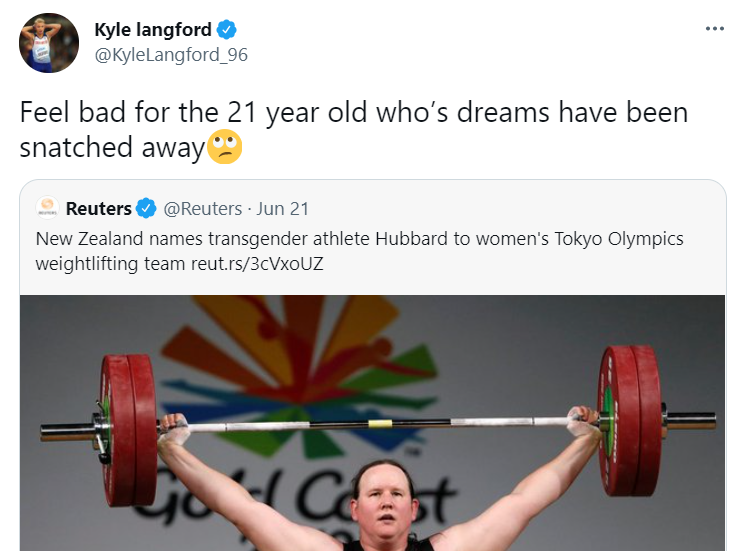 Belgian weightlifter Anna Van Bellinghen, who will be competing with Hubbard, said to Inside The Games that "dealing with transgender issues in sport is 'impossible' but the presence of Laurel Hubbard in the Tokyo 2020 Olympic games is 'like a bad joke' to women athletes." And former New Zealand olympic weightlifter Tracey Lambrechs told Fox News on June 23 that the "inclusion of transgender athletes could ruin women's sports."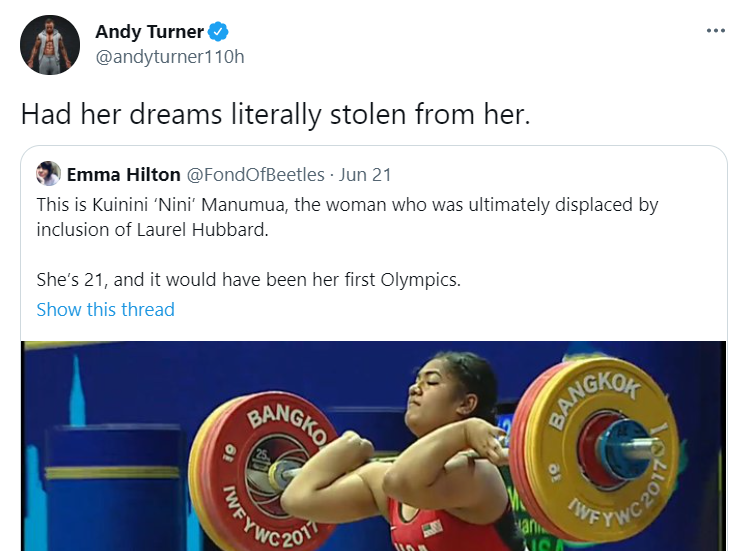 How did Kuinini Manumua lose her chance at her first Olympic Games to Hubbard?
According to information posted on social media by developmental biologist Emma Hilton, Kuinini Manumua ended up not qualifying for the Olympics this year because only the top eight athletes straightforwardly qualify. She showed a chart with world qualifications, explaining that after outright qualification there were "continental places up for grabs for those ranked nine or lower." Hubbard comes in the 7th position on the chart. Charisma Tarrant Amoe comes 9th, but her performance makes her eligible to qualify for Oceania. The next qualifying athlete from Oceania is Manumua, but with Hubbard's qualification, she is "bumped out" from Oceania qualification for coming 14th.
So far, there is no news of Manumua's reaction to not qualifying for Tokyo 2021. According to Hilton's post, Kuinini Manumua is an American of Tongan descent. She competed for the USA team as a junior, and now represents Tonga as a senior.
---
Do you want to bring the "gender madness" to an end? Help us write about it! 4W is able to pay our all-female staff and writers thanks to the generous support of our paid monthly subscribers.
Enter your email below to sign in or become a 4W member and join the conversation.
(Already did this? Try refreshing the page!)