activism
French Feminists Speak Out Against Violent Attacks
"Five years ago, it was still possible to say that prostitution is violence against women without being harassed. It's not the case anymore."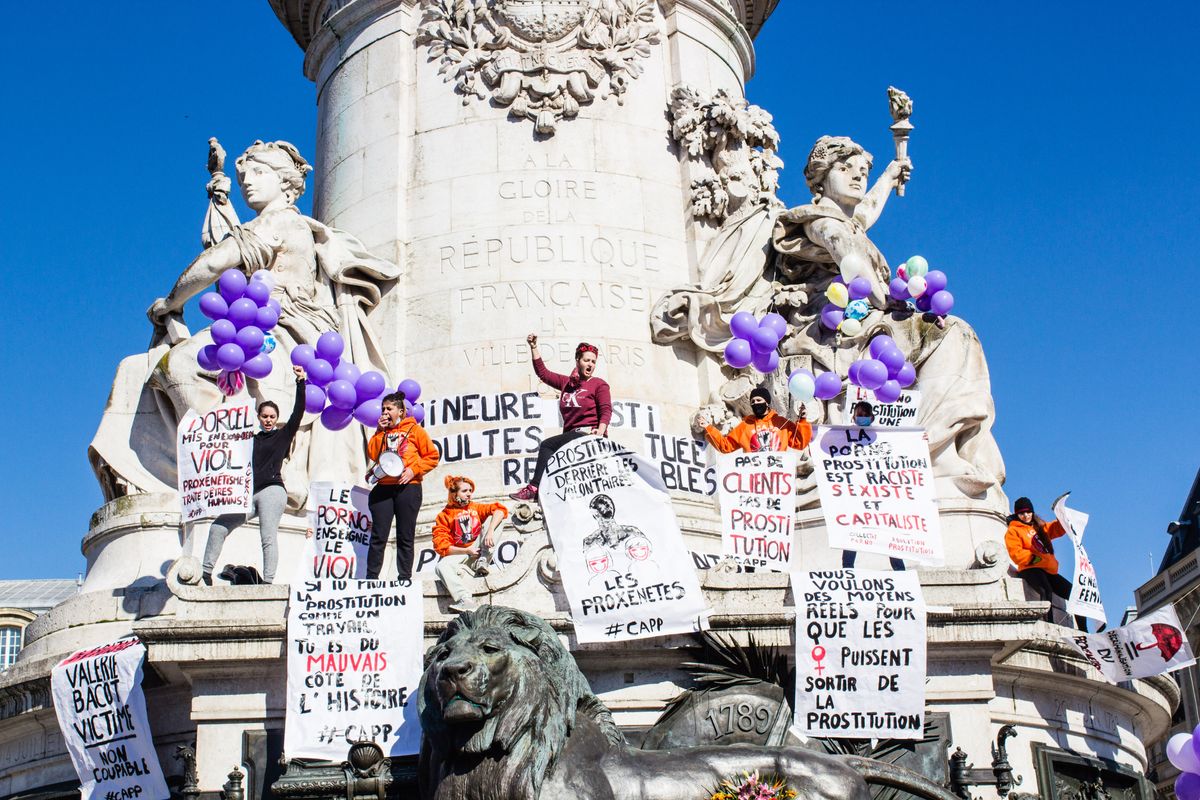 On the eve of International Women's Day in France, Sunday March 7th, a feminist protest against prostitution was attacked by antifa and queer "feminist" groups. The gathering was organized by CAPP (Collective for the Abolition of Pornography and Prostitution), run by prostitution survivors and supported by collective L'Amazone, founded by feminist Marguerite Stern.
According to a member of L'Amazone who wishes to remain anonymous for the safety of the collective's members, women from the CAPP group climbed onto the statue in the middle of the Place de la République in Paris, where they displayed their collages and banners against the sex industry. Members of L'Amazone joined on the ground in solidarity to support the action and protect the women who climbed the statue.
That's when the antifa and the queer feminist collective groups arrived at the scene and started yelling "whores" and "sluts" at the women who climbed onto the statue, giving the middle finger, destroying banners, throwing eggs, threatening to throw a glass bottle and punch the protesters. These attacks lasted for at least two hours.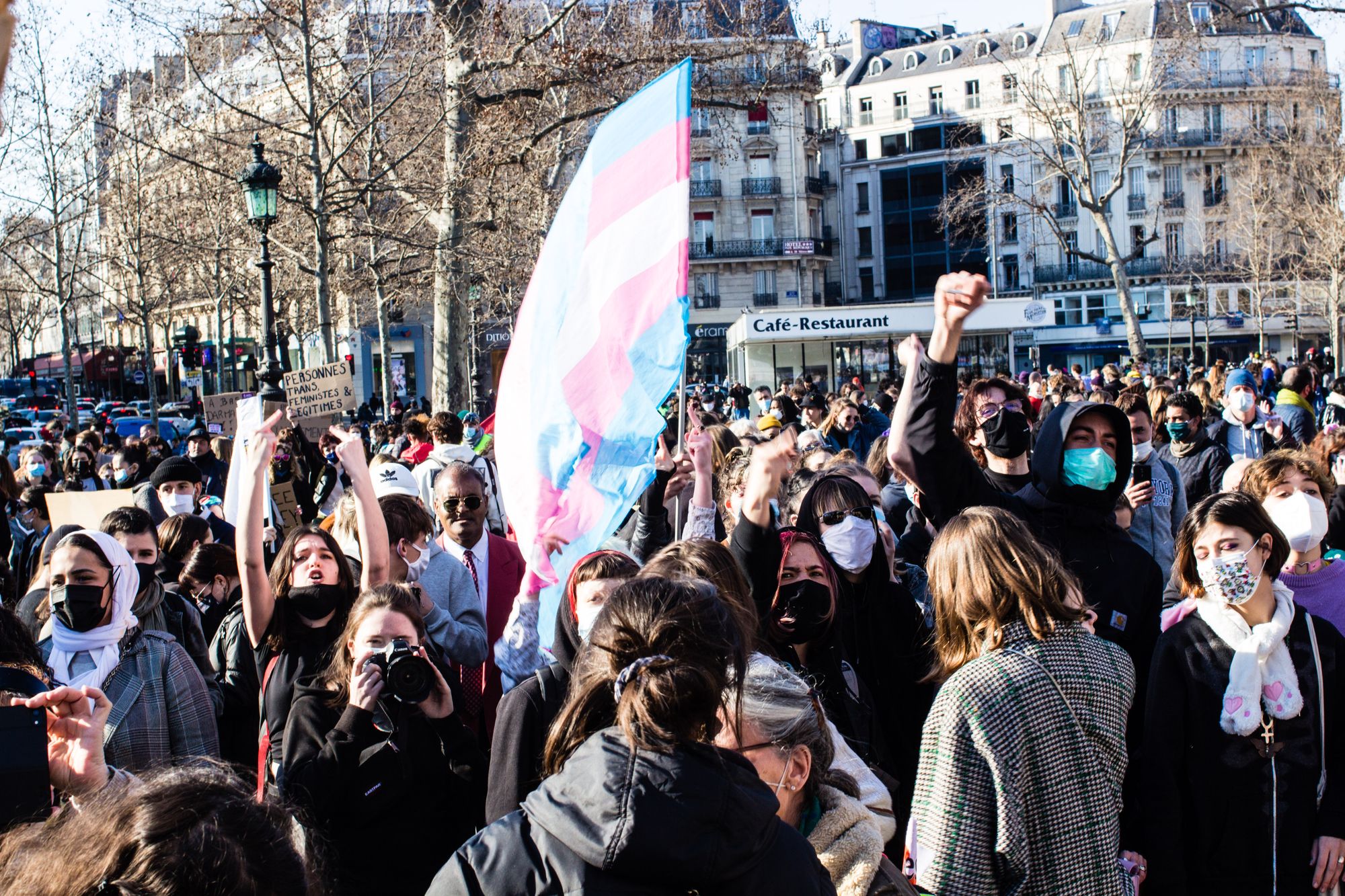 The French branch of the group FEMEN, of which Ms Stern used to be an active member, also came to support CAPP and L'Amazone later. They were on the other side of the square where a nonviolent  protest was taking place before the arrival of the attackers, supporting Corinne Leriche, the mother of Julie, a young woman who was raped by 20 firemen when she was a teenager. They were also attacked by the antifa and the queer activists, and later joined the other feminist groups in support of the protest against prostitution and to "ensure the safety of the protesters." Other women who also came later to help the CAPP members included members of the group "Chiennes de garde" (former members of the french Women Liberation Movement) and "Osez le féminisme," one of the most popular feminist organisations in France.
Speaking to 4W, a member of L'Amazone recounted how Ms Stern was particularly targeted during the attack. After yelling and insults, the violence eventually led to the attackers throwing an egg on her face. Fearing more violence, the women decided to leave but were surrounded by the groups that came to disrupt their gathering, and a cordon had to be put in place for them to be able to leave.
"Many women are afraid to say that they are radical feminists, many lose friends because of that. We don't lose jobs yet but I'm afraid that it will come."
Members of CAPP held signs with messages like "Prostituted minor, guilty adults," "Pimps and clients are criminals," and "Prostitution clients are rapists." France has a long history of feminist activism against the sex industry, as our source pointed out.
The purpose of the action by CAPP was to fight against the commercialization of female bodies in the sex industry. Apart from slogans like "Prostitution is a war against women," "We demand funds so that women can exit prostitution," they also displayed details of court accusations against French porn producers. The groups that attacked the protest, however, claimed that the action was "trans exclusionary" and, between physically attacking the protesters, swearing at them, and performing Nazi salutes, they sprayed the sentences "Save one Trans, Kill one Terf," and "One terf, one bullet, social justice" nearby.
In response to the violence she faced, Ms Stern told 4W:
"I'm not surprised at all, we just faced the same hate as the one we are used to face on social networks. The difference is just that it was in real (life), we faced our contradictors. It's just very sad to see that now the people who threaten feminists are not only' men, but a lot of women who are fighting against themselves. And yes, radical feminism is being more and more demonized in France. Five years ago, it was still possible to say that prostitution is violence against women without being harassed. It's not the case anymore. Many women are afraid to say that they are radical feminists, many lose friends because of that. We don't lose jobs yet but I'm afraid that it will come."
This recent backlash on French feminists is not new, though. According to the member of L'Amazone who spoke anonymously to 4W, French men fiercely oppose the end of prostitution, claiming that it would "negatively impact the seduction culture in France." Since 2016, anti-prostitution feminists have received a torrent of abuse after a law was passed to "punish men who consider themselves clients of women in prostitution," which, in effect, criminalized the "act of buying sex." Our source told us that sex work organizations "heavily criticized this law and have been spreading the lie that, with this law, women in prostitution are even more in danger, and that abolitionists are entirely responsible for all the violence and death of women while in prostitution."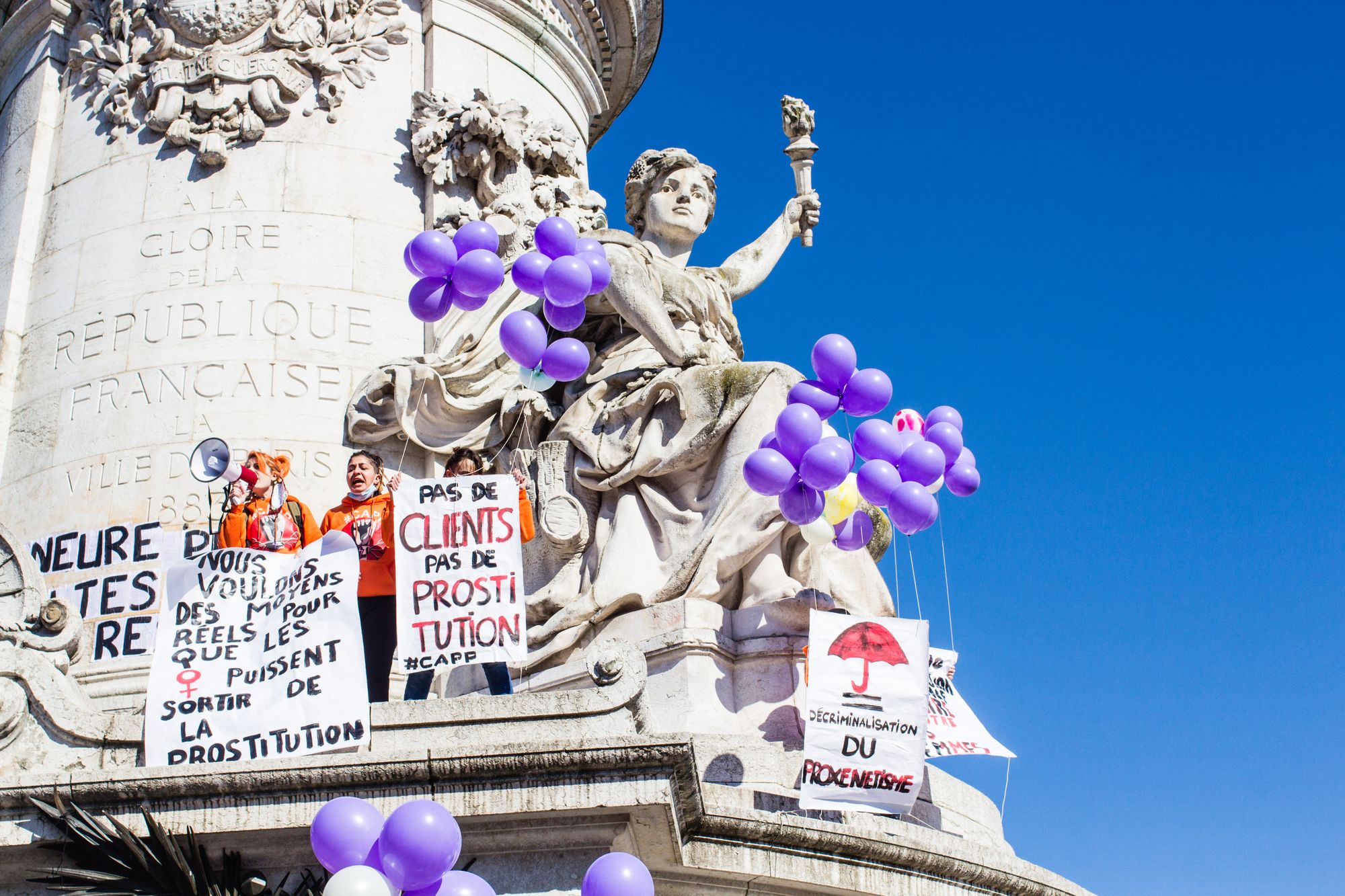 On IWD last year, 2020, two other women (one of whom is a prostitution survivor) from CAPP were marching while holding a banner with the faces of women who died in the sex trade. An antifa group "confiscated" their banner and physically assaulted them. The women endured serious injuries and were unable to work for nearly a month.
This year's IWD protest also left the feminist protesters traumatized, according to the members we spoke to. Many are taking time away from social media, but none of them are giving up on women's rights. The French feminist collectives are planning new actions, especially after art by feminist Pauline Makoveitchoux was destroyed on March 10 by trans allies who considered her work "transphobic."
"Today, I refuse all commands concerning my thoughts, my actions and my language."
Pauline's series of photographs, displayed twice around cities close to Paris for free, is a project called "Women Are Not Afraid," that aims to put into perspective "women's legitimacy to exist in public spaces, and denounces the daily harassment and sexist and sexual assaults  committed amidst general indifference."
Ms Makoveitchoux, who has been a self-taught photographer for many years, started her photo series with friends, but, as the project grew, she met 140 women who shared with her "their stories and their traumas, which were directly linked to misogynistic violence: aggressions, rapes, domestic violence." The second exhibition of this artwork, in Vitry-sur-Seine, her hometown, was defaced: the pictures of the women who shared their stories were torn from the wall. Pauline, too, won't give up. She says: "Today, I refuse all commands concerning my thoughts, my actions and my language."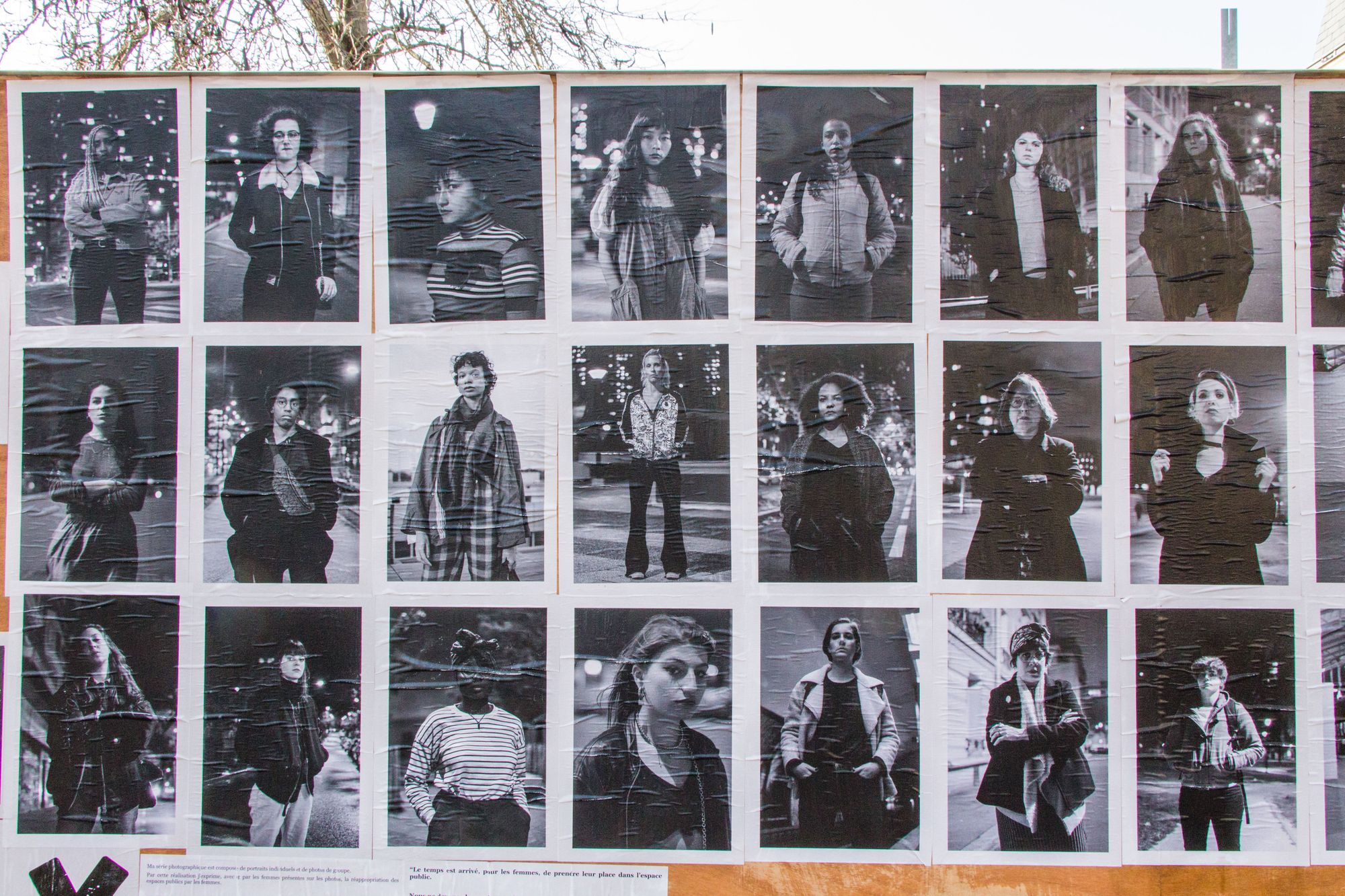 Beyond the backlash on IWD, our source from the collective L'Amazone explained how French women are not allowed  to fight against female oppression anymore, because it's not "inclusive." According to her, recently, an initiative to give free period products to women in French universities was launched, taken over by FAGE (Federation of General Student Associations). Their solution was to place dispensers for period pads in university halls instead of the women's bathroom, because, according to them, "not only women have periods."
"Whenever a woman's issue is talked about or shared in social media, TRAs will storm to comment that trans women need to be included. When 'woman' is used in a subject highlighting a feminist issue, TRAs will also come in and say that "woman" is not an inclusive word and that trans men and non binary people need to be included as well. They push for the use of words like 'sexed people', 'menstruators' and other dehumanizing language."
You can learn more about the work of French feminists and connect with their organizations on Twitter: @CappRadfem, @l_amazone_, @ChiennesdeGarde, @osezlefeminisme.
---
Photos in this article are provided courtesy of Loïs Kalwig
---
Do you want to bring the "gender madness" to an end? Help us write about it! 4W is able to pay our all-female staff and writers thanks to the generous support of our paid monthly subscribers.
Enter your email below to sign in or become a 4W member and join the conversation.
(Already did this? Try refreshing the page!)