UK
Gemma Aitchison Transforms Trauma to Inspire a New Generation of Feminists
'Yes Matters' founder on trauma, tackling stereotypes and the perks of dressing like a dickhead.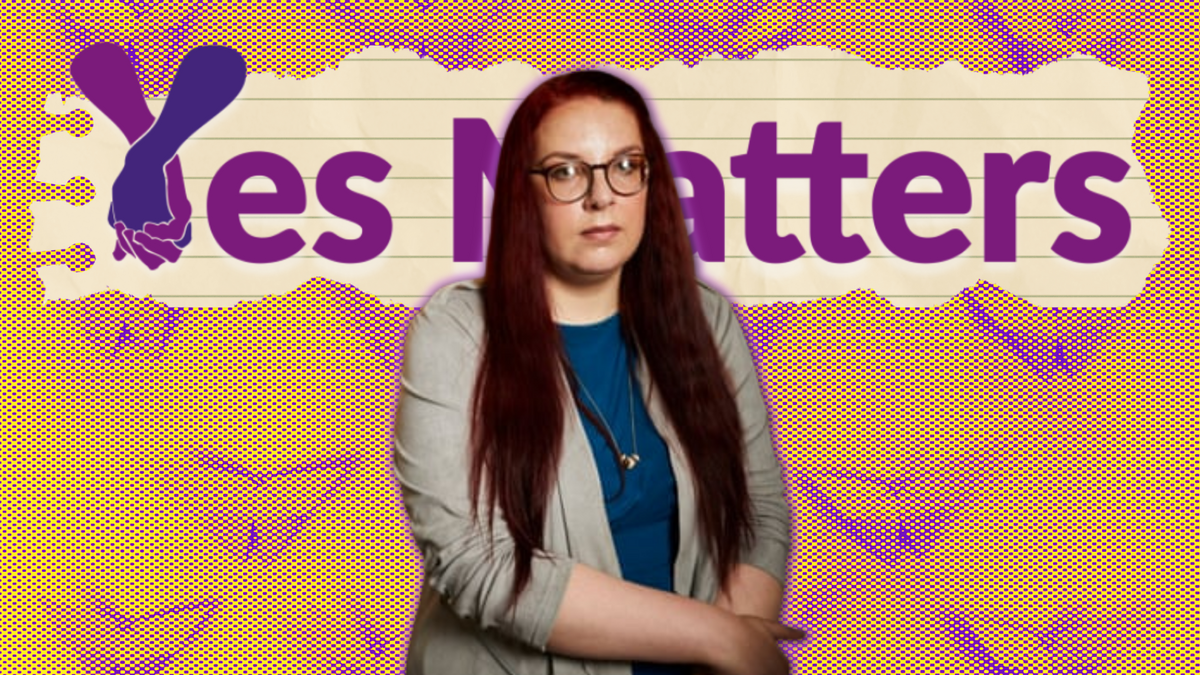 Feminist activist Gemma Aitchison didn't grow-up with an ambition to change the world. She tells me "I'm from a council estate in Bolton. No-one in my family was interested in politics, because when you're on the edge of poverty you're not focused on the bigger picture." But today, the 35-year-old founder of Yes Matters is on a mission to teach everyone from school children to politicians, about "the links between pornography, objectification, gender stereotypes and male violence."
What politicized Gemma wasn't reading a pamphlet or attending a demonstration, it was the murder of her little sister, sixteen-year-old Sasha Marsden. Sasha was lured to a hotel with the promise of a cleaning job, once there she was stabbed 58 times by sadistic misogynist David Minto. Rather than confess, Minto repeatedly lied, meaning Sasha's family and friends were forced to endure a trial. When Gemma sat in court, listening to testimony from David Minto, she spotted something revealing in the words he used.
"He called my sister 'it' and 'that.' He talked about her as if she was an object. And I realised that I'd heard that language before. From male friends of mine who would say things like 'check that out' when a woman walked by."
Recognizing the huge significance of this tiny detail, Gemma became determined to follow the links between objectification and men's violence toward women and girls. It was a journey that ultimately led her to founding Yes Matters, an organisation which supports victims, challenges gender stereotypes and delivers training.
"What I did initially was reading and learning. I discovered all these brilliant women, feminists, who had words and theories to explain things that I'd felt and noticed."
In the months following the verdict, Gemma joined a network of feminist activists through Everyday Sexism Project and No More Page Three. But things really changed when she wrote to then Labour Party leader Ed Miliband MP about the challenges of bringing-up her autistic son in a "world where pornography is normalised and the murder of three women each week is just accepted."
"I ranted at him in my letter- I didn't expect a reply to be honest. But he invited me to meet with him in Parliament, so I went."
After some private meetings with politicians, including a chance confrontation with then Prime Minister David Cameron, Gemma found herself unexpectedly facing a "sea of photographers" for which she was unprepared. On reflection, Gemma admits to being "naïve" about the probable political motivations, but Miliband continued to support her work. And the relationships Gemma made with political movers and shakers turbo-charged Yes Matters.
Alongside running Yes Matters and caring for her autistic son, Gemma decided to study for a degree at Bolton university.
"I'm not the most confident person, and because of my background I never expected that I was clever enough to get into university. But I did, and I decided to study Youth Work because it was the youth workers who did the most to care for the victims of grooming gangs in Rotherham. Then I went onto do Community and Social Policy before completing a masters PGCE in teaching children with additional needs."
As part of her research into the links between violence and objectification, Gemma visited every strip club in Manchester to "listen to the strippers and learn from their experiences." What she heard chilled her.
"Some of the regulars in the clubs really hated the women there, they'd do things like heating-up coins and throwing them. One woman had a dead squirrel thrown at her. Like men's rights activists, the punters saw the strippers as using their sexuality for power, without ever thinking about the male club owners who keep most of the money. I discovered three venues that hired underage girls. I let the police know, but I don't think anything happened."
Gemma was asked to present findings from her dissertation in Westminster. But perhaps as importantly, her research has informed the training she now delivers through Yes Matters to school children, and the support she offers to victims of sexual exploitation.
"Often the girls we help will love the perpetrators and not want to get them into trouble. But when they see others in the same situation it can help them recognise abuse in their own lives."
"I can cope with having chairs thrown at me by traumatised kids. And I can stand in front of a room full of police officers who hate me because I'm telling them what they do wrong."
Gemma is rarely ruffled- her dry, and characteristically Northern, sense of humor allows her to get a feminist message out even to those who might be resistant.
To mark International Men's Day, Yes Matters ran a campaign called "Don't be a Dick" to tell men in Gemma's words "nothing is going to fall off if you show that you care."
Dressed-up in budget Star Wars costumes, the Yes Matters team approached men in the street.
"That's when I discovered it's a fact that if you wear a brown dressing gown and throw a toy light sabre at a man, no matter who he is or what he's doing, he will not be able to resist joining in. That's how we engaged- we challenged them and then gave them leaflets explaining about the harm of gender stereotypes. So, they were in good spirits by the time they read our 'don't be a dick' message."
Yes Matters are expert at getting a message out with limited resources.
"It's the perfect way to start a conversation - and any costume I get off Facebook marketplace I can relate to feminism. I went to a meeting at Manchester town hall to give a speech dressed as a beer bottle. I put a slogan on it reading 'when he drinks it's not his fault, when she does it's all hers.' Dinosaur, burger, Disney Princess- whatever it is, wearing a costume is a great way to reach the public- people can't resist asking 'why are you dressed like a dickhead?' Then, I can get a stealthy feminist message out."
Gemma's work with Yes Matters busts the myth that feminists are out of touch and elitist. Whether speaking in the European Parliament or wearing a dalek costume on the bus, her message and that of Yes Matters is unwavering. Nearly a decade on from the murder of her sister and Gemma has become a powerful force for change. By building-up the self-esteem of girls, often those at the bottom of the pile, Gemma is not only giving them the tools to protect themselves, she's creating the next generation of feminist campaigners.
You can donate to Yes Matters here.
---
4W provides paid writing work for over 50 women in countries spanning the globe. This work is made possible thanks to our paid monthly subscribers. Join today to support our work!
Enter your email below to sign in or become a 4W member and join the conversation.
(Already did this? Try refreshing the page!)