UK
My Grand Day Out at Two Women's Rights Protests in London
Two demonstrations that made me believe British common sense is still alive.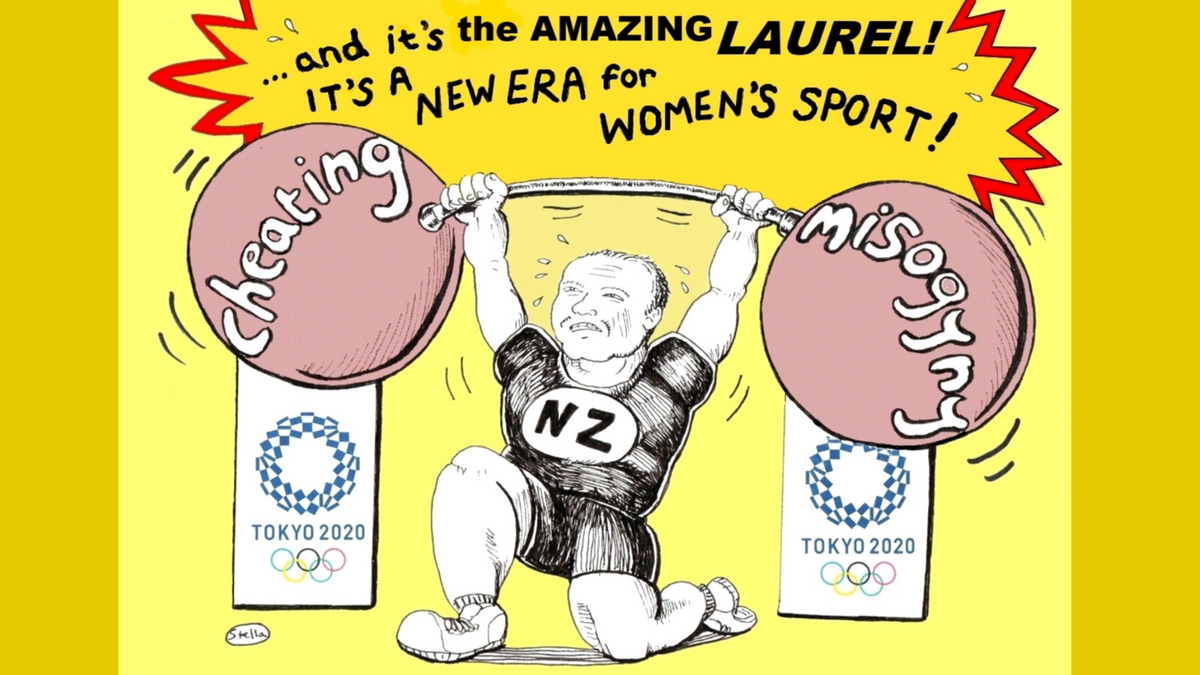 On Sunday, June 27, I went up to London on the train, a rare luxury after all the months of Covid restrictions. To me this is as adventurous as Wallace and Gromit's trip to the moon (especially apt as I come from Bristol, where the cartoon characters were made). And it turned into a very British, very "Grand Day Out."
I was headed to Speakers Corner, the iconic spot for free speech in the UK, where speakers and their hecklers are protected by long tradition, and Section 29J of the Public Order Act. Then, I continued to the protest outside New Zealand House, against men in women's sports.
I have made this trip four times, to see some of the bravest women in Britain speaking about the erasure of women's rights and language. This is an ongoing campaign to "Take back the Public Square, one corner at a time," because of the many women who have been banned from social media for stating biological facts.
It is my only opportunity to meet up with fellow campaigners in real life, because my own city is the Citadel of Woke in the west of England.
Back in August last year, I was there when the Black Lives Matter march was routed past us, and trans activists in their ranks broke away (against the advice of their own Stewards) to aggressively confront us as "Terfs."
That confrontation happened by accident – 15 minutes later, and we would have been away to the Pub. Under the Public Order Act, the police do not normally get involved unless there is actual violence. At Speakers Corner they usually just sit in their van and watch. Their presence at that BLM march prevented, in my opinion, the aggression directed at us escalating further.
On the early train, I see a cloudy, chilly English countryside, which I have been shut away from for months. I see deer, scampering away from the track along hedgerows. Polytunnels and isolated church spires. Brick housing estates of mock mansions, dog walkers and joggers, an old World War Two army pill-box in the middle of a farmer's field.
"The young ravers joined in with enthusiasm, taking selfies with us, singing and dancing in the street with some of our (younger, more able bodied) activists."
And I'm reminded that there is a whole country – a whole population – who are starting their normal Sunday morning as I whizz by, people who have not the slightest idea of these issues around women's rights, which myself and my fellow activists will be addressing at Speakers Corner.
Until very recently they haven't, that is. With the advent of GB News, the Jess De Wahls/Royal Academy scandal only a week ago, and the shocking inclusion of an obviously male weightlifter in the New Zealand women's team at the Olympics, which we were in London to protest - the public have become more aware of how trans-ideology has crept into every corner of our culture. And how dangerous it is: to women's rights, spaces and sports; to children, to education, to our criminal justice system.
That lonely WW2 pill box, which the farmer avoids with his plough (maybe it's a listed monument?) symbolizes for me the common sense of the British public. It's like a standing stone in the misty field of our national consciousness.
I found out that afternoon, at our protest outside New Zealand House, with our colourful placards and jolly songs ("Who do you think you are kidding, Mr Hubbard?"), that the megalith of British common-sense truly is immovable.
By another happy accident, just as before with BLM, a large noisy protest was routed past us. This time it was "Save Our Scene," ravers and clubbers protesting the long closure of their venues during the pandemic.
You can see the resulting good humour and support we received from the thousands of young people dancing their way through London, shepherded by tolerant police, who upheld our right to peaceful protest. "I'm not paid to have an opinion," as one of them said to us.
The respect we received, from London taxi drivers, shoppers, and the mostly working class ravers themselves, made this one of the most enjoyable demos I've ever been on. In my old age and state of decrepitude, they are getting fewer and farther apart!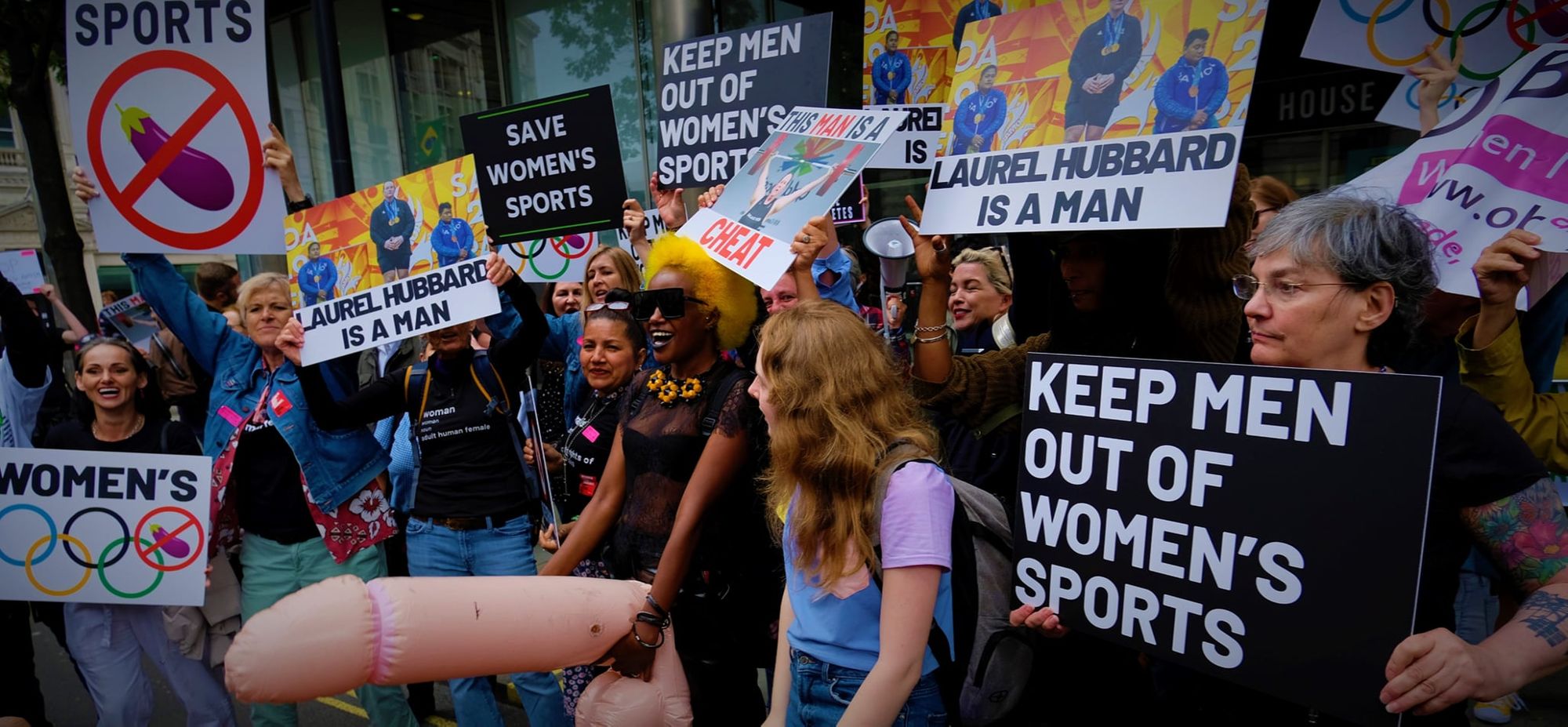 I was proud to be standing shoulder to shoulder with heroines of the "Fourth Wave" of feminism like Dr Julia Long, and Keira Bell, whose court case against the Tavistock Clinic is still awaiting a final judgement.
The young ravers joined in with enthusiasm, taking selfies with us, singing and dancing in the street with some of our (younger, more able bodied) activists. The picture of one of the ravers with an inflatable willy, surrounded by our placards, has gone around the world, even though, as usual, protests in central London are being ignored by the mainstream media.
I came back from London after my Grand Day Out, amazed that my legs could still make it, and uplifted by the evidence that good old British common sense is alive and well, a bastion against the forces ranged against free speech and free expression.
Those of us fighting the erasure of women's rights and language can feel comforted that we are sheltered in its shadow. The field around us will not be ploughed bare forever –  we can already see the new growth. The young green crop was dancing and singing through London, on a memorable weekend of protest. We saw it with our own eyes, even if it was not reported.
---
Do you want to bring the "gender madness" to an end? Help us write about it! 4W is able to pay our all-female staff and writers thanks to the generous support of our paid monthly subscribers.
Enter your email below to sign in or become a 4W member and join the conversation.
(Already did this? Try refreshing the page!)