Weird News
NY Mag Runs Article By Trans Journalist Who Previously Staged Own "Rape"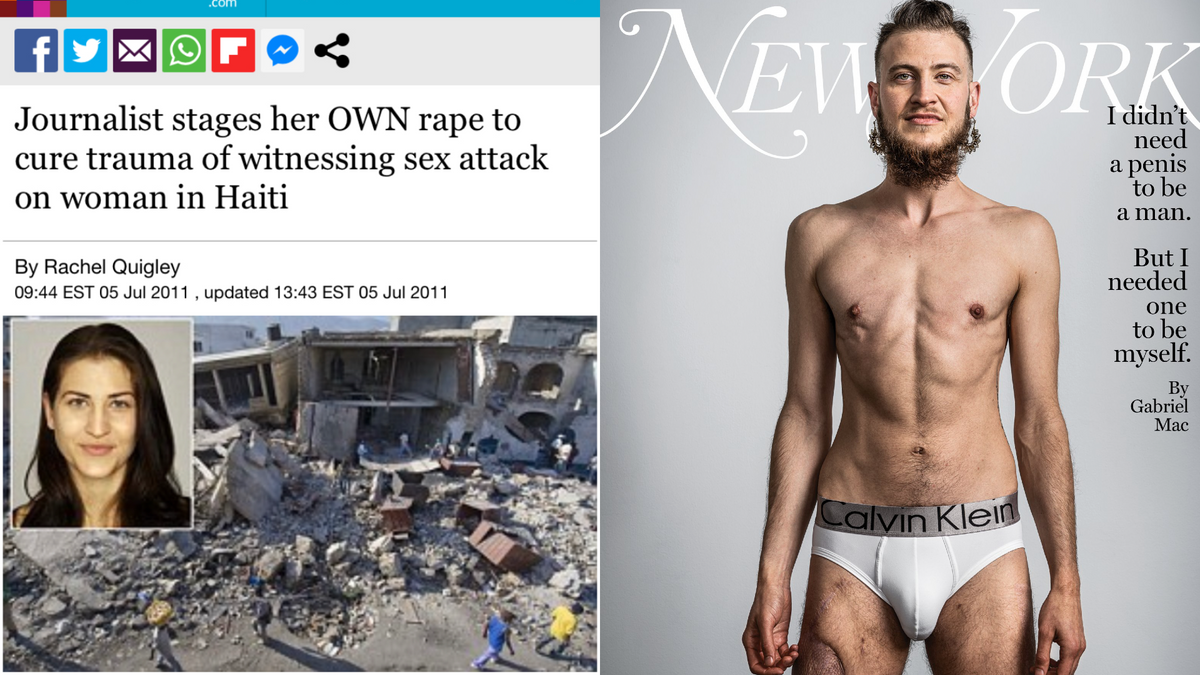 New York Magazine was recently lauded by trans activists after featuring the story of a woman who identifies as a man. The article, titled My Penis: a Love Story, made no mention of the fact she had previously been slammed by journalists and NGO workers for pulling a "staged rape" stunt after working in Haiti as a reporter.
On December 20, reporter Gabriel Mac was profiled in New York Magazine with an article on her experience with phalloplasty. The article describes in vivid detail Mac's experience undergoing a penis construction as part of a transgender sex reassignment surgery, with Mac noting she had a hysterectomy and breast removal in 2019. According to the article, Mac kept her vagina in addition to having a penis formed out of her grafted thigh skin.
But what the article leaves out is how Mac had previously drawn criticism after claiming to have arranged her own "rape" in order to "cope" with the trauma she'd experienced after witnessing sex-based violence in Haiti – something many journalists and charity workers took issue with at the time.
According to Mac's Twitter profile, she was formerly known as Mac McClelland and worked with Mother Jones as a civil rights reporter. While in Haiti on assignment after 2010 earthquake, Mac met a woman, identified only as Sybille, who had been raped at gunpoint and brutally mutilated by a gang of men.

Mac describes accompanying Sybille to the hospital, where, according to The Daily Mail, "the surgeon who performed reconstructive surgery on her told her she was a slut and deserved what she got."
During her time as a journalist, Mac witnessed sexual violence in Burma and the Democratic Republic of Congo, but cites this incident in Haiti as causing her particular distress. In past articles and interviews, she says she developed alcoholism, had difficulty sleeping, and began having night- and daymares about sexual assault. She then began seeing a therapist in San Francisco, whom she told that all she wanted to do was have "incredibly violent sex." The therapist suggested it would be a healing experience and told her to find someone who she trusted enough to do it with.
In 2011, Mac wrote about this staged violent rape for the online magazine Good. In it she describes that her sexual partner mercilessly pinned her down, beat her in the head, and brutally sexually abused her.
"I did not enjoy it in the way a person getting screwed normally would. But as it became clear that I could endure it, I started to take deeper breaths. And my mind stayed there, stayed present even when it became painful, even when he suddenly smothered me with a pillow, not to asphyxiate me but so that he didn't break my jaw when he drew his elbow back and slammed his fist into my face. Two, three, four times. My body felt devastated but relieved; I'd lost, but survived."
Mac would go on to write an autobiographical book titled Irritable Hearts: A PTSD Love Story, as well as multiple articles in which the staged assault was prominently discussed – something which led other journalists to express both concern and distaste, characterising it as a media stunt.
"What's happening in Haiti is not about you," wrote one Slate reporter, who called it both "offensive" and a "shockingly narcissistic ... example of journalistic malpractice." Marjorie Valbrun would go on to write "Really? You need to get punched in the face by a man during sex in order to get over Haiti? So I guess mimicking a violent sexual assault is acceptable as long as it is wrapped in compelling prose and sold as self-healing."
Likewise, in 2011 dozens of Haiti-based female journalists and NGO-workers penned an open letter to Mother Jones condemning Mac both for what they considered to be "inaccurate" and "damaging" reporting on the situation in Haiti, as well as noting they were "greatly troubled" by Mac's revelations that she had actively subjected herself to such violent sex while using Haiti as an excuse.
"We respect the heart of [her] story, which is her experience of trauma and how she found sexuality a profound means of dealing with it," they wrote, going on to say: "Her article calls much needed attention to the complexity of rape. But we believe the way she uses Haiti as a backdrop for this narrative is sensationalist and irresponsible."
In 2020, it was uncovered that Sybille, the Haitian assault victim at the centre of Mac's initial reporting, had repeatedly asked her to stop using her ordeal in tweets, interviews, and other forms of media, having never given Mac consent to do so.
Sybille had sent clear communications to Mac shortly after she had published her initial story in Mother Jones in 2010. In her continued use of Sybille's story, Mac had begun giving details on Sybille's exact location, and other personally identifying information which put the victim's life at extreme risk. Mac had also suggested Sybille was a drug user, which was untrue. Mac apparently ignored Sybille's appeal, and continued to utilize her story for almost a decade while promoting her own work.
UPDATE 12/20/21: Mac's article in NY Mag has since been renamed "My Penis, Myself" from "My Penis, A Love Story."
---
Do you want to bring the "gender madness" to an end? Help us write about it! 4W is able to pay our all-female staff and writers thanks to the generous support of our paid monthly subscribers.
Enter your email below to sign in or become a 4W member and join the conversation.
(Already did this? Try refreshing the page!)