Gender Identity
Women Fight Back Against Anti-Feminism with Sticker Campaigns
Stickers and ribbons sporting the green, purple, and white Suffragette colors stormed streets across the globe last week.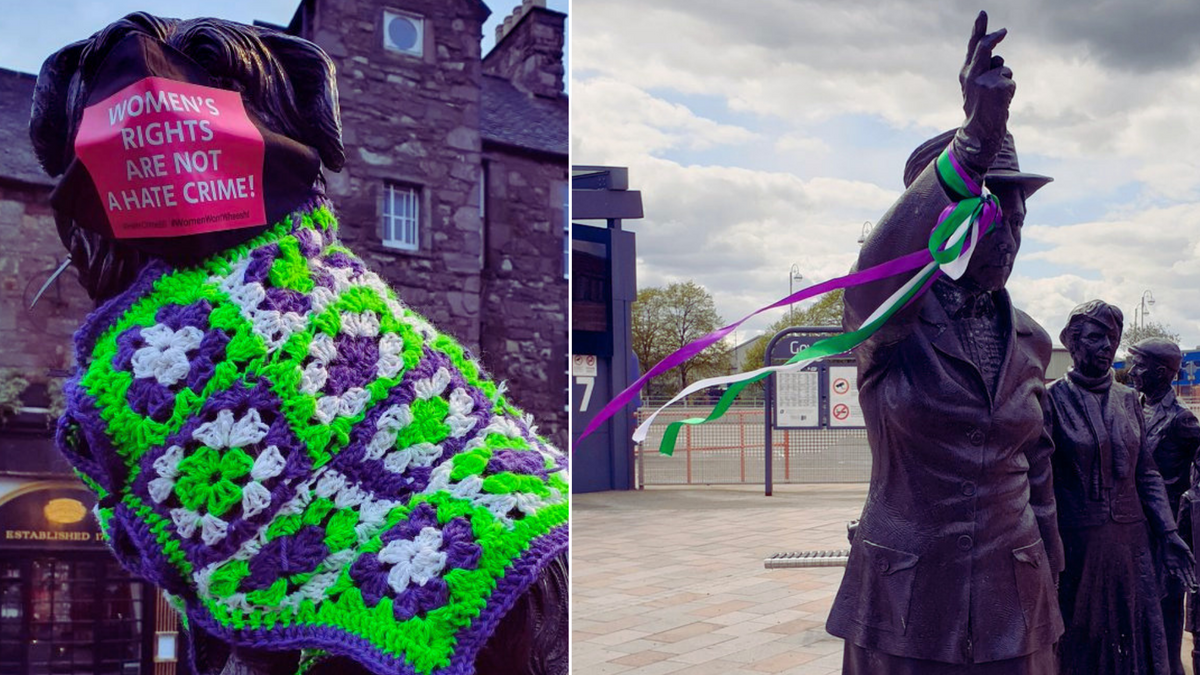 On Saturday June 5th, cities across the globe saw a storm of stickers displayed on public buildings, monuments and other public spaces around the world, in defense of women's and LGB rights. Their mottos included phrases like: "Nothing about us without us," "I stood for women's rights today," "I stood for LGB rights today," "Adult human female," and "Women Won't Wheesht" (a Scottish phrase meaning "Women won't be silenced").
The action, called a "Sticker Storm," was organized by a new feminist group based in the UK, The Purple Ribbons. The Purple Ribbons was founded by Stella Doves (pseudonym), a British ex-IT professional and mom of a child with Autism Spectrum Disorder. According to Stella, she has "always been a feminist" and, through "personal experience" knows how "devastating it can be for women and girls to have their dignity, privacy and safeguarding removed or ignored." The first sticker event occurred on April 3rd, 2021, with women from all over the world taking part.
The group Purple Ribbon's Club, or Purple Ribbons, for short, was created after a different ribbon campaign took place on December 22, 2020. This campaign had been led by Scottish women, who wished to celebrate the life of Marion Wallace Dunlop, a Scottish Suffragette, "to inform the Women of Scotland of how their rights were again under threat." The messages quoted suffragists, second-wave feminists, expressed support for women's sex based rights, as well as the now famous phrase  "Women Won't Wheesht."
The message of the June 5th sticker event was spread by word of mouth and grassroots groups, since the action was to happen outside of social media, to try and avoid the activists from being physically harassed when delivering stickers, slates or ribbons with the colors of the Suffrage movement - purple, white and green.
Pictures shared on social media show hundreds of stickers, ribbons, plaques or messages used at the action. Some activists wrote "Women Won't Wheesht" in the sand on Sheringham beach, UK. A lamppost was covered with crochet artwork with the Suffragette colors. Other activists hung handmade cards on fences in parks or around public buildings and monuments. Among the countries taking part in the action were the United Kingdom, the United States, Canada, Germany, Italy, France, Brazil, Finland, Japan, Spain, and Colombia.
Ms. Dove shared her motivation for organizing the campaign with 4W:
"I realised something was very wrong when I came across an interview that Julia Heartly Brewer did with Posie Parker in March last year... I was horrified by the interview and immediately realised the consequences of what was being discussed."
She adds, "I started researching why and how far gender ideology had taken hold, becoming more and more concerned. By the autumn I was determined and resolute with the fact that something needed to be done."
"I immediately went into action (for the sticker storm, in a similar way Scottish women did in December 2020)... The date was set for 3rd April. After a discussion with Scottish women, who asked if we could do a second one on the 1st May, (coinciding with their election), I set a second date in support of the Scottish women who won't wheesht… It went down a storm, an article was written about women and LGB's standing up for our rights around the world. There were not just stickers either, suffragette ribbons, flags, embroidery and knitted covers to lampposts were displayed, messages on boards and chalk on pavements were made."
The event last Saturday was launched after the success of the first sticker storm by Purple Ribbons, covered by the media, when another women's rights campaigner suggested that she create a group for organizing similar events. Doves adds:
"I chose several accounts I admired and asked them if they wanted to join a group and Purple Ribbons was formed. I ensured they knew it was an action, social and support group just for women… On our first chat it was agreed that we should have another sticker storm with the date of 5th June. This one had even more countries, with women and groups from England, Wales, Scotland, Ireland, France, Germany, Finland, Italy, Spain, Brazil, USA, Canada, Japan… Purple Ribbons is young, so is this campaign to shine a light where there is deliberate darkness on this issue. We are not the only group, there are many like minded groups under the radar. Women are organising, it's a good thing."
The event on June 5 ended up coinciding with the news that Scottish women's rights campaigner, Marion Millar, had been criminally charged on June 3 for tweets in support of women's rights. Among these so-called "criminal" tweets was a photo of a suffragette ribbon on a fence as part of the campaign by Scottish feminists' December 2020 campaign.
Trans rights advocates claimed the picture looked like a noose, and that this meant she was apparently advocating for the hanging of LGBT people. Because of this incident, many of the women and groups that took part in the Sticker Storm also used the hashtag "I Stand with Marion Millar" on social media when they shared their images.
After being charged, Millar started a GoFundMe crowdfunding to cover legal expenses, including her upcoming court date on July 20. Her crowdfunding passed the initial goal in less than half an hour, collecting over 13,000 British pounds, before it was deleted by GoFundMe. Ironically, the company had tweeted just the day prior,  "You'll never regret being kind." GoFundMe faced backlash from some Twitter users for closing Marion's crowdfunding but keeping the one for Dr Christian Jansen, a man who was sued for libel. Millar then created a PayPal account, which surpassed 30,000 pounds, all on Saturday June 5th.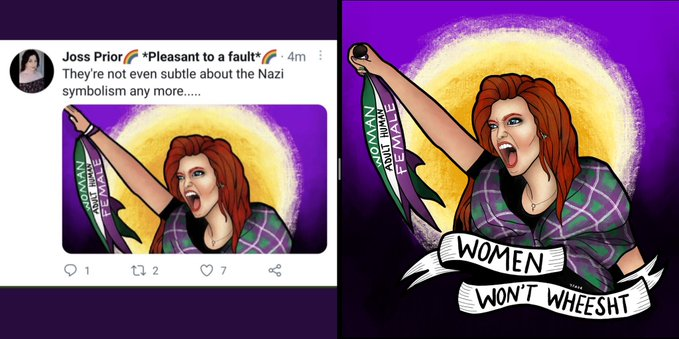 Later that day, Millar had to ask followers to stop the donations because a twitter account had been created to impersonate her and scam donors with a false Paypal account. Anti-feminist activists also edited a drawing of Millar by a feminist artist @TheFamousArtBR to make it appear that Millar was doing a Nazi salute. The impersonators were echoing the claims made by organization Stonewall head, Nancy Kellen, who likened "gender critical" beliefs to anti-Semitism.
According to Millar,
"On Saturday my son made the Gofund me and was initially for family to help, my son shared it on SM, I have been inundated with offers from people who just want to help, trans activists complained and it was taken down. I felt deflated, I don't know how someone like me who has actively campaigned for LGBT rights can be hated so much, if it comes to a choice and it has between men and the safety of women and girls I choose the latter, if it makes me hateful so be it, I will fight this until my last breath."
---
The generous support of our readers allows 4W to pay our all-female staff and over 50 writers across the globe for original articles and reporting you can't find anywhere else. Like our work? Become a monthly donor!
Enter your email below to sign in or become a 4W member and join the conversation.
(Already did this? Try refreshing the page!)