Stonewall 'Head of Trans Inclusion' Pauses Testimony For Support from Mom and Dog
A key witness in the case of Allison Bailey, lesbian barrister suing UK charity Stonewall requested emotional support from her mom and dog to testify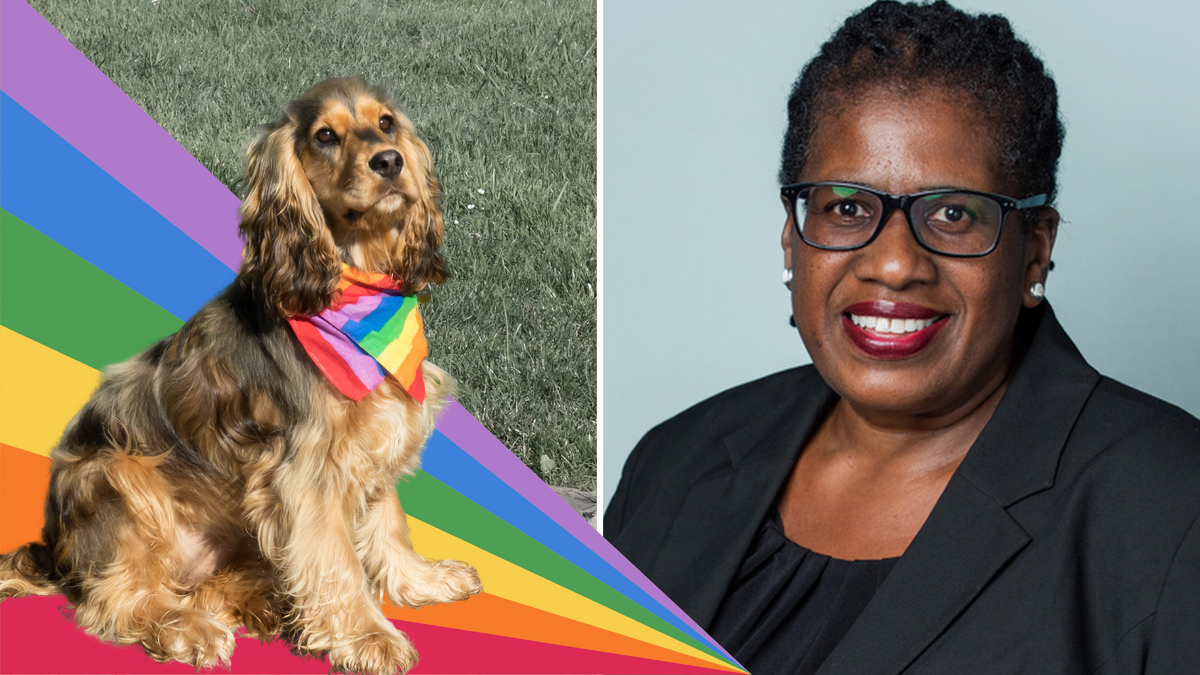 On May 10, a high-profile employment tribunal was paused so that a key witness for trans lobby group Stonewall, Kirrin Medcalfe, could be cross-examined in the presence of "his mother, his support person and his support dog." Medcalfe (a female) is the head of trans inclusion for the controversial charity.
The case has been brought by Allison Bailey, a lesbian barrister who alleges Stonewall and her employer, Garden Court Chambers (GCC) put her under investigation in an attempt to "intimidate and silence" her and "others critical of its malign influence in British life."
In 2019, Bailey helped to set up a new organisation for lesbian, gay and bisexual people, the LGB Alliance, to provide an alternative to Stonewall. Now she is suing both Stonewall and GCC, claiming loss of earnings, indirect sex or sexual orientation discrimination, and direct discrimination based on her gender-critical belief.
In a witness statement published last week, Bailey documented her journey from being abused as a child to becoming a well-respected barrister and campaigner for equality. She has also faced significant health problems, and last week took to the stand to testify despite having been hospitalized at the start of the tribunal.
During Tuesday's hearing, Judge Goodman said she was "disappointed" that the presence of additional people had not been discussed in advance with the tribunal. It was a comment by the claimant's lawyer, Ben Cooper QC, that revealed the presence of the witness's mother, support worker and support dog. Medcalfe had already been granted the request that the tribunal take regular breaks. The hearing was halted so that cameras could be adjusted to include those Medcalfe required for what was termed "emotional support."
Earlier in the day, the tribunal heard from Zainab Al-Farabi, a former Stonewall employee who oversaw the charity's relationship with GCC. GCC pay an annual membership fee to Stonewall to be named as Diversity Champions, in return the charity vets their policies to check they meet their requirements for LGBT inclusion. When questioned about Stonewall's approach to trans equality Al-Farabi agreed with Bailey's lawyer that the charity "pushes a position above and beyond the law" by including "gender identity" rather than "gender reassignment." Al-Farabi also stated that she believed "misgendering" was bullying.
Cooper questioned Medcalfe about the activities of a number of trans working groups linked to Stonewall. He then read out a selection of threatening tweets that had been sent by trans activists using the word 'TERF.' He argued that the term 'TERF' is used to silence those expressing gender critical views. Medcalfe rejected this, claiming the word was "usually used by a minority to refer to radical feminists who are in power and who are oppressing transpeople" adding, "Cracker isn't a slur because white people are in power. Transpeople are a minority."
On October 31, 2019, Medcalfe wrote a letter to GCC apparently asking the organization to cut ties with Bailey.* The letter reads, in part:
"For Garden Court Chambers to continue associating with a barrister who is actively campaigning for a reduction in trans rights and equality, while also specifically targeting members of our staff with transphobic abuse on a public platform, puts us in a difficult position with yourselves: the safety of our staff and community will always be Stonewalls first priority. I trust that you will do what is right and stand in solidarity with trans people."
Under questioning, Medcalfe asserted that Bailey had sent "transphobic tweets" which indicated she was a threat to trans people. Medcalfe concluded giving evidence with the statement:
"Being accused of transphobia can be lucrative for people who say they are cancelled."
Bailey is due to give further evidence in the coming days. Last week she said: "Stonewall is a very powerful organisation and it can confer protection or it can take it away. The inducement that Stonewall offers with its scheme is reputational protection or reputational harm: it's like a criminal protection racket."
---
* This article was edited after publishing to include information about the letter Medcalfe sent to GCC
---
Do you want to bring the "gender madness" to an end? Help us write about it! 4W is able to pay our all-female staff and writers thanks to the generous support of our paid monthly subscribers.
Enter your email below to sign in or become a 4W member and join the conversation.
(Already did this? Try refreshing the page!)