Gender Identity
Veteran LGBT Campaigner Makes Petition Demanding UK to Record the Sex of Sexual Offenders
Ms Dimyon's petition now has until January 7 2022 to collect 100k signatures.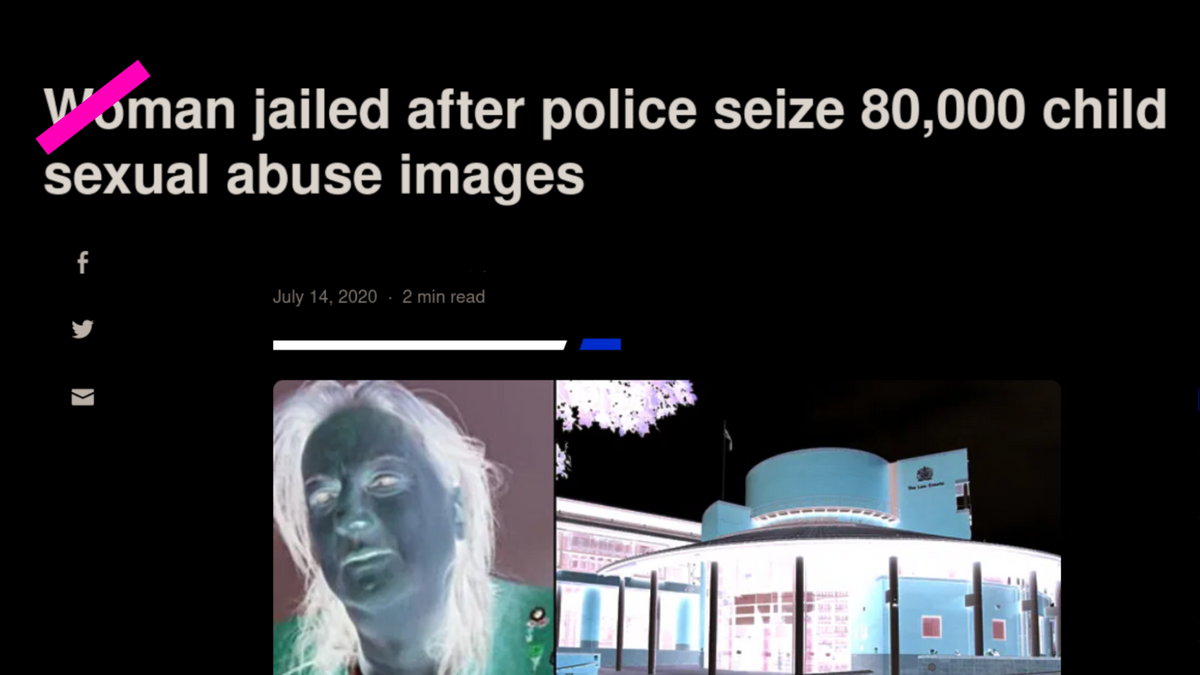 In July 2021 a petition to the British Parliament was made, requiring that the biological sex of sexual offenders be recorded throughout the justice system. According to the text that accompanies the petition, the law should require that all "authorities throughout the criminal justice system (police, courts, prisons and probation)" record the sex, instead of or as well as their "gender identity," of all individuals "investigated, charged, convicted, imprisoned for the offence types 1 (Violence Against the Person - VATP) and 2 (sexual offenses, including rape and attempted rape."
The legal definition of rape in all three jurisdictions of the UK is a criminal offence involving definitively male genitalia. According to Dr Kate Murray, "It is not clear why or when criminal justice agencies introduced a policy of recording based on self-declared sex only."
The author of the petition is Clare B Dimyon MBE, a veteran lesbian campaigner, who launched the petition a day after the UK court's decision allowing males who identify as transgender to remain housed in women's prisons. Ms Dimyon has championed human rights and responsibilities of LGBT people since the 1980's. In 2010, she was appointed a "Member of the British Empire" for "promoting the rights of lesbian, gay, bisexual and transgender people in central and eastern Europe," an historic first ever explicitly for "lesbian, gay, bisexual and transgender people."
In 2016, before the #MeToo movement, she gave up her legal right to anonymity to speak to the press about surviving sexual violence in 1984, in order to support a 14 year old girl who was abducted and raped on her way to school in Oxford, and also to "help pupils and teachers where she studied." "I got the importance of language to survivors and so called "victims" of rape and sexual violence onto the floor of the House of Commons and discussed intelligently by Theresa May MP, is one of my proudest boasts."
"Only UK Nationals and UK residents are allowed to sign it, but women's rights campaigners from all over the world have been sharing it on social media."
According to Dimyon, a week after she created the petition, "we were halfway to 10,000 signatures," a number that will prompt a statement from the British Government. Only UK Nationals and UK residents are allowed to sign it, but women's rights campaigners from all over the world have been sharing it on social media.
The petition brings startling statistics about male violence from the UK Ministry of Justice (MOJ). The Offender Management Statistics, published quarterly (OMS-Q) show that 99% of all sexual offenders are male, and that this percentage has never dropped below 99% in the two decades between 2001 and 2020. The UK Office for National Statistics (ONS) reveal that 88% of all those "sexually offended against" are female, a figure strengthened by the European Union figure of 90% female (Eurostats 2018).
Ms Dimyon says "I knew the 60 transgender sexual offenders published by BBC Reality Check was already far higher than female sexual offending and I just had to keep digging until I found the UK govt sentenced prison population statistics. Most people do not know what a tiny fraction of the total prison population, the female prison population is." Ms Dimyon has worked as an aircraft engineer, analyzing and comparing complex numerical data of aircraft components. She is also an experienced health and safety risk assessment professional. "I just couldn't let it go, and being autistic, I am therefore somewhat driven by numerical imperatives!"
She also says that she served "three brief prison sentences at HMP Holloway in the 1980's, as a Quaker witness against US nuclear weapons at Greenham Common, the plight of female prisoners could not be more real to me."
Ms Dimyon's comprehensive assessment of twenty years of MOJ prison population statistics revealed that following the rapid release of the least dangerous prisoners at the start of the UK Covid-19 lockdown (23 March 2020), the female prison population dropped to its lowest ever: 3.9%. "In the seven decades 1950-2020, it has never been higher than 6% of the total prison population and never higher than 10% since records began in 1910," she said.
"Male criminality is written into the very fabric of all prison estates globally. Male-pattern criminal offending and female pattern criminal offending are as different as it is possible to be," says Ms Dimyon. "It is so consistent, that it is almost as though… it is a defining characteristic."
She spent more than two years testing the mantras "transmen are men" and "transwomen are women" as "mathematical hypotheses" using the stats from the UK's Ministry of Justice (MOJ). She collected data focusing on the "sentenced, i.e, convicted 'beyond all reasonable doubt' prison inmates" who identify as women and discovered that male-pattern sexual offending "could not be clearer...in fact you can go as far as saying 'Female-incidence sexual offending is the exception that proves the male-incidence sexual offending rule."
Ms Dimyon says that her research and her credentials put her "in good ethical conscience in making the petition" to the UK Parliament to record the sex (biological and immutable of "all rapists, sexual and  violent offenders, from police to courts, detention, sentence and probation, i.e throughout the criminal justice system."
"Sex is a 'protected characteristic' in the UK Equality Act 2010, and also biological and immutable," and recording the sex of sexual offenders is "consistent with UK Government's commitment to act on male violence against women and girls, including the MOJ 'End-to-End Rape Review' published on 18 June 2021."
Ms Dimyon's petition now has until January 7 2022 to collect 100k signatures so that the issue can prompt a debate in the UK Parliament, on the floor of the House of Commons. She hopes that this number can be achieved by January 1st, in time for the 199th anniversary of the Gaols Act that granted women the right to sex-segregated prisons and female warders for female prisoners.
British MPs also urged the UK Government to record the sex of both sexual offenders and victims/survivors
In May 2021, Baroness Falkner, the new chair of the Equality and Human Rights Commission, told the Times that "women should not be penalised or abused if they believe that transgender women do not become female." In June, Tonia Antoniazzi, a Labour MP, gave a speech in the House of Commons in a debate about crime and 'safe streets for all' stating that "In order to combat sexism, we need to count sex, and in order to combat discrimination against other groups, there is a need to record separate and additional data. The offending patterns of men and of women show the highest differential of all, so we need to monitor the sex of victims and of perpetrators of all crimes."
LINK TO THE PETITION: https://petition.parliament.uk/petitions/590123
---
Do you want to bring the "gender madness" to an end? Help us write about it! 4W is able to pay our all-female staff and writers thanks to the generous support of our paid monthly subscribers.
Enter your email below to sign in or become a 4W member and join the conversation.
(Already did this? Try refreshing the page!)