Sri Lanka
Crisis in Sri Lanka Brings Dire Consequences for Women
The picture of a woman raising one hand in protest while holding her baby in the other has become an iconic image of the uprising.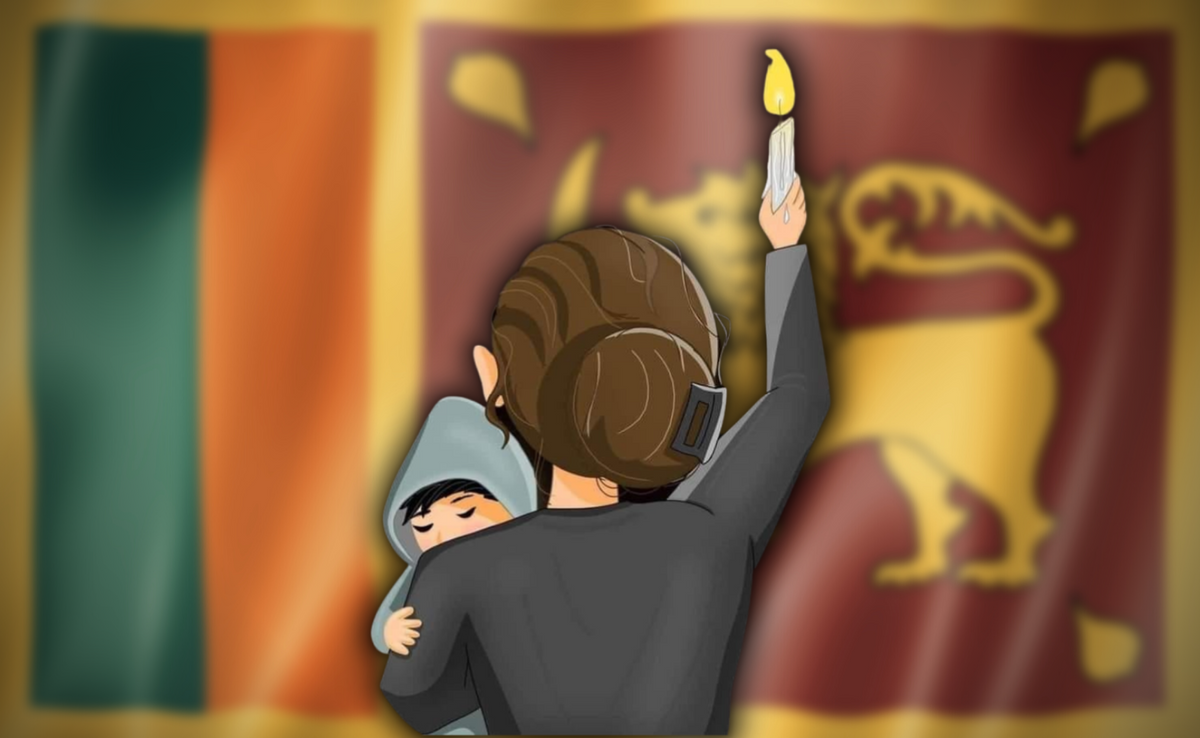 Endless queues for food, fuel, and basic amenities have brought the island nation of Sri Lanka to a standstill. A slowly simmering crisis, the consequence of the ongoing economic downfall, has forced the otherwise self-effacing population of Sri Lanka to take to the streets in protest against the government of president Gotabaya Rajapaksa. Women, the primary economic drivers of the country, have faced the greatest hardships during the collapse and inspired images of the uprising.
Sri Lankan women across age groups, some with toddlers strapped to themselves, joined the street protests, chanting "Go Home Gota". The picture of a woman raising one hand in protest while holding her baby in the other has become an iconic image of the uprising.
Soon after, a series of stories started emerging on social media highlighting the ways in which the lives of ordinary women were profoundly affected by the ongoing crisis. The hashtag #HerHomeSOS brought together some of the most painful stories of women who are having to provide for their families all alone amid supply shortages while continuing to suffer abuse at the hands of men.
"Her husband visits occasionally, but he rarely contributes to the household budget. She lives in fear of his visits, but is now even more scared about feeding her children."
A country of about 22 million people is now faced with the worst economic collapse since independence in 1948. Unable to withstand the apathy of its leaders any longer, exasperated citizens vandalized the streets outside President Gotabaya Rajapaksa's house, demanding answers. Soon after the protests began, the police imposed a curfew to curtail mass gatherings and implemented harsh social media lockdowns.
Women Impacted by Sri Lankan Economic Collapse
Sri Lanka has been under the sway of the Rajapaksa clan for decades. Carrying on the legacy of its bloody history withstanding several wars, communal and caste-based upheavals, the citizens of the country are now being subjected to the corrupt governance of its elected officials.
Enraged by the common knowledge of the Rajapaksa's family wealth, women brought their children to the streets with a placard that read: "we have children too," as a direct response to the obscene high life the family never shied away from flaunting. For demanding basic amenities and pointing out the glaring corruption, these women were branded 'extremists' by the government.
One account from #HerHomeSOS reads:
"Yogeshwari carries a bottle of kerosene while on her way to pick up her three grandchildren from school. With the shortage of gas, she has been forced to switch to kerosene. Although a litre of kerosene is Rs.87, Yogeshwari paid Rs.150 to a neighbour to avoid standing in queue for hours. Her daughter Vasukhi is a manpower worker earning Rs. 1500 per day and is the sole breadwinner for the family.

Vasukhi is a victim-survivor of domestic violence.  Her husband visits occasionally, but he rarely contributes to the household budget. She lives in fear of his visits, but is now even more scared about feeding her children and looking into their education.  Food costs have increased, but Vasukhi's salary remains the same."
By posting these stories, ordinary women have tried to raise funds to help safeguard women-led families that are worst hit by the crisis. Women across class, caste, and religious beliefs are uniting to support one another; and witnessing this from across the Palk Strait has been a heartening experience.
Vraîe Cally Balthazaar, a media professional, social entrepreneur, and feminist researcher, posted on her social media:
"A few days ago we posted our first story from #HerHomeSOS, an attempt to share glimpses into the lives of women, during this time of crisis. So many have already reached out, offering support. We will continue [to] raise funds for these women. We understand that these aren't long term solutions, but small ways in which to help them tide over."
The curfew has now reportedly been lifted; and despite public pressure, the President has categorically refused to resign. According to the official gazette, the state of emergency came into effect on April 1, allowing authorities to arrest and imprison citizens without warrant. In spite of this, protests took place on Saturday, resulting in police arrests of 664 people for curfew violations.
Rajapaksa claimed the imposition of the state of emergency was declared in the "interests of public security, the protection of public order and the maintenance of supplies and services essential to the life of the community." Hanaa Singer-Hamdy, the resident coordinator for United Nations Sri Lanka tweeted, "We are monitoring developments and are concerned by reports of violence in Sri Lanka," calling for restraint among the warring groups.
Sri Lanka's Economy in Nose Dive
With daily thirteen-hour power cuts and depleting food, fuel, and medicine reserves, the Sri Lankan population is struggling to make ends meet. It is important to note that this is not a crisis that came upon them overnight.
Reports indicate that some women have to hold down three or four jobs in order to keep their heads above water. And those are the lucky ones who have found a job at all in this climate. Families are reported to have altered their food habits to accommodate these foreboding times, reducing meals to twice a day at first, and now barely once if they can afford to eat at all.
Spillover from the crisis in Ukraine has exacerbated the situation because of the country's strong dependency on oil imports from Ukraine and Russia. Reports officially confirm that the Sri Lankan Rupee has plunged to a record low against the US Dollar, annual inflation is in double digits, import restrictions have been placed, and the country is teetering on the edge of bankruptcy.
"Just until two months ago we were importing cheese and chocolate when people didn't have medicines during a medical emergency."
Thulasi Muttulingam, a journalist and activist based in Jaffna, lamented to me that recurrent warnings were wilfully ignored by the government.
"Economists and experts have been advising the government about the dangers of depleting foreign reserves by importing unnecessary items. Just until two months ago we were importing cheese and chocolate when people didn't have medicines during a medical emergency," she said.
Desperate, Sri Lanka looked to India and China to help redeem itself from this collapse. Though both countries have helped in the recent past, China is considering offering US $2.5 billion more, in addition to the US $2.8 billion already extended and India has put up US $2.4 billion. Sources confirm that President Gotabaya Rajapaksa's government is in negotiations (albeit reluctantly) with the International Monetary Fund and the World Bank to secure a bigger aid package. "While the situation is so dire, a leader must focus on providing emergency supplies of basic amenities, instead, the government used the Indian line of credit to procure 500 buses and 750 jeeps. This is at a time when our fuel supply is almost down to nil," said Muttulingam.
According to a report from Reuters, the country's currency reserves have fallen 70% in the past two years to US$2.31 billion. Sri Lanka has to repay about $4 billion in debt over the course of this year, including a $1 billion international sovereign bond that matures in July, the report states.
Women are the Driving Economic Force of Sri Lanka, Yet Face Oppression and Discrimination
Muttulingam explains that Sri Lanka heavily depends on the tea, apparel, and tourism industries for its primary source of profit. The income from migrant labor also constitutes a significant portion of the country's economy.
Reports say that Sri Lanka's apparel sector contributes 6% to the country's GDP and accounts for 40% of all exports. The sector provides direct employment to 350,000 workers – a majority of whom are women – and an additional 700,000 who receive livelihood opportunities as part of the greater supply chain. But due to COVID-19 and well as the ongoing economic crisis, women from the industry were significantly affected. Several apparel industry worker women were recently seen holding placards that read, "give me back the dollar we earned" addressed to the corrupt Rajapaksa government.
Women are the breadwinners in most households, and they also are the driving force behind all the aforementioned sectors. But the female workforce faces horrendous exploitation at the hands of these industries.
"The women ask for parity in pay, working standards but none of that is afforded to them," said Muttulingam. "Even when we all live off their toil, the State has done nothing to make their lives better. Men consuming alcohol and drugs is a substantial problem in Sri Lanka across all communities, thereby making the women subject to further abuse."
In Sri Lanka, one in five women have experienced physical and/or sexual violence in their lifetime and, like the rest of the world, COVID-19 intensified violence against Sri Lankan women.
According to a UN report, women in Sri Lanka are largely underrepresented in politics. Only 5.3% – 12 out of 225 legislators – in Parliament are women, which ranks 182 out of 193 countries in the Inter-Parliamentary Union. Despite electing the first female Prime Minister in the world, the representation of women legislators at the national level has not gone beyond  7% throughout Sri Lanka's electoral history since 1931.
"Even when we all live off their toil, the State has done nothing to make [women's] lives better."
"So how do we address this?" Muttulingam asks. "I don't know what the answer is. Even though women have votes and a desire to get into politics, the stakeholders who are so entrenched in the system won't allow it. That being the case, how do you get into politics? How do you get to that level? How do you get to Parliament? How to change the system?"
It is predicted that the current food, fuel, and power crises will continue to plague the nation for some while before Sri Lanka reaches stabilization; forecasting at least another six months before some semblance of normality resumes. Pakiasothy Saravanamuttu, head of Colombo-based independent think tank, Centre for Policy Alternatives said in an interview: "There is pain that needs to be endured. It will get worse before it gets better."
As the cabinet of ministers and the central bank Governor rendered their resignation, Sri Lanka is looking at a potential new government that would hopefully pull the country out of this abyss. Reports suggest that Sri Lanka has the potential to offset its dwindling GDP by as much as US$ 20 billion each year up to 2025, by advancing the cause of women in leadership. But it remains to be seen if a country embroiled in the trenches of patriarchy can afford to neglect this potential any longer.
How You Can Help
Resources for providing support are being collected by Sri Lankan activists here.
---
4W provides paid writing work for over 50 women in countries spanning the globe. This work is made possible thanks to our paid monthly subscribers. Join today to support our work!
Enter your email below to sign in or become a 4W member and join the conversation.
(Already did this? Try refreshing the page!)