The war on women continued this week with a series of vicious attacks on women's rights activists. These attacks, which include censorship, hacking, and even reports to police, use a pattern of dirty tactics to abuse the system and silence women.
Meghan Murphy is a Canadian journalist who founder the website Feminist Current. Until 2019, she had thousands of followers on Twitter as a verified account. While being vocal about women's rights, she was mass reported for writing "Yeeeah it's him,"  referring to Jonathan Yaniv, a man who identifies as a woman. In 2019, Yaniv sued several women working in Canadian beauty salons where he tried to book genital waxing. Murphy didn't recover her Twitter account, even though Yaniv lost his case and has been a suspect in several instances, like being in possession of an illegal weapon and the physical assault on a journalist.
On June 1st 2021, the Feminist Current website was hacked and all the articles and podcasts disappeared, replaced by inflammatory headlines such as "Why peeing with a boner is harder than giving birth." On the home page, the name of the site was replaced by the words "Pride Fall 2021," a reference to a homophobic operation by misogynists to take down companies they perceive to be supporting LGBT rights during Pride Month.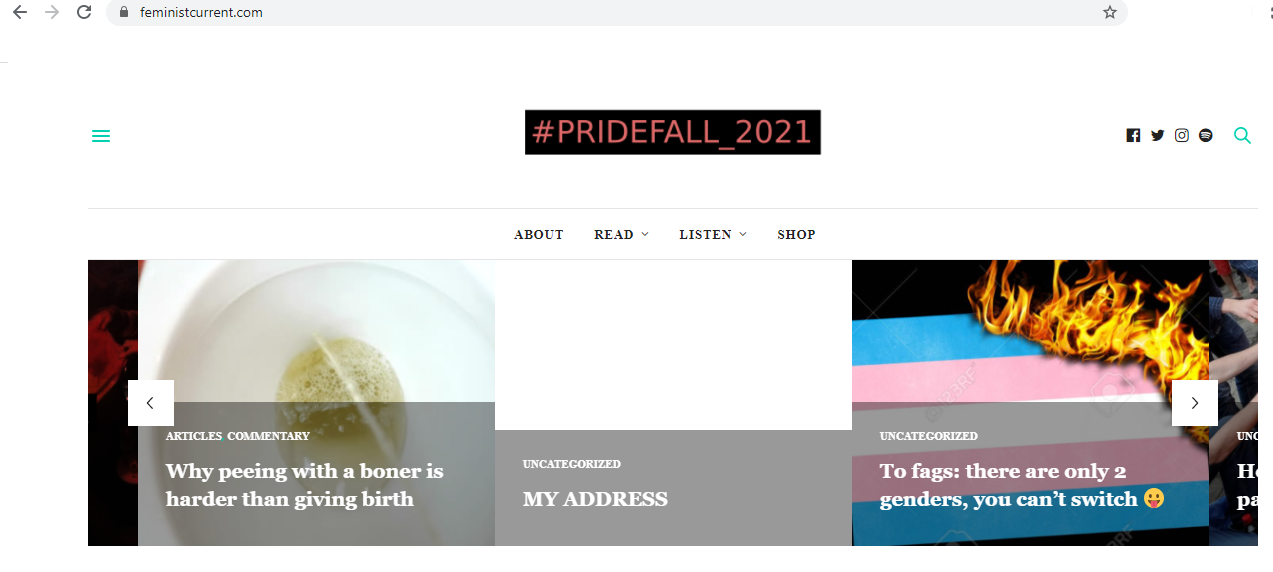 Speaking to 4W, Murphy stated that these attacks are led by "men who show up at her talks to threaten her and the attendees." According to her, such attacks are never "random or funny." Instead, they are becoming "incredibly stressful, and scary in this case." She called the attackers "dangerous and unhinged" people who are constantly sending death and rape threats to women's rights campaigners, while claiming that women who fight for sex-based rights are dangerous. "Any and all of those — including the media, politicians, social media corporations, leftists, and trans activists — who participate in the vilification of women who stand up for sex-based rights and speak the truth, including those who call us "TERFs," those who say we are "exclusionary," "bigoted," or "hateful" are culpable," she highlights.
"There is nothing in the world that will make me give up this fight, so these threats and attacks are in vain. That said, I hope people realize and appreciate that this work is incredibly hard, is scary, is risky, and is stressful. I don't do this because it is easy for me, I do it because it is the right thing to do and because it is important. I appreciate everyone's support over the years, and their support right now. I would not have managed this far without so much help and support from so many people around the world."
After the doxxing and the hacking of her website, Murphy said she has managed to withdraw her personal details from Feminist Current and is working on getting the website running again. (The site is back online as of June 4, but is still in the process of updating some content).
This is not the first time men's rights activists have used unethical and illegal tactics like this to silence women's voices. The same happened to Lucia Eggenhoffer, a Slovak lesbian illustrator and writer based in Prague. Her online shop selling children's illustrations and feminist art was hacked on May 28 2021 with "ugly backlinks" and customer reviews with "ugly comments." On June 3, however, her website was completely shut down.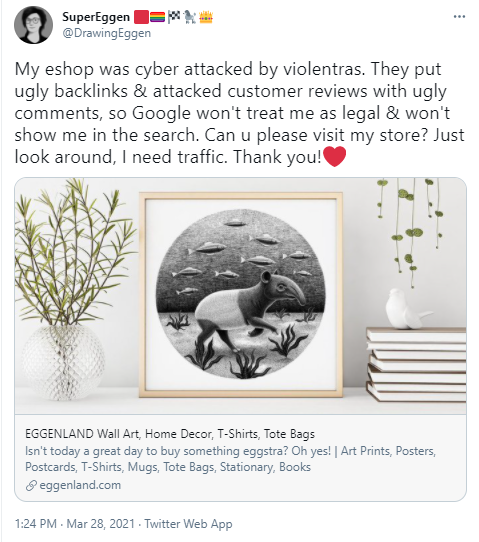 Another dirty tactic frequently used by anti-feminists is defamation over allegedly "transphobic" comments on social media. British barrister Alison Bailey is suing Stonewall for trying to get her removed from her job at the Court Chambers. Bailey, who is highly critical of the LGBT charity's approach to transgender rights, said that as "a woman, a lesbian, a criminal defence barrister and someone who has had extensive experience of male violence, abuse and oppression of women, I believe that there should be some exceptions to males being admitted into female spaces."
Misogynists tend to reply on abuse of platform reporting functions to get women's campaigns shut down. Just this week, GoFundMe removed a fundraiser by Canadian feminist Heather Mason to help fund her activism in support of incarcerated women. Vanessa Vokey, who has been banned from just about every platform under the sun for her "I <3 JK Rowling" merchandise, was finally banned by Shopify on June 2.
Another prominent activist, Kellie-Jay Keen Minshull (Posie Parker), has allegedly been reported and had online platforms closed down, according to her Instagram on May 14, 2021. Anti-feminist advocates have asked every company Parker has used for hosting videos, articles, and other information, even merchandising, to cancel her online platforms. Posie has also allegedly been doxxed, with her home address made public in 2020, and has been sent threats to her and her family.
"On December 17, 2020, Millar tweeted a picture of ribbons in the suffragette colours (purple, white and green) tied to a fence."
Marion Millar, a Scottish account and mother, has also been accused of transphobia over her tweets in May 2021. She received a call from a police officer demanding her to attend an interview, which has been postponed twice over the course of a month. The police officer who contacted Millar cited the Malicious Communications Act, but did not explain which tweets she was referring to before her interview. Millar was required to attend her first police interview at East Kilbride police station, where she was told they would process and question her before driving her to Cathcart station because in there, they have "holding cells."
Fearing she would have to spend a whole weekend in jail, Millar refused to attend this interview for the welfare of her twins, who are on the autism spectrum. The second attempt to interview Millar was made by the same officer, who said she was going to visit her at her home with a social worker to "deal with her children," but that too was rescheduled without any other explanation.
According to most recent reports by For Women Scotland, Millar has been charged with "malicious communication with a hate crime aggravator" and now has a court date at Glasgow Sheriff Court on 20th July at 10am.
Irish comedy writer Graham Linehan, who was been banned from Twitter on June 27 2020, claims he has tracked down the tweet that the Scottish Police deemed worthy of a criminal charge. On December 17, 2020, Millar tweeted a picture of ribbons in the suffragette colors (purple, white and green) tied to a fence. According to Linehan, the police claim that the ribbons represented a noose, and Millar is being accused of making a death threat with this picture.
---
Do you want to bring the "gender madness" to an end? Help us write about it! 4W is able to pay our all-female staff and writers thanks to the generous support of our paid monthly subscribers.
Enter your email below to sign in or become a 4W member and join the conversation.
(Already did this? Try refreshing the page!)