News
Sonic Worker 'Under Investigation' Over Drive-Thru Misgendering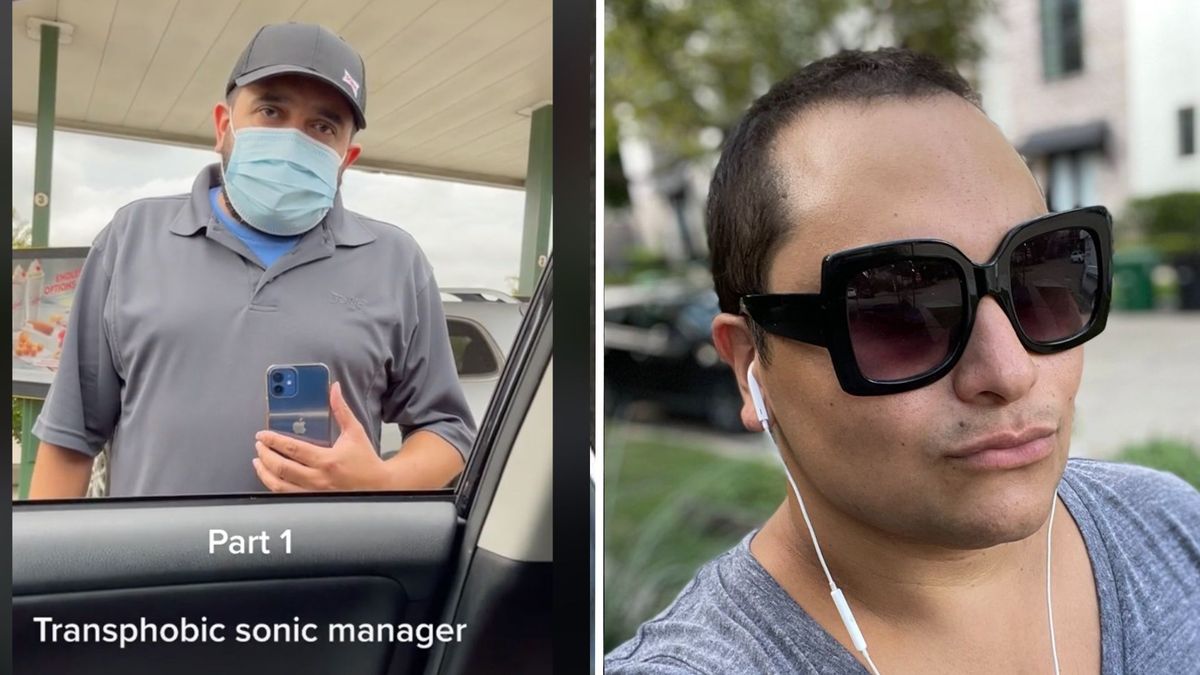 A manager at a Sonic franchise in Texas is under investigation after he defended one of his employees for unintentionally misgendering a trans-identified male at the drive-thru.
Eden Torres, a biological male who identifies as a woman, posted a two-part Tik Tok on October 2nd showing his argument with a Sonic franchise manager who he captions as "transphobic." So far, Torres' Tik Toks on the interaction have garnered over 2 million views.
In the first part of the video, the manager is heard asking Torres if he could move his car out of the way of other customers and park so they could discuss the complaint. Torres initially refuses and instead berates the worker, asking "what about me looks like a 'Sir' right now?"
The row broke out when Torres used his credit card to pay for his order, and the server at the drive-thru window addressed Torres as a male after noticing a masculine name on the card.
During the video, Torres even acknowledges that the name on his credit card is a male name, but seems to expect that the worker should have assumed his preferred identity regardless.
The manager is heard apologizing repeatedly, but is clearly unsure of how to satisfy Torres, who continues to hammer out platitudes while demanding the manager "promise[s] to stop treating trans people this way."
In the second part of the video, the manager repeats that no one was intentionally attempting to discriminate against Torres, but that the worker was simply going by the name on the payment card when he addressed Torres as "Sir."
"Is the name on your name on the credit card [a] feminine name?" the manager is heard asking.
"No." Torres admits.
"Exactly!" The manager responds, "Then they're not discriminating against you."
By the middle of the second video, the manager begins asking Torres to clarify his gender, to which Torres continuously responds "why does it matter?" before asking "what would you assume [I am] by looking at me?"
The manager answers truthfully, "I would assume you are a man."
After posting the video on his Twitter, Torres was met with a wave of backlash from those who supported the manager's defense of his employees.
"How is this discrimination?" One user asked, "To me, it looked as if the server was trying to be polite by asking what stupid pronoun the customer wanted to go by."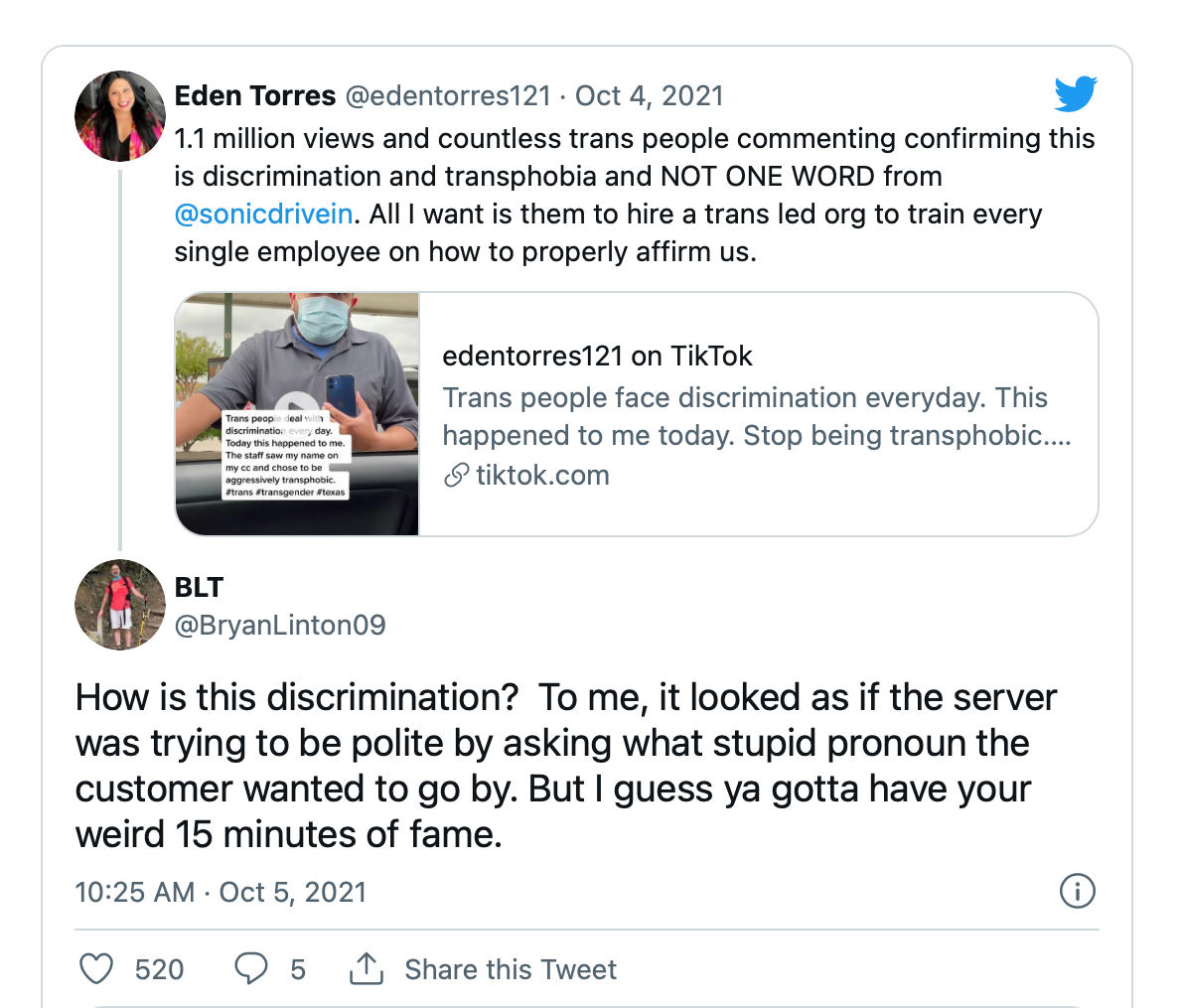 That sentiment was echoed by many other twitter users, one of whom said "He literally asked you what you wanted to be called."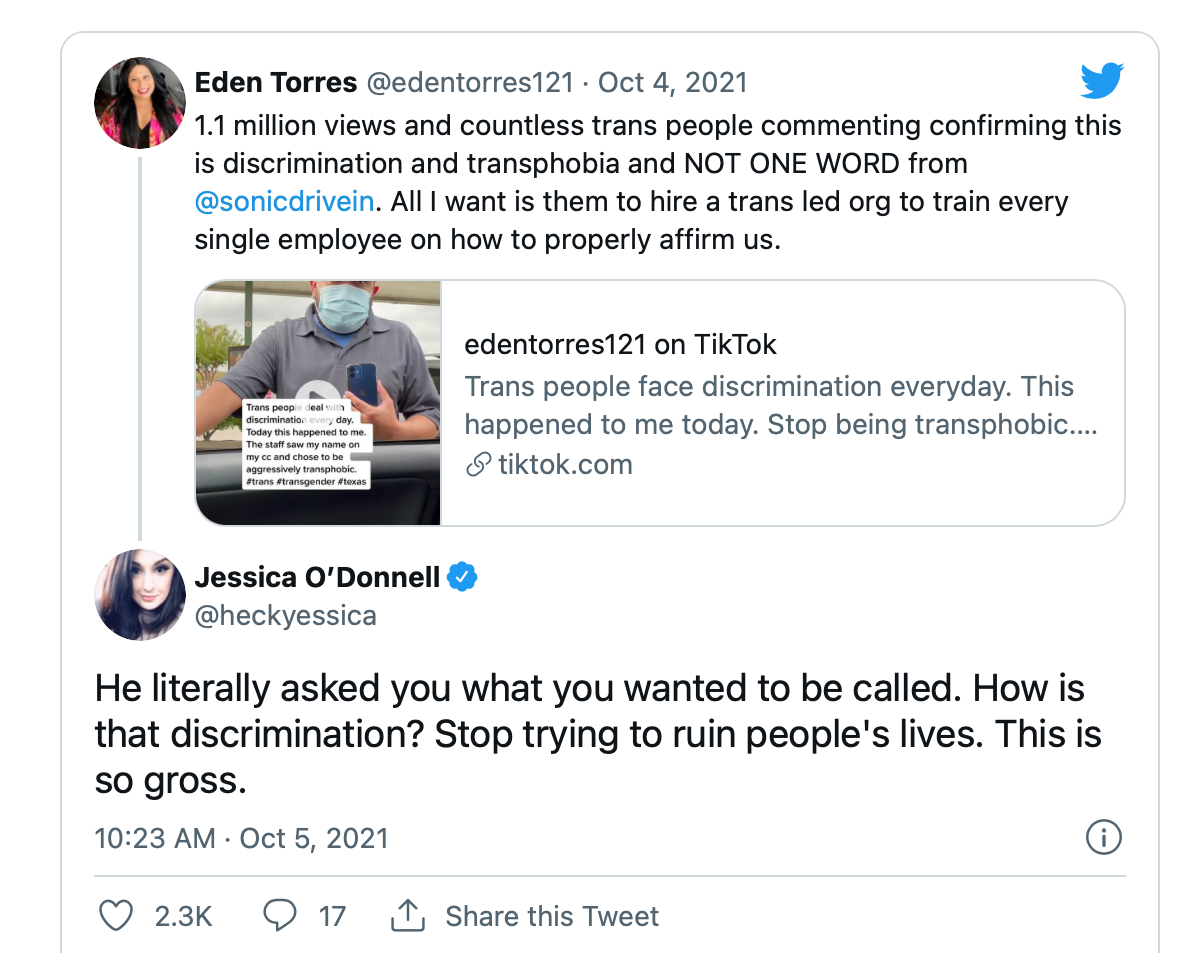 So far, Torres' tweet has garnered 1,800 primarily incredulous replies, confused as to why Torres seemed to be on a war path to endanger the manager's job – this is compared to only 49 likes on the original tweet complaining of discrimination.
But despite the overwhelming ratio on Torres' post, the Official Sonic twitter responded that they had launched an "immediate investigation" into the incident, and asked Torres for more information.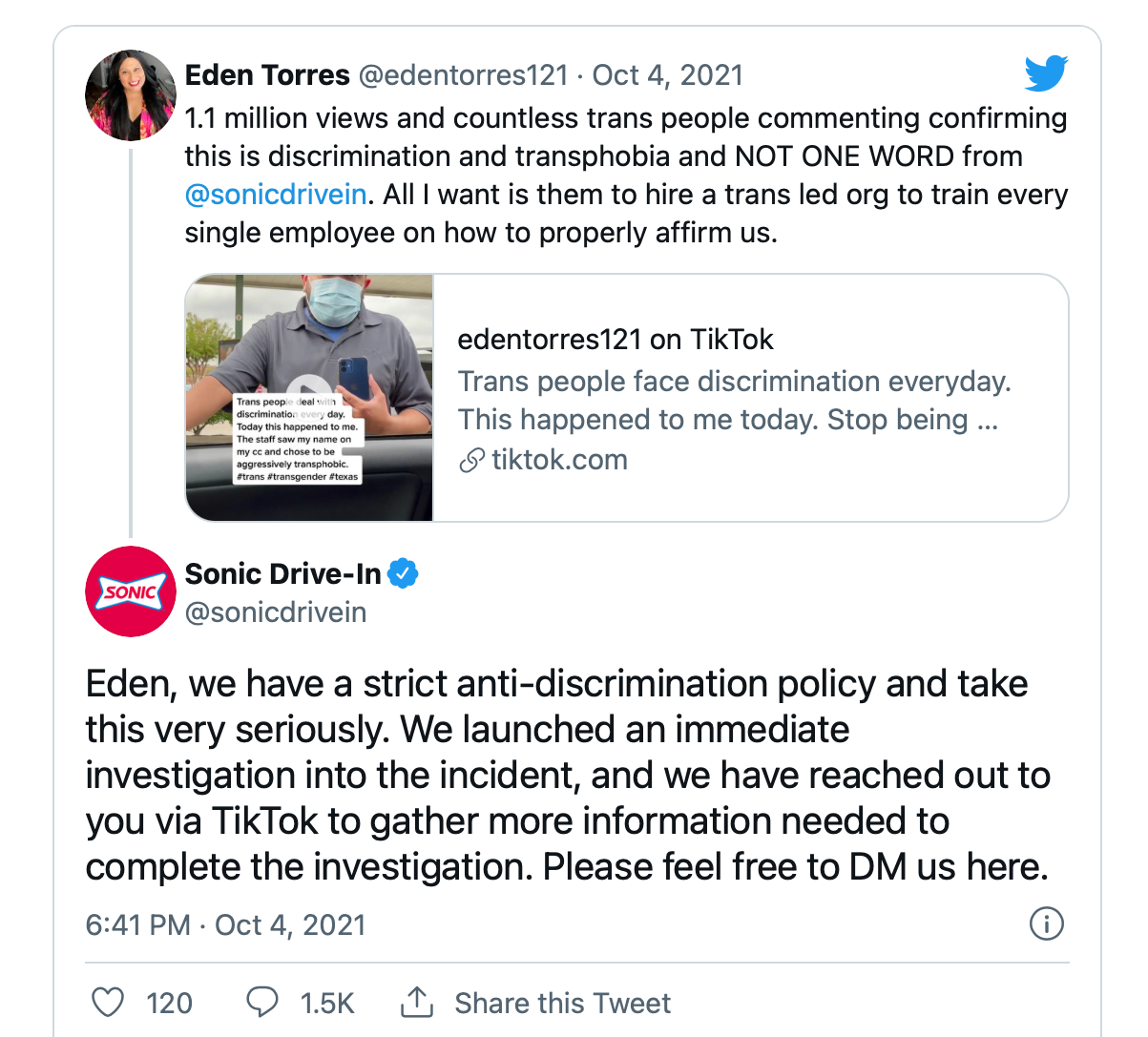 Even Sonic's response has since been ratioed by Twitter users, many of whom provided their words of support for the manager.
"The videos show that there was clearly bullying and harassment taking place. It wasn't your employee doing it though." @sugarteano wrote.
Many are noting this situation bears a striking resemblance to another viral incident from 2019 in which a trans-identified male was caught on video becoming very aggressive and yelling at Game Stop employees who had called him "sir."
It is unclear what the fate of the manager or employee in this situation will be.
4W has reached out to Sonic Drive-In for more details on their investigation, and may provide an update as one becomes available.
UPDATE 5/10/21: Torres has deleted his original Twitter post. This article has been updated with screenshots to reflect that.
---
Do you want to bring the "gender madness" to an end? Help us write about it! 4W is able to pay our all-female staff and writers thanks to the generous support of our paid monthly subscribers.
Enter your email below to sign in or become a 4W member and join the conversation.
(Already did this? Try refreshing the page!)