France
France: Women Marching for Abortion Assaulted by Trans Activists
Women in Paris told that abortion rights were not "their struggle"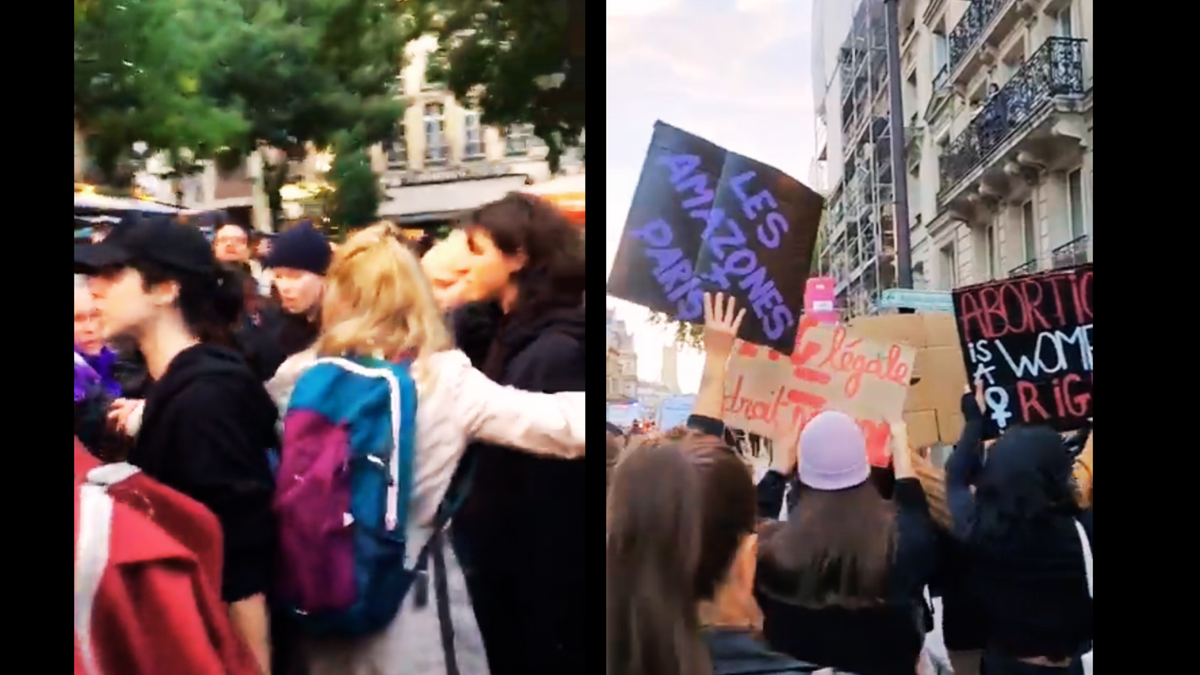 On September 28, International Safe Abortion Day, several French women marching for abortion rights in Paris were physically assaulted by transactivists, according to feminist organization L'Amazone.
During the march, women who belonged to feminist groups L'Amazone and Osez Le Féminisme encountered trans allies shouting "TERFs out of our struggle" (TERF hors de nos luttes) and started tearing up their signs. Trans activists physically assaulted several women at the protest. One video shared by L'Amazone on Twitter shows several individuals arguing, when a female protester, who was filming them, said to a trans activist "Excuse me, please." The video shows the individual punching the woman who was filming.
L'Amazone said that several of their members went to the public demonstration at the call of the feminist organization Osez, and that they were at the head of the march when they were attacked.
"We asked the organizers (Unsa - Union Nationale des Syndicats Autonomes) to intervene in the face of this violence", a L'Amazone member tweeted, but added that the organizers refused to take action. The women then addressed the police force present at the protest. The French police (FDO - Force De l'Ordre) is said to have reacted in the women's favor and disbanded the trans activists, allowing the women to continue their march.
But after they resumed the demonstration and placed themselves away from the trans activists, the feminist campaigners were followed by the trans allies and attacked again. According to the women in the assaulted feminist groups, they tried to reach the organizers again, pleading with them to intervene and exclude the attackers - "otherwise the attacks would continue." But a member of the march's organization team simply replied "We know." L'Amazone also says that the march's organizers blamed the protesters from L'Amazone and Osez Le Féminisme for "getting the police on their backs."
"When did it become normal in France to attack women during feminist demonstrations?", asked the group on Twitter. "What is the relationship between transphobia and women who demonstrate for the right to abortion?"
The demonstrations for abortion rights were organized by Unsa and were planned to take place in Paris and across France, joining a global protest. In France, Unsa was marching for the "right to a termination to be enshrined in the French Constitution and the Charter of Fundamental Rights of the European Union."
The French government has  proposed a bill to "enshrine right to abortion in constitution" last June, just after Roe Vs Wade was overturned in the US. "The government will strongly support this bill," the French Prime Minister, Élisabeth Born said at the time.
---
Only when we know about the violence women and girls face are we able to make a difference. Help us expose male violence by becoming a monthly donor! The generous support of our readers helps to pay our all-female staff and writers.
Enter your email below to sign in or become a 4W member and join the conversation.
(Already did this? Try refreshing the page!)