porn
Meet the Site More Violent Than Pornhub
While the porn giant faces backlash, sites like Heavy-R fly under the radar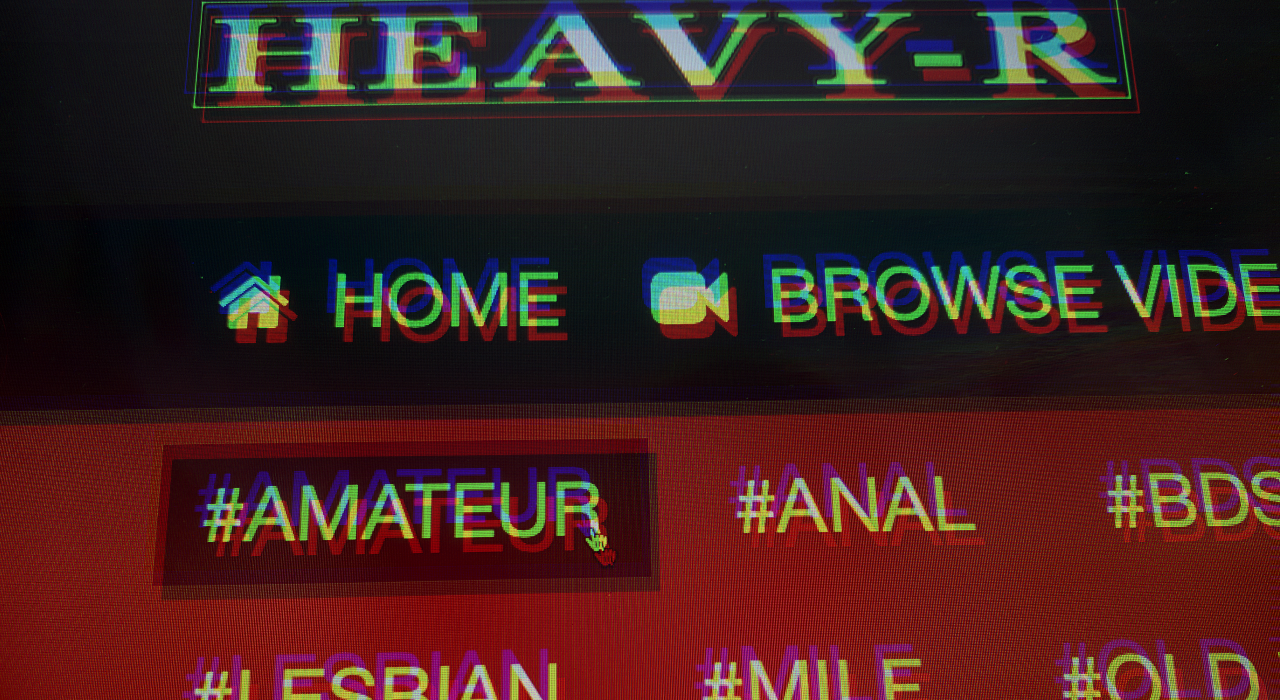 Content Warning: This article includes discussion of and censored image-based evidence related to the investigation of a website which hosts content related to domestic violence, sexual assault, child molestation, abuse, eating disorders, and exploitation. Please proceed with caution.
---
While PornHub has recently come under much-needed pressure to address the culture of monetized exploitation it has fostered, other porn websites are slipping beneath the radar.
In 2019 and 2020, I participated in multiple investigations aimed at exposing PornHub's illegal content. The website is one of the most popular in the world, and yet had allowed (allegedly knowingly) the upload of content featuring minors, human trafficking victims, and non-consenting people.
In 2020, Mastercard and Visa ended their relationship with PornHub after dozens of sexual assault victims brought attention to how the site had monetized content featuring their rape or assault, and, in many cases, refused to remove the videos. Following the loss of major payment processors, PornHub scrubbed their site of over 10 million unverified videos overnight.
But while PornHub has been getting its just desserts, similar porn sites are going without the same level of scrutiny. I came across one such site during my research into PornHub and monetized abuse videos last year and was shocked at the lack of attention has been met with.
Heavy-R is a legal, easily accessible graphic pornography site which doesn't just host rape, torture, snuff, and abuse videos — it encourages them to be uploaded. Their short "About Us" page simply states that they aren't "pussies like the other tube sites," and "if people wanna see that kind of shit, upload it here!"
According to Alexa, Heavy-R ranks in the top 10,000 websites in the world, and one of the major keyword drivers of traffic to the site is "rape porn," representing almost 17 percent of all traffic. By contrast, "rape porn" does not represent any of PornHub's top keyword drivers.
Heavy-R's official categorization system features tags such as "anorexic" (videos of women with severe eating disorders), "torture," "wasted" (videos of women who are heavily intoxicated), and "young" (a category separate from the "teen"). In fact, a simple Google search of Heavy-R will advertise "Unwilling Sex" (also known as "rape") in the first results.
While Heavy-R does not provide a comprehensive number of the amount of videos it is hosting, searches like "torture" bring up over 25 pages of results, as does "murder/snuff" and "violent."
At the bottom of every page on the site, there is a bar featuring "recent searches" which are keywords searched on the website by visitors, updated in live time with every refresh of the page.
The "recent searches" bar frequently features searches for extremely graphic, illegal content. On one visit, I screen captured a sample which included "girl kicked punched beat bleeding crying," "chloroform," "woman head murder," "teaching little boy to suck cock," and "necro."
One refresh of the page, and the results were updated to include "little teen toddler boys" and "father licks sleeping daughters pussy."
These tags are hyperlinked through to visit the results of that search.
While I patently refused to explore any potential tags or avenues which may lead to underage content, I did click into one of the "mainstream" categories often dismissed by sympathizers as "kink" and "fetish."
BDSM content, specifically that featuring the abuse and humiliation of women, often comes under scrutiny by radical feminists who recognize the danger and real-world implications such "fantasies" have on women. Sympathizers insist there is no harm in simulated torture, and that BDSM is a legitimate, sane kink.
But one minute into exploring the category and I came across a clip featuring a woman being forced to drink alcohol against her will, being thrown around by several men, and kicked until there were visible blood smears on the floor.
Even Heavy-R commenters questioned the legality of the video due to its brutality, with one user from the country the video originated from even updating that the primary male featured was currently in prison. Another user corroborated this, advising the clip was from a much longer feature where the woman was ultimately raped. Some users eagerly asked for links to the full-length video.
While some of the commenters were horrified by the explicitness, many expressly declared their enjoyment of the video with misogynistic slurs. The video has over 672,000 views.
Stumbling upon such a horrific video was not an isolated incident. Another video quickly suggested to me featured a webcam model being paid to punch herself in the face until her nose appeared to be visibly broken and she was bleeding heavily. The video even proudly declares that it is not fake in the sub-title.
Commenters put all manner of encouraging and abusive remarks beneath the video, with some even exchanging contact with an account who claimed to want to arrange something similar. The video has over 43,000 views.
While some videos on Heavy-R are simply just disturbing and morally reprehensible, videos depicting the sexual abuse of children or desecration of corpses are almost universally illegal.
However, unlike PornHub, for which information on the parent company is readily available, Heavy-R has no such transparency. The WHOIS information indicates the site's host is located in the United States and their domain is registered in Germany, but where the company itself is incorporated, or even under what name, is unknown. The diversity of users and ambiguous origin of the content they upload makes determining who to report illegal content to extremely difficult, as the jurisdiction of various investigatory bodies generally end at national borders.
With respect to videos depicting sexual assault, those laws can be even more tricky, as even within the U.S. it comes down to individual state law. In Texas, for example, it is a Class A misdemeanor to not report the witnessing of a potential offence where someone could be seriously hurt or killed. In Massachusetts, the viewer would have to have full knowledge that what they were witnessing was a crime.
Heavy-R itself claims to be compliant with 18 USC 2257 — a mandate requiring records be kept of all models featured in sexually explicit content to demonstrate they are over the age of 18 and working willingly. But, unlike PornHub, Heavy-R does not produce any of the content on its website, meaning it could not possibly have the records of the millions of people featured in its video archives. And considering the vast majority of Heavy-R uploaders are not uploading content they themselves created, I would be shocked if the site had a single record.
Anyone can view and browse the videos on Heavy-R, but creating an account requires an invitation from an existing user. Users readily share invitations on websites like Reddit and in Heavy-R comment sections, making it a very easy obstacle to overcome.
While the continued scrutiny towards PornHub is necessary and represents great progress, we cannot lose sight of the fact it is but one single example of the monetized abuse of women and children on the internet.
Heavy-R is not currently under any media scrutiny. It has even been rated positively by "porn reviewers" who praise it for its "no-limits" approach to porn. Without any widespread interest in what is happening on the site, the worst abuses are going completely overlooked.
Like a mold, the violence of the porn industry is thriving in this darkness–and sunlight is desperately needed.
---
Only when we know about the violence women and girls face are we able to make a difference. Help us expose male violence by becoming a monthly donor! The generous support of our readers helps to pay our all-female staff and writers.
Enter your email below to sign in or become a 4W member and join the conversation.
(Already did this? Try refreshing the page!)