spinster
How to Download Spinster App on Android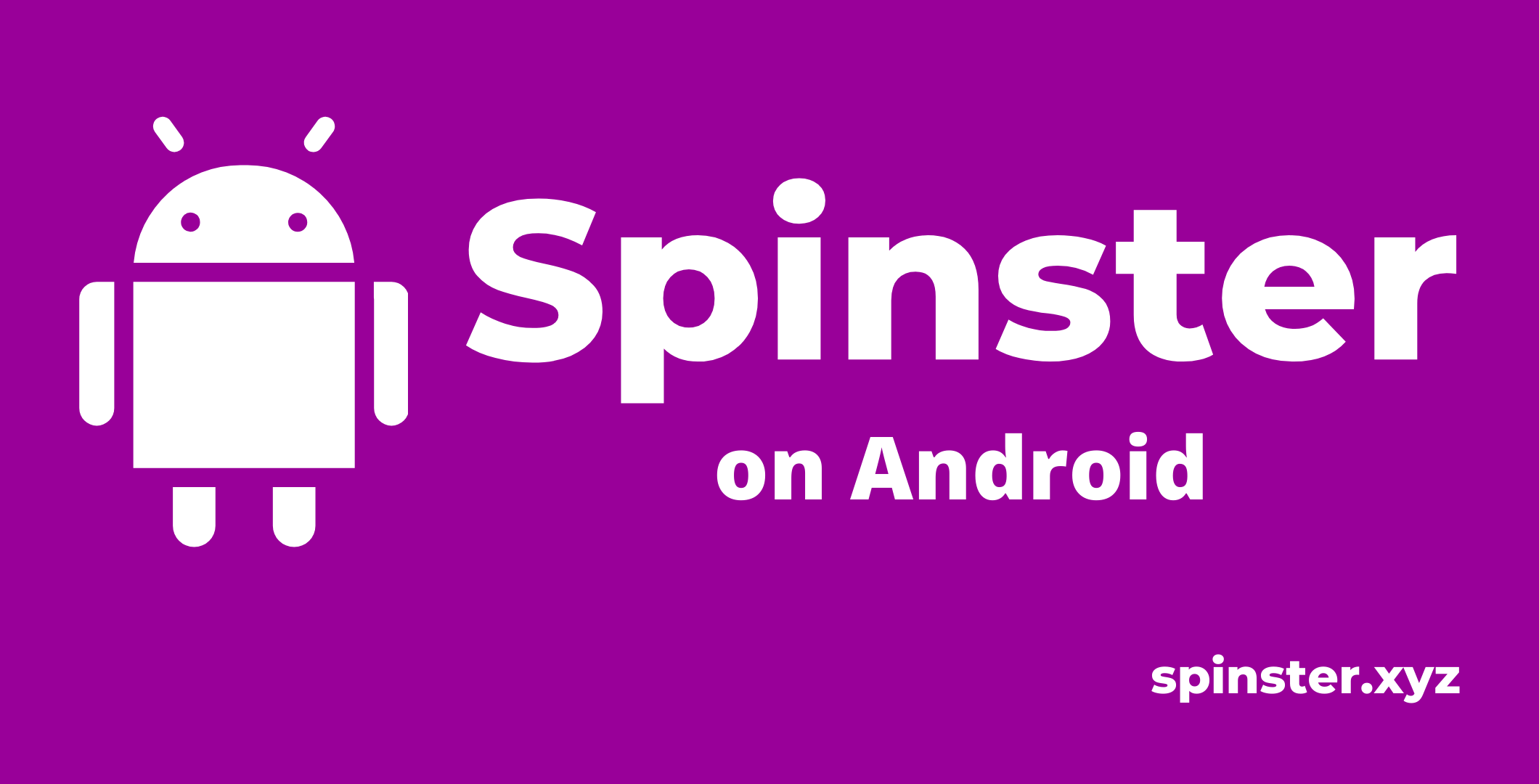 Before you proceed:
Please note that many of the new features introduced in Spinster 2.0 are not available in the Android app such as emoji reacts, markdown posts, or chat. For the best Spinster experience, we highly recommend using the Spinster website on your phone by pinning a shortcut to your home screen.
---
Contents
Special thanks to @akelai on Spinster for helping to put together this guide!
---
Background: Spinster Banned from Google Play Store and F-Droid
Spinster.xyz is women-centered social media platform. The site is part of the Fediverse, a network of connected open source servers where users can share content in a Twitter-like "micro-blogging" format. Created in August 2019, Spinster now hosts over 13,000 users—making it the largest feminist server on the Fediverse and one of the top 30 servers out of over 5,000 active sites.
If you are new to Spinster or the Fediverse, please check out our FAQs and  Guide to Spinster Privacy Options.
Shortly after launching Spinster, a volunteer created a Spinster App for Android. The app is a fork of Tusky, a popular Fediverse Android app, with Spinster branding. Creating a fork of Tusky became necessary when Tusky banned Spinster users from logging into their app.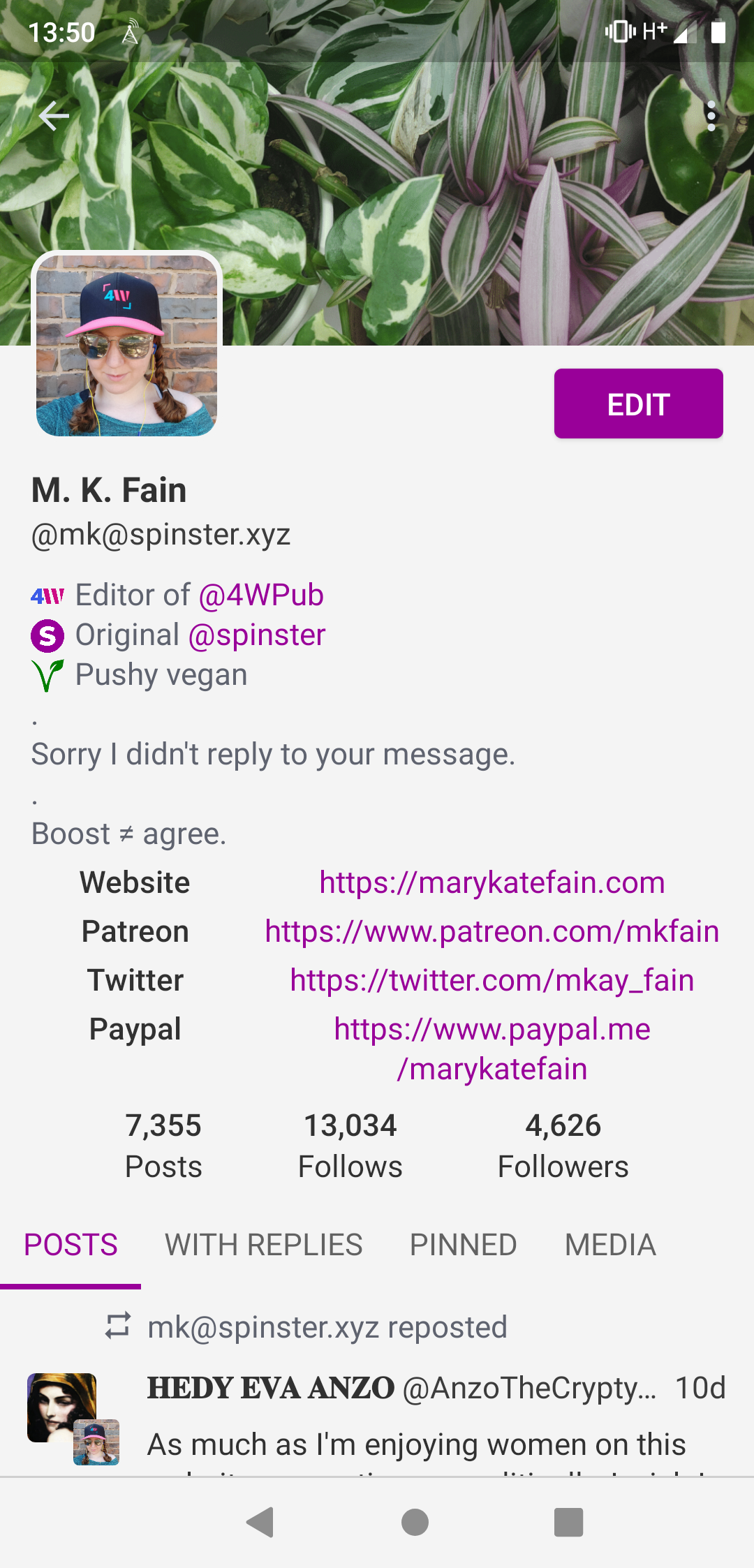 The Spinster app was submitted to the Google Play Store in August of 2019 and was initially approved. However, trans activists on the Fediverse spammed the Google Play Store with false reports, causing Google to ban the Spinster app from the app store. Google claims that Spinster was suspended due to a violation of their "User Generated Content" (UGC) policy, despite the fact that Spinster adheres to every requirement for apps that include UGC, including "robust, effective, and ongoing UGC moderation." We immediately appealed the decision, and have not heard back on our appear for nearly a year now.
After being banned from the Google Play Store, volunteers on the Spinster Tech Team submitted the Spinster app to F-Droid, an alternative app store for Free and Open Source (FOSS) Android applications.
Spinster was, once again, initially accepted into the repository because it meets every requirement. After complaints from trans-activists, and despite not being able to demonstrate how Spinster violated any of their policies, F-Droid relented to pressure and also banned the Spinster app. F-Droid has previously stated that they would allow apps like Fedilab, which is similar to Spinster. The only difference is that Spinster is primarily used by women, especially feminists, to discuss issues related to women's rights, while Fedilab is more popular among male users.
Spinster has faced non-stop harassment, attempts to deplatform us, and attempts to silence our community of thousands of women speaking out for their rights. But they have failed. While the Spinster app is a little harder to download now than it would be through the convenience of the Google Play Store or F-Droid repository, you can still download and use the Spinster app!
---
How to Install on Spinster App on Android
To download the Spinster app, you need to download and install the Spinster app yourself from the apk file rather than through an App Store, like Google Play. Follow these step-by-step instructions to download and install the .apk from FeministWiki.
1. Open whichever browser app you have on your phone (Chrome, Firefox etc.) and copy and paste the link:
https://files.feministwiki.org/s/ZFGRwCLc9Ga8TgE
2. Click the 'Spinster-self-release.apk' link and let it download to your phone
The file isn't big, but depending on your WiFi it might take a minute or two.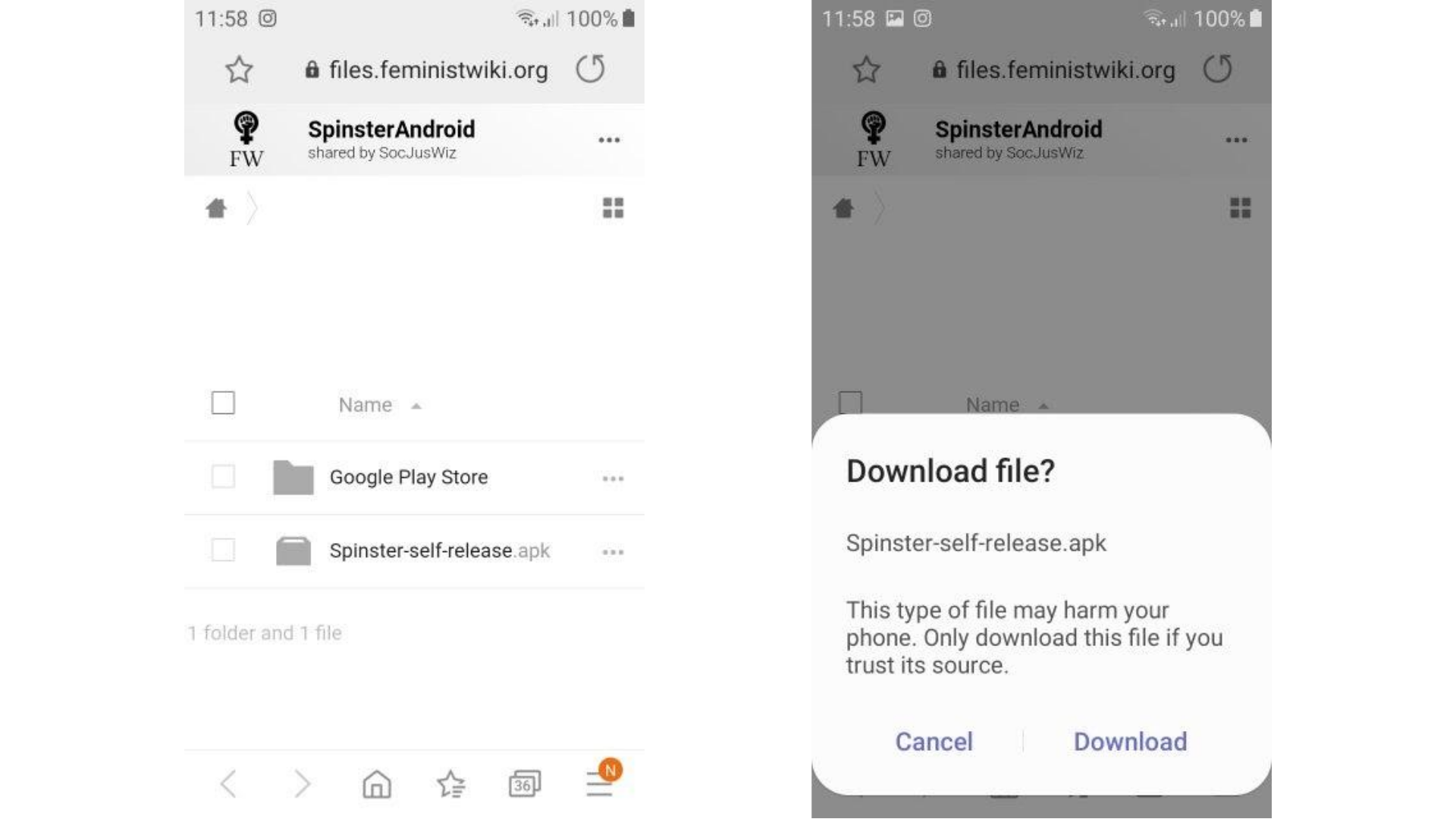 3. Find the downloaded file on your phone
You may find it either by clicking the little arrow at the top of the screen where recent downloads appear, or by going to the download folder on your phone.

Find the folder 'My Files', open it, and click on 'Downloads'. If all went well the apk file is sitting there waiting to be installed.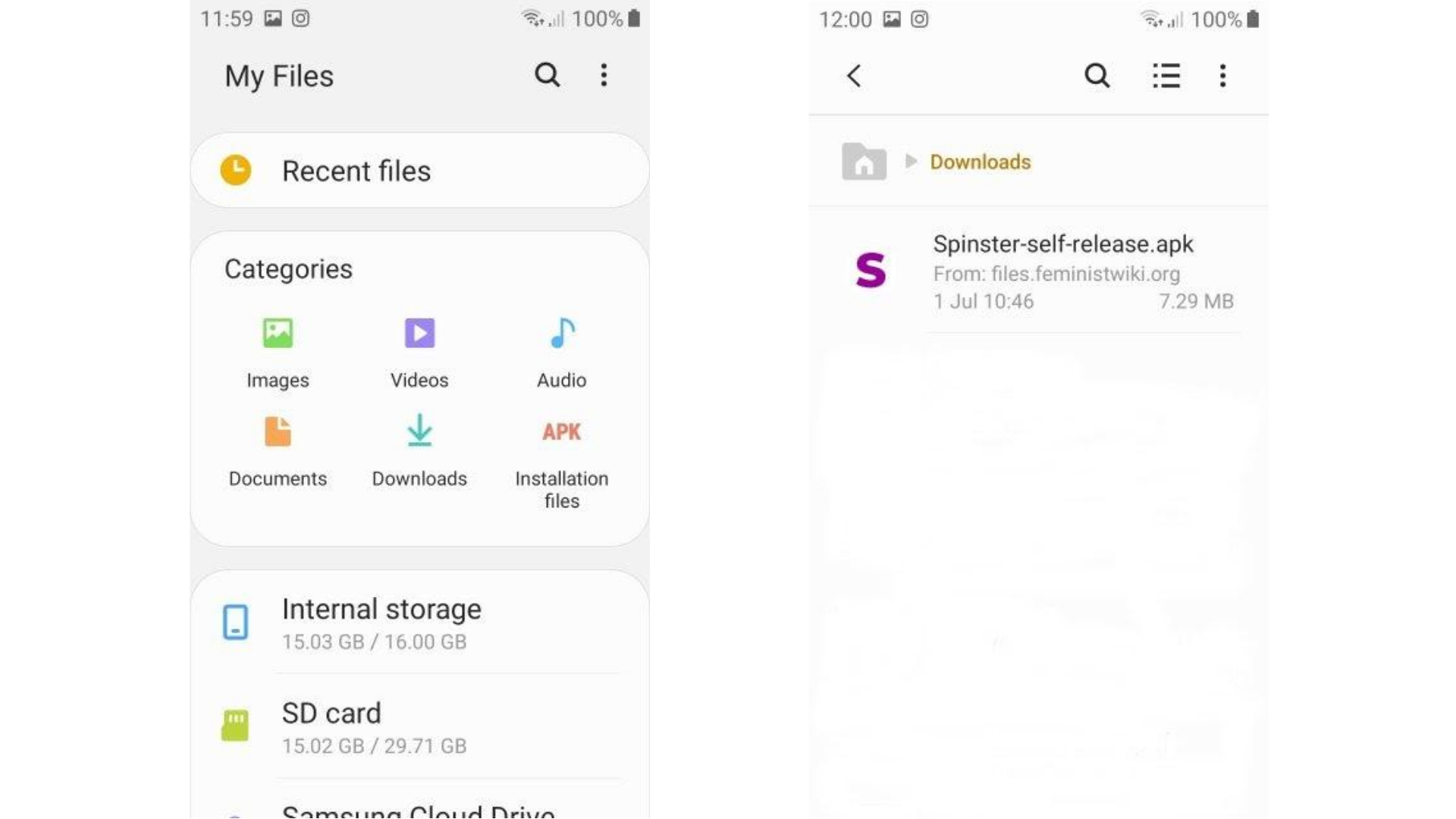 4. Click the apk to start the installation
You will probably be warned that installing the apk could do damage to your phone and it is possible you will be asked to make a change in your settings to get the app to work.

After you give permission and change the required setting it will install. After that, simply find the icon, click it, and login with your username and password.
You're good to go!
---
Apps for iPhones and Other Options
Spinster does not currently have an iPhone release of the Spinster app, but you should be able to log in to most iPhone apps for Mastodon. "Mast: for Mastodon" in particular looks promising.
Download Mast for iPhone: https://apps.apple.com/us/app/mast-for-mastodon/id1437429129
Other Fediverse Android Apps you may use include:
However, there is always a chance that maintainers of these third-party apps will choose to deplatform Spinster users, banning them from using the app.
If you do not wish to use a third party app, we recommend simply using Spinster in your browser on mobile. Our mobile site is very functional, and you can pin a shortcut to Spinster by following these instructions for iPhone or Android.
---
Notice any issues with this guide or have any troubleshooting tips to share?
Message @mk on Spinster!
Enter your email below to sign in or become a 4W member and join the conversation.
(Already did this? Try refreshing the page!)