men in women's spaces
List of Women-Only Resources We've Already Lost
From single-sex bathrooms to women's quota, we're losing provisions put in place to make up for the fact that we're oppressed on the basis of sex.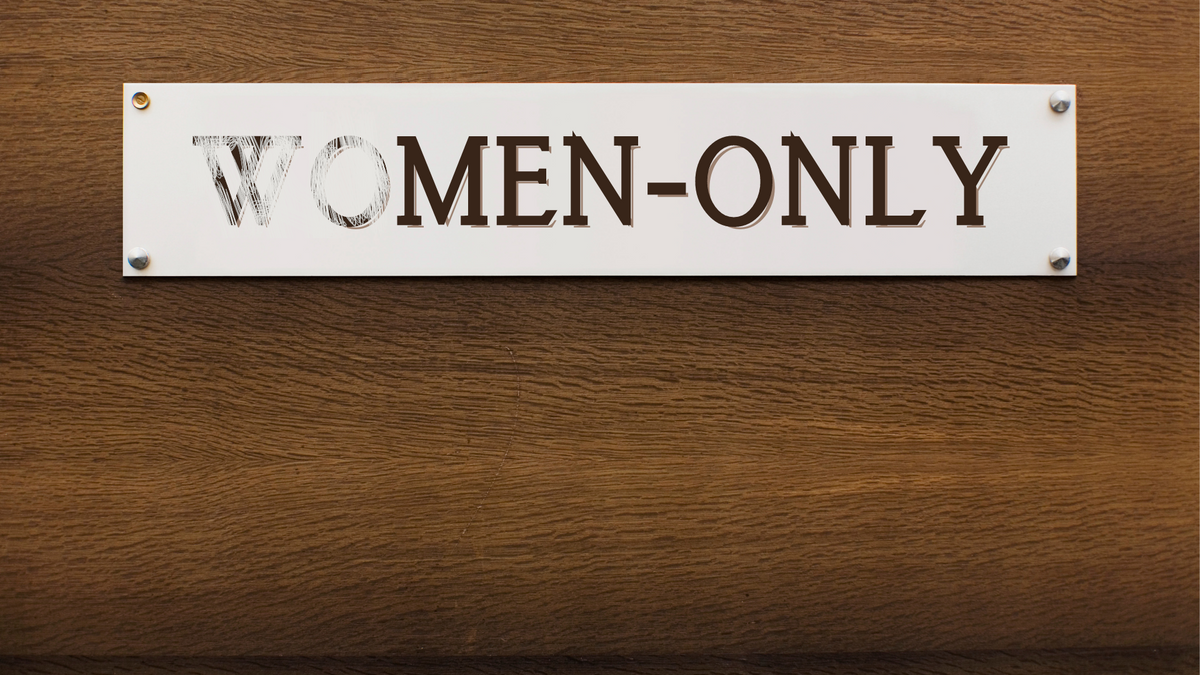 This is a non-exhaustive list, as all available examples of lost women-only provisions would not fit in a single article.
---
There is a clear conflict of interest between the feminist struggle and the current form of the transgender movement, even though women are being told that there is no conflict. In the name of inclusivity, females are rapidly losing rights and services previously made available to them to make up for the fact that we're oppressed on the basis of sex. Thus, many resources that were put in place to advance women's rights are now being opened to men.
Inequality between the sexes—privileging men at all levels of society—is still the norm, but now the few resources that were once allocated to women and girls to ease inequality, are being redirected to males if they say they are women.
The root of this issue is the conflation of biological sex and gender identity. When men are allowed to identify as women, data on sex and sex inequality is not "robust" anymore. Here is a non-exhaustive list of instances when men recently benefited from measures put in place for women.
Academia
On November 30, the Telegraph published a piece about the Athena Swan scheme, designed to "promote women in academia." The scheme, created by charity Advance HE in 2005, was intended to advance women's careers in research, higher education and STEMM employment.
However, the scheme now recommends that data be "collected exclusively on gender-identity, not sex." As is written on the Advance HE website, the charity recommends:
"asking a question about gender rather than asking a question about sex. This ensures equality efforts are… inclusive of a diverse range of gender identities."
According to several academics, the move by Athena Swan— "embracing 'gender as a spectrum'"—is incompatible with the institution's "founding purpose." Professor Alice Sullivan and Dr John Armstrong's post on the British Educational Research Association (BERA)'s blog called "Has Athena Swan lost its way?" comments on the conflict of rights, as, according to them, the scheme now "discourages academic departments from collecting data on sex."
Dr Kathleen Stock, who recently resigned from University of Sussex after being hounded for years by transactivists, observed for the Telegraph that the data collected on gender identity, rather than biological sex, is "no longer robust."
"It is bizarre that a scheme that was set up to promote women's academic careers in STEMM fields now advocates that universities should not collect data on sex, " said Professor Alice Sullivan to 4W.Pub. "We cannot monitor women's progress without sex-disaggregated data."
Support groups
On November 27, the Daily Mail wrote about a support group for women who have been subjected to sexual violence. In the piece, a mother of two, Sarah*, describes how she quit her therapy sessions at the charity Survivor's Network in Brighton after a man who said he was a woman started to attend the sessions. 'We talked a lot about male entitlement, about how men feel entitled to women's bodies," she told the Daily Mail. "Quite often we just said how we didn't trust men and it felt like a safe space to say that."
However, after the man had started to attend the sessions, talking about male entitlement and male violence against women became "nonsensical," according to Sarah. She told the news outlet that the "priority of the group was not to talk about male entitlement any more or our shared experiences, but about making sure this person who was born male felt comfortable."
Sarah spoke more about the subject to 4W.Pub: "I'm a survivor of rape and childhood sexual abuse and this year I realised I needed help coming to terms with what happened to me." She said that it took her a "long time" to seek support and contact her local rape crisis service, which had a specialist trans group and a women-only group. The women-only group was, however, open to all "self-identifying females." She became a regular and says that "it felt good to meet other women and be believed, supported and understood."
But when a man arrived and sat in the circle, everything changed, she says.
"Upon realising there was a male in the group, one woman burst into tears and walked out… Everyone else seemed uncomfortable and nobody volunteered to speak."
"I knew what was expected of me," Sarah said. "I needed to put aside my own feelings and boundaries to make sure the male in the room felt validated and comfortable."
After that session, Sarah raised her concerns with the centre and was told that their support groups were not a place for her. The rape crisis centre stopped replying to her emails. "I feel badly let down by an organisation that was supposed to help me. Women who have experienced sexual violence need single sex spaces."
In a Twitter thread posted on November 30, feminist campaigner Leya described a similar experience to Sarah. She claimed she reached out for help to Edinburgh Rape Crisis in a time of intense need, and was put on a waiting list. Leya asked the charity if she could have a female councilor, and initially, she was told that this would be the case. However, upon learning about the statements made by the male trans-identified CEO of the charity, Mridul Wadhwa, advising women to "reframe their trauma," she wrote to the charity to complain. "At this point ERCC stopped replying," she wrote. "Several emails and even voicemails later and they did not reply. They ghosted me."
Literature
This year, the Women's Prize for fiction nominated a trans-identified male, Torrey Peters, for its longlist. The Award was established to "recognise the literary achievement of female writers" and is considered the UK's "most prestigious annual book award celebrating and honouring fiction written by women."
According to Wild Woman Writing Club, who wrote an open letter to the Women's Prize for Fiction last April, the award was created in response to the all-male shortlist for the 1991 Booker Prize. The letter states that, over the years, "the Women's Prize has been criticised as 'sexist' because it is for women." Nonetheless, even though the Prize's website still claimed the prize is for female writers, this year, they chose to nominate Peters as a female writer. Peters has not won the Prize, but a female writer lost the chance to be nominated for the longlist.
Business
The Women's prize was not the first time, however, that males who believe they are women have been nominated for a list that should be celebrating women's achievements. Two years ago, a man called Philip Bunce accepted a place on a list of the Top 100 Women in Business. Bunce is a bank director for Credit Suisse, a "company which typically pays its male employees more," and claims he spends half of the time as Philip and half of the time as Pippa.
His appearance on the Financial Times & Her-oes Champions of Women in Business list caused even transsexual males like India Willoughby and Kristina Harrison to oppose the nomination, with both stating that it was insulting. Kiri Tunks, co-founder of Woman's Place UK, spoke out for The Times: "This makes a mockery of women and their achievements."
Politics
Another example coming from the UK is the opening of All Women Shortlists (AWS) for political positions in a party or in an election to everyone who identifies as a woman.
"The fact remains that while 51% of Labour MPs are women, only 34% of all those sitting in the House of Commons are (women)," wrote Elliot Chappell for Labour List in 2019. Even though the AWS in the UK have succeeded in more women getting elected over the years, our sex is still underrepresented at the highest positions in decision-making.
Women's Officer
In the same way, in the UK, the post of Women's Officer for the Labour party, which is said to be "a post that involves encouraging women to join the party and generally speaking for women, their concerns and their experiences," has been occupied by males who identify as women, starting with Lily Madigan in Lewisham, named Liam at birth. His election was surrounded by allegations of transphobia against the previous holder of the position, Ms Ruzylo, who opposed the inclusion of males who identify as women.
Madigan demanded Ms Ruzylo to be removed from her post and, later, he became the first trans-identified male to be elected as Women's Officer in the UK in 2017. Madigan was not the only one: Nottingham South elected Heather Peto, another male who identifies as a woman, for the same post. Both trans-identified males were from the British Labour Party.
Women's quota in elections
The inclusion of males who identify as women is not restricted to the US and the UK. On November 30 2021, Bloomberg reported the election of a trans-identified man as a Minister of Education in Sweden. Prime Minister Magdalena Andersson claims that the new cabinet in government has a female majority. However, her government cabinet consists of 12 males and 11 females.
In Mexico 15 potential "fake transgender" candidates running for office in 2018 were disqualified in that year's election. These candidates, all born male, were filling up the quota allocated for women and said to have come from the indigenous Zapotec community, which recognizes a third gender called Muxes. The 15 candidates who were disqualified, however, were not part of the Muxes, a group considered to be "born with male bodies, but identify as neither male or female." Despite this, in the end, at least two candidates born male were accepted as females.
Women-only facilities
Initially, women-only facilities were created to ensure a safe environment away from the male gaze in places where women are vulnerable, like swimming pools. In London, the Hampstead Heath pond's 2019 new policies allowed trans-identified males in the women's pool. According to the pool centre, it was supposedly created to "reduce risk of discrimination at ladies' pond. In reality, it turned a single-sex facility into a mixed-sex one. The McIver's Ladies Baths in Sydney was also forced to admit males who self-identify as women due to a fierce backlash from the transgender community on social media.
Single-sex toilets and changing rooms
Women are avoiding mixed-sex toilets in their workplace and other spaces, such as theatres and public buildings, as well as changing facilities in shops. In the UK, Department stores like Marks & Spencer's, Primark and Zara adopted the practice of allowing men who identify as women to use female changing rooms, although, as feminist campaigners say, this is at odds with the law. In December 2021, a male reporter for the Daily Mail visited high profile shops, asked to use the women's changing rooms and was given permission. "High street retailers are allowing men to use their female changing rooms – so long as they say they identify as women," wrote Max Aitchison.
Journalist Sarah Ditum wrote for the Economist: "Too often, gender neutrality is accomplished by neutralising services or analyses centred on women." She cites the case of the Barbican, a performing-arts centre in London, which made its toilets "inclusive" by relabelling them "gender neutral". The move increased the time women had to wait to use the toilets because, even though men can use the cubicles, women cannot use urinals.
It's worth noting that, in the past, female facilities were created to tackle the issue that became known as the "urinary leash" - when women living in Victorian Britain were "unable to travel long distances due to the fact the overwhelming majority of public toilets could only be used by men."
In fact, single-sex female toilets and accommodations are still an issue in most fire stations. In 2018, only about 4 percent of firefighters in the UK were female, while having no provisions separate from men to accommodate them. In May 2021, the British government has announced that female toilets must be installed again in all public spaces after a call for evidence on the provisions of single-sex facilities in November 2020.
Government funding
Beside single-sex spaces and opportunities to increase women's political representation, financial resources are being taken away from women as well. Consider the money from the UK Tampon Tax - what could have been used to tackle period poverty was redirected to another purpose.
The Tampon Tax added a 5% rate of value-added-tax (VAT) on menstrual products, deemed as "luxury items."The tax was officially eliminated in January 2021, but in 2017 LGBT charity Proud Trust was awarded £99,960 from the British government's Tampon Tax Fund, which "allocated money from VAT receipts on women's sanitary products to projects that benefit disadvantaged women and girls."
With this money, Proud Trust created a toolkit for school children which featured a dice with the words "anus", "vulva", "penis" and "hands and fingers" written on each side. At relationships and sex education classes, children as young as 13 were encouraged to "throw the dice twice and talk about the sexual acts that can happen using the two body parts." Meanwhile, hundreds of girls miss school for lack of menstrual pads in the UK.
Sports
Beside grants, spaces and political opportunities, women's and girls' participation and fair competition in sports is also threatened, with female athletes being replaced on the winner's podium by males at all levels of competition.
In the US, Bianca Stanecu, mother of elite track-and-field athlete Selina Soule, helped her daughter to file a lawsuit to protect girls' rights to fair competition in sports. Stanecu wrote:
"Over the past few years, athletes, coaches and parents have been watching in disbelief as girls are being replaced on the winner's podium by boys who identify as girls at all levels of competition."
This is not the only case where male competitors are winning women's medals or sports scholarships. Due to many other cases, at least thirty American states have now introduced bills to "ensure girls and women's sports are organized on the basis of sex rather than self-identified gender identity," according to Women's Liberation Front.
---
Do you want to bring the "gender madness" to an end? Help us write about it! 4W is able to pay our all-female staff and writers thanks to the generous support of our paid monthly subscribers.
Enter your email below to sign in or become a 4W member and join the conversation.
(Already did this? Try refreshing the page!)