Transgender
"Non-Binary" Student Who Fantasized About Violence Against Women Now Employed at Gov. Funded LGBT Charity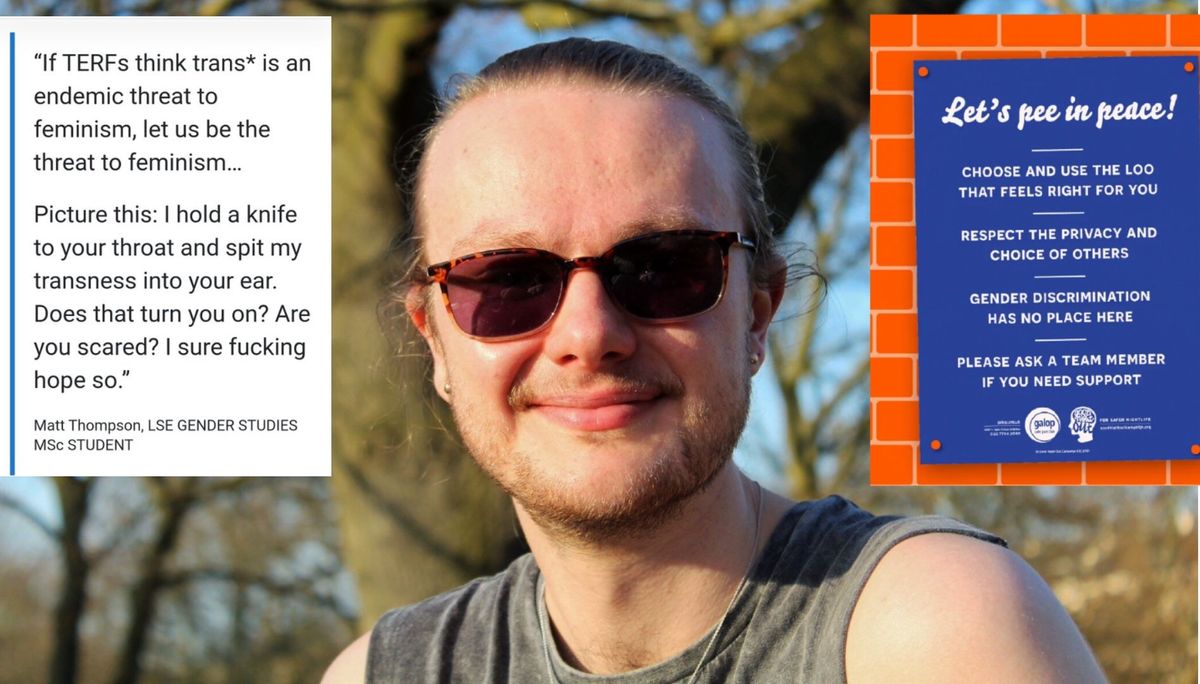 In July, a MSc student at the London School of Economics (LSE) made headlines after he discussed highly violent, sexualized fantasies against feminist activists during a lecture.
Mat A. Thompson of London, England came to international attention after parts of his paper were leaked. The piece was initially written as part of a course called Transnational Sexual Politics in the LSE's Gender Studies Department. The seminar Thompson participated in was called "No Time, No TERFs, No Norms."
"TERF" is an acronym standing for "trans exclusionary radical feminist," or, feminists who believe males cannot be women. As it is often accompanied by threats of violence or abuse from trans activists, "TERF" is considered a slur by some feminists.
Thompson's paper, titled "Trans-Endemics: Embodying Viral and Monstrous Threat in Times of Pandemic," was presented first in April of 2021 and then again as a lecture at a June conference within the Department of Gender Studies. In it, Thompson stated:
If TERFs think trans* is an endemic threat to feminism, let us be the threat to feminism.
Tell me, what do you find threatening? The police? Men? Me? When you see me walk down the street with my long blonde hair, heeled  combat boots, and make up to die for, are you scared? You should be.
Am I a threat to you? Do I send chills down your spine?
Picture this: I hold a knife to your throat and spit my transness into your ear. Does that turn you on? Are you scared? I sure fucking hope so.
Picture this, I hold a knife to your throat and spit my transness into your ear. Does that turn you on? Are you scared? I sure fucking hope so.
The paper was allegedly worth 30% of Thompson's grade, and went towards his Master's degree in gender/sexuality studies.
While Thompson eventually faded from interest and deleted his social media after the tremendous backlash from feminist groups, new developments show he is now employed at a Government-funded LGBT charity as a "Transphobic Hate Crime Advocate."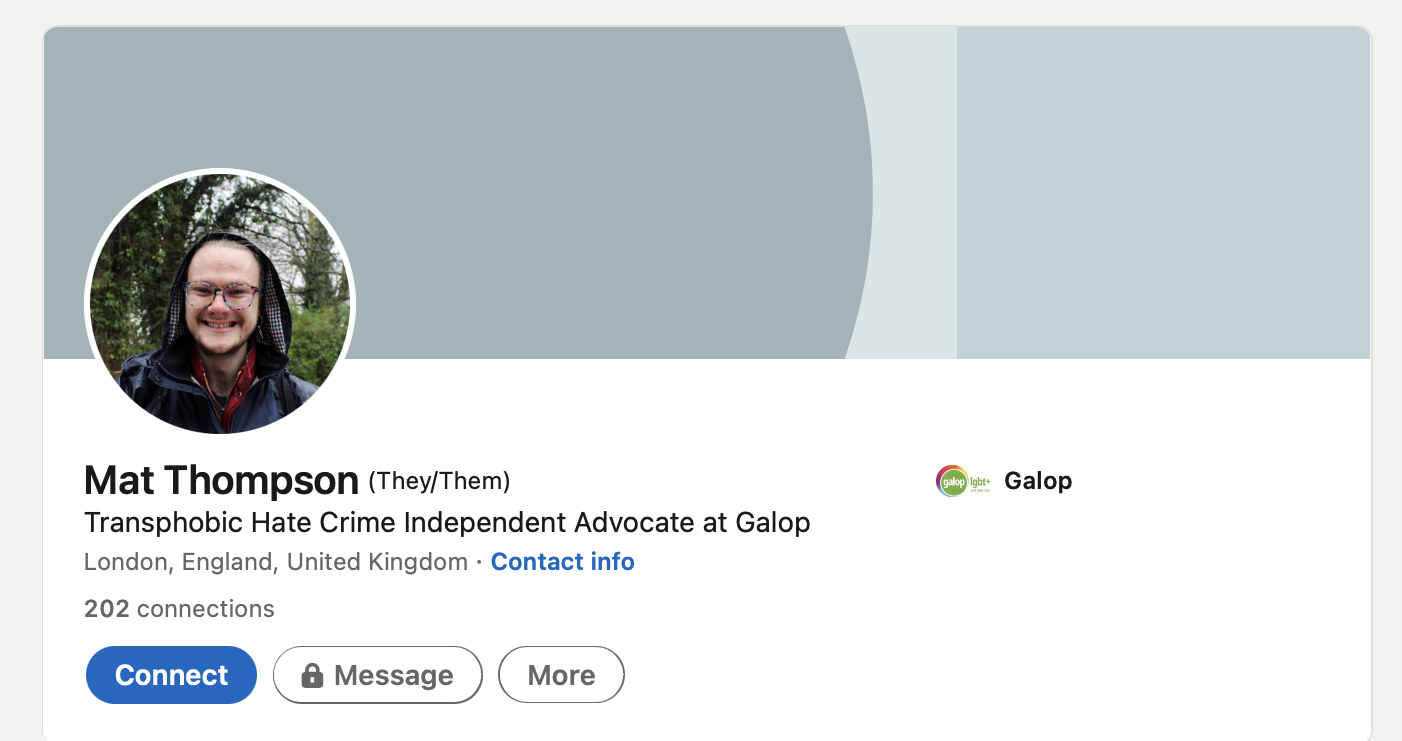 According to Thompson's LinkedIn, he began working at Galop in October of this year on a full-time basis.
Galop advertises itself as "the UK's LGBT+ anti-abuse charity," and state they "work with and for LGBT+ victims and survivors of interpersonal abuse and violence."
According to its latest annual report, Galop's primary sources of funding were London Councils, the Mayor's Office for Policing and Crime, and the Home Office.
According to CharityJob.co.uk, the position Thompson now holds was advertised in August, and offered the job on contract until 2023 at a salaried rate of £29,705 to £33,291 per year (approx. $39,849 to $44,659 USD). The job role includes "[working] directly with trans people facing hate crime, offering clients a space to talk and think through options, helping them plan what they want to do, and offering assistance in getting what they need from authorities."
In other documents, Galop has listed "being asked upsetting questions" and "deadnaming" (the act of calling a trans person by their birth name) amongst the "hate crimes" trans people most often face.
4W has reached out to Galop to request comment on Thompson's employment with them, and will update this article if they respond to our request.
---
Do you want to bring the "gender madness" to an end? Help us write about it! 4W is able to pay our all-female staff and writers thanks to the generous support of our paid monthly subscribers.
Enter your email below to sign in or become a 4W member and join the conversation.
(Already did this? Try refreshing the page!)