prostitution
Advocates for "Whores'" Rights Shut Down Prostitution Suvivors' Event in Berlin
Prostitution survivors forced to find a new host in Berlin after pro-prostitution activists targeted their event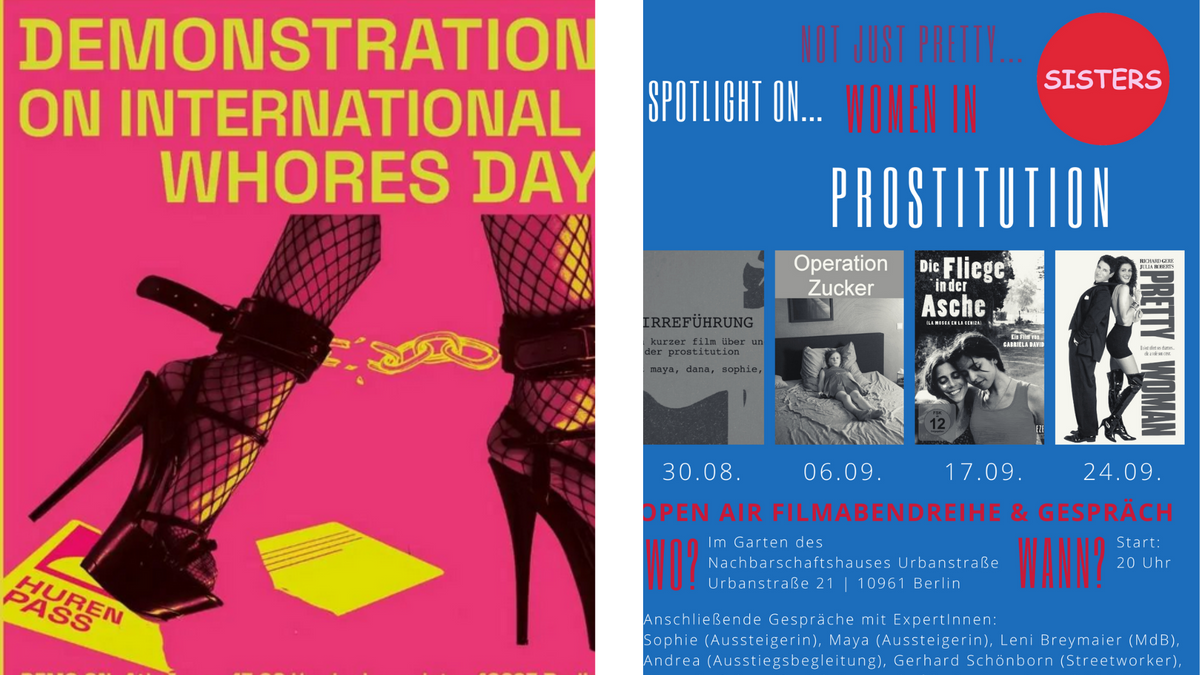 On 29 August, a group called Sex Workers Action Group (SWAG), organizers of Berlin's annual International Whores Day activities, called for protest against an open-air film event and discussion organized by a feminist group in Berlin that helps women exit prostitution.
The event, put together by the NGO Sisters eV, was to feature women speaking of their experiences in the sex industry. It was called off by the venue after SWAG organized a coordinated campaign where they asked supporters to spam the venue with a pre-written letter in which they denigrated former prostitutes as "alleged dropouts" and "showcase victims."
They posted a graphic of the event flyer superimposed with the text: "Sisters eV" is bringing together the crème de la creme of the German SWERF + TERF and fundamental Christians. They want to promote the criminalization of our work and authoritarian ideas to Kreuzberg!"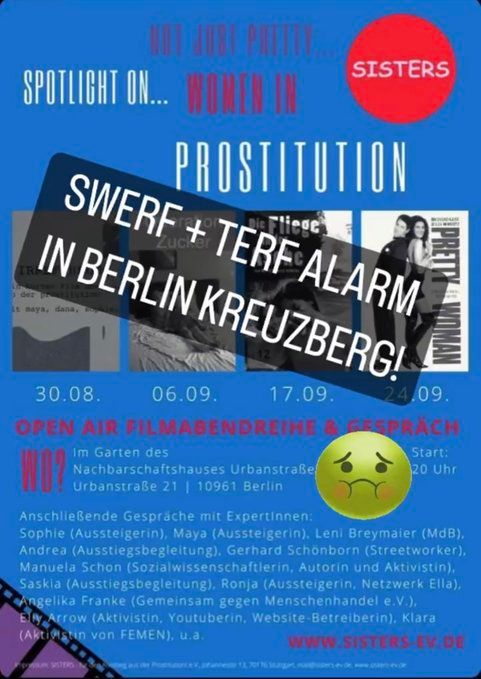 The organizers were able to find an alternative venue that would agree to host them, and the event took place the following evening. The activists attempted to find out the details of the new event but were unable to do so in time (for security reasons, the new venue was not communicated online until soon before the start time).

Twitter user @Kali_im_Exil, a former prostitute who came to Germany as a wartime refugee, said that she couldn't understand the hate directed at the speakers, and posted the following on Twitter:
"Can you imagine that there is a campaign against us just because victims of prostitution want to talk about their experience? That we now have to seriously think about our protection and are afraid of violence?"
Her decision to bear witness to the realities of the sex trade was compared to Nazi marches by supporters of prostitution decriminalization.
"I will still go to the event tonight." she wrote in another tweet. "I respect the people who want to hear me and the others and I want to talk to them. For security reasons, we may not be able to announce the location online. I hope everything will be fine."
European hub for trafficking in women
Sisters eV is a non-profit that works to help women leave prostitution and educate people on the realities of the sex trade. The event, called "Not just pretty - women in prostitution" is part of a series of four movies to be screened over a number of weeks. The agenda includes Pretty Woman starring Julia Roberts and other homegrown movies.
A message on the homepage of Sisters eV reads: "In times when the state is failing and Germany has become the 'European hub for trafficking in women' and the country of entry for sex tourists, we appeal to citizens to act. We want to help prostitutes in need and to help them get out. We want to educate about the bitter reality of prostitution."
In 2002, the German government passed a law that would ultimately legalize sex work. According to this law, sex work was no longer seen as immoral, but could be viewed as a legitimate profession which people could choose to pursue.
The SOLWODI is an aid organization active in Germany since 1987, offering  counseling centers and shelters for foreign women and girls who are victims of human trafficking and forced prostitution. In July 2022 they called for a ban on prostitution in Germany, saying that the country had become "Europe's brothel" due to lax laws governing sex work.
Mobilizing
Meanwhile, the "sex workers rights" group SWAG has asked their supporters to remain vigilant, and to help prevent such events in the future. Their communications go to great lengths to tie abolitionist feminists to far-right, anti-abortion and religious fundamentalist networks.
They claimed that the original venue for the film series, called the Nachbarschaftshause (Neighbourhood House) in the neighborhood of Kreuzberg, thanked them for their criticism. In an email, they allegedly told SWAG that the attitudes of the organizers, Sisters eV, were not compatible with the policy of the house, adding "Especially with regard to an inclusive, power- and discrimination-critical, diversity-oriented attitude of our work."
They also claimed that the venue expressed a wish to work with prostitution groups in the future, SWAG have claimed (4W has asked for evidence for this claim, we will update if we hear back).
The letter sent to the venue included the following paragraph: "The alleged dropouts from sex work often gather in groups …(that) are often used as 'showcase victims' and are intended to allow allegedly affected persons to have their say. However, there is virtually never any evidence of actual victimization."
---
4W provides a platform for over 70 feminist writers in countries spanning the globe. This work is made possible thanks to our paid monthly subscribers. Join today to support our work!
Enter your email below to sign in or become a 4W member and join the conversation.
(Already did this? Try refreshing the page!)