Books
The Right to Sex: A Lesson in 'Pragmatic' Feminism
Every other injustice takes precedence over male sexual violence in Amia Srinivasan's book.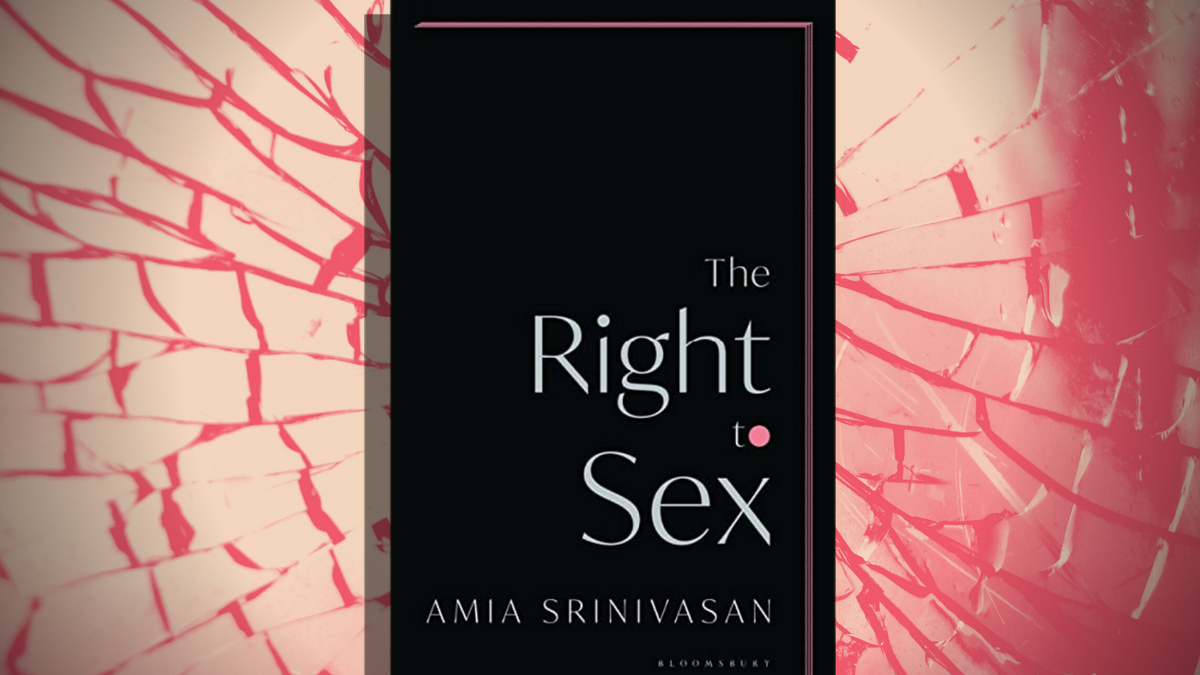 As the glass slips from your hands, you contemplate the chore ahead: you mentally prepare to carefully tiptoe between the shattered bits scattered across the floor, pick up the old broom, swipe it all into the dustpan when something unexpected happens.
Tin
Tin
Tin
The glass bounces on the floor, defying gravity, teasing destiny. You hold your breath, you watch enthralled. Maybe, just maybe, it won't break after all; there's hope.
Tin

Tin
Tin
Tin
Tin
Tin

Crash.
I was prepared for the worst with Amia Srinivasan's collection of six essays, The Right to Sex. I knew that the rising star of academia, graduate of Yale and Oxford, darling of the media, now Chichele Professor of Social and Political Theory at the University of Oxford is a supporter of prostitution and men's so-called right to pretend they are women. But as I started reading, I saw that the title was a false alarm, since she repeatedly denies that there is a right to sex. I saw that she presents feminist debates and writers relatively well, conferring to the book some descriptive value. I also saw that she has some clever insights, on female jealousy for example, and most of her arguments would deserve a lengthy response (I will only focus only on one here). Maybe I had misunderstood her.
Tin
Tin tin tin
Tin tin tin tin
Crash.
Sure, prostitution is bad ("Women sell sex, on the whole, because they need money; to give sex-less men money with which to pay for sex presupposes that there are women who need to sell sex to live"), sure, reforming comes down to legitimizing but, but, but the abolitionist approach is merely symbolic whereas there is "every reason to think that decriminalization makes life better for the women who sell sex" – every reason being reports from the infamous New Zealand Prostitutes Collective and a festival of bland statements of the criminalisation-will-not-do-anything-prostitution-always-existed type (why not go with abolitionism then?).
Her chapter "Talking to My Students About Porn" is, at first, surprisingly reassuring: her students are perfectly lucid about the extent to which pornography governs their lives; they speak out strongly against it, the males insisting on the fact that the "feminist" version simply won't do. Buuuut, "whatever the law says, porn is going to be made, bought and sold", which makes you wonder what purpose law serves — certainly not justice, according to Amia Srinivasan.
Here is another merit of the book, showing pragmatism for what it really is: injustice. When it comes to male sexual violence, Srinivasan reserves "pragmatism" for women enduring it and "justice" for the men accused of it. In "The Conspiracy Against Men" chapter,  she discusses the #MeToo motto "Believe women". Again, she admits there is no conspiracy against men and that it is important to believe women because rapists seldom get convicted (curiously she doesn't argue for the decriminalization of rape) — but! What about women accusing black men or brown men or men who just happened to have a really really bad day, poor things (the last one being my addition)? After all, every other injustice takes precedence over male sexual violence.
Her core idea is that women should beware of accusing certain men of rape because it runs the risk of reinstating stereotypes about them as well as about women who share the same characteristics. For instance, the myth of black men as rapists reinforces the stereotype of black people as possessing an "animalistic sexuality." This could then, according to Srinivasan, reflect back on black women as stereotypically sexually promiscuous and thus unrapeable.
To illustrate, she looks at the caste-differential treatment given to men raping and murdering women in India. While you could expect her to request equal outrage for all victims, she deviates  on a bizarre route. She suggests that punishing lower-caste men punishes women, since depriving them of their husbands would strip them of their livelihood.  Srinivasan cites Punita Devi, the Dalit wife of a man who raped and murdered a high-caste woman: "Where will I live? What will my child eat?". Had she not pushed forward the same argument with a case in Brazil, I would have thought I was misreading.
First, how is letting rapists and murderers on the loose going to help with any kind of stereotype?
Second, men always have excuses. It's never, ever their fault. Amia Srinivasan reinforces that myth: "When feminists embrace carceral solutions – cops on the street, men sent to prison – it gives cover to the governing class in its refusal to tackle the deepest causes of most crime: poverty, racial domination, borders, caste". Notice she never mentions sexism as a cause of crime nor sees men as a dominant group. And notice how she herself reinstates the stereotype of the poorer the man, the more violent.
Third, she fails to see what Simone de Beauvoir had seen: whatever forms of discrimination men face from other men, they always have sexual power over women. He could be illiterate, she could have a PhD, he could still harass her. He could be broke, her money won't necessarily protect her. He could be revolting, he'd still have pornography to masturbate to.
And finally, her priorities being misplaced, Amia Srinivasan does not ponder what it feels like to depend on a rapist and a murderer for your livelihood. She does not imagine how violent Punita Devi's husband could have been to her. Just as she, "pragmatically," approves of women in brothels, she'd rather have the likes of Punita Devi living with violent men than without them. Curiously, Srinivasan seems unable to picture what would happen if women gained independence.
This is where The Right to Sex stands out in the postmodern crowd: it is far more traditional than I had expected. Srinivasan's book is not just an  umpteenth bestseller in queer orthodoxy written by a professoress who cannot distinguish a man from a woman (the parts on transphobia being pure gold: "The crucial question, in a sense, is whether a sexual aversion to women with penises is best explained by an unjustified transphobia, or a justified weariness of men" - take a wild guess), it reveals far more deep-seated archaic fears.
Amia Srinivasan made me think of  Cameroonian authoress Djaili Amadou Amal's novel The Impatient. Every time one of the female characters tries to act against her extremely violent polygamous husband, a female member of the family jumps in to say: "munyal, patience" my dear, just grin and bear it, what are you going to do without him?
Women living with violent men are already terrified, made to believe they cannot make it alone. Amia Srinivasan instills the same fear in her female readers, accusing us on top of being unfair when seeking punishment for men: "a feminist politics which sees the punishment of bad men as its primary purpose will never be a feminism that liberates all women, for it obscures what makes most women unfree" (men?). Feminists are turned into "carceral feminists", which made me long for the good old, perhaps more accurate, cliché of the castrating feminist — a castractivist ! — but even that, I'm afraid, has been reclaimed by trans activists.
"Patience, munyal" echoes into my ears as Amia Srinivasan inextricably ties our fate with that of "our" men. Her deterministic approach to male violence as unrestrainable lays bare her lack of faith in women's ability to change the world.
Dubbed "remarkable" by Judith Butler, displaying "stunning intellect" for Lisa Taddeo, The Right to Sex equips men with a misogyny-justifying intellectual apparatus while it helps us women in rationalizing the cosmic horror we live in. It might also form the basis of an elective course in the suppression of "bilateral pharyngeal muscle contraction and elevation of the soft palate" also known as the gag reflex to help future students in establishing a  career in professional rape. Let's be pragmatic: in this economy, what's a woman to do with a gender studies degree?
---
The generous support of our readers allows 4W to pay our all-female staff and over 50 writers across the globe for original articles and reporting you can't find anywhere else. Like our work? Become a monthly donor!
Enter your email below to sign in or become a 4W member and join the conversation.
(Already did this? Try refreshing the page!)