Censorship
Vanessa Vokey Will Not Be Cancelled
The 26-year-old has been fired and censored from Etsy, Redbubble, and Printful—but she refuses to go away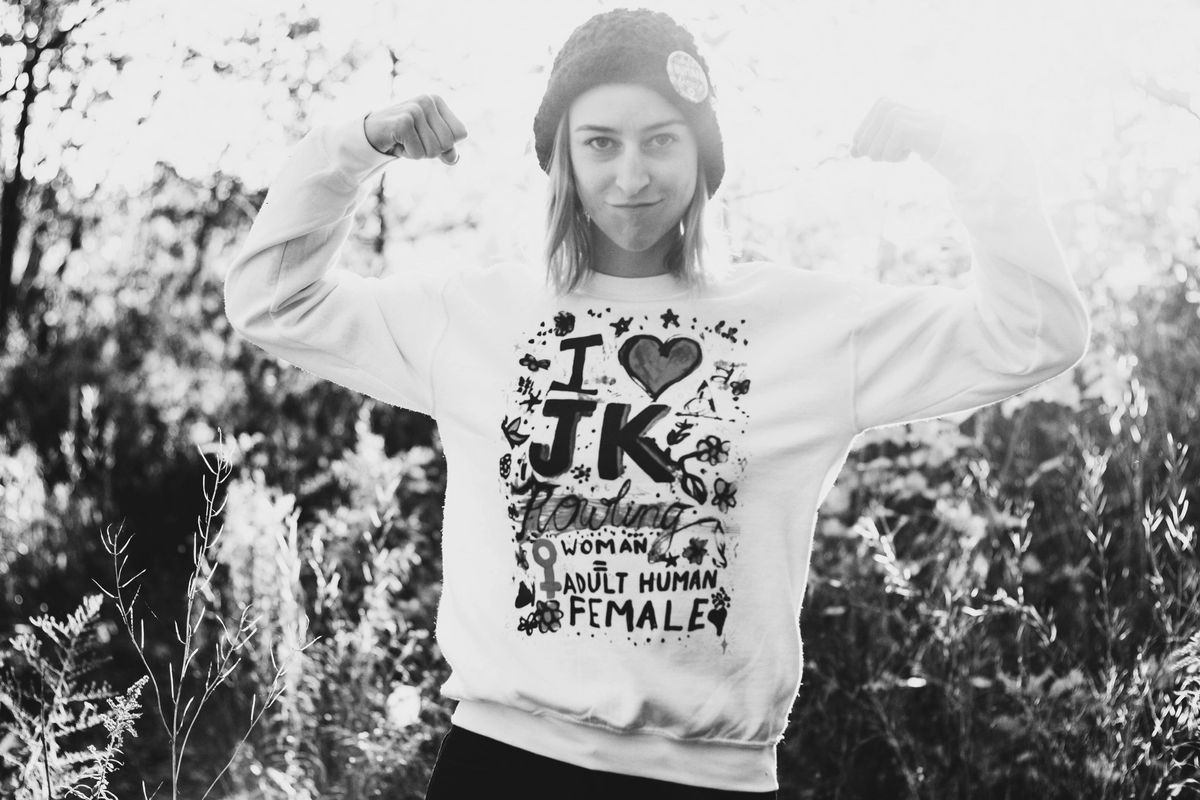 A graphic designer for a small Ontario pizza shop, Vanessa Vokey is hardly the face of cancel culture. Vokey didn't have a particularly big audience or online presence, wasn't in a prominent or public position, and certainly didn't have any upcoming book deals or Netflix specials. In fact, if she hadn't been cancelled, you might have never heard her name. But after being fired from her job for expressing feminist beliefs, Vokey finds herself on the front lines of a culture war. The 26-year-old creative is now leading the campaign against censorship on internet retail platforms like Etsy, Printful, and Redbubble.
For Vokey, the past few months have been a whirlwind of cancellations. It started with a Facebook group called, "Females with Autism/Autistic Females." Vokey, who has autism, says she joined the group for support. Autism is regularly undiagnosed or misdiagnosed in women and girls due to persistent sex-bias in autism research. The experience of a woman or girl with autism is often quite different from that of their male counterpart. The private group contains nearly eight thousand members, and describes itself as, "a support group for both autistic women and mothers/guardians with a daughter on the autism spectrum."
In late August, Vokey noticed that there was a male in the exclusively female group. Going by the name, "Chloe Stone," Vokey felt uncomfortable with his presence given the nature of their conversations and the vulnerable position many women with autism may be in. Voicing her concern, she asked Stone, "Are you sure you're female?" On August 23, Vokey was banned from the group for being "transphobic." The same day, the group changed their name to "Women with Autism / Autistic Women and Girls."
According to Vokey, Stone then began a campaign of online harassment against her. Her Facebook page was flooded with hateful messages which, she claims, lasted through the weekend. At work on Monday at The Cornerstone pizzeria, Vokey mentioned the harassment to a coworker. That coworker, she says, told her boss, Mark Rodford. (Rodford declined to comment on this article).
Rodford fired Vokey, claiming that she had "been posting some intolerant things on Facebook." When pressed for specifics, Vokey says her boss cited an article she had shared from Feminist Current titled, "I supported trans ideology until I couldn't anymore." The article shares a first-person account of a clinical psychologist and researcher who eventually came to disagree with trans activism through her experience participating in the movement.
Motivated by her experience, Vokey got to work the next day creating a painting inspired by her experience. "I ♥️ JK Rowling," the poster read. It continues, "WOMAN = ADULT HUMAN FEMALE." The painting, full of butterflies, flowers, and symbols of female empowerment, is a tribute to another cancelled woman, Harry Potter author JK Rowling. Rowling has come under fire from trans activists numerous times for defending women's sex-based rights. In a heartfelt letter published in June 2020, Rowling described her experience as a survivor of domestic violence and clarified her positions on women's rights and the notion of gender identity.
An excerpt of her letter reads,
"So I want trans women to be safe. At the same time, I do not want to make natal girls and women less safe. When you throw open the doors of bathrooms and changing rooms to any man who believes or feels he's a woman – and, as I've said, gender confirmation certificates may now be granted without any need for surgery or hormones – then you open the door to any and all men who wish to come inside. That is the simple truth."
Messages of support for Rowling began springing up across the world. Most notably, Kellie-Jay Kean (known online as "Posie Parker"), placed an "I ♥️ JK Rowling" advertisement in an Edinburgh train station. Network Rail removed the ad, citing public complaints about its content. However, it was later revealed that the only complaints they had received in reference to the ad were from those upset at its removal. Standing for Women's woman definition t-shirts also appear to have inspired Vokey, who has repeated the dictionary definition on her own designs.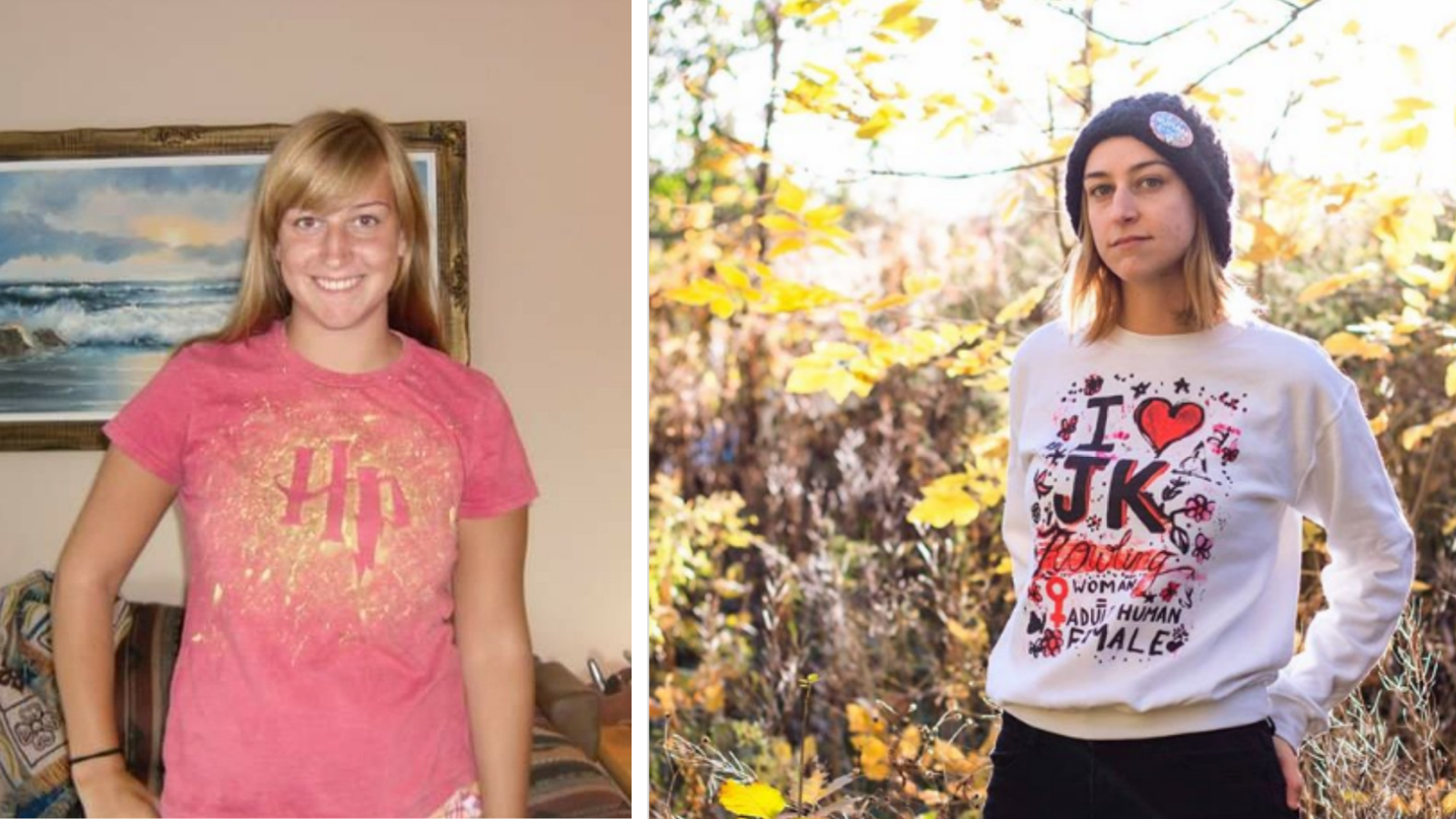 While it's undeniable that both phrases have become associated with the gender critical movement, largely thanks to Kean's activism, Vokey says her love for JK Rowling is not just a slogan.
"I don't remember a time before I loved JK Rowling," Vokey said, explaining that she had first discovered her books at the age of six. "I was bullied for liking Harry Potter when I was little. It wasn't always cool."  Vokey says that one of Rowling's characters in particular, Hermione Granger, helped her find her voice as a young girl who struggled with internalized misogyny. "I'm not afraid of being bossy."
On September 17th, when Vokey posted her design on Instagram, she was immediately met with a slew of disagreement and hate. The post currently has over a thousand comments (despite the account having a relatively small following), many of which are criticising the design. She claims that trans activists threatened to "kick her teeth in," and even sent harassing messages to her mom in response to the t-shirt design.
"i hope you know you're gonna rot in hell forever," one comment reads. "Women don't like you, we don't support you, you're nothing to us!"
"This shirt is ugly af just like you," says another.
"Shut this person down I hope they never work again," wrote Kat Ferguson, a 41-year-old man from Ottawa who plays in a women's hockey league.
Vanessa Vokey's fight was only just beginning, though. The t-shirt design with a simple message would go on to be banned from at least three different online merchandising platforms in only a few days.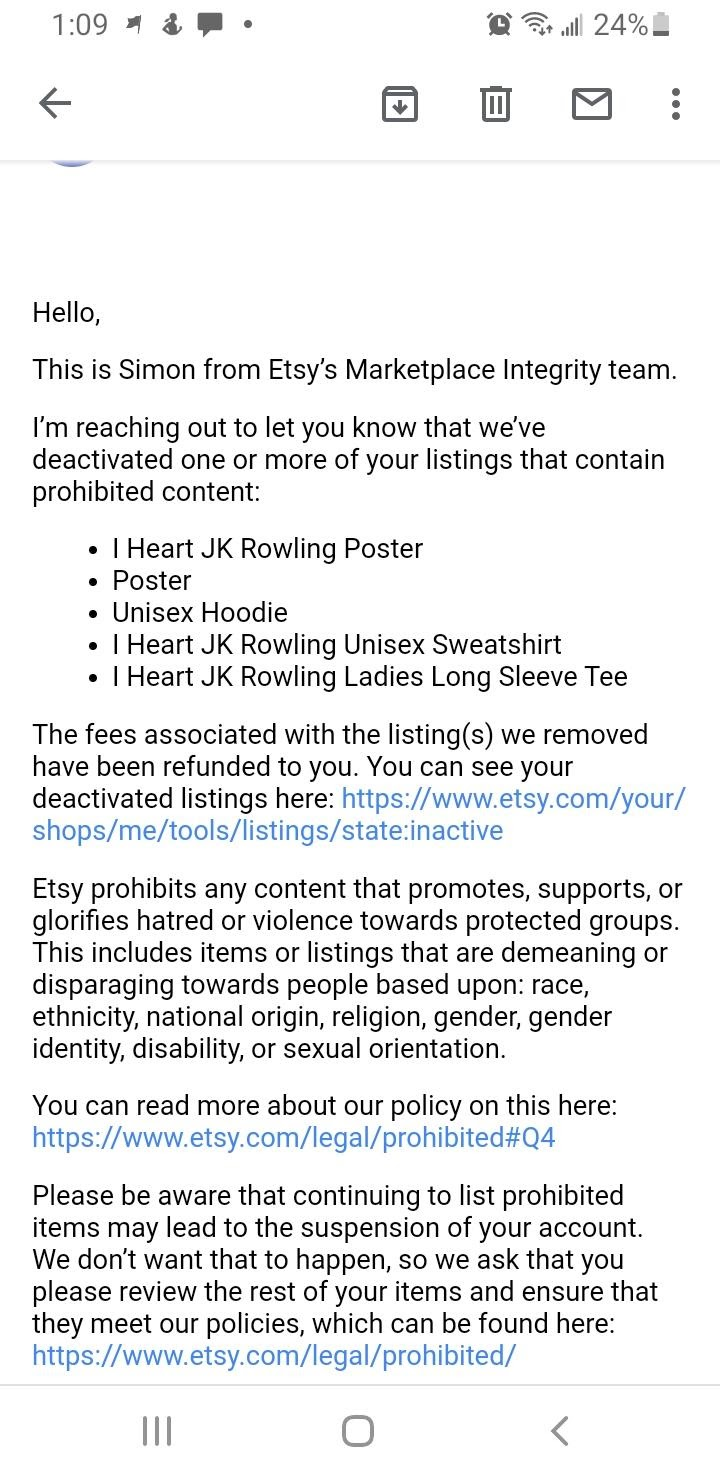 On October 5, Vokey was informed by Etsy that her designs were removed from the site because they were found to be in violation of their rule against content that "promotes, supports, or glorifies hatred or violence against protected groups." All of the items found in violation displayed her "I ♥️ JK Rowling" design.
Only two days later, Vokey was informed by Printful that not only had her products been removed from their shop, but her account had also been banned. The next day, Printful reversed the decision to suspend her account, but maintained that items containing the phrase "I ♥️ JK Rowling" would be banned. This time, they blamed copyright laws, stating, "they display intellectual property infringement (Harry Potter)." They also argued that the statement plus the definition of female together on a single design "has been directly tied to an incident that is deemed hateful." There is no reason to believe that JK Rowling's name is covered under Harry Potter intellectual property protections.
Redbubble followed in Printful's footsteps, also falsely claiming that Vokey had infringed on copyright with her designs. That this is a trumped-up excuse to silence a feminist is clear by simply browsing other designs available on these platforms. Redbubble, for example, contains over 900 unique Harry Potter themed designs, some of which explicitly quote copyrighted material or contain copyrighted images and stills from the movies (owned by Warner Bros).
Etsy, for their part, also continues to allow multiple products using JK Rowling's name. Some of them actually explicitly contain hateful messages against her, such as this card, printed on real Harry Potter pages, which reads "Fuck JK Rowling." This is apparently not considered a "hateful" message while one explicitly of love is. Etsy is currently allowing items that promote violence against women, such as this patch (sold by a man) which reads "TERF PUNCHER," and Redbubble this sticker which contains an image of a gun and tells women to "STFU" (shut the fuck up).
Despite the setbacks, Vanessa Vokey is relentless. She hasn't stopped selling her products on any platform she can (right now, she's primarily using Facebook to advertise). When asked what she thought of the response to the censorship she experienced, she replied, "This has exposed that a lot of people are sick of having such harsh consequences for just expressing an opinion or thought. Every time someone gets cancelled, another TERF is born."
Stories like Vokey's are common, but women may be scared to speak out about what has happened to them. While Vokey seems to face down the social media attacks and abuse fearlessly, many women would find the idea of being "cancelled" like her terrifying. Some women are even threatened with legal action if they talk about their experiences of being fired for their feminist stance. The censorship crisis both in the workplace and online is reaching a tipping point, and normal people are starting to notice as the cancellations start impacting everyday workers like Vokey rather than just celebrities and Twitter personas.
Vokey has no plans of slowing down any time soon. She's finding that being cancelled can actually have its perks, as she sometimes even struggles to keep up with new orders of her designs. When asked what her main takeaway from this experience has been she simply replied, "I was born for this."
---
Do you want to bring the "gender madness" to an end? Help us write about it! 4W is able to pay our all-female staff and writers thanks to the generous support of our paid monthly subscribers.
Enter your email below to sign in or become a 4W member and join the conversation.
(Already did this? Try refreshing the page!)