Feminism
Interview: Spanish Radical Feminists on How They Gathered 7000 Women in the Streets of Madrid
Organizers of Oct 23 demonstration stress the importance of a broader feminist focus.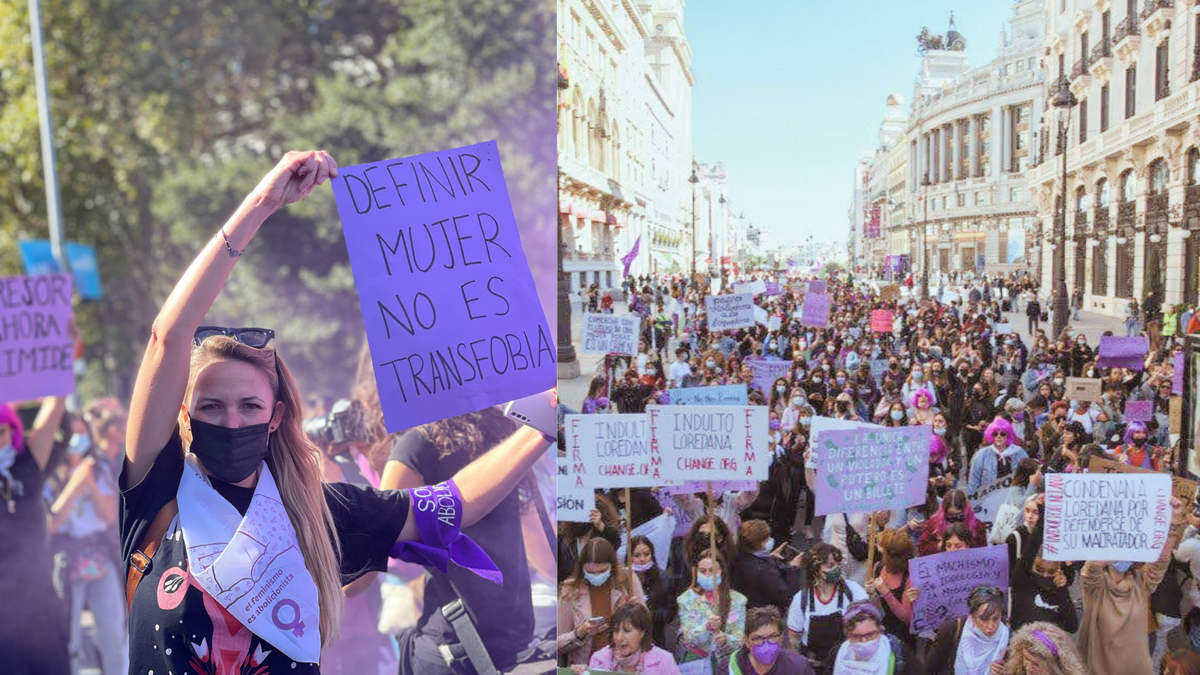 Women from all across Spain gathered in Madrid on Saturday, October 23, to protest against male violence, the sex trafficking industry, surrogacy, and sex self-identification laws, including a bill referred to as Ley Trans (Trans Law), proposed by the Ministry of Equality in the name of gender identity ideology.
The motto of the demonstration was The Strength of Women is the Future of All, or El Futuro de Todas, and it started at noon in Madrid's Plaza de Neptuno. It was organized through social media by La Fuerza de Las Mujeres, which announced the protest on Twitter on October 2 alongside a manifesto.
La «pequeña concentración disfrazada de manifestación feminista».#MujeresAMadrid23Oct #Mujeres23Octubre #EsElFuturoDeTodas pic.twitter.com/gA1EG6IXRE

— Juventudes Feministas (@J_Feministas) October 24, 2021
The document addresses women's sex-based oppression and calls for legal reforms to abolish prostitution and pornography and to revoke laws which facilitate the surrogacy industry. It also asserts that terms such as "pregnant parent," "menstruating person," "cis women," "surrogate," and "sex workers" are a form of a "neolanguage that erases women" which are "not tolerable in a democracy." According to the manifesto,
"We demand comprehensive legislation for the abolition of prostitution, which must be legally considered as paid rape. International agreements should be established to persecute and put an end to women trafficking networks for the purpose of sexual exploitation.
We decide that, knowing that pornography is the education for rapists, it should be banned. We will not remain impassive in the face of the Government's inaction to prohibit the reproductive exploitation of women and the purchase of babies. We also decide that no one should legislate on subjective self-identification: doing so makes public policies for effective equality between women and men irrelevant."
The manifesto has been signed by over 170 feminist organizations across Spain. Many of these groups use the terms "abolition," a reference to abolishing the sex industry, or "radfem," a portmanetau for "radical feminist." The list of signatories is a testament to the growing movement of abolitionist and radical feminist activity in the nation. Grassroots groups organized a similar protest on June 26, when women in 19 cities across the nation demonstrated against proposed sex self-identification legislation that would allow individuals to change their sex on official documents without the need for a medical report.
During both the October and June protests, participants criticized Minister of Equality Irene Montero, of Unidas Podemos, who they accuse of ignoring the escalating feminist opposition to gender identity ideology. The Equality Ministry, under Montero's leadership, drafted the Ley Trans and has been campaigning for its passage despite ongoing criticism from women's rights organizations. The draft legislation was passed by Spain's government in June, but still requires approval from parliament.
Feminist activists argue that in addition to obfuscating statistics about biological sex and erasing sex-based protections for women, the proposed law in its current form would greenlight the administration of drugs euphemistically referred to as "puberty blockers" to children possibly as young as 14 years old. In this, Spain would be neglecting medical evidence which shows that halting pubertal development can lead to decreased bone density and the prevention of full brain development.
Feminist protesters have also expressed opposition to the proposed LGTBI Law, referred to as the Ley Zerolo, that criminalizes language, including the defense of the definition of "woman," and could potentially impose fines of up to 150,000 euros for "misgendering," or accurately identifying sex.
In October, Spain's prime minister Pedro Sánchez vowed to criminalize the sale of women for sex in the country, saying the practice "enslaves women." According to The Washington Post, Spain has "made a name for itself as the brothel of Europe"; the revenue from Spain's domestic sex trade totals an average of $26.5 billion each year. Spain is the third-largest market for sex trafficking in the world, behind Thailand and Puerto Rico, and a study by the University of Comillas found that one in five Spanish men admitted to having "recently" paid to have sex. An overwhelming percentage of women trafficked are migrant women, and the industry is largely unregulated.
---
Interview with Lucia, Sonia and Maria, volunteer organizers of the Oct 23 demonstration
Dana: Could you tell me more about your organization?
Lucia: La Fuerza de Las Mujeres (Women's Strength) was born from women who weren't happy with how Spain was treating equality. For example – this week, we've had two rapes, last week a woman was killed; many women were feeling the government wasn't doing enough. The organization was created in April 2021 by women as individuals and women representing feminist collectives. We are independent of political parties and Unions, as well as self-funded by women.
Dana: What was the goal of the organization?
Sonia: The goal of the organization was just this one big Madrid demonstration. But now, after what happened, we thought: "It cannot end like this." We made so many connections, networked with so many women around Spain, that we are thinking about the next steps. In the upcoming weeks, we are going to be working on defining our agenda. In terms of numbers, I think we are around 150 groups of women and thousands of individual women. Plus there are around 110 women organizers.
Dana: Wow. Is it challenging to manage?
Maria: On one hand, yes, on the other – you have a workforce! When one woman cannot do something, there are others who can pick up the slack.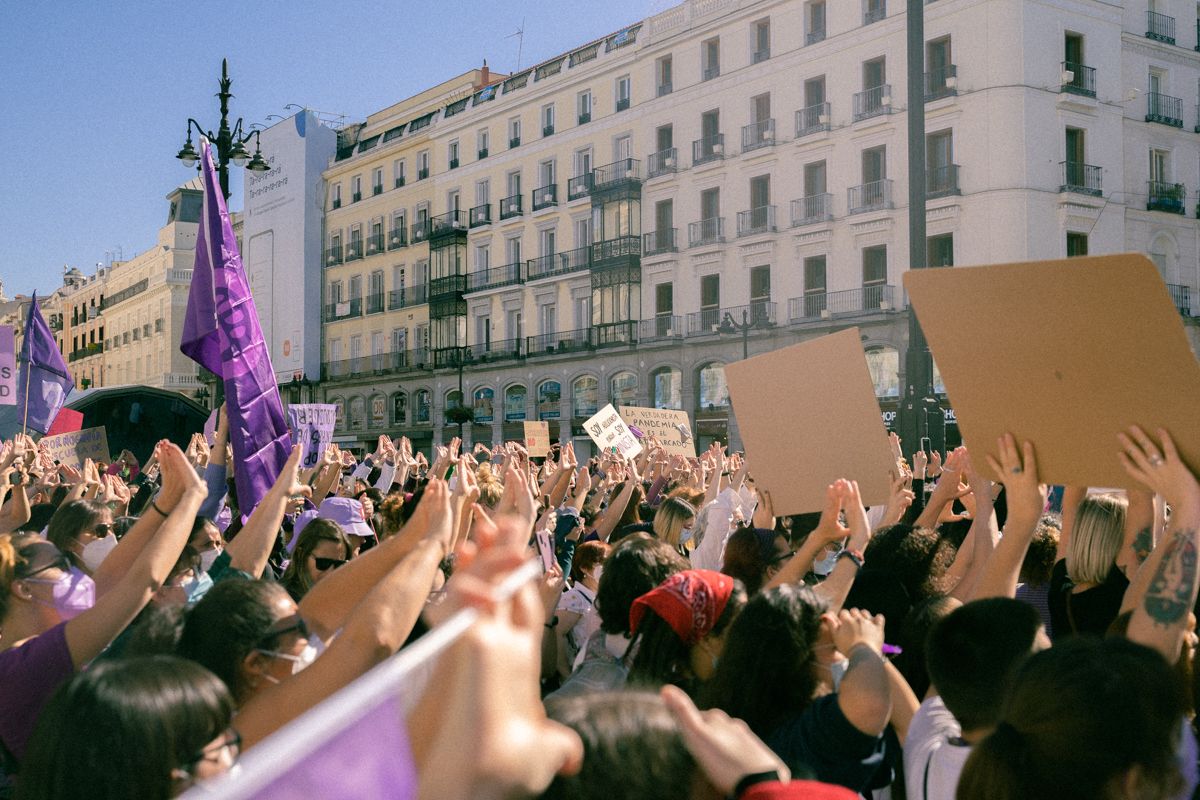 Dana: What was the main reason that made so many women in Spain want to unite?
Sonia: There are many reasons why we had to unite. Lately, in Spain, although our elites are using the word "feminism" in their policies, and they claim they're leftists, while they put women and females last on their agenda.
We were protesting against sexual violence, sexual harassment, sexual exploitation, reproductive exploitation, gender self-determination laws, erasure of sex as a legal category, job insecurity, feminization of poverty, the wage gap, and so on. But I think that the main thing that connected us was that we are forgotten. We keep experiencing violence, yet we are at the bottom of the priority list.
Maria: One of the things this government has been trying to do for a long time, is to pass the trans laws, or self-ID, using feminism as a shield. But it is important to mark that we were not only protesting because of that. I actually believe we have been distracted by the transgender topic for a long time and it was necessary to recover the feminist agenda—which includes all the topics that Sonia has told you.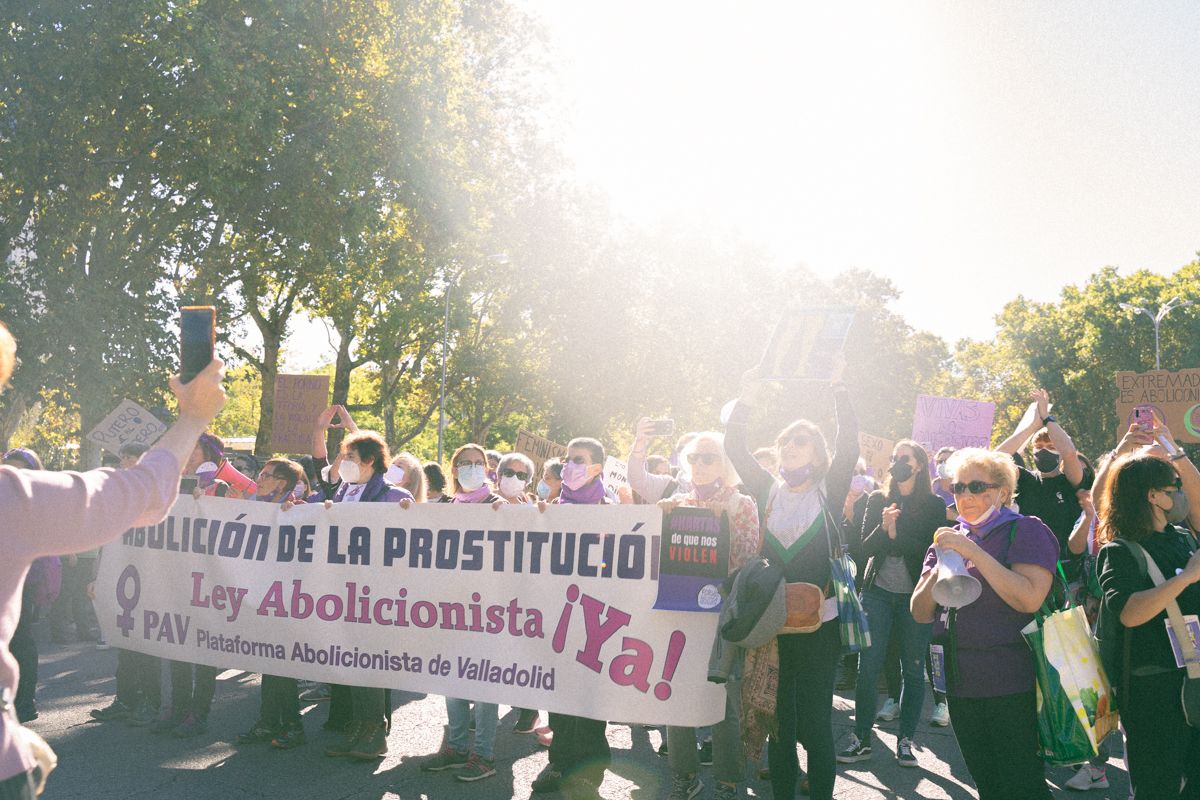 Dana: Do you think there were women at the demonstration who didn't share your stance on the trans laws?
Sonia: We tried to gather those women as well, but I'm not sure we were successful, because it turned out that we were all sharing the same agenda. That also means there are many more of us than we thought. We really didn't expect so many women coming, we still cannot believe it.
Maria: That was exactly the point. Before, when we demonstrated against just one issue—femicide, rape, or the trans agenda, only a few women came. Now, so many! We need to remember that we are still a powerful force.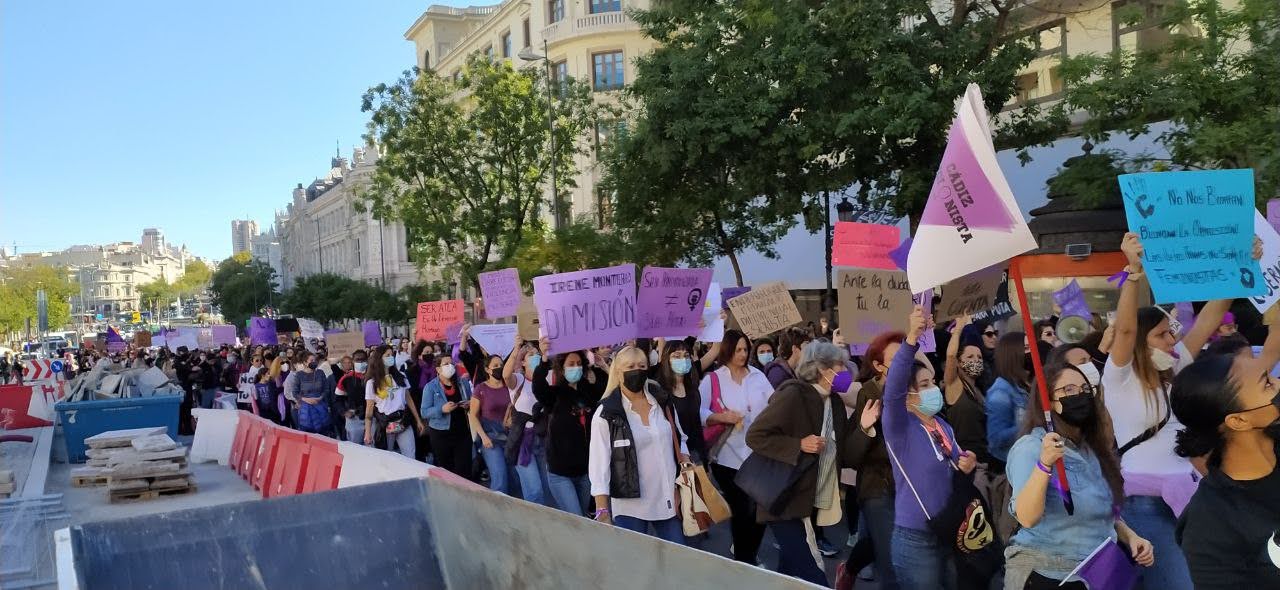 Dana: How many women actually came to your Oct 23 demonstration?
Lucia: That depends on who you ask. (all laugh) Our politicians said that we were just 3 or 4 women, but in reality, we estimate our numbers were between 5000 and 8000. When we came to the Plaza del Sol in Madrid, we couldn't even fit in, and the square is huge. There were so many of us because we organized buses for women who came from all over the country—we filled around 14 or 15 buses.
Sonia: Maria talked to the police and they said we were 5000, but police estimates tend to be lower than reality.
Dana: What did the media say?
Lucia: There were three types of reactions. Firstly, our protest suffered from censorship by many big media groups. They either didn't cover the protest at all, or only briefly, mentioning that we were a small group, perhaps because of the trans lobby. Some other media groups, when they mentioned the demonstration, called us a "part of feminism," or "trans-exclusionary feminism," without explaining against what we were really demonstrating. Also, Spain's national television channel mentioned the protest briefly and explained what we were protesting against. This coverage gave rise to a controversial response by a politician, which I can explain later. The media that informed about our protest dutifully were small feminist outlets.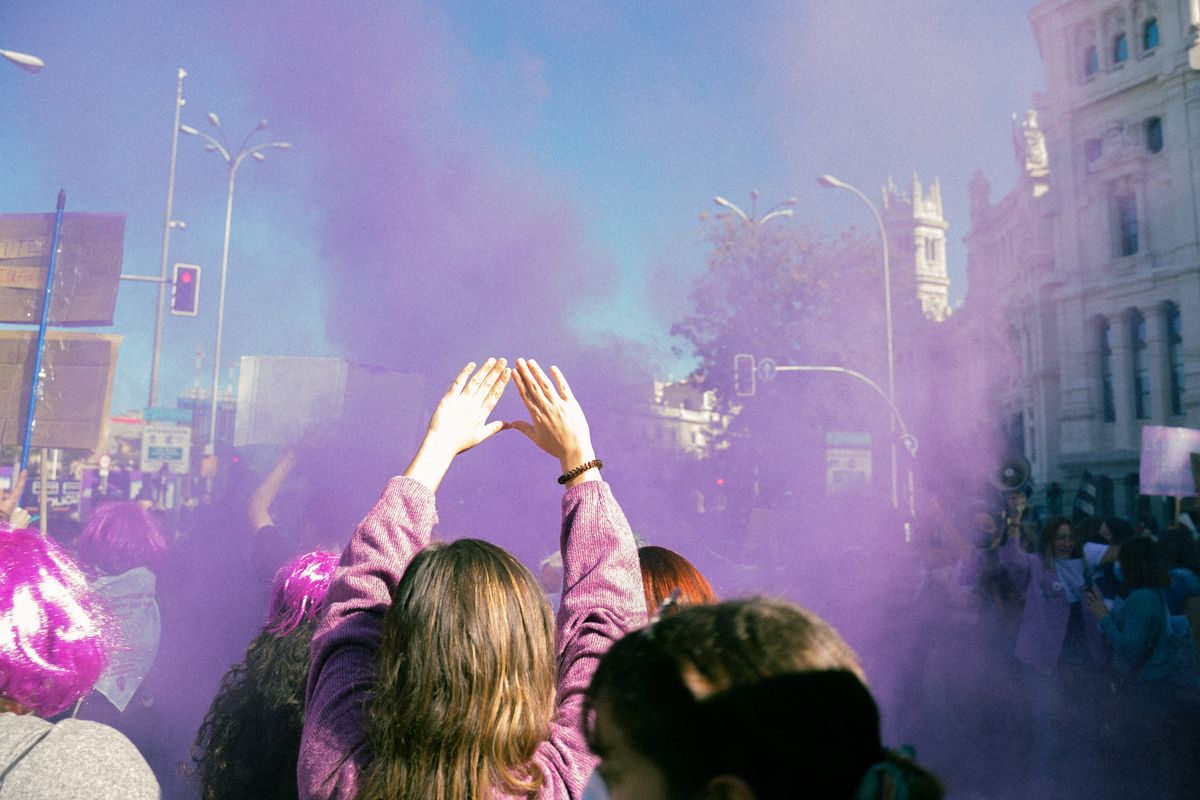 Dana: Can you tell me more about the politicians' reaction?
Lucia: One parliament member from the Podemos party called our group "transphobic garbage" on Twitter. This wasn't the first such incident: a while back, a female politician in Andalusia came to the local parliament building wearing a T-shirt that said "fuck TERFs."
Sonia: That's the state of the Left in Spain right now. I think that's why there were so many of us in the streets.
Lucia: Because of the "transphobic garbage" comments, we are fighting for a parliamentary disapproval of that politician—we think someone in that position shouldn't say such lies on Twitter. We are not transphobic and we were not a "small number." How can you call a movement "garbage"?
Maria: For contrast, this term has never been used by Spanish politicians to describe even the far-right, although we are surrounded by far-right movements. Another thing I find very serious is that, in a series of tweets, this same politician complained about the public TV even covering our demonstration. His online tantrum would have been really ridiculous if he wasn't in a position of power.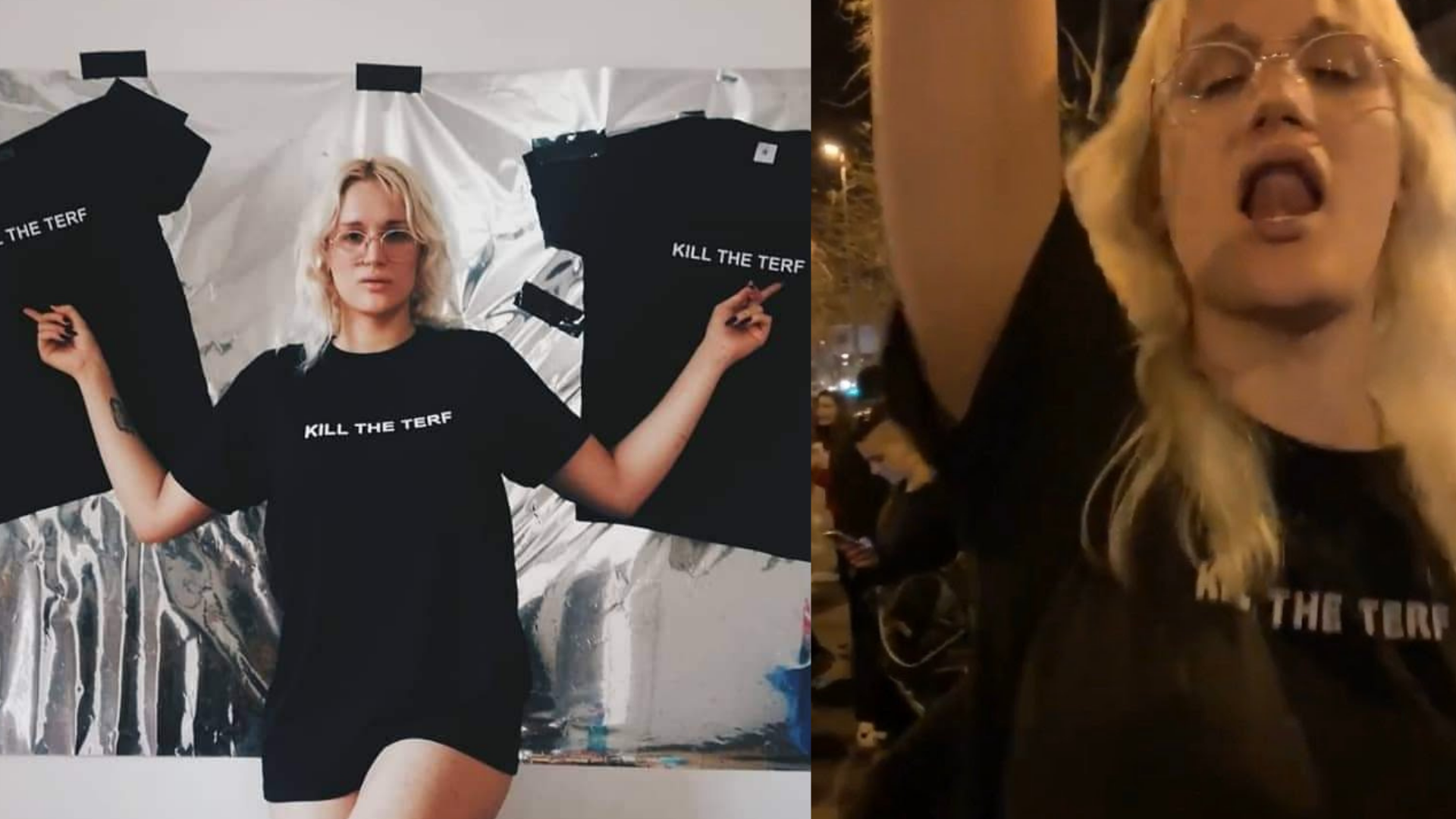 Dana: Were there any violent counter protests by trans activists at the Oct 23 demonstration, as during other feminist protests in Spain?
Maria: We did actually expect there would be—that's why we established a security group before the demonstration. There really had been violent counter protests in the past. This time we were told by the Madrid police that they have more than doubled the number of officers to cover our demonstration. Also, they have kept watch for a notorious counter protester who had turned violent in the past. The day before, we were told this individual would be traveling to Madrid, but we ended up not seeing him. There was only one incident at the Oct 23 demonstration—when we were reading the manifesto, one person stood up behind the woman who was reading it out, we asked him to move, he didn't, so the police removed him.
Sonia: Maria did a wonderful job. She and other women from the team developed a security protocol, they had all the measures in place, just in case. This was also because we'd received tons of messages on social media from women who were afraid to come because of the counter protesters' violence at former demonstrations.
Dana: What were the reactions on social media?
Sonia: The support on social media was overwhelming – from women who were unable to come in person, but also from other feminist groups around the world – Italy, Russia, Croatia, Colombia, Mexico, Peru..
Maria: Norway..
Sonya: Yes, in Norway, they went further – they organized a demonstration in front of the Spanish embassy in Oslo to support us. It was amazing. Also, our social media followers increased exponentially.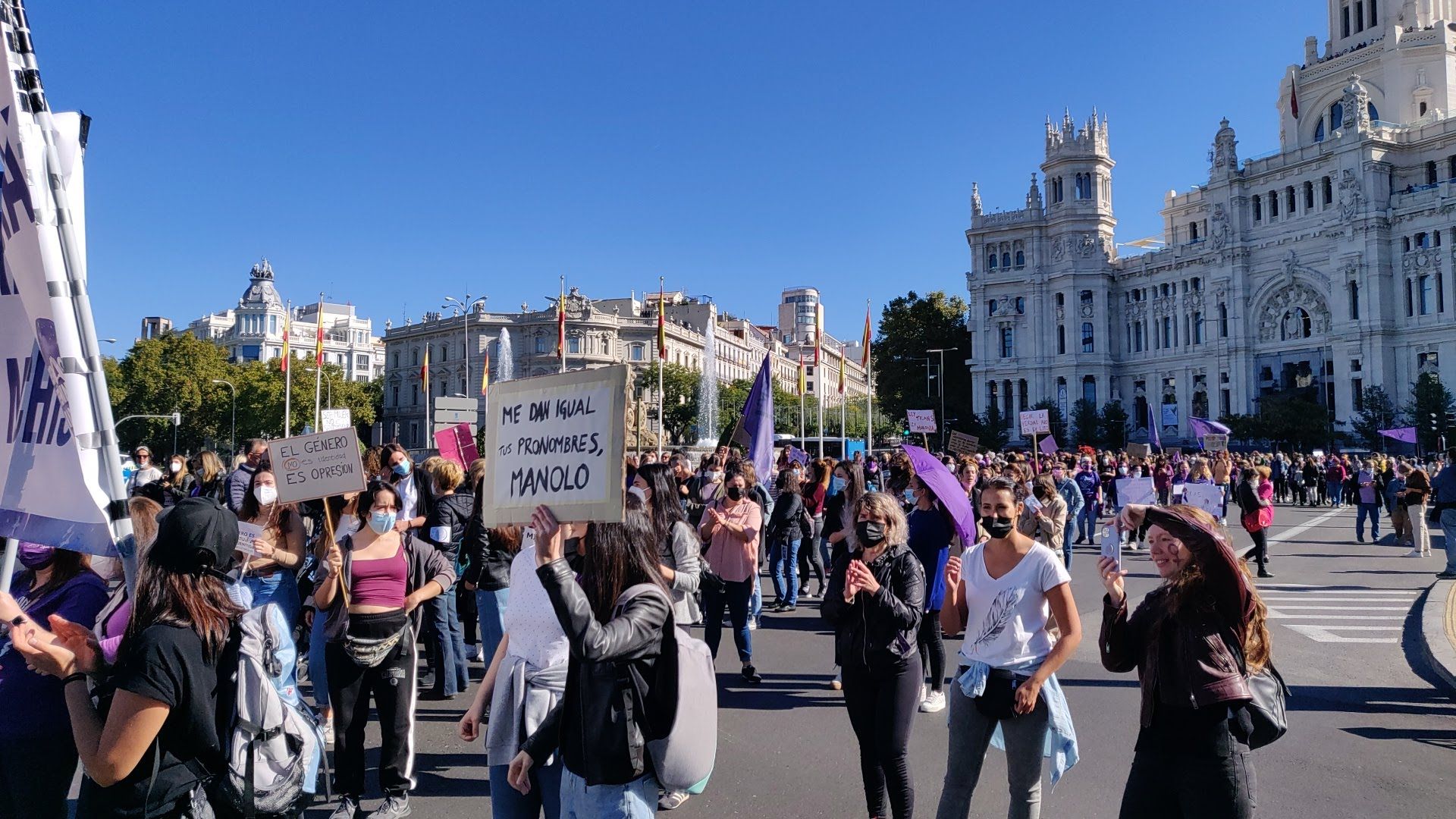 Dana: What was the reaction of "the other side" – the leftists, or trans allies?
Lucia: This part of the.. society wasn't happy at all (laughter). Now they are organizing a protest for another day, with almost the same message and very similar visuals. After our demonstration, I also saw posts on social media that said we were protesting against human rights, and so on.
Maria: But it's still hard to counter our narrative. If we were only protesting against Self-ID laws, it would have been easier, because of the single-issue character and lower numbers – but calling a crowd of 7000 feminists "crazy women" in a country whose feminist demonstrations before Covid had made headlines and were replicated all over the world, is much harder. When we call "Stop killing us and raping us," it is very difficult to counter-discourse us from the left. Although they would love to.
What will be the main focus of the "queer" protest?
Lucia: They're planning to demonstrate that they're happy with the trans law...
Sonia: They also explicitly mention our demonstration. I don't recall the exact sentence, but it was something like "after the huge demonstration against human rights, we should take to the street.."
---
4W provides paid writing work for over 50 women in countries spanning the globe. This work is made possible thanks to our paid monthly subscribers. Join today to support our work!
Enter your email below to sign in or become a 4W member and join the conversation.
(Already did this? Try refreshing the page!)