Gender Identity
Students Protest Teachers Opposed to Gender Identity Policies, 3 Arrested
Oregon students walked out of class to protest reinstatement of Katie Medart and Rachel Damiano.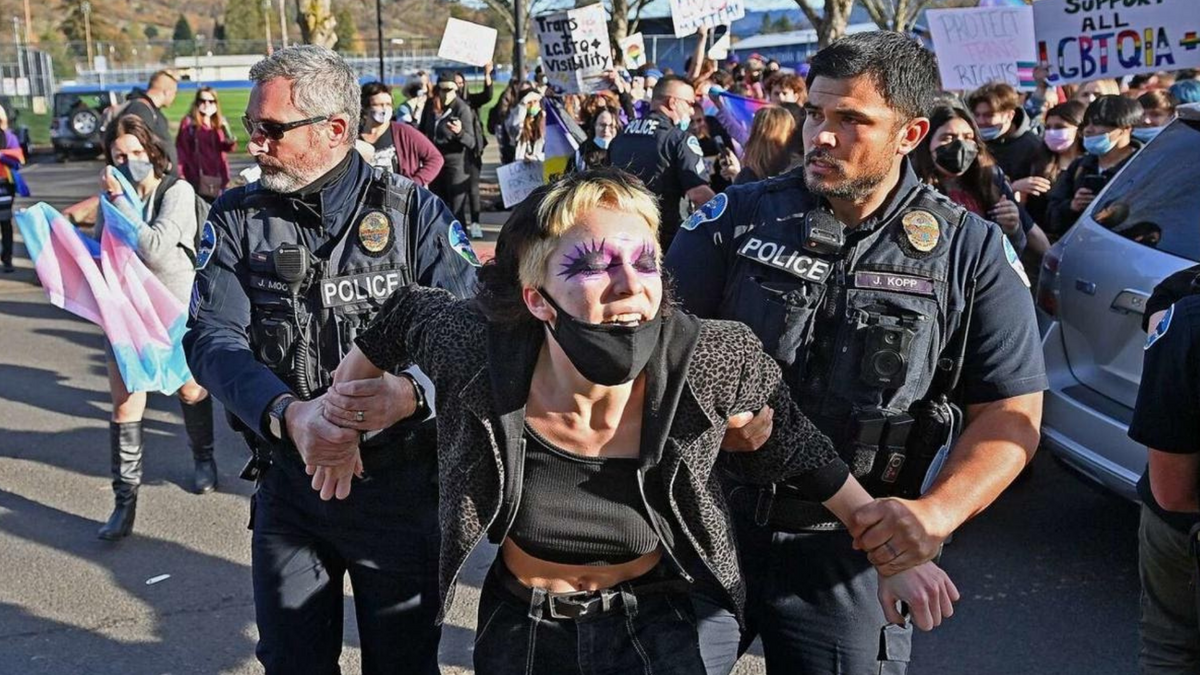 Hundreds of students in Oregon walked out of class on Tuesday afternoon to protest a decision by Grants Pass High School administration to reinstate two teachers who had been fired for opposing gender identity policies.
North Middle School assistant principal Rachel Damiano and science teacher Katie Medart promoted educational policies based on biological sex over a self-declared gender identity through their "I Resolve" campaign.
The "I Resolve" website details the views of Damiano and Medart: that there are "two anatomical gender presentations, male and female"; that restrooms and locker rooms should be separate according to sex; that teachers should not be required to adhere to students' chosen names or pronouns.
The two women were terminated from their positions on July 15 in a public hearing by the Grants Pass School District board. The school board voted 4-3 to fire both Medart and Damiano. According to KTVL News 10, there was a loud outcry from around 50 individuals observing the public meeting, stating that the teachers shouldn't have been sacked.
According to a statement from Medart and Damiano shared in a Youtube video,
"Prior to us releasing the 'I Resolve' resolution for gender identity policies online, a number of school district leaders were fully aware and showed support for these policies. Once they received disrespectful and hateful pushback, they reacted by removing us from work and issued statements against our movement. The district has publicly stated that our movement is 'in direct conflict with the values of Grants Pass School District'. Let us be clear: we are pro-students, all students… We are pro-individual, gender-neutral bathrooms and locker room spaces as funding is available, with access for all students. Until full funding is available, we are pro-access for all students to bathrooms designated as anatomically male and anatomically female. We are pro-mutual respect and conversation and treatment of one another, regardless of beliefs, opinions, or expressions."
On November 9, the board again voted 4-3 to reinstate the two teachers after one board member changed their mind. In addition, the women had previously filed a lawsuit claiming that the Grants Pass School District (GPSD) violated their free speech rights. The decision prompted discussion on social media of an organized school wide "walkout."
Local news outlet KGW8, reporting on Tuesday's protest, refers to the "I Resolve" movement as "transphobic," calling it an "organization that pushes education leaders to adopt anti-trans policies around bathrooms, pronouns, and names."
According to The News-Review, demonstrators against the reinstatement of Damiano and Medart held signs with messages including "Queer rights are human rights" and "all genders are whole and holy." Counter-protestors arrived, and an altercation ensued that resulted in the arrest of two students and one adult, Lillyana Audley. A Facebook post by KOBI-TV NBC5 about the protest has over 600 comments.
"We believe a walkout is an attempt for students to have their voices heard, and we want to honor that desire by sitting down with them to talk," Medart and Damiano told The Mail Tribune. "Tolerant and respectful dialogue is something we have striven for since day 1, and we look forward to being given the opportunity to model reconciliation for our community. We have not heard back from the adviser or the district, but we are hopeful that we will be given an opportunity to open this dialogue."
The Women's Liberation Front has organized a petition in support of Damiano and Medart's right to express their views.
School board meetings across the United States have become increasingly politically charged as gender identity policies are being implemented in public schools. Recently, the revelation that a teen girl in Loudoun County had been raped by a male student wearing a skirt in the girls' restroom sparked a national dialogue about policies in schools that prioritize a gender identity over biological sex.
---
Do you want to bring the "gender madness" to an end? Help us write about it! 4W is able to pay our all-female staff and writers thanks to the generous support of our paid monthly subscribers.
Enter your email below to sign in or become a 4W member and join the conversation.
(Already did this? Try refreshing the page!)