activism
Trans Allies Physically Attack Feminists at Protests
Women were rounded up by violent thugs while peacefully protesting in Spain and France.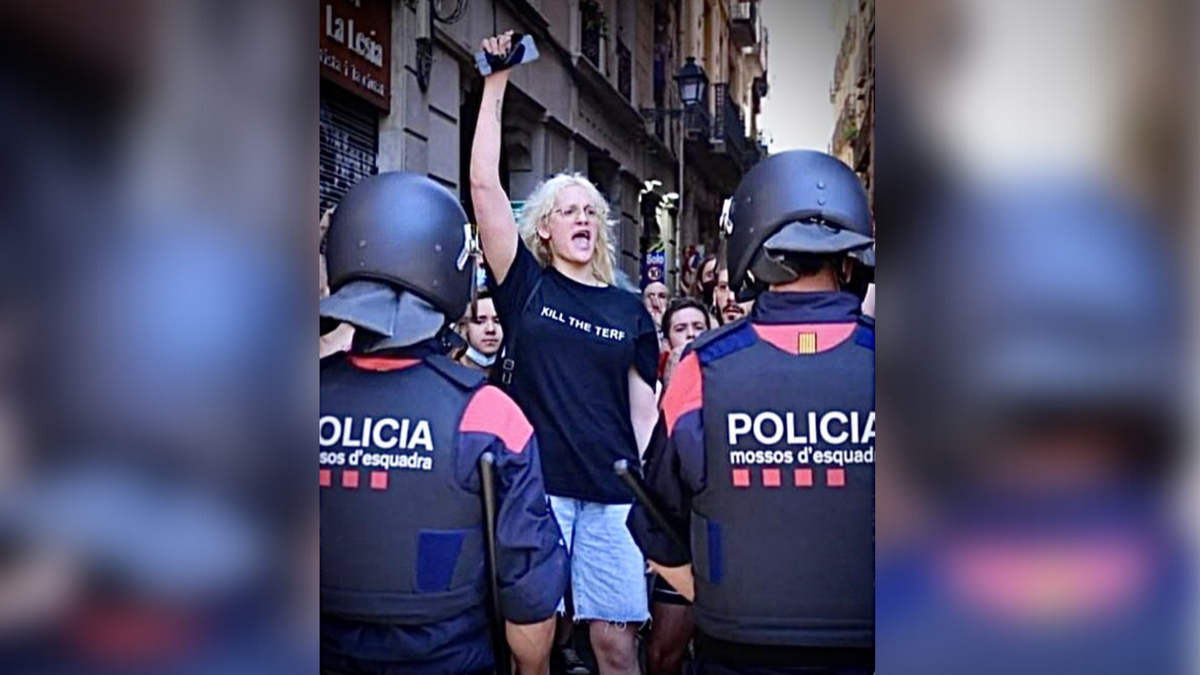 Last weekend was marked by Pride Marches in several countries. Many of those marches became sites of violence - and even death threats - against women protesting self-ID laws.
On June 26, Spanish feminists held rallies against La Ley Trans (the equivalent to self-ID laws) in 18 cities in the country. According to the publication El Comun, after the feminist events were announced, trans allies spent several days posting threats on social media to disrupt them. In a note published on their website, the publication reported that one of its collaborators, cartoonist Laura Strego, was physically attacked by a group of people while protesting in Murcia. Strego was part of a group that met at an initial gathering before the protests. Here, a group of trans allies approached them and proceeded to punch her, especially in the head. The attack was filmed and it can be watched here. Afterwards, Strego was treated in hospital for having suffered a head injury. She said to 4W.Pub: "I'm better right now, but at first it was a bit shocking."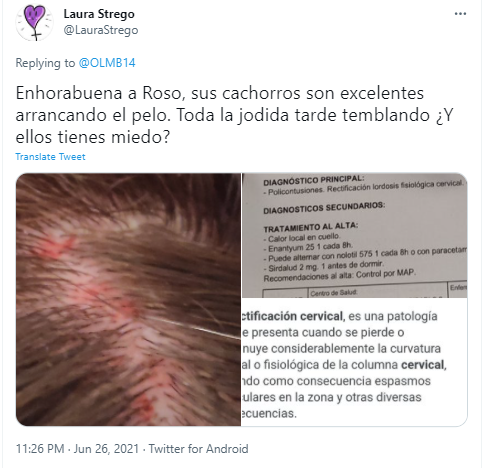 According to the Spanish publication, this was not the first time Spanish gender critical feminists were targeted. A few months ago, Strego's website was shut down by bullies after getting mass reported, in yet another case of women who are feminists with critical views on self-ID laws losing their livelihood and platforms, as reported previously by 4W.Pub.
Physical attacks on Spanish feminists were also seen in Barcelona. Footage shows a blond man, wearing a t-shirt with "kill the Terfs," followed by many others, trying to physically assault women protesting the Trans law. Luckily, the police intervened before any women were harmed. According to one of the women present at the gathering, who gave 4w.pub an anonymous statement, when trans activists heard of the gathering against Self-ID laws marches, they organized counter-protests.
According to Spanish feminist Jessica Fillol, it's illegal to organize a counter protest in Spain. She said in her tweet: "Remember that a counter-protest (organized by trans allies on the same day and hour as the feminist event) is a crime against the fundamental right to protest, and it can lead to 2 to 3 years of prison if violence occurs, or 3 to 6 months if there is no violence." In this case, the event organized by the trans allies was a direct counter protest to disrupt the feminist gathering.
On the same day, French radical lesbian feminists also faced retaliation during the Pride March in Paris. The marching women were chanting "What do lesbians dislike? Penises" and holding signs, when three people holding their own signs approached them. After listening to them for a few seconds, the three people came closer to the women and two tried to take away their signs, beating them afterwards. The video can be watched here. Just as in the case of the Spanish protests, the police had to come forward to stop the attackers and remove them from the feminist protesters. A member of Résistance Lesbienne, told 4W.Pub that "two out of three attacked us, and one was removed by the police, but the police let the other one continue to harass us." The main attacker, according to the same source, was the founder of a "new 'transfeminist' French news outlet called "XY Media." In a tweet, the attacker, Sasha Anxty, tried to justify his attack on June 26 by claiming that feminist Marguerite Stern called him "a man who likes to wear makeup and assault women."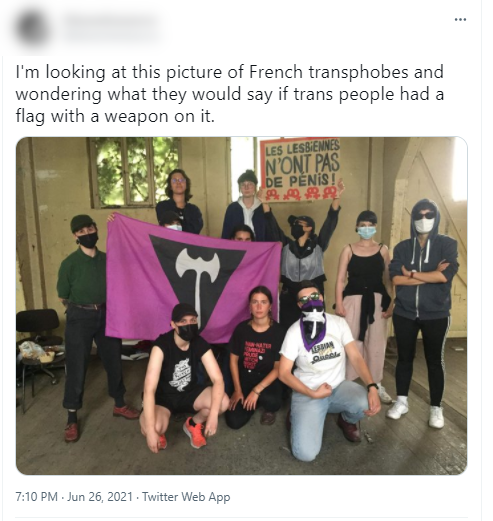 Despite the attack being recorded on video, French publication Tetu claimed that Sasha was the one attacked by the feminists. Trans activists also falsely accused the feminists who faced attacks at the Paris Pride March of threatening trans people with death by holding a flag with a picture of a weapon. They were referring to the "Labrys" flag: a black double axe on a purple background, which has been a symbol of Lesbian liberation since the 1960s.
One of the more peaceful demonstrations was held in London last Sunday. Many women's rights campaigners stood in front of the New Zealand Embassy to protest against the inclusion of men in women's sports. The event was organized by Kellie-Jay Keen-Minshull, also known as Posie Parker, and many other prominent activists appeared at the protest, such as Keira Bell, Julia Long and artist Aja. They stood in front of the embassy chanting "Laurel hubbard is a man" and "Keep men out of women's sports" and were cheered by many of the people who were at a demonstration held to allow live music events again in the UK.
Another attack on gender critical women came in the form of signs carried by trans activists during Trans Pride in London. One of them urged people to "Kill JK Rowling." After images of the sign appeared online, a twitter user called Mark uncovered that the author of this sign and other similarly aggressive signs like "Be trans, do crime" was a trans person who has spent the last 30 years in jail and was released weeks before the Pride march. Mark wrote: "Not only was the 'K*ll JK Rowling' poster not faked, they were made by a prominent trans identified male activist Sarah Jane Baker. Check their other similar graffiti 'art' signage."
So far, the mainstream British media has all but ignored the death threats by trans activists during the London Pride on June 27.
---
Do you want to bring the "gender madness" to an end? Help us write about it! 4W is able to pay our all-female staff and writers thanks to the generous support of our paid monthly subscribers.
Enter your email below to sign in or become a 4W member and join the conversation.
(Already did this? Try refreshing the page!)