Male Violence
What is Killing K-Pop's Stars?
A deadly storm of misogyny, mental illness, and social pressures has taken the lives of three idols in the past two months.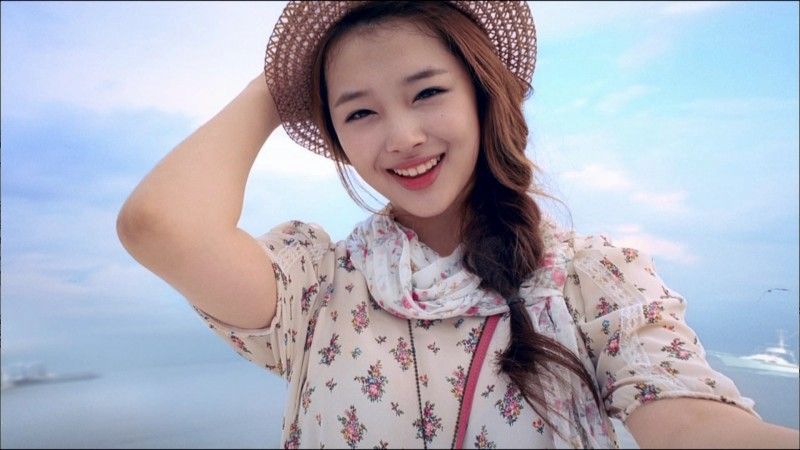 This story contains discussion of suicide and sexual violence.
---
On October 14th, 2019, K-pop star and former f(x) member Sulli (25) completed suicide in her Seongnam home. Only a few weeks later, her close friend Goo Hara (28), former member of the girl-group KARA, was also found dead.
Their deaths have shaken the K-pop scene, leading many other groups and artists to put their activities on hold to mourn the loss of the young women.
South Korea currently has the highest suicide rate in the world of OECD countries, and is in the midst of a major reckoning with its culture of sexism. Sulli and Hara's deaths lie at the intersection of this brewing storm, demonstrating the deadly consequences when misogyny and a culture of "saving face" at all costs collide.
Sulli, whose real name was Choi Jin-ri, was known for being outspoken about feminism and women's rights — a rarity among K-pop's tightly image-controlled stars. For this, the star endured years of online harassment and abuse which eventually pushed her into depression.
The sexist harassment began when Sulli began publicly dating Choiza, a rapper with a "gangster" reputation. As a member of the girl-group f(x), controlled by SM Entertainment, Sulli's image was strictly managed and marketed for the conservative Korean market. While objectified and sexualized on stage, K-pop's female idols are expected to remain in a virginal state without the slightest hint of actual impropriety.
This double standard has led some to accuse the industry of selling a Lolita complex. The stars are made to look young, sometimes even dressing in school-girl outfits, while they dance sexually and sing suggestive lyrics. SM has specifically admitted to selling this fantasy to older men.
Referring to another K-pop girl-group, Girls' Generation, CEO of SM, Lee Soo-man, said:
"People in their 30s and the 40s are emerging as the main cultural consumers, and Girls' Generation specifically targets the men in that age group."
A 2012 song by singer IU, a close of friend of Sulli who once wrote a love ballad about her, played on these themes expressly. "You and I" tells the story of a young girl who is hoping to jump forward in time so she can be with an older man. With lyrics like "In the blink of an eye I'll be an adult," and child-like costumes in the music video, the Lolita themes are clear. IU has faced harassment following Sulli's death for not making a statement.
The girls' contracts often contain clauses preventing them from dating. The management companies claim this is to help maintain their "allure and careers." The message is clear — the idols need to appear "available" for the fantasy to be maintained.
Sulli's public relationship with Choiza marked the beginning of the end for her. In 2014 she was put on permanent hiatus by SM, and hospitalized for stomach-pains related to stress. In 2015 her official departure from f(x) was announced.
Since leaving f(x), Sulli became more outspoken in her activism, which in turn drew more criticism.
In 2017, Sulli and Hara were subjected to homophobic abuse online after a video of them pecking on the lips at a party photobooth hit the internet.
Sulli became infamous for not wearing a bra in public and on Instagram. While some of her fans did support her, she constantly received hateful messages. On an episode of "Night of Hate Comments," Sulli read out mean messages she had received and responded to the controversy:
"When I first posted a 'no bra' photo, there was a lot of talk about it. I was scared and could have hidden, but the reason I didn't is that I want to change peoples' prejudices about that. Part of me also wanted to say 'This isn't that big of a deal.'"
In April, Sulli once against sparked controversy by celebrating the lifting of South Korea's abortion ban, which carried a prison term of one year for women, and two years for providers. Comments on her post included, "Everyone can tell by your actions that you're stupid" and, "Sulli's gone crazy".
In the last interview before her death, Sulli apologized to her friends who she felt were unfairly attacked because of her, and begged reporters and viewers to "please be kind."
Goo Ha-ra, often known by the single name Hara, was a close friend of Sulli. When Sulli passed in October, Hara posted a touching memorial of her on Instagram, writing, "In that world, I hope Jinri can do whatever she wants."
Hara was a former member of the girl-group KARA, also managed by SM. In 2018, a very public legal feud with her ex-boyfriend, Choi Jong Bum, ensued, putting Hara in the public's crosshairs.
In September of 2018, Choi broke into Hara's house while drunk and physically assaulted her, resulting in uterus and vagina hemorrhage. Hara was also diagnosed with a cervical sprain, facial contusions and sprain, lower leg contusions and sprain, and right forearm and additional sprains. Hara fought back, leaving scratch marks on Choi's face.
Choi became so enraged by the marks on his face from her self-defense that he threatened to publicly release a sex-tape he had filmed without her consent, which would end her career in the conservative country where image is everything.
Choi was convicted on the charges of assault and property damage but acquitted on sexual assault charges and received a suspended sentence of just one year and six months, with three years' probation. Both sides were appealing the verdict at the time of Hara's death.
The judge presiding over the case, Oh Duk Shik, has been heavily criticized for his role. Judge Oh claimed that even though it was clear the sex-tape was filmed without her consent, since Hara later became aware of it and did not ask Choi to delete the video, it was not a violation. Judge Oh also demanded the tape be played in court, against the pleas of Hara's counsel.
Shortly after the first trial, Hara attempted suicide and later apologized to her fans for scaring them.
Hara's case comes as Korean women have been dealing with an epidemic of spy cams and secret recordings for years. In August of 2018, over 70,000 protesters took to the streets to condemn hidden-camera sex crimes, which often end up on pornography sites. "My life is not your porn," was the central message.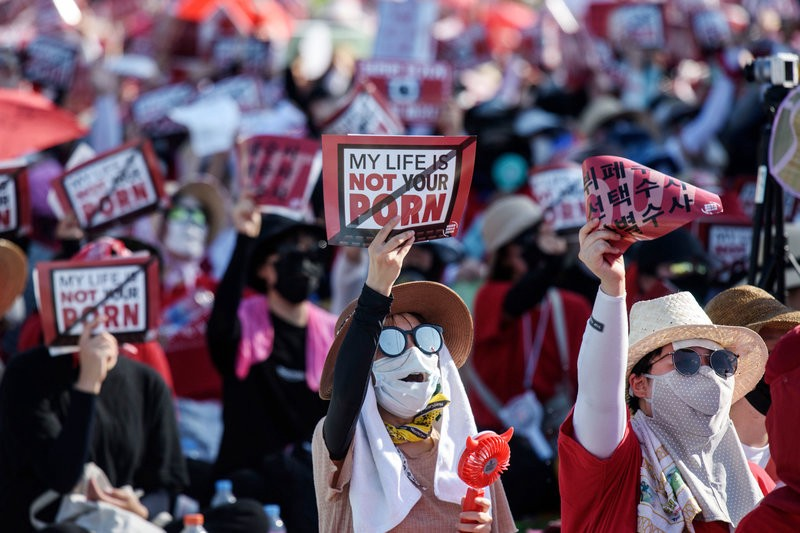 From 2012 to 2017, only 8.7% of the men tried on charges of "molka," or illicit spying, (and, yes, they are overwhelmingly men), have faced jail time. South Korean women have had to invent stop-gaps, like carrying spy-cam detection kits, when they use public facilities like bathrooms or hotels. Victims of spy-cams often reporting feeling suicidal, or like they can not leave the house for fear of being recognized on the street.
The death of Hara reflects the fears of many women — that they will be abused, spied on, filmed, and then blamed.
Last week, two male K-pop stars, Jung Joon-young (30) and Choi Jong-hoon (29) were sentenced to six and five years, respectively, for raping drugged women and distributing videos of them in an online chat.
Investigators discovered the assaults while researching the Burning Sun scandal involving another K-pop idol, Seungri (Lee Seung-hyun). All three of the men participated in a group chat where they joked about raping women. According to Vox:
"In one of the messages, a man brags, 'I gave her sleeping pills and did her.' In another conversation, a different male singer jokes, 'You raped her, Lol.'"
Lee has also been charged with providing prostitutes at business events. Three other men have also been charged in the gang-rape scandal.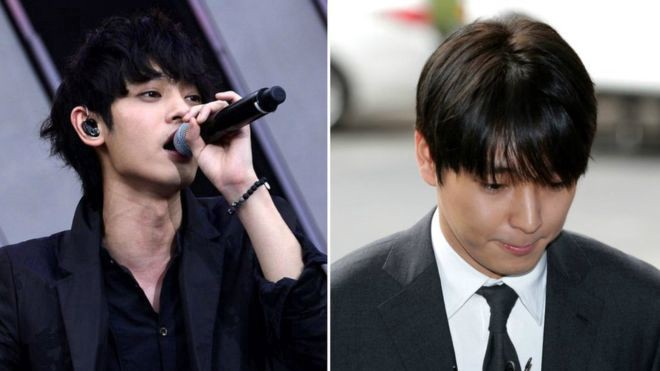 The rampant sexual violence in the K-pop industry is merely a reflection of the larger societal issues at play.
In 2009, Korean actress Jang Ja-yeon committed suicide. In her note, she claimed that her agent had forced her to attend parties and provide sexual favors to 31 high-profile men, including private enterprises and officials of news organizations.
Not much seems to have changed in the last decade for Korean women.
In South Korea, the truth is not necessarily a defense against defamation. Women who go public about experiencing rape or assault may be held liable for defamation if their claims are found "to have tarnished others' social reputation." If the accused is not found guilty, women can be charged for making false claims. According to Outlook India, many accusers are taking advantage of this system to scare their victims into silence.
The country is a hotbed for violence against women, even compared to countries like India which have a reputation for the same. In South Korea, females make up 52% of murder victims, a rate that is unusually high compared to 22% in the US and mainland China, and 41% in India (Japan and Hong Kong also have a female murder rate of 52%. These numbers are taken from 2010 data).
Eight in ten women in South Korea report experiencing sexual harassment at work. According to Channel News Asia, eight in ten South Korean men also admit to abusing their girlfriends.
While feminist campaigners in South Korea have been fighting to bring awareness to these issues for years, the deaths and trials of these young stars may finally force a public reckoning with sexist double standards for Korean women.
The mental health crisis in the country is adding fuel to the fire, driving those facing immense pressure to suicide rather than getting help. Almost 40 South Koreans commit suicide every day. Another K-pop star, Cha In Ha (real name Lee Jae-ho), committed suicide just two days ago (December 3rd) at the age of 27.
The stigma against mental illness and depression, in particular, leads many to avoid seeking treatment until it is too late. OZY reports that 78% of elderly Koreans think that depression makes you weak, compared to just 6% of American seniors.
Suicide rates in the country have been falling overall since 2012, but experts are afraid that the string of high-profile suicides may lead to copycats across the country, especially among fans.
---
If you are struggling with suicidal thoughts, please call to speak to someone who can help. A list of international suicide hotline numbers can be found here.
---
The generous support of our readers allows 4W to pay our all-female staff and over 50 writers across the globe for original articles and reporting you can't find anywhere else. Like our work? Become a monthly donor!
Enter your email below to sign in or become a 4W member and join the conversation.
(Already did this? Try refreshing the page!)