female erasure
Scottish Film World Erases Women on International Women's Day
2022 is turning out to be the year of our audio-visual and legislative erasure.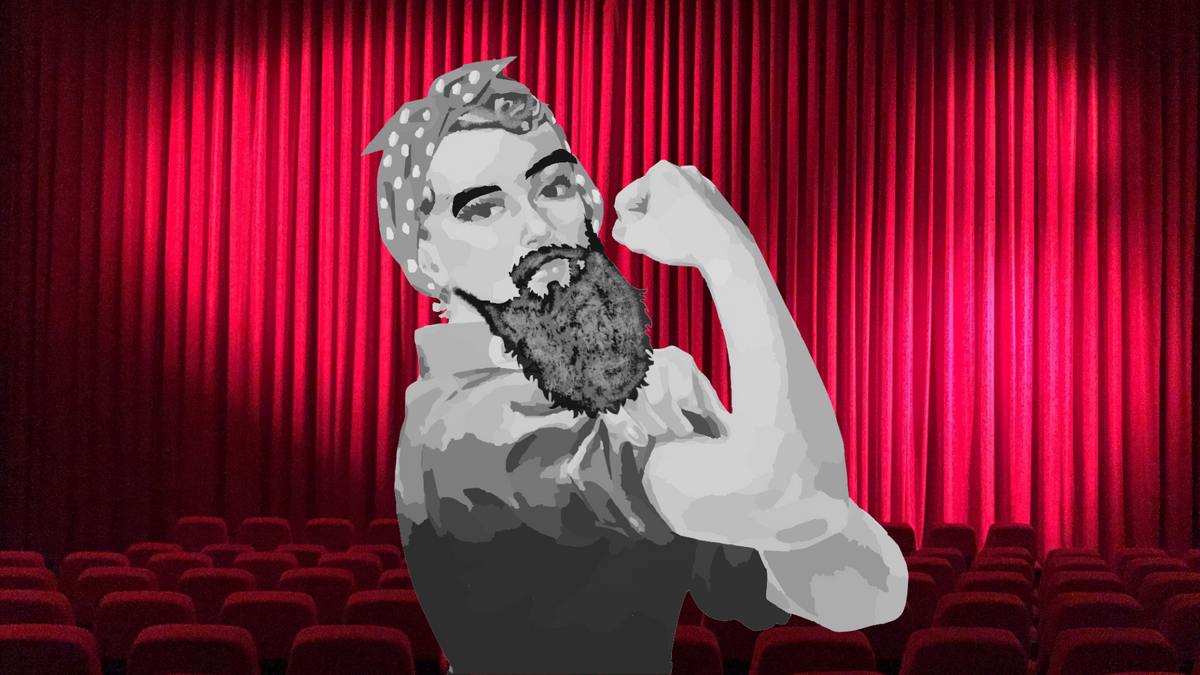 Men - the last thing we should be talking about on International Women's Day. Unfortunately, 2022 is turning out to be the year of our audio-visual and legislative erasure and the phenomenon needs to be documented.
Following the dreaded publication of the Scottish Government's Gender Recognition Reform Bill on the 3rd of March, which allows any male to "self-identify" as a female from as young as 16 years old with no diagnosis of "gender dysphoria" or medical professional involvement (the only qualification needed being a 3 month stint of using some new pronouns), our senses are heightened to female-erasure in Scotland.

The whole UK (and the world) is being subject to this wave of men pretending to be women, and this International Women's day is an opportunity for "The Arts" to pointedly tell us our era of existence is coming to an end.
In February, The Tate Modern in London showed a notoriously misogynistic film called "What is a Woman? 'Hva er en kvinne?,'" which was protested by a group of female activists and was accompanied by the trending twitter hashtag #ArtNotPropaganda. The Film, part of Tate Lates program celebrating "woman artists" featured a man in a women's changing room with the antagonist actresses performing a series of comments gleaned from the internet to illustrate the seemingly horrid behavior of phobic women, painting the male invader in to women's spaces as the passive victim of archaic attitudes of rather base women.

North of the border, International Women's Day (IWD) is also being celebrated by cinemas which are also endeavoring to remind us that we are a mere concept to be debated or commandeered.
In an email to patrons of Filmhouse Edinburgh there is the opening statement:
"At Filmhouse, next week's International Women's Day is an opportunity to celebrate the achievements of women-identifying filmmakers and actors, whose work on the big screen continues to challenge expectations, value inclusivity and inspire change for the future."
A fine reminder that womanhood is about "inclusivity," i.e having no boundaries and having no delineation between male created artworks, male filmic focus and actual women.

Meanwhile at Summerhall, an arts venue in Edinburgh, there is quite the audio visual slap in the face to female filmmakers with the Cinema's top billing of "The Matrix Resurrections" (2021) as part of the "International Women's Day Season." The film is directed by two brothers, "the Wachowskis" whose films are now regularly erroneously described as "female made" by outlets such as Forbes Magazine, which in 2020 listed them among the "The 25 Highest-Grossing Movies Ever Directed By Women [sic]", a particularly nonsensical claim considering that even if one agreed with the concept of men becoming women, they retroactively applied this esteemed claim to three films which the duo made while still being called "the Wachowski Brothers" and working as men and enjoying all the benefits denied to women in the film industry.
The Wachowski "sisters" Lilly (Andy) and Lana (Larry) are famous for both "transitioning" after involvement with dominatrixes, BDSM, Buck Angel and other notable trans activists, and the 2006 article detailing one brother's transition has now been "memory holed" by Rolling Stone which has since deleted the piece titled "The Mystery of Larry Wachowski: Could the co-creator of The Matrix real life truly be stranger than fiction?".

One passage from notorious and, luckily, archived editorial is prescient:
"Nothing in the Wachowski brothers' past suggested that they were on the verge of becoming the new nerd titans of Hollywood. Their only previous credit, the kinky $4 million lesbian noir thriller Bound, featured some of the steamiest girl-girl action ever seen in a studio film but didn't find a wide audience. What Bound did signal, however, were themes that became recurring Wachowski obsessions: how easily and naturally, in a rigid world, social and sexual identities can shift."
Hollywood and a cabal of gaslighting moguls made this a reality; articles are deleted, fetishistic "lesbian" men are presented as women and laws are changed.

Furthering the manipulation of the taxonomy of womanhood is Summerhall's next IWD lineup choice "Tangerine" (2015), a film made by a man, Sean Baker, about two male transvestite prostitutes.
The film made waves for being filmed entirely on an Iphone and developing a run and gun style that is more accessible to the lower budget filmmaker. Juxtaposed with the poverty stricken characters, it was a very innovative film. But merit is hard to celebrate given the film's presentation in this context.
Instead of allowing the audience to celebrate women filmmakers, IWD is becoming an exercise in destroying the concept of women and supplanting female filmmakers with male directors and male protagonists. The antagonistic placing of these artworks on the billing of "woman artists" not only attacks the female viewer's psyche- it weaponizes the artwork of people who may not want to diminish female film maker's contribution, although many creators arguably did.
The arts are dancing on our grave of representation, the performance conveyed with occasionally nice cinematography.
---
Do you want to bring the "gender madness" to an end? Help us write about it! 4W is able to pay our all-female staff and writers thanks to the generous support of our paid monthly subscribers.
Enter your email below to sign in or become a 4W member and join the conversation.
(Already did this? Try refreshing the page!)