misogyny
World Hijab Day Ignores the Enforcement of Veiling
Some women can't choose NOT to wear a hijab.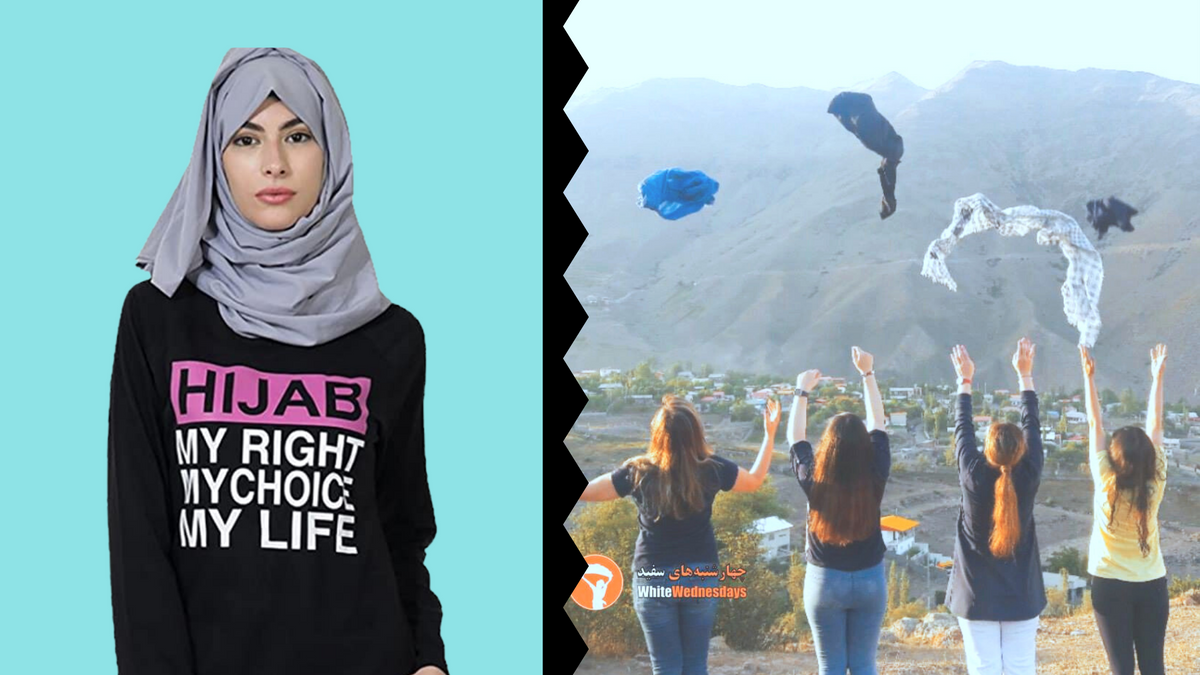 Taking off in 2013, February 1st was declared World Hijab Day. The founder, Nazma Khan, gave a speech explaining the inspiration behind and mission of World Hijab Day. Speaking of her personal history with anti-Muslim bigotry in the United States, she shared heartbreaking experiences of being discriminated against on the basis of her hijab.
"Being a hijabi was a direct sign saying, 'she's a Muslim,'" Nazma explained. She spoke of being bullied by her classmates in school and university as well as hearing stories from other hijabi women of "being rejected at job interviews just because of their hijab."
"How can I help these women?" Nazma pondered, "how can I help myself?" And so the idea struck her: World Hijab Day, an invitation to women across the globe, from all religious, cultural, and ethnic backgrounds, to share hijab: an encouragement to walk in the shoes of a hijabi woman in order to increase religious tolerance.
The event was a success. Women from different faiths and cultures around the world enthusiastically accepted her invitation, many sharing their experiences of trying on the hijab for one day. News outlets report the event year after year, cheering for this inclusive celebration in solidarity with women who have gone through so much pain due to discrimination. Hijabi women celebrate the day, too, expressing their feelings of liberation and empowerment from wearing hijab in what they describe as the reclamation of their sexuality.
Despite the sunny face of World Hijab Day, it has an underbelly that conceals harsh realities of the enforcement of hijab:
It is the mandatory hijab laws in Iran and Saudi Arabia,
It is the Muslim families all around the world who make their small daughters wear hijab, stripping anything resembling "choice" away from them,
It is the honor crimes that are committed against women by their husbands, brothers, and fathers as a result of them not adhering to religious dress codes,
It is the direct insult to womankind, reducing her value to her body which is considered to be an object of a man's possession (her father's at birth and her husband's after marriage).
World Hijab Day not only ignores this monster but also further perpetuates harmful myths about the hijab itself along with the women in the Muslim world who wear it. For instance, it gives credence to the belief that most women who wear hijab are doing so by choice. If we look only at Iran and Saudi Arabia, where women face jail time if they remove the hijab, the majority of Muslim women having any say in this dress code is statistically unlikely. Furthermore, World Hijab Day doesn't address the practice of forcing hijab on children: girls with bodies that have not even gone through puberty yet whose families believe they must be covered in the name of sexual modesty.
World Hijab Day is not meant for girls and women who are forced to wear hijab by their families and governments. It only speaks for the minority of women who genuinely choose the hijab for themselves. Perhaps, it also includes the women who have reluctantly accepted the headscarf as a result of wearing it for most of their life, unable to imagine living in any other way (which is quite possibly the most common type of hijabi woman).
The Islamic headscarf is an uncomfortable, unwavering statement of women's status as second-class citizens in the Muslim world, and there is nothing that World Hijab Day can do to cover that up (so to speak).
Since the first World Hijab Day took place, a reactionary movement formed against it called No Hijab Day, which is practiced on the same day as World Hijab Day. Using the hashtag #NoHijabDay, women from different Islamic backgrounds share their triumph of taking the hijab off, often at the risk of losing their safety, their community of family and friends, and sometimes their lives. Some of the women who participate in No Hijab Day have already fled to western countries as refugees because only then do they feel safe enough to publicly share their stories.
Nobody deserves to experience discrimination based on their faith. Although I support free speech and what it entails, I do not support harassment under any circumstance. People deserve to engage with the world without fear. Discriminating against Muslim women who wear hijab only serves to exclude them from public spaces, a horrible outcome for any group of people.
However, it simply isn't right to overshadow girls and women who are victims of forced veiling, especially considering that hijab is one of Islam's most powerful weapons against advancing women's rights. Though pro-hijab advocates argue that hijab is a neutral symbol, it is clear upon closer inspection that misogyny is at the very core of its design.
In an article on World Hijab Day published in The Times in 2017, Scottish MP Tasmina Ahmed-Sheikh wrote:
"World Hijab Day is an event that we should be proud of celebrating, not just for religious tolerance but for women's rights around the world."
The issue is that World Hijab Day does the exact opposite of celebrating women's rights. It may celebrate religious tolerance and freedom of faith… but women's rights? To make the claim that this day celebrates women's rights is a stretch by any measure; a disgraceful obscuring of the truth; a fundamental and intentional misunderstanding of women's emancipation as we know it.
---
The generous support of our readers allows 4W to pay our all-female staff and over 50 writers across the globe for original articles and reporting you can't find anywhere else. Like our work? Become a monthly donor!
Enter your email below to sign in or become a 4W member and join the conversation.
(Already did this? Try refreshing the page!)