Cancelled Women
Bank Account of Dutch Feminist Organization Cancelled for "Transphobia"
Only Dutch feminist group that doesn't claim "transwomen are women" had its bank account closed.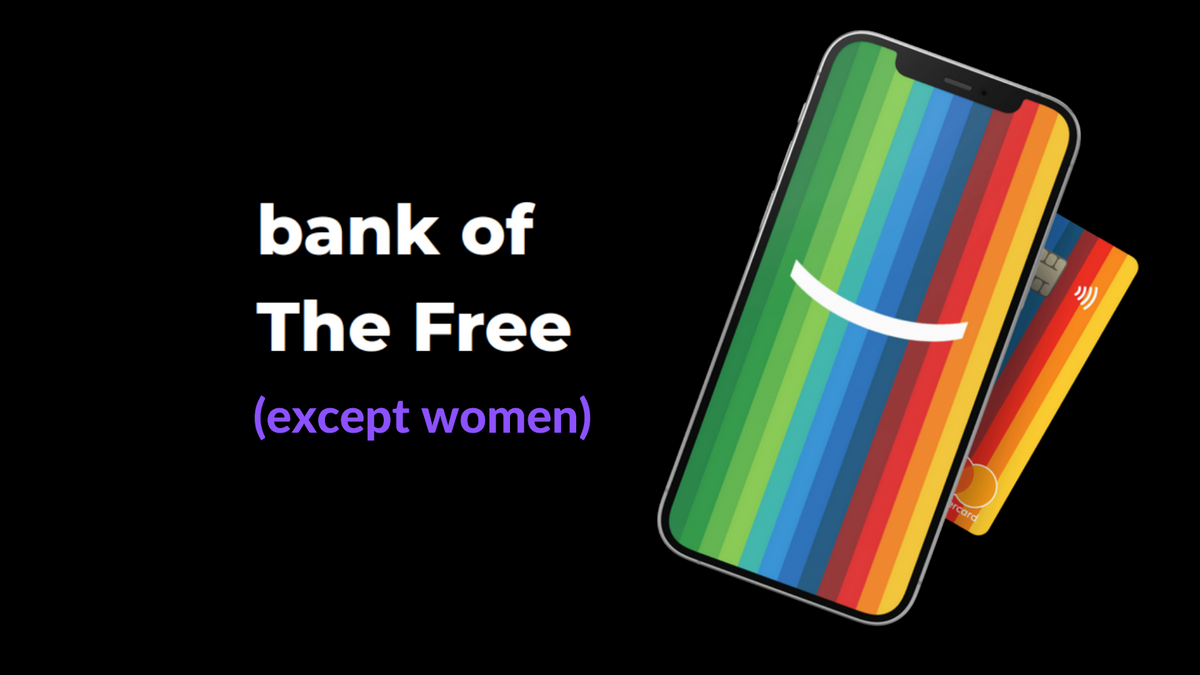 On November 3, 2021, a member of the Dutch feminist organization Voorzij (For Her, in English), who has access to the foundation's bank account app with a bank called Bunq, opened the foundation's app to find it closed. She then discovered a message under the "Announcements" section. When she opened it, she could see a similar statement to: "We are closing your bank account. Your activities do not match what we stand for as a company."
Confused and alarmed, she called other members of the foundation to tell them the news and make a complaint to the bank, tagging them on Twitter to demand an explanation, since there was no previous communication about the bank account's closure. "No mail, just a message in the app under 'announcements," explained Chairwoman Caroline Franssen in exclusivity to 4W.
After supporters of Stichting Voorzij protested on social media, Bunq tweeted back to the Voorzij account with a chilling three-tweet thread, saying that they were "strong advocates of human rights'' and that they "believe in the power of diversity." Further in the thread, Bunq claims that Voorzij Foundation does not "stand behind these values." According to Voorzij Foundation, Bunq claims that the group discriminates against men who say they are women because they do not "regard transwomen as the same as women."
"We'll be happy to support feminist organizations, but do not tolerate discrimination against trans women," the Bunq thread concludes.
"The bank believes that the foundation discriminates against transwomen by not standing up for their interests," says Voorzij's press release, kindly translated into English when the group was contacted by 4W for this piece. Called "Unacceptable: BUNQ cancels feminist bank account - Voorzij foundation: freedom of expression is at stake," the press release states that the foundation was created to defend the interests of women. Stiching Voorzij lay down in their statement what the closing of their bank account without any notice means to the foundation and how it will affect the group:
"As a foundation, a bank account is crucial. After all, we need money to maintain our website and organise activities. So we are not only silenced - it's impossible for us to function." According to their statement, women were not even allowed to have their own bank account in the Netherlands until 1956. "In 2021,"the statement says, "they (women) will lose it because they stand up for the interests of women."
The foundation is now going to take further action to challenge this arbitrary decision. "Stichting Voorzij is going to file an objection against the cancellation of the bank account with Bunq with the Financial Services Complaints Institute," the statement concludes.
This is not the first time Voorzij's Foundation was targeted by the trans lobby, according to Caroline Franssen, the group's Chairwoman. Like Canadian feminist Megham Murphy and many other feminist women before her, Caroline was banned from Twitter in February 2021.
"Twitter's reason for suspending the account is that rules are being broken. Twitter now classifies standing up for women's rights as 'hate speech'," said another statement released at the time of her Twitter ban, which she has been appealing to be reinstated "regularly," Caroline says. Franssen's account had more than 10k followers when she was permanently suspended. At the same time, Voorzij's Twitter account was also targeted after being reported for "hate speech" and was blocked and unable to interact with its followers for several weeks.
"Voorzij actively campaigns for the preservation of women's rights," said Caroline. She says the group has existed for a few years before becoming a foundation two years ago, and that it is the only feminist group in her country that doesn't say that "transwomen are women."
Caroline expressed a deep sorrow for this state of things. "We have not had much time to write articles about surrogacy and prostitution and violence against women," she says, because of the constant attacks and reports on their work by the trans activists. The Bunq Bank revealed themselves that this was the reason they have terminated their contractual agreement with Voorzij, saying that the account was closed "due to complaints we've received concerning your activities," for example saying that "people can't really change sex."
Caroline believes that her Twitter suspension came "exactly at the time the foundation was busy with a campaign around the elections" in her country, which sounds very suspicious to her. According to Voorzij's Front woman, all party leaders were being asked on social media during the election campaign "whether they thought that a woman could refuse to be searched by a "trans-identified male police officer."
"Most political parties consider a man who considers himself a woman to be just as much a woman as a woman," wrote Franssen on the Voorzij website when she was suspended from Twitter. The consequences of the disappearance of the meaning of the word woman will be harsh for women, Caroline says. She continues:
"Women will then no longer be entitled to provisions for biological women only. Women's shelters and women's prisons are then actually mixed. And can therefore become sexually unsafe for women."
Ironically, the first statement by Bunq found in a Google search is "The future calls for banks that are sustainable in as many ways as possible. We are the only bank in the world that lets you choose how your money is invested," and calls itself "the bank of the free."
Update: how can women help Voorzij: Dutch Feminist foundation @voorzij started a crowdfunder to go to court to get their bank account back, closed by Bunq without notice. The link to donate and share can be found here.

Update Nov 11: After Voorzij reached their 5000 euro goal (around $5700), GoFundMe cancelled their crowdfunding campaign without explanation. The money was returned to the donors. Voorzij is now using PayPal for donations.
---
Do you want to bring the "gender madness" to an end? Help us write about it! 4W is able to pay our all-female staff and writers thanks to the generous support of our paid monthly subscribers.
Enter your email below to sign in or become a 4W member and join the conversation.
(Already did this? Try refreshing the page!)