trans activists
Anti-Sex Trade Protestors Beaten by Trans Activists in Brussels
Women at a violence-against-women demonstration attacked by a mob.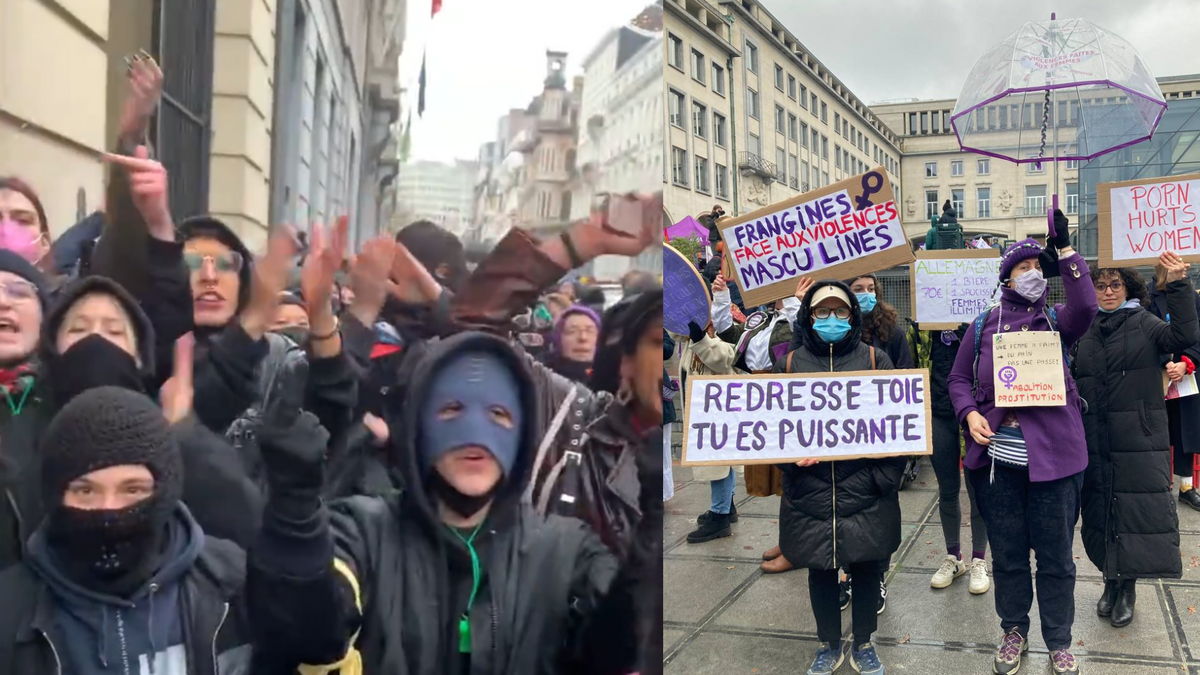 French and Belgian women's rights demonstrators are once again sounding alarm bells over the violence they are facing from trans activists while trying to campaign on women's issues.
On November 28, a small group of about 12 female activists took part in a march against violence against women in Brussels, holding signs protesting the sex trade, including pornography. But the women's efforts were quickly drowned out by a sea of trans activists, who they say surrounded them and pushed them into a corner.
The women report they were "beaten, insulted, intimidated" and had their signs stolen and torn up by a gang of over 50 trans activists who swarmed them despite their signs having nothing to do with them.

In footage a participant uploaded on Twitter, masked and hooded trans activists can be heard chanting "cassez vous," (fuck off) at the women.  
4W got the chance to speak to a participant at the Brussels march, Adriana, a member and Communications Officer at European Network of Migrant Women (ENoMW) and member of the young women's movement of ENoMW, Radical Girlsss.
According to her, the group of women who got attacked at the march against sexist violence were not affiliated with a particular organization. They were there to march for their dead sisters, and protest against prostitution as a form of violence against women as well as against economic violence and other issues.
At one point during the march, this group of women wished to move forward within the crowd to meet a friend. However, a woman who saw their signs against prostitution blocked their way with a bicycle and called her friends to join her.
These young people, dressed in black, then surrounded Adriana's friends, calling them TERFs, and other vulgar sexist slurs. The attackers ripped their posters apart and tried to get the women to leave the march against sexist violence.
When the attacked women wouldn't move, the attacking crowd started to push them. As the women physically pushed back against the attackers, they called upon the police to help them. A plain-clothes officer informed them he couldn't help them as long as they were pushing against the attackers. Another police officer asked the women whether their signs "were mean to trans people."
As neither the police nor other march participants were willing to help the abolitionist women, the attackers' violence escalated. According to Adriana, she got kicked in the spine when she turned her back on the thugs. Other women received blows as well. The violence stopped only after the march's organizer intervened and physically put herself in front of the attacking group.
The attacked women will now seek public condemnation of the violence by organizers of the march, as well as by the university whose students were among the attackers.
Similar events transpired at a violence-against-women demonstration in Barcelona on November 25.
These are not the only two occasions of women demonstrating against the sex trade being targets of trans activist anger. Earlier this year, women who gathered in Paris were pelted with eggs and assaulted with red spray paint in their eyes.
Later, the statue where the incident had taken place was spray painted with words translating to "save a trans person, kill a TERF."
In Barcelona, during a March 3 Women's Day demonstration, according to Women Are Human, a group of trans activists could "be seen suddenly kicking away and stomping on the women's signs." Then, the trans activists turned "their destruction into dance moves and set it to the beat of music and a rhythmically clapping crowd."
Later on, an effigy of a woman was hanged on a tree in the same area.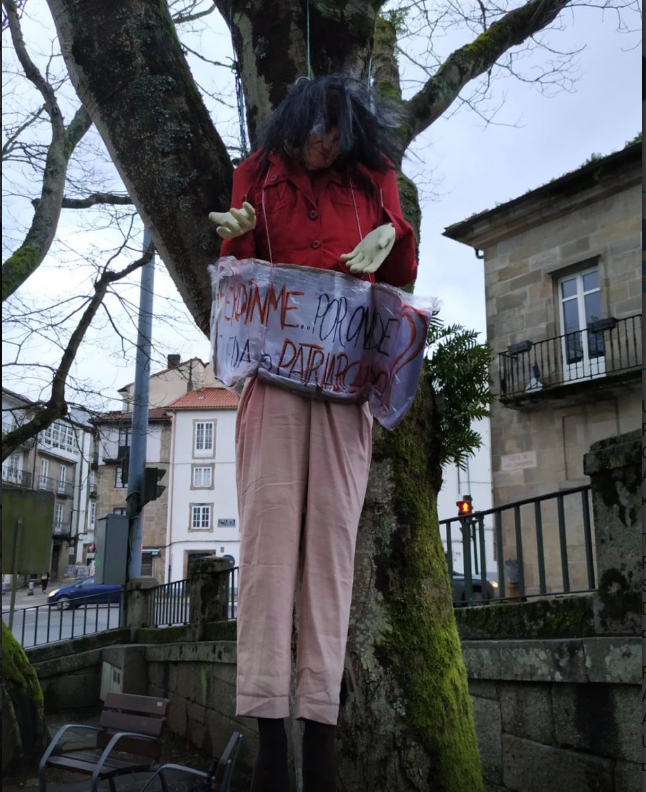 ---
*The article has been updated on November 29 to include a quote by a participant of the march in Brussels
---
Only when we know about the violence women and girls face, are we able to make a change. Help us expose male violence by becoming a monthly donor! The generous support of our readers helps to pay our all-female staff and writers.
Enter your email below to sign in or become a 4W member and join the conversation.
(Already did this? Try refreshing the page!)