Gender Identity
Edinburgh Bar Manager Called the Police on Gender Critical Women Enjoying their Drinks
Five officers arrived to tell a group of women to leave Doctors bar.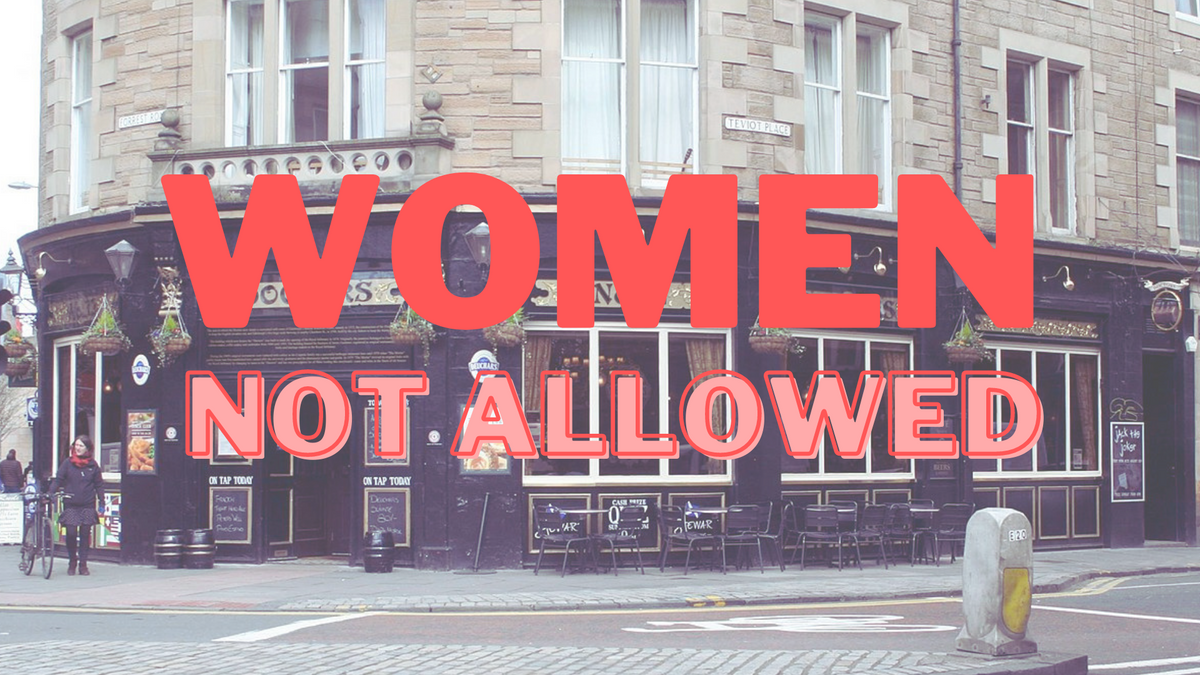 On Saturday August 21, the staff at Doctors Bar in Edinburgh called the police on a group of around 10 women who were, according to For Women Scotland, peacefully enjoying their drinks. Five officers were deployed to the scene. The reason? Some of the women wore t-shirts with gender critical slogans and one got recognized by staff as Marion Millar.
According to the Doctors bar manager, a trans-identified male who uses the handle @mebisdead on Twitter, him and his staff "knew who they [the women] were from the start."
The bar manager also complained on Twitter that someone had left gender critical leaflets at the toilets. He explained that his staff "felt threatened" and he "had to protect them."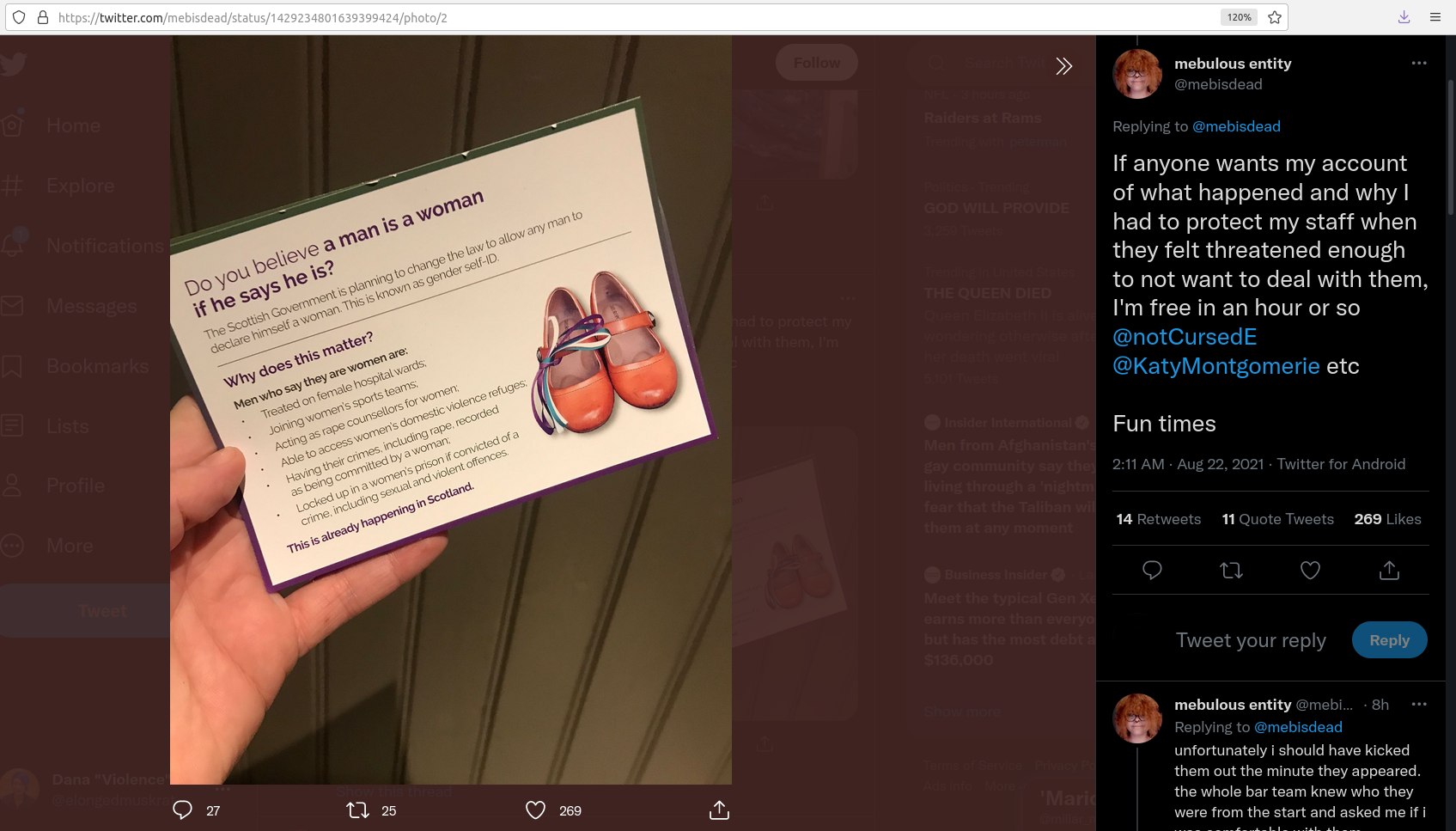 A woman who was part of the gender critical group and prefers to remain anonymous explained to 4w.pub that:
Basically a group of us had been at a feminist show on the Fringe. Being a feminists show, some of us, but not all, had dressed for the occasion. We sat at two tables and ordered food and drinks and consumed them. We were chatting and laughing, but no more loudly than you'd expect a large group in a pub on a Saturday night - indeed I've been out with members of my hobby group and they've been far more raucous. Topics discussed included the show, our jobs, dogs and whether a gammon steak should be served with pineapple or a fried egg.
According to the Doctors bar manager, the women's presence was "making the staff uncomfortable," which is why he decided to ask the women to leave, using the "2 hour per booking rule."
After the group of gender critical women "refused to budge," the manager and his employees decided to call the police.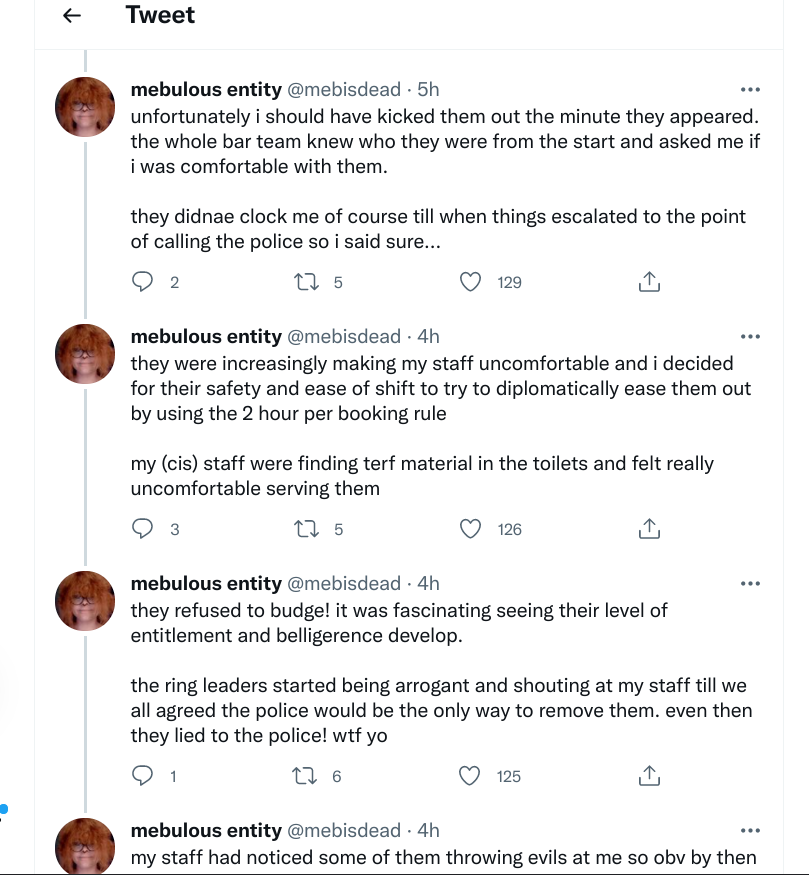 For 4w.pub, Marion Millar presented her account of what had happened that night. According to her, very shortly after she joined her colleagues at Doctors bar, the trans-identified manager approached her and said "I know who you are, finish your drink and leave, terf!" Speaking to 4w.pub, she added that, afterwards, she "didn't say anything" and left immediately as she "didn't want to start anything."
"I don't know what happened after the police arrived. I am terrified I get my bail revoked and I have to stay locked up until my trial," she continued.
The Edinburgh Doctors bar manager corroborated Marion Millar's account by boasting on Twitter: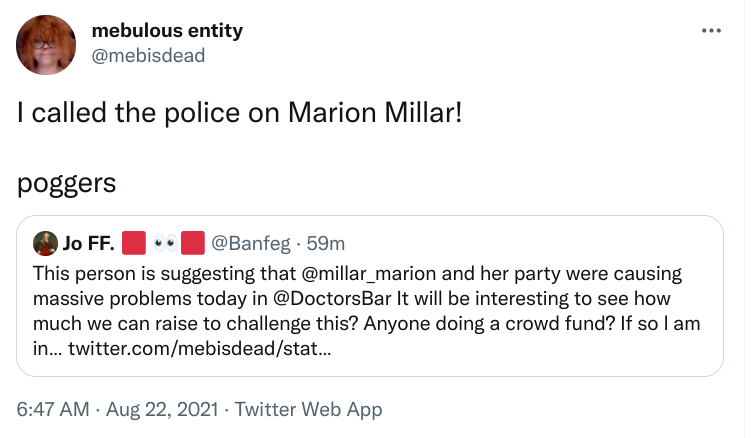 Marion Millar, an accountant who works for advocacy group For Women Scotland was arrested in May 2021 and "charged in connection with online communications offences" for a series of Tweets in which she called for trans ideology to be kept out of schools. She was released on bail and after postponements, her trial date is now set to August 31.
Some time after Marion Millar had left, the staff called the police. When the 5 officers arrived to Doctors bar, according to a witness, the officers "spoke to bar staff and a couple of women (explained they had done nothing) and kept telling us the licensee had the right to ask us to leave so can we leave."
Police Scotland haven't yet issued a statement about the incident.
A day after the events, the Doctors bar manager issued a series of Tweets in which he called women misogynistic slurs.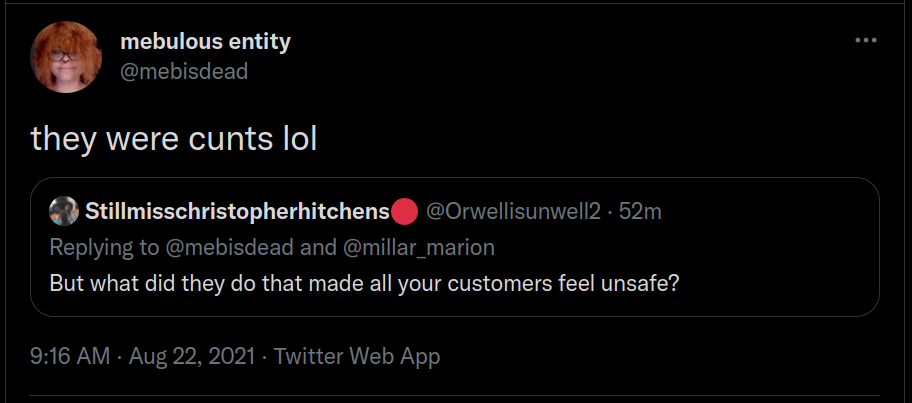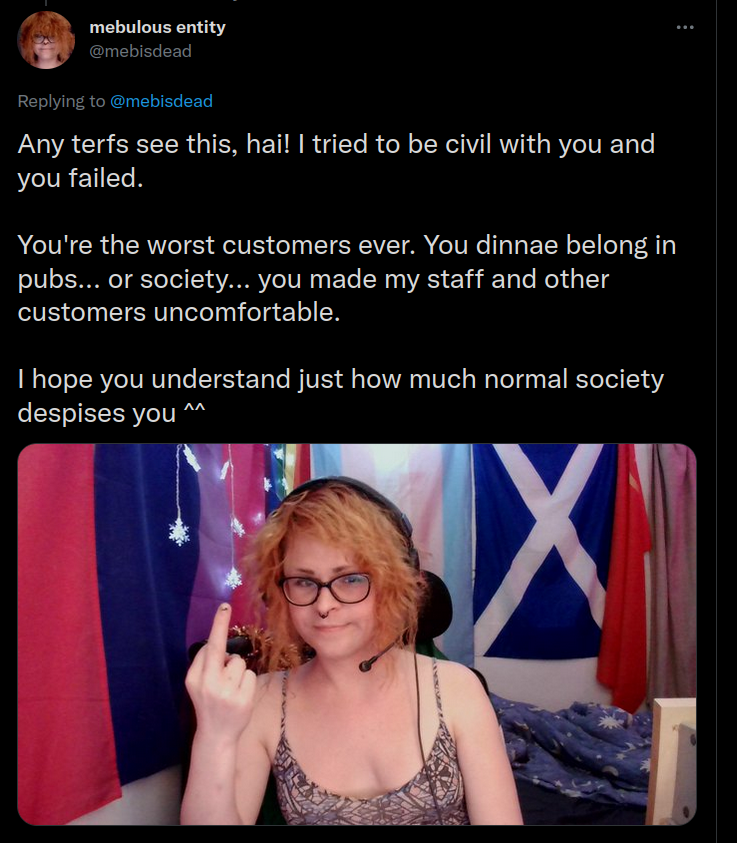 ---
The August 21 Doctors bar is not the first event in which a woman got thrown out of a venue in the United Kingdom for her gender-critical beliefs.
In 2019, Rebekah Wershbale was barred from Five Clouds Tap and Bottle in Macclesfield for wearing a t-shirt that read "Woman – noun – adult human female."
In 2020, a young bisexual woman was thrown out of a gay bar in Glasgow for wearing an LGB Alliance t-shirt.
Doctors bar Edinburgh is part of Belhaven pubs, a brand that belongs to Greene King chain. Customers can leave complaints at Greene King's Twitter.
UPDATE: According to The Scotsman, "Greene King, the chain which runs the pub – and 19 other premises in Edinburgh – has launched an internal investigation and police enquiries are also continuing."
---
Do you want to bring the "gender madness" to an end? Help us write about it! 4W is able to pay our all-female staff and writers thanks to the generous support of our paid monthly subscribers.
Enter your email below to sign in or become a 4W member and join the conversation.
(Already did this? Try refreshing the page!)