Germany
German Uni Cancels Lecture on Biological Sex after Pressure from Trans Activists
The cancellation of Marie-Luise Vollbrecht's talk at Berlin's Humboldt University has set off a free speech firestorm in Germany.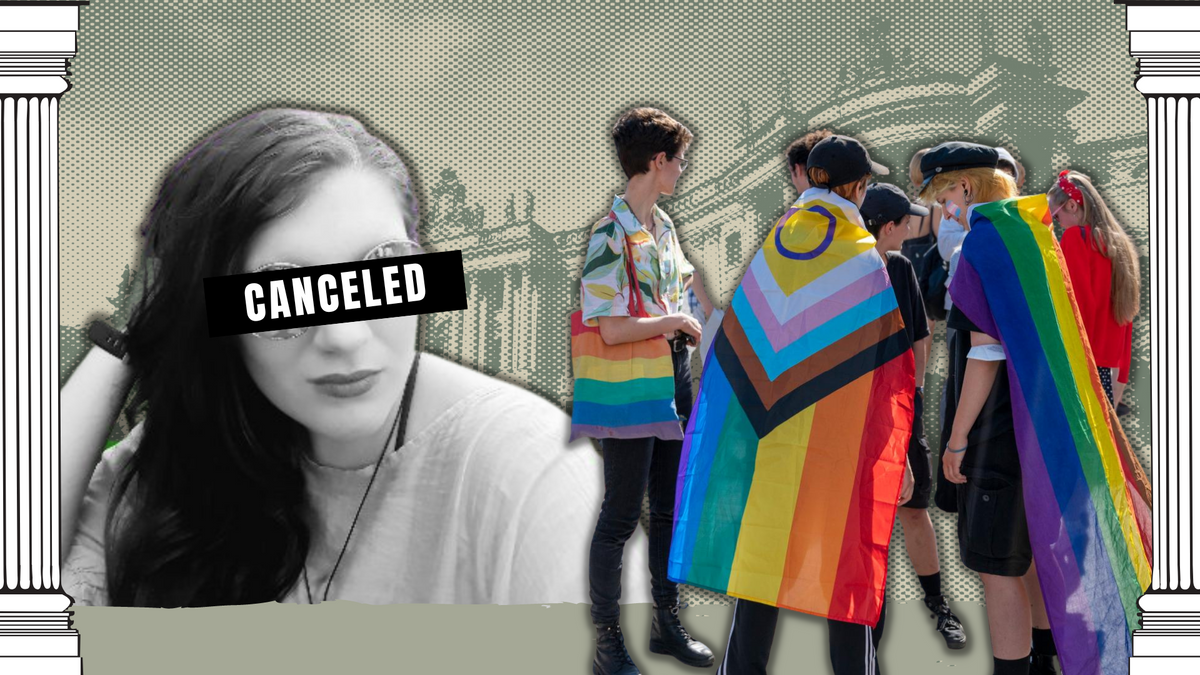 Student activists successfully pressured administrators to call off a public lecture on the evolution of binary sex, which was due to take place at Berlin's Humboldt University at the weekend. The lecture was programmed as part of "Long Night of the Sciences", an established public science event that has taken place in Germany since 2000.
"Inhuman, anti-queer, anti-trans"
Though the agenda for the event had been available online since May, left-wing activists began to apply pressure on the organisers just two days before Marie-Luise Vollbrecht, a PhD student and research associate, was due to give her talk. She had planned a 30-minute "basic school textbook biology lesson," intended for a young and non-expert audience.
But a group of law students called AKJ (Working Group of Critical Lawyers), led the call for the event to be scrapped, saying Ms Vollbrecht's views were outdated and unscientific, as well as "inhuman and anti-queer and anti-trans." They claimed that the institution was turning a blind eye to her transphobic assertion that there are only two biological sexes.
"Biologically speaking," Ms Vollbrecht told 4W, "there are only two sexes. But that's not to say that gender doesn't have its place. Terms relating to trans ideology might be justified in sociology or gender studies," she says. "My lecture was intended to explain the difference between sex and gender, because in German, they are actually the same word - Geschlecht."
Organisers decided to go ahead with the lecture, despite mounting pressure from the activists, who upped the ante by issuing a call for a protest on the university grounds to clash with the timing of the talk. However, on Saturday morning, when it was revealed that a feminist counter-protest was being organised, the university called it all off, citing concerns about the security of children and elderly visitors. Reports suggest between 60-100 trans rights activists ultimately showed up to the protest.
Feminist activist and vlogger Donna Krasniqi has since agreed to host the "cancelled" talk on her own Youtube channel. The lecture (in German) can be heard here.
Not her first mob pile-on
It's not the first time that Ms Vollbrecht has found herself in the eye of a trans-related storm. She has been subjected to constant online harassment since she co-wrote a letter, published in the German newspaper Die Welt in June, in which she and fellow professionals working in scientific fields raised the alarm about the state media's ideological youth programming content.
The authors had examined hours of TV shows, social media content and other materials created by state broadcasters for children and young adults, and found many examples of inappropriate content. "We saw science shows that were telling children that there is more than one sex, or that advocated for transgender ideology. But there were also shows with themes like 'what it's like to be raped' and 'what it's like to be a paedophile'."
They published a dossier of their findings on the website of gender critical German Green Party member and journalist Eva Engelken. They then published the summary in Die Welt. Though 120 other professionals signed the article, it was the five co-authors who suffered the biggest backlash, with the CEO of the media house that owns the paper distancing the company from the authors. This is despite the overwhelming positivity of the response that the article received online.
It was at that point that Ms Vollbrecht began to attract cyber harassers and stalkers. "There are four stalkers in particular who are completely obsessed with me, they are men, they seem to be queer activists. They are very aggressive. And now since the incident, they have become even more brave and they are encouraging others. My aggressors are being celebrated online for attacking me."
Attacks by fellow scientists
But the worst, she says, are the attacks on her expertise. There have been a number of tweets pulling apart the content of her presentation, her background, and her paucity of published research. For a young academic (she is 32) at the tail end of a pandemic, this is perhaps not entirely unexpected. But the vitriol has been intense. "These are fellow scientists. These attacks hurt me the most. Because I know I am right."
Humboldt University have not capitulated to pressure from online activists and are standing by her, as is her doctorate supervisor. The university has even proposed to set a new date for the cancelled lecture, this time joined by Ms Vollbrecht's antagonists, which she says she welcomes. The date and terms have yet to be decided.
Germany's gender ideology debate heats up
Ms Vollbrecht has been inundated with requests for interviews from media outlets since the incident, and she doesn't expect it to calm down any time soon. "The difference this time is that I'm getting attention from left-wing and progressive media. With the Die Welt article, it was only conservative media that wanted to talk about our work," she says.
Bettina Stark-Watzinger, the minister for education and research, criticized the universities actions, telling the Bild Zeitung newspaper that "science lives on debate". Freedom of speech is protected in Germany, and is tied up in principles of freedom of research and freedom of art. Many commentators are worried that the affair at Humboldt University is a sign of creeping censorship (and self-censorship) that has become a recurring feature of higher learning institutions in the English-speaking world.
The debate continues to rage mostly on German Twitter, where terms like Geschlecht, but also Biologismus, Wissenschaft, Chromosomen and #HumboldtUni have been trending in the country since the weekend.
---
Correction July 6: The previous version of this article incorrectly stated Eva Engelken is a member of the German parliament.
---
Do you want to bring the "gender madness" to an end? Help us write about it! 4W is able to pay our all-female staff and writers thanks to the generous support of our paid monthly subscribers.
Enter your email below to sign in or become a 4W member and join the conversation.
(Already did this? Try refreshing the page!)