United States
Harvard Hosted BDSM Tutorials, Anal and Orgy Workshops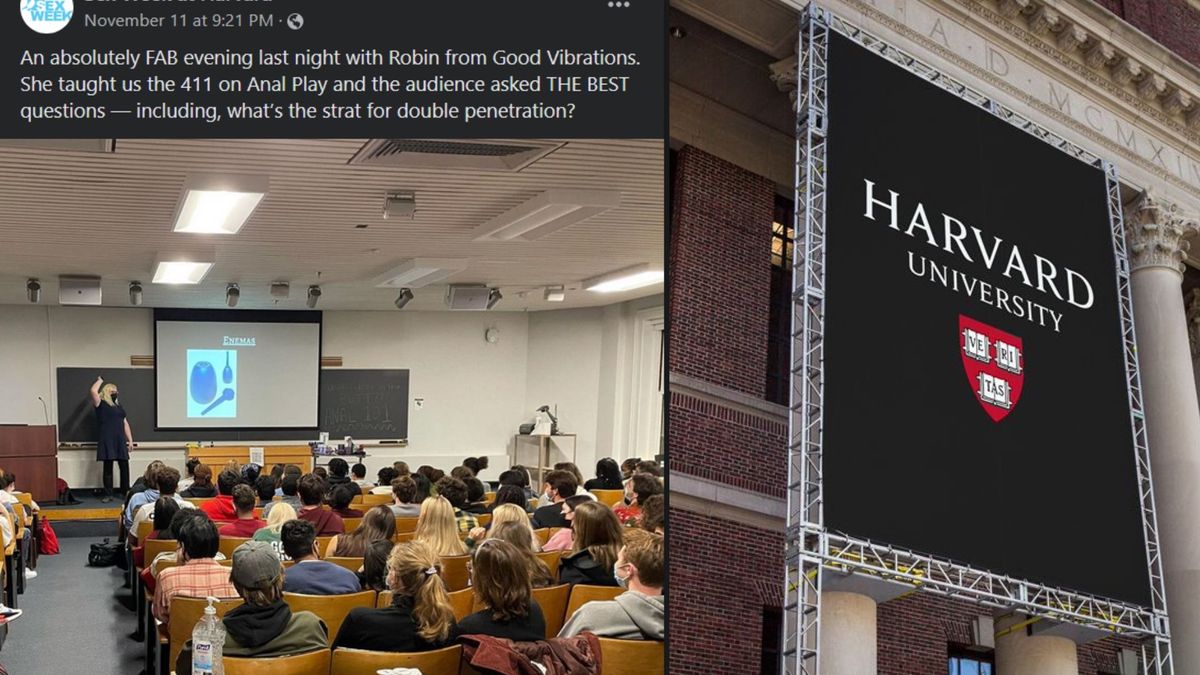 Harvard University is joining a long list of colleges raising eyebrows over what many percieve to be inappropriate extracurricular offerings to students.
From November 8 - 14, Harvard platformed fetish workshops as part of its annual Sex Week. Among the workshops hosted by the university for the student-organized event were "Hit Me Baby One More Time," billed as an "Intro to BDSM," "My-dentity: BGLTQ Intimacy, Let's Talk About Porn, Baby," and "What What in the Butt! Anal 101."

A workshop called "Kinks & Fetishes & Taboos, Oh My!" was hosted on November 9 by non-binary sex educator Jamie Joy, who uses they/them pronouns and endorses "non-monogamy."
In 2016, Joy was granted an "Ally to Queer Youth" award for "working on launching a queer youth mentorship program with college students," and "the implementation of LGBTQ-inclusive sexual health curricula at local schools."
According to the Facebook event page description, "Jamie Joy (they/them) is a queer Jewish sex educator and hungry slut for freaky fantasies and kinky perversions."
Participants were entered into a raffle, and winners were awarded various sex toys, including anal beads and lubrication.
One speaker, identified as "Robin from Good Vibrations" offered advice on double penetration. Good Vibrations is a San Francisco-based sex shop with a net worth of nearly $12 million, and sells bondage and fetish gear, as well as breast binders and "penis packers" targeted at young women.


Sex Week at Harvard also held a panel discussion led by Lisa Chiya, President of Genesis Egg Donor and Surrogacy, Inc., on egg freezing, which was promoted as open to "anyone with a uterus."


The week-long series of events were sponsored in part by the Harvard College Women's Center and The Open Gate Foundation, which was established in 1987 as the Harvard Lesbian & Gay Caucaus but was renamed as the Harvard Gender & Sexuality Caucaus.
Harvard University first began hosting lectures on BDSM in 2012, and isn't the only top-tier academic institution promoting sexual fetish workshops. In 2017, Newsweek reported on Princeton's BDSM club for students, saying, "There have been many Sex Week campus events at different high-profile colleges over the years that have also included workshops on the sexual subculture, which can include ropes, blindfolds, whips, flogging, master-servant role play and much more."
The University of Chicago also hosts an annual Sex Week which includes a BDSM workshop. In 2016, the university hosted a "sexual pain" workshop and BDSM tutorials, and in 2017 it hosted "Intro to Rope Bondage."
In April 2020, a trans-identified male presented a lecture on "forced feminization" pornography for Princeton University.
At least 33 U.S universities currently host BDSM clubs, including Ivy League institutions Brown, Cornell, and Yale.
---
4W provides paid writing work for over 50 women in countries spanning the globe. This work is made possible thanks to our paid monthly subscribers. Join today to support our work!
Enter your email below to sign in or become a 4W member and join the conversation.
(Already did this? Try refreshing the page!)