Censorship
Video of Mother of Penn Swimmer removed from YouTube, Spotify
The video posted by Women's Declaration International also appears to have been removed by Itunes and Apple Podcasts.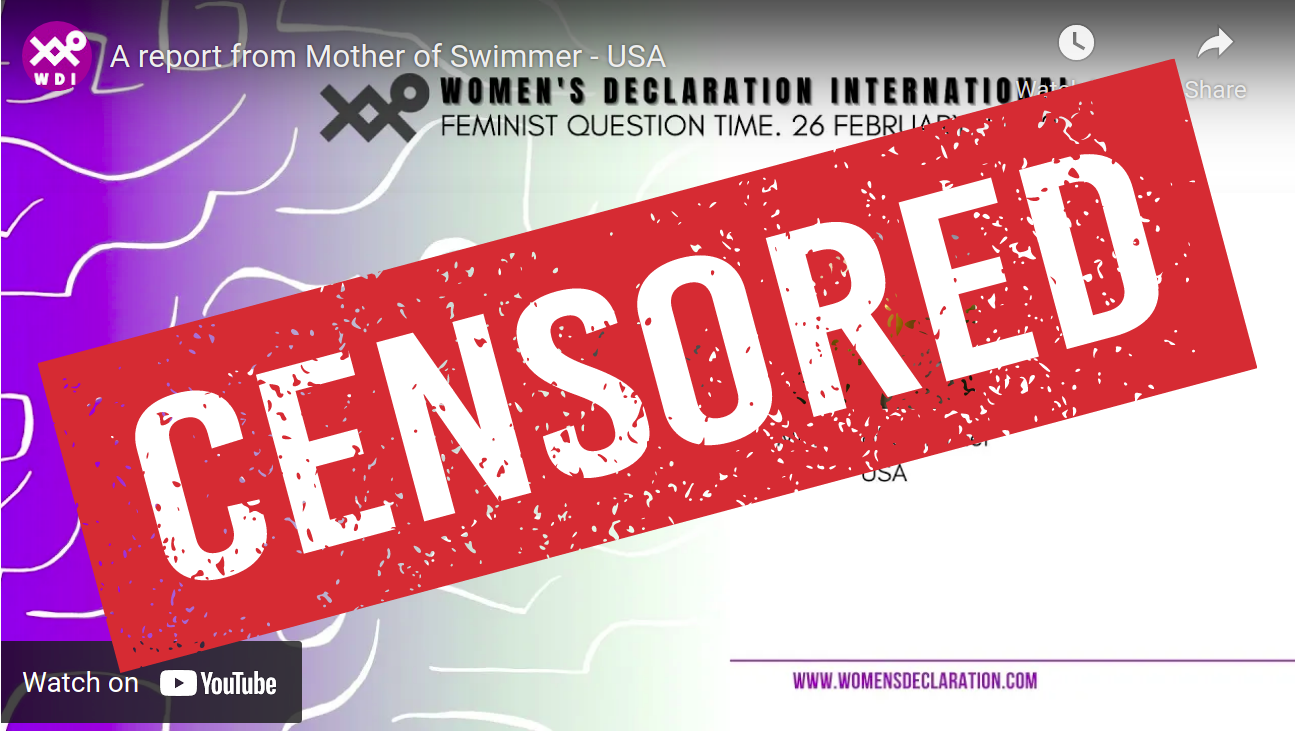 *Update: 4W contacted Women's Declaration International on March 1, and later that day, the video of the talk from Mother of a Swimmer was back on their YouTube channel.
The video of a talk from the mother of a young Penn University swimmer was removed from several popular video and audio streaming services. The mother of a swimmer appeared as a panelist on Women's Declaration International on February 26, 2022, speaking in an anonymous capacity, along with coach Linda Blade and biologist Emma Hilton, talking about the impacts on female swimmers competing with trans-identified male Lia Thomas.
Biologist Emma Hilton tweeted a YouTube link to the mother's talk at the weekly webinar Feminist Question Time on February 28, but just a few hours later, the YouTube link for that particular video was not working anymore. On the Women's Declaration International YouTube channel, however, all of the other videos for the talks from the panel on that same day were still available.
On Dr. Hilton's thread, there were several attempts to recover the video, with users posting links to audio streaming services, such as Spotify, iTunes, and Apple Podcasts. In the same way, just a few hours later, none of the links to these streaming services were working. But YouTube channel GenderWang posted it again on March 1.
In the video that has been removed from several platforms, a woman identified herself as the mother of a swimmer at Penn University, saying that she was speaking anonymously at her daughter's request for their protection. She said she was "grateful" for the chance to share how this experience "unfolded and impacted" her family.
The mother spoke about how Thomas "caught her attention" at the beginning of a swim season when she found out that he had been a swimmer in the men's team for three years prior to competing with women. She called her daughter and asked if she was aware of the situation, to which her daughter "quietly" replied that it was not fair.
When Thomas started breaking several women's records, she talked with families "far and wide … about what was happening in the Ivy League."
"All of a sudden, everyone but the major news network was talking."
She said that she contacted a lawyer at the ACLU about the "obvious conflict" for women competing with trans-identified males, but she was met with accusations of "transphobia." She was told that questioning Thomas's participation was offensive and that the term "biological women" had "no business being in a discussion around sex and gender." According to her, ACLU stated that they are "removing sex from legal documentations and legal language." ACLU concluded their communication by saying that the organization "will never represent cis women against women."
"The next morning, my education began," she continued. She started researching feminism, court history, medical papers, books, and all the articles she could find. She also read what JK Rowling has said about women's rights and wrote emails to politicians. "I could not bear to see women's sports redefined and reworked, to no longer be a place for women to pursue and celebrate their physical limits without comparing themselves to men," she stated.
Another concern that the mother mentioned to Feminist Question Time was about the kind of "education" that her daughter and the rest of the young women in the Ivy League were receiving. A statement released by the Ivy League was received by many as "literally dripping with sexism," defending Thomas' participation in the women's swimming and diving team. She says that these girls were "manipulated, coerced, and emotionally blackmailed" in mandatory meetings, where they were told that any opinions on the matter had to be "cleared" first with their coaches and that their "first priority" was the "safety and protection of their trans classmate." It is also reported that girls from other Universities, like Harvard and Yale, were getting the same treatment — and that this would also apply to the families of the swimmers.
The concerned mother started crying during her talk in the WDI panel, when she spoke about how her daughter and other girls were preparing to compete against a man, mentally getting ready to stand "in front of a crowd next to a man," shaking hands at the end of a race and trying to avoid crying. Her daughter also told her that she had to consider the number of towels she was going to take to the locker rooms in case she needed to cover herself in the presence of Thomas.
"I wish the women had responded collectively and angrily as soon as the news of Lia had broken," she said. According to her, there were at least a few "bright spots," referring to the last night of the meet. She said that the swimmers had a race in the final of the category 1650, in which Thomas didn't take part.
"The one race in the meet where the girls all knew beforehand who was competing, and had a chance to talk to each other across multiple teams,'' she said. In the end, they all "marched out, holding hands… I have never seen this in a meet. It had never been done. It was a message… We support each other."
---
Do you want to bring the "gender madness" to an end? Help us write about it! 4W is able to pay our all-female staff and writers thanks to the generous support of our paid monthly subscribers.
Enter your email below to sign in or become a 4W member and join the conversation.
(Already did this? Try refreshing the page!)