Hollywood
James Caan: Legendary Actor Leaves Behind Legacy of Abuse
The women he abused will remember a different man than the one widely praised by Hollywood for "being a legend."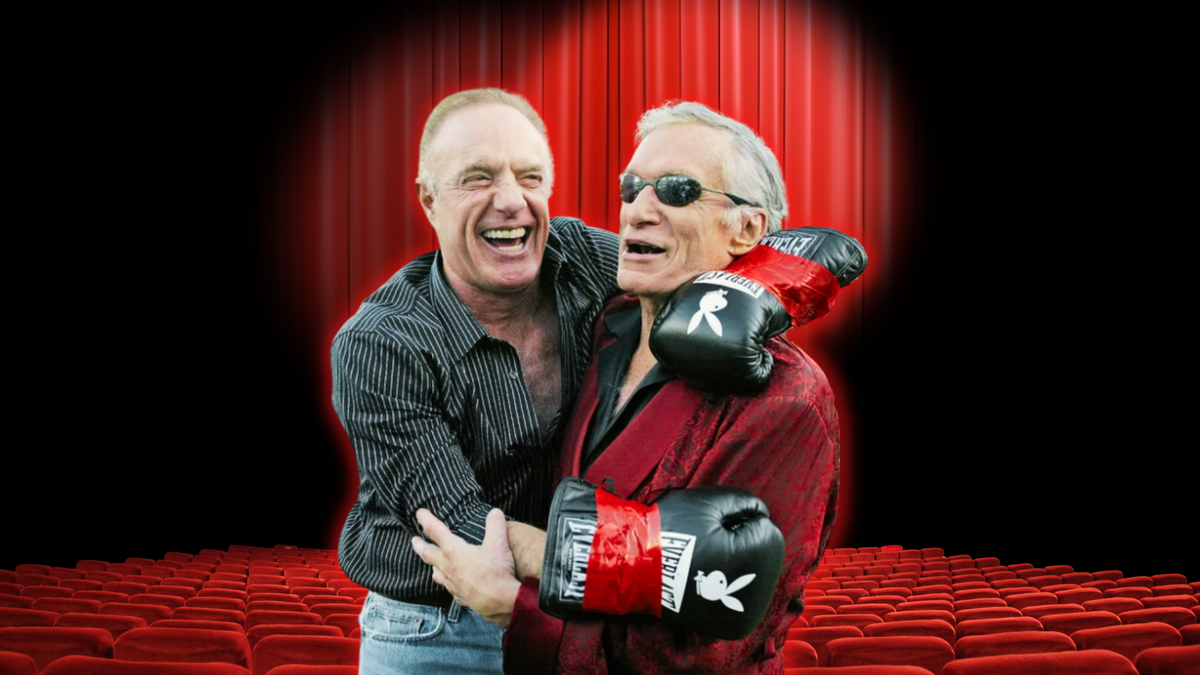 On July 6, 82-year-old American actor, James Caan, best known for his roles in The Godfather, Misery, and Elf, died from causes that have not yet been made public. The news of his death was reported around the world the next day.
In coverage of his passing, the actor has been described in flattering terms: he has been hailed as a legend, a "titan in the film industry" (People), "iconic" (Entertainment Weekly), a key figure of American cinema (Paris Match, "une figure incontournable du cinéma américain"), etc. The greatest emphasis has been on his role as mobster Sonny Corleone in The Godfather (1972).
The coverage reveals something that most women in the industry already know: the Post-#MeToo era has not prompted a larger examination of Hollywood's beloved cast and their treatment of women. Caan, for all his iconic roles, was also emblematic of the violent male misogynist that has plagued film since its inception.
Caan was four times divorced, had a cocaine addiction, used prostituted women, was accused of beating his ex-wife and ex-girlfriend and of involvement in multiple violent assaults on other men, he had mobster friends whom he defended, and once lived at the Playboy Mansion, and apparently terrified his co-stars on multiple sets.
A few, but not all, of these allegations have received some attention in last week's articles venerating Caan and his reputation as a man's man, tough guy, and bad boy. Many reporters have ignored or downplayed his behavior toward women and used euphemisms, particularly in reference to prostituted women, sometimes calling them "girls." The Washington Post, for example, referred to Caan's "decadent lifestyle as an habitue of the Playboy Mansion."
Celebrity memorials of Caan on Twitter and in the media would leave most readers completely unaware of the actor's darker side. Adam Sandler tweeted, for example, "Always wanted to be like him… Never ever stopped laughing when I was around that man. His movies were best of the best."
On July 7, the Associated Press published many tributes in the form of statements and tweets from fellow celebrities. Al Pacino called Caan, "A great actor. A brilliant director." Barbra Streisand said, "He was so talented." Maria Shriver called him a legend. Francis Ford Coppola said in a statement: "his films and the many great roles he played will never be forgotten." Talia Shire, who also starred in The Godfather, called him a "wildly gifted man." Arnold Schwarzenegger tweeted that Caan was "an icon – a legend." British director Edgar Wright called him "a genuine megawatt movie star."
And yet, a recurring adjective used to describe Caan in articles is "intimidating." In a 1994 appearance on Late Show, David Letterman mentioned that Caan gave him the finger from the wings and made several comments about fearing the actor, giving viewers the impression Caan was wild, unpredictable, and possibly dangerous.
The spotlight on Caan's "minor brushes with the law" (the Associated Press) has been dim. Caan may have been a great actor and his roles may be long-remembered. But the women he abused, his victims, will remember a different man — a man who, even in death, the media and Hollywood elites are too afraid to criticize.
Allegations of Abuse and Prostitution
Caan's first wife was actress Dee Jay Mattis, and they were married from 1961 to 1966. His second wife, Sheila Marie Ryan—who dated Elvis and appeared on the cover of Playboy magazine in 1973 — was 12 years his junior and died in 2012 (m. 1976-1977). From 1990 to 1995 Caan was married to model Ingrid Hajek, who was 20 years younger than him. In 1995 he married actress/costume designer Linda Stokes — who looks at least a decade younger than him — and they divorced in 2016, after filing for divorce three times.
A July 7 obituary in The New York Times of Caan frames the actor's violent tendencies  as part of his "bad boy reputation." Most of his behavior is blamed on his cocaine addiction, which began after the premature death of his sister. The article doesn't mention his ex-wife's abuse allegations, and glosses over Caan's use of prostitutes, framing it as part of a "partying" lifestyle.
"I got into the whole lifestyle of girls and drugs and partying… you really do get caught up in it, and it's very destructive," the Times reports Caan told Entertainment Weekly. Caan briefly lived at the Playboy Mansion and, in 2010, People reported that his son, Scott, "spent much of his unconventional childhood inside the walls of the Playboy Mansion." James Caan told People, "I'd have Scott bring me girls. No one could say no to a cute little boy." Scott himself has acknowledged that their relationship was "dysfunctional."
In 1980 pictures of a bruised and battered Sheila Ryan appeared on the cover of the National Enquirer. The next year Caan told Rolling Stone: "It is impossible to tell you the whole story without getting into a whole lot of smut, without degrading my ex-wife… If I were to say to you that someone threw a phone at me… I put up my hands… an accidental slap… a backhand." In this interview his sister Barbara is quoted as saying, "Yes, he shoved her. There is no doubt about that. And yes, there was a bruise, but nothing else." Despite the admitted slap, shove, and bruise, Caan claimed the picture was "a total fabrication."
In 1993, Caan "was one of the first stars picked up" in a major high-end prostitution bust, according to The Guardian. At the time, 27-year-old Heidi Fleiss was accused of being Hollywood's top madam. In 1994 Fleiss told Vanity Fair "she was having an affair with her longtime crush, James Caan." In a 1999 interview Caan said of his involvement with the prostituted women working for Fleiss: "Hookers? Well, I never paid for them, you know. I just gave them all the cocaine they wanted." (Fleiss was convicted of Federal Tax Evasion in 1996 and served seven years in prison.)
Just a few months later, Caan faced a lawsuit from ex-girlfriend Leesa Anne Rowland, alleging he attacked her in a Los Angeles hotel in May. According to The New York Times, Rowland claimed Caan "picked her up by the neck, choked her and threw her into a hallway after an argument." A 2015 article in HuffPost mentions the broken nose, black eye, and "constant intimidation [Rowland] suffered at the hands of Hollywood actor and her then boyfriend James Caan." Rowland's IMDb profile mentions a pictorial in Celebrity Sleuth from 1995 entitled "James Caan Tried to Kill Me!" In 1999, The Guardian reported that the "physical battery suit" against Caan was dismissed without trial.
Caan's mistreatment of women, including those whom he is acccused of beating and sexually abusing, only fueled his image in the media. In 1996 the Tampa Bay Times called him a "legendary carouser… who rose to fame in the '70s as a macho leading man." On July 7 actor Martin Kove, known for his role as the villain in The Karate Kid, admiringly called Caan "an original bad ass.
At times Caan gave the impression he wished to be seen as an artist, not a tough guy. However, his rough language betrayed violent thoughts. In the 1981 Rolling Stone interview, for example, when he claimed his first wife, Dee Jay Mattis, only allowed him to see his daughter, Tara, once in 10 years, he said, "I just send the cheque every month. This will never happen with my son. I don't really care about much else. I would kill." On being perceived as a macho he said, "If macho means I wear the pants, then I'm macho. If macho means I'm going to drive the car, then I'm macho. And if you're my girl and someone's smart to you, I'll slap him in the mouth." He also told Rolling Stone: "The one thing that gets me most is having my in­telligence underestimated. That's when I want to choke somebody."
Other Allegations of Violence and Assault
It wasn't just women who were the targets of Caan's violence and abuse. Throughout his career, Caan faced a parade of allegations of other instances of assault. These allegations were also largely swept under the rug, both by media and law enforcement.
In 1993, Caan was questioned in relation to 25-year-old Mark Alan Schwartz' death in Los Angeles. The Associated Press wrote: "an acquaintance [of Caan's] fell eight stories to his death [from a fire escape] while trying to reach an apartment where Caan was staying." The New York Times reported that at the time, "[t]he police questioned him at length." Caan told the police he was asleep when it happened, and the death was deemed accidental. A 1999 article in The Guardian states the LAPD arrested Caan at the time and interrogated him for 10 hours over Schwartz' death. The death was eventually ruled an accident.
In March 1994, Caan was arrested in North Hollywood for brandishing a weapon (a gun)  at rap artist Derek Lee (aka Doc Rapper) during an argument, but the charges were dropped the following August.
In 2017, Godfather co-star Gianni Russo told EW that during the shooting of a fight scene between Caan's character, Sonny, and Russo's 'Carlo', Caan became aggressive and improvised actions that left Russo injured. Caan threw a billy club at Russo's head, bit his hands, and lifted him off the sidewalk with a kick – actions Russo claims were not part of the choreography. Russo told EW: "With this being my first film, I didn't want to complain… he chipped my elbow with the garbage pail cover, and he broke two ribs. Jimmy and I are not friends at all, believe me. The guy's nuts."
Hollywood's Bad Boys Still Given a Pass
Despite the #MeToo reckoning, which promised to re-examine the treatment of women in media, many of Hollywood's beloved bad boys are still given a pass.
It is doubtful a female celebrity with a comparable past would be portrayed as favorably in the media — or receive the near universal praise Caan has basked in posthumously this week. His work should be remembered, and his flaws do not mean his movies will hold any less relevance to fans. But for the women and co-stars Caan abused, the legendary actor leaves behind a different legacy — one that the mainstream media is not yet ready to acknowledge.
---
The generous support of our readers allows 4W to pay our all-female staff and over 50 writers across the globe for original articles and reporting you can't find anywhere else. Like our work? Become a monthly donor!
Enter your email below to sign in or become a 4W member and join the conversation.
(Already did this? Try refreshing the page!)