News
Exclusive: Lesbian Night Canceled by London Pub for Going Female-Only
After enduring years of discomfort with the presence of men, the organizers turned the event female-only.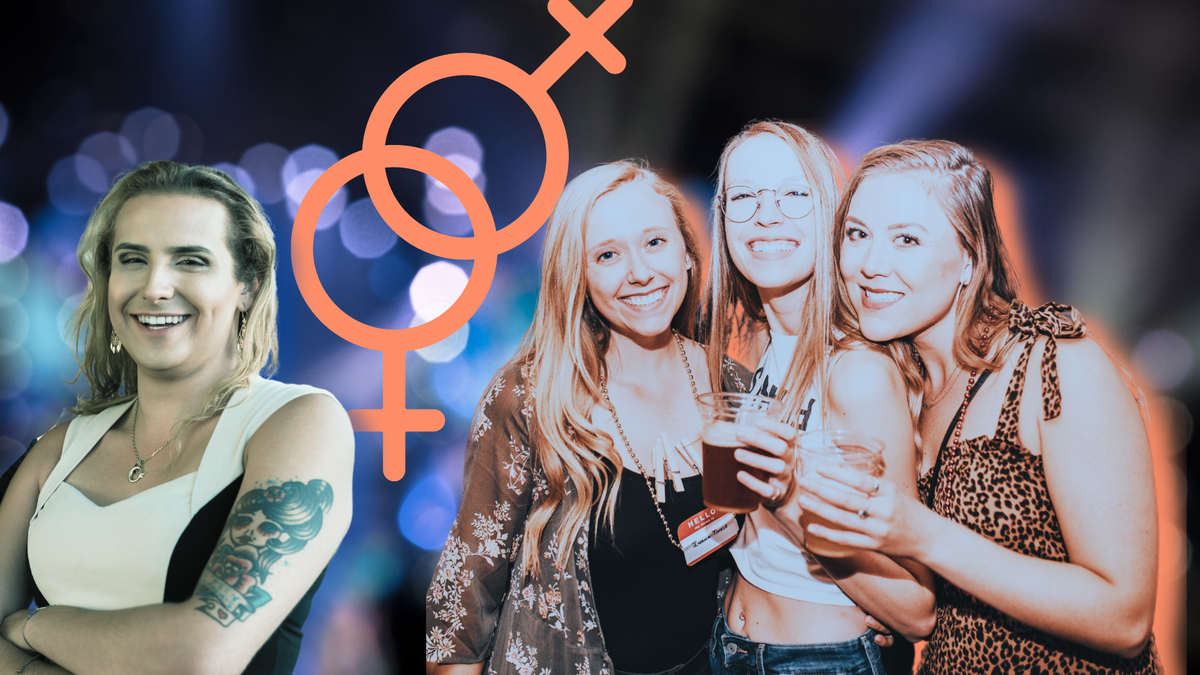 A lesbian meet up, Shabby She, which was first set up in 2016 by five women who were friends with each other, has been canceled by a pub for going female-only, it was revealed. The monthly meet-up in South London has used the same venue since 2018 and, according to Kelly Frost, one of the founding hosts, the event has always "allowed" men who self-declare as trans or lesbians.
After enduring years of discomfort with the presence of trans-identified men at a lesbian meet-up, Ms Frost asked for feedback from members, many of whom reported feeling similar discomfort. The organizers then decided to make the event women-only at the end of 2022, slightly before the event was going to take a break for Christmas, even at the risk of "losing the venue."
In February 2023, the hosts "put their plan into action" by announcing to their members by email that the event was going to be women-only.
The next day, according to Ms Frost, the pub where the meeting had been happening regularly for five years was getting "slandered" online. Frost said that she received a phone call from the pub alerting her of the slander. "I have screenshots of what was said about us in one Facebook group," Frost told 4W. The decision by the hosts to make the event women-only was deemed as making trans-identified males "unsafe" and that the organizers were "violently anti-trans."
"Within three more days," said Frost, the pub sent Ms Frost an email apologizing for the fact that they would not be able to host Shabby She anymore.
"I know we brought a lot of steady money for the pub - they always said how much they loved having us and other staff made no secret of the fact that they loved the revenue too!... It's not like we were a rowdy, rude crowd that they tolerated for our money."
The Shabby She organizers have managed to find another venue, but not under the name of the event. The new place is currently under Frost's name. "The pub does not know who we are and I won't link the pub with our name anywhere online. We are having to be more security minded with the group run on Meetup."
Ms Frost told 4W that when she and four other women created Shabby She, she was the only one who felt uncomfortable with the presence of men who self-declared as trans at a lesbian night. "There was no point of even having the discussion," said Frost, who used to be accused by the other hosts of being a "bigot" and a "nazi" if the event was not "inclusive."
"We reached a sort of unspoken agreement," said Ms Frost. She would still occasionally express her beliefs but still felt that her concerns were being ignored. However, gradually she managed to turn things around with one of the other hosts, Cath Slingsby, who started sharing her views on female-only spaces. The three other hosts who were in favor of including men who self-declared as trans eventually stepped down from their roles.
There were some "hiccups along the way," according to Ms Frost. There was a regular demand from other organizers to not only include trans-identified men at a lesbian-only event, but also the use of "wrong sex pronouns", a request Frost said that she was not willing to comply with. "I hate being inauthentic and I hate lying and I was being forced to lie."
"It was ridiculous [to demand the use of female pronouns with men] because you could see they [the other hosts] felt uncomfortable with the men and would never spend long with them."
Ms Frost found it "increasingly difficult" to host the meet-ups allowing the presence of trans-identified men. There were about four male members who would show up regularly, one of which claimed to have written "coming of age lesbian erotica."
Frost said that she used to ignore their presence as much as she could and would not talk to the men, or introduce them to other women, but that also meant that she also could not talk to the female attendees who were at the presence of the men. She told 4W she felt like she was "ignoring nice women" that she wanted to be "friendly to or want to get to know."
"They [trans-identified men] don't like to talk to each other… they spread out, meaning that there was not a part of the room that I could feel safe to be in. I would be within arms/ear's reach of one wherever I stood. There was nowhere I could look without one of them catching my eye."
"The worst month was November," Ms Frost says. There was another women's event at the time and the attendance at the meet-up was down to half - normally, there would be over 60 people attending. "Around 30 people, three of them were men," she recounts. "I knew I was leaving all the women to deal with them [the trans-identified men] and I felt terrible, but I just couldn't cope… I took prescribed emergency medication for the rising panic."
"I was having a panic attack. I spent a lot of that night outside the pub, in the cold, sometimes I would pretend that I was smoking a cigarette just to leave," said Frost. "I was excluded from my own event. Inside was warm with lots of women who I wanted to speak to but instead I left them to deal with the men alone and suffered in the cold outside."
After that, Frost and Slingsby, the only remaining hosts, took the decision to make the meeting exclusively for women. "I sent an email to members (on February 9) telling them that I removed around 1300 members who didn't have pictures or were not active for more than a year on Meet Up for security reasons," said Frost. "That basically removed most of the regular men."
Next, Shabby She hosts asked for feedback from members about the event going female-only. "The response was very positive," said Frost. "Many women wrote messages thanking us for the initiative."
Ms Frost told 4W that the managers and staff at the pub are a "really lovely bunch and don't deserve to get hassled online."
"I don't want to bring any more attention to them, which is why I won't name them. I do have sympathy with the position that they were put in by the trans rights activists. However, I can't help but feel disappointed that they couldn't be more courageous and stand by us. Our regulars are around 100 women, some of whom have just come out as lesbian in later life, some have experienced male violence and others find online dating or crowded, sweaty gay-bars intolerable. Many women found our night to be a haven and needed - or even relied on - Shabby She for their mental well being, their social life or for their quest for love. We have even had two Shabby She weddings!"
"The trans privilege activists had no conscience when they tried to ruin this for all these women just because they disagreed with the views of the organizers. They are entitled little bullies but they won't win. We may have to go underground but we are not over and, even if we have to move the venue every single month, we will persist and thrive!"
---
Do you want to bring the "gender madness" to an end? Help us write about it! 4W is able to support our all-female staff and writers thanks to the generous support of our paid monthly subscribers.
Enter your email below to sign in or become a 4W member and join the conversation.
(Already did this? Try refreshing the page!)