News
Wild Womyn Workshop Censored Across Social Media
The popular radical feminist merch shop was locked out of Twitter and censored on Instagram and Facebook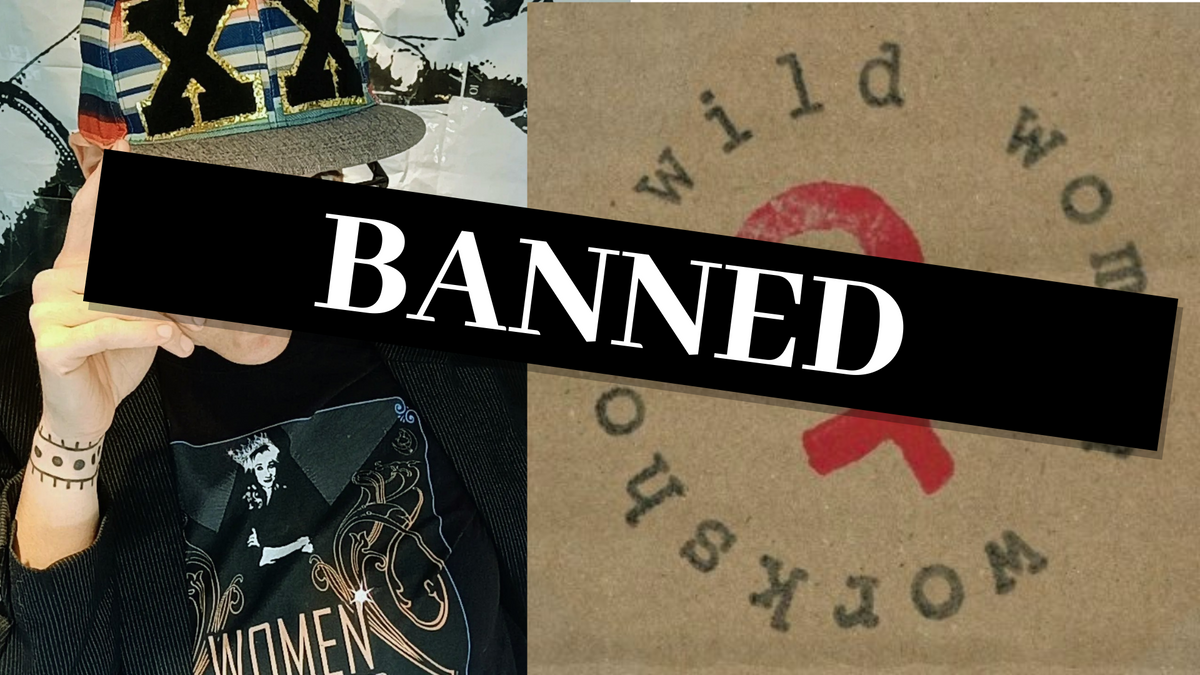 Angela C Wild, the lesbian artist and activist behind the popular radical feminist merchandise store, Wild Womyn Workshop, has been censored across Twitter, Facebook, and Instagram. On May 18, Angela replied to a tweet by writer, J. K. Rowling, saying that "All men should be banned from women's spaces. And they are."
Angela's tweet was reported by transactivists for "violating" the social media rules against "hateful conduct" which, according to Twitter Support, is applied when someone promotes "violence against, threaten or harass other people on the basis of race, ethnicity, national origin, sexual orientation, gender, gender identity, religious affiliation, age, disability or serious disease." On may 20, Angela was locked out of her business Twitter account, which has over 11k followers.
Her shop's account on Instagram was also targeted the next day, according to Angela, who had pictures removed. She posted about new arrivals at her shop, advertising some of the caps available on Wild Womyn Workshop. But according to Instagram, her photo of a cap with the letters "XX" (symbolizing the female chromosomes, aka women) was removed because it goes against their "Community Guidelines on hate speech or symbols." The notification goes on to say that Instagram's Guidelines are based on their global community and that "some audiences may be sensitive to different things."
The same picture of the cap with "XX" letters, posted on Facebook on May 16, was also reported on May 23 and the entire post was removed. The reported post showed two other caps with feminist slogans. One of the caps has the word "Dyke" (a slang associated with lesbianism) and another has the "RadFem" (short for Radical Feminism) written on it. According to Facebook, her post goes against the social media's community standards on "hate speech." Angela pointed out to 4W that when the word "dyke" is used by lesbians, it's not an insult or a slur.
On May 23, Angela took to Twitter to expose the targeted harassment of her business on her personal account. Being unable to access all the media accounts for her business, she said that she was feeling "struggling" and that being targeted in this way was "tough emotionally."
"It's three bans, in three days, on three different platforms."
Angela, who is also a single mother and the breadwinner of her household, wrote: "My livelihood depends on me being able to be seen, which of course, is why I am being targeted in that way."
But the heavy targeting was not over yet. On the same day, Angela learned that someone was using her Twitter handle - FrenchFem - to set up another account, which currently has no followers and it's not following anyone. The user identified themselves as Angela C Wild, has Angela's Twitter profile picture and was asking for money via Paypal, until other users raised the alarm that this was a fake account.
Angela said she is now "a bit shaken" and may take days to recover emotionally - while all of this was happening, she had also witnessed male violence from neighbors, who were fighting on May 22. As a survivor of male violence herself, she was already frightened and scared of the violence on display so close to her, and called the police, "because no one else would."
This was not the first time Wild has been reported for her feminists views, however. In September 2020, she was the target of a relentless social media mob after the Harry Potter author, J. K. Rowling, tweeted a picture of herself wearing a t-shirt from Wild Womyn Workshop, tagging her to promote feminist merchandise. The T-shirt that Rowling was wearing had the words "This Witch Won't Burn."
Angela told 4W of her ordeal. She lost two Instagram accounts for her business, and received several death threats via email, on Facebook chat and on her website. The hosting server for her website was also contacted to force them to close her website business. She also says that many transactivists have contacted her directly to "brag'' about stealing her designs and selling them, or defacing her artwork to promote gender ideology.
"The reason I do merchandise is because it helps me and other women to find our voices against an ideology that is created to erase us, our legal existence and of course our feminist movement," Angela told 4W. "The tweet that was reported is common sense: a woman-only space is only a woman-only space when its boundaries are maintained and men are excluded from it. It's also a lawful statement."
Angela emphasized that in the UK the law "not only allows women to have single-sex spaces, it also allows women to exclude men who identify as trans from those spaces. (Equality act 2010)." She reminds us that it is important to remember that women need single sex-spaces because male violence against women is "endemic."
"We ban all men, not because every man is a rapist but because we do not know which one of them are."
"The combination of individual attacks by transactivists and systematic wrongful ban by social media platforms such as Twitter, Facebook or Instagram is reaching a very dangerous stage," Angela reflected. "If we cannot make the most obvious political point in public, how can we defend our rights?"
Angela urges other women to speak up on this issue the way they can, even in an anonymous capacity. "Be as vocal as possible. We cannot afford to let cancel culture silence us."
---
The generous support of our readers allows 4W to pay our all-female staff and over 50 writers across the globe for original articles and reporting you can't find anywhere else. Like our work? Become a monthly donor!
Enter your email below to sign in or become a 4W member and join the conversation.
(Already did this? Try refreshing the page!)