Netherlands
"New Transgender Law Affects All" Billboards Defaced, Removed in Netherlands
Posters aiming to start a debate about the proposed self-ID law deemed 'undesirable' by billboard company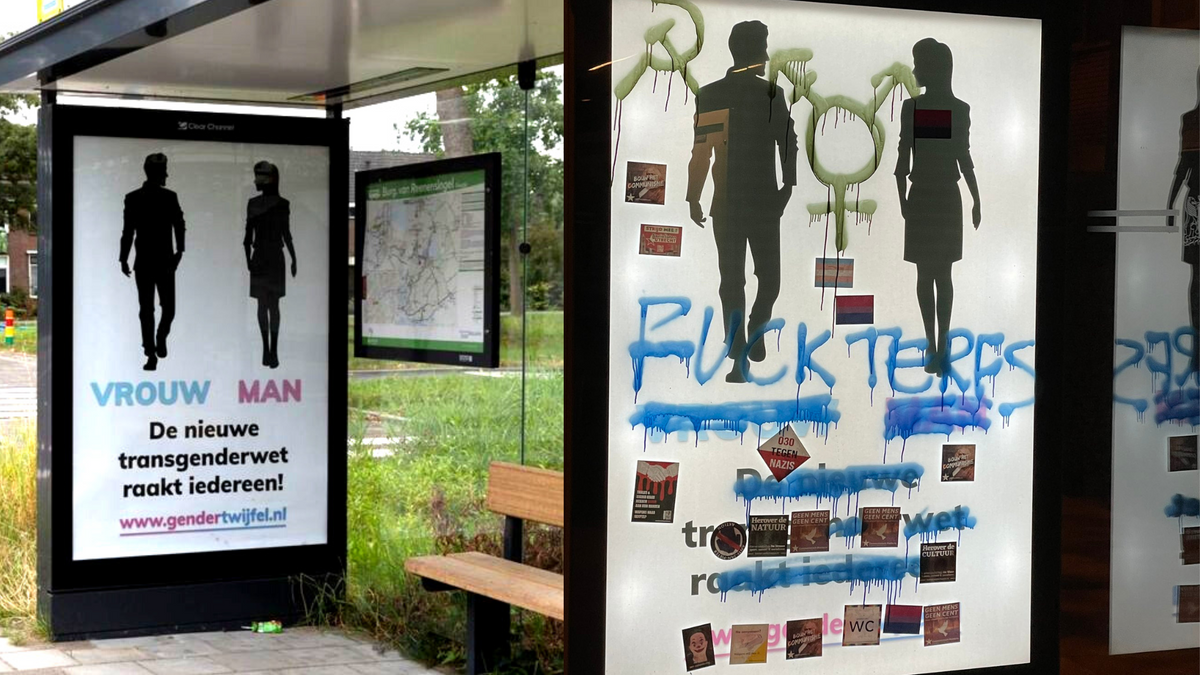 On Aug 29, Gendertwijfel (Gender Doubt), a Dutch coalition of Christians, non-Christians and feminists have put up a billboard campaign to support a manifesto against the new gender self-ID bill about to be discussed in the Dutch parliament.
Soon after, some of the 140-plus billboards claiming "The New Transgender Law Affects All" were sprayed over with transgender and antifa symbols.
On Twitter, Party for the Animals policy officer Leonie Gerritsen dubbed the initiative "a huge hate campaign" and called out JCDecaux, the company Gendertwijfel contracted to display the billboards, stating (translation by google):
"Say @JCDecauxNL, do you know that campaigns like these incite hatred against trans people? These people are much more likely to experience violence. You are working on this. Shame on you.  (Or better yet, get rid of those posters!!)"
"The new Transgender Act aims to make life easier for people who face discrimination, violence and hatred. A campaign against this law promotes transphobia," she added.
In response to Gerritsen's complaint, JCDecaux representative tweeted: "Thanks for the report, this is indeed not desirable. We will definitely take action and find out how this got through."
Meanwhile, Rainbow Alliance Gouda have filed a complaint against the posters with an advertisement regulation body, claiming the campaign was "unnecessary, misleading and dangerous (because inciting to discrimination)."
Speaking to 4W, Caroline Franssen, a representative of Voorzij, a Dutch radical feminist organisation and signatory of the Gendertwijfel manifesto, confirmed that billboards located in The Hague have already been removed.
The New Transgender Law, if amended, will mean anyone's sex marker could be adjusted on their birth certificate without the intervention of an expert. According to Hans-Lukas Zuurman from Nederlans Dagblad, "the age limit of sixteen that currently applies to changing the sex in the registry office will also expire."
"Children will be able to change their gender against the will of their parents if the judge allows them to do so," Bart Jan Spruyt, one of the Gendertwijfel campaign organisers, stated to CNE News.
On Twitter, the Dutch public has been calling out the attempts at censorship. A Twitter user posted a collage with three billboards displayed in the Netherlands - a Pride advertisement featuring a young trans-identified female with visible scars from mastectomy and other self-harm, an unidentified poster of a man with a nude penis, as well as the Gendertwijfel campaign, asking: "Which of these three posters is really not allowed in the public space?"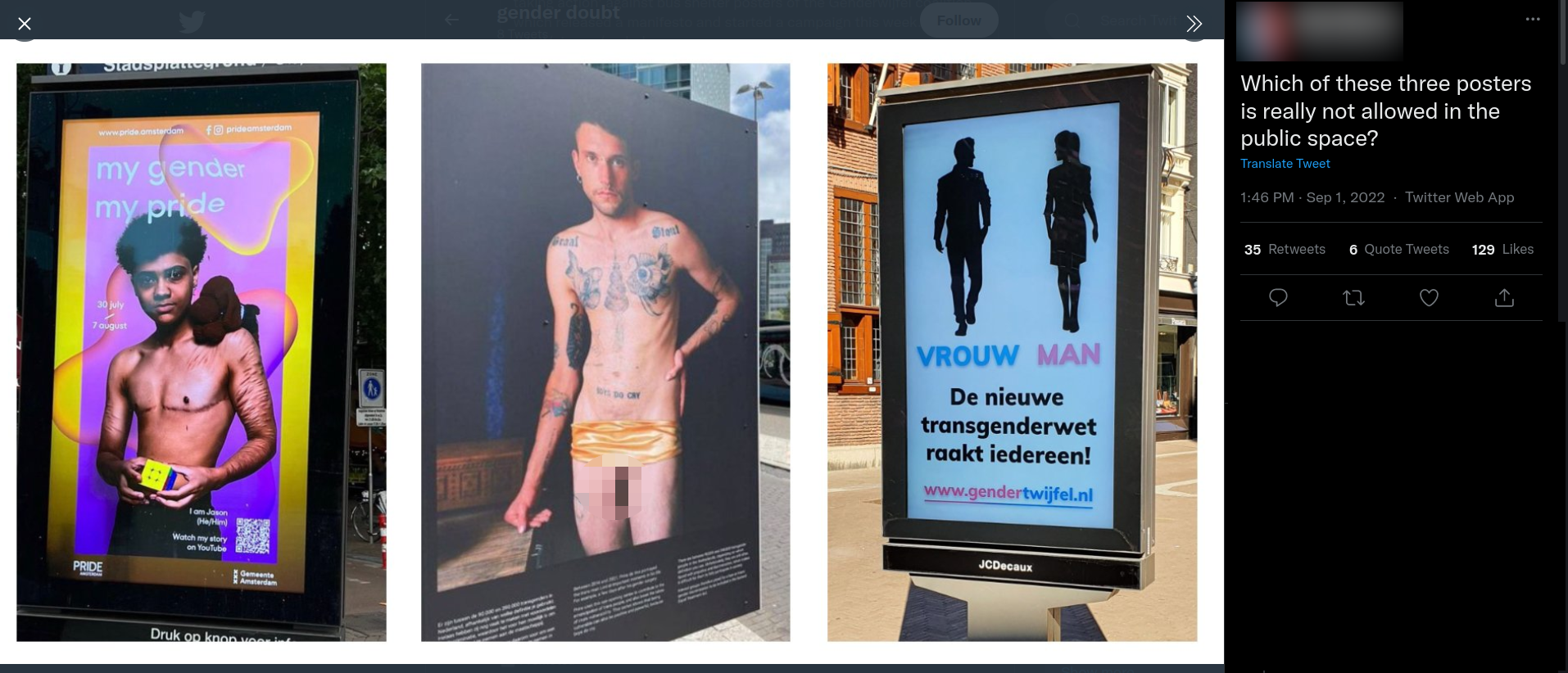 Billboard company JCDecaux is not the only firm to discriminate against people challenging the gender identity dogma in the Netherlands. In November 2021, a bank cancelled the account of radical feminist organization Voorzij, stating that their activities did not "match what we stand for as a company."
---
Do you want to bring the "gender madness" to an end? Help us write about it! 4W is able to support our all-female staff and writers thanks to the generous support of our paid monthly subscribers.
Enter your email below to sign in or become a 4W member and join the conversation.
(Already did this? Try refreshing the page!)