hide
UI Update Coming to Spinster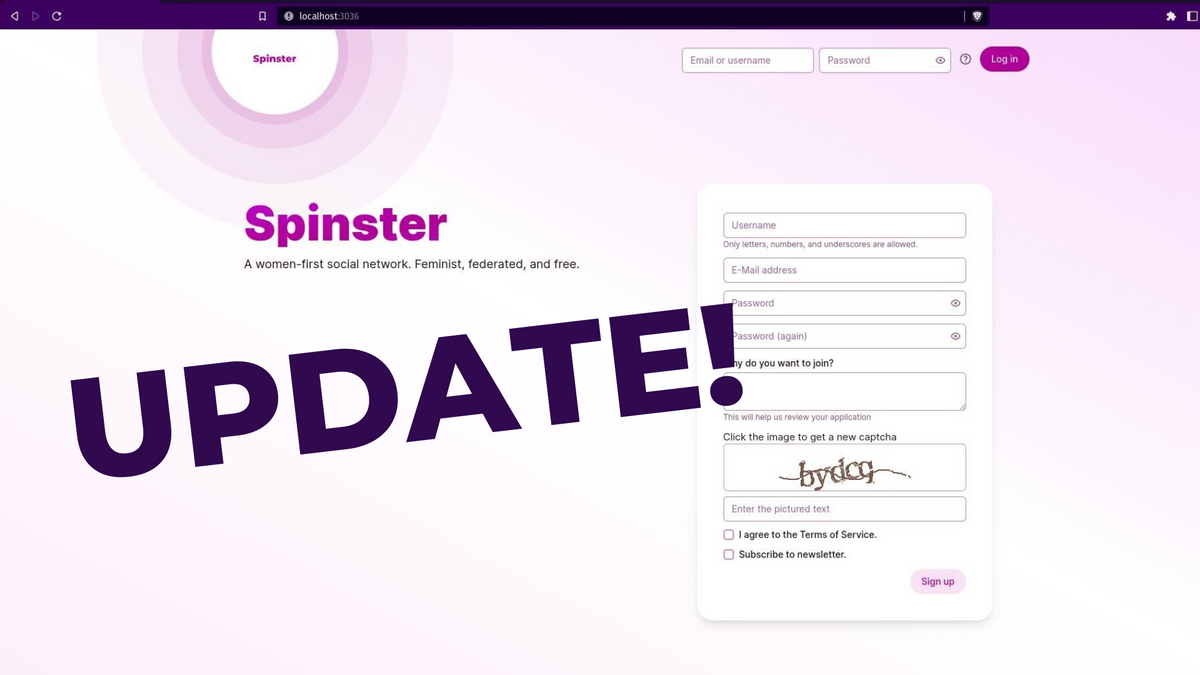 We are excited to announce a new update to Spinster, which is currently scheduled to be realized on Saturday, November 26th, at 6 pm CT (12 am UK). Please expect a couple of hours of downtime at this time. The update is primarily aesthetic to bring Spinster in line with recent design enhancements to Soapbox, but also includes some new features and changes users should be aware of.
New UI Design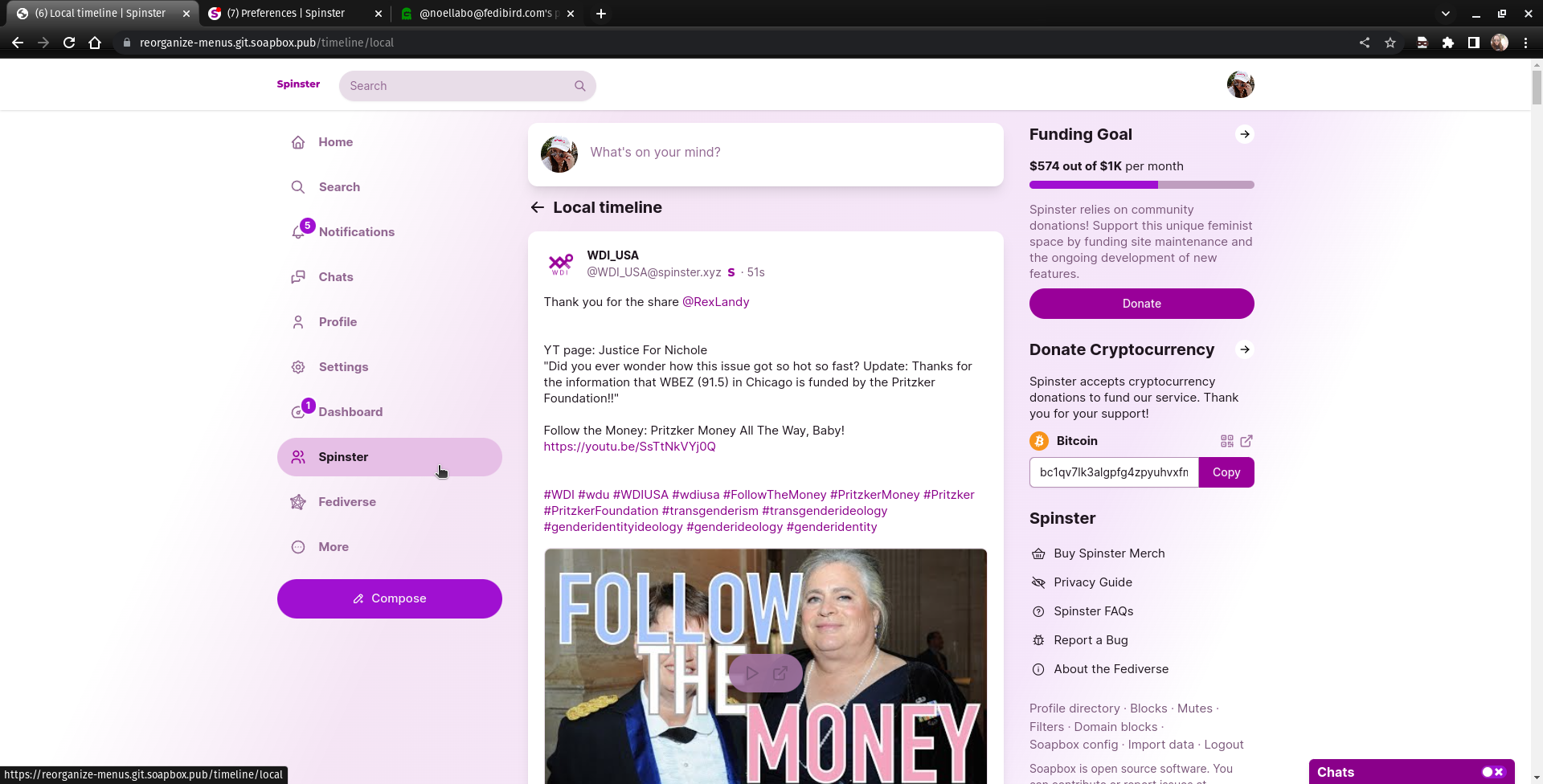 The new Spinster UI brings a more modern feel and soft aesthetic to the platform. Profiles have also been redesigned to use the same layout as the homepage for consistency.
Translations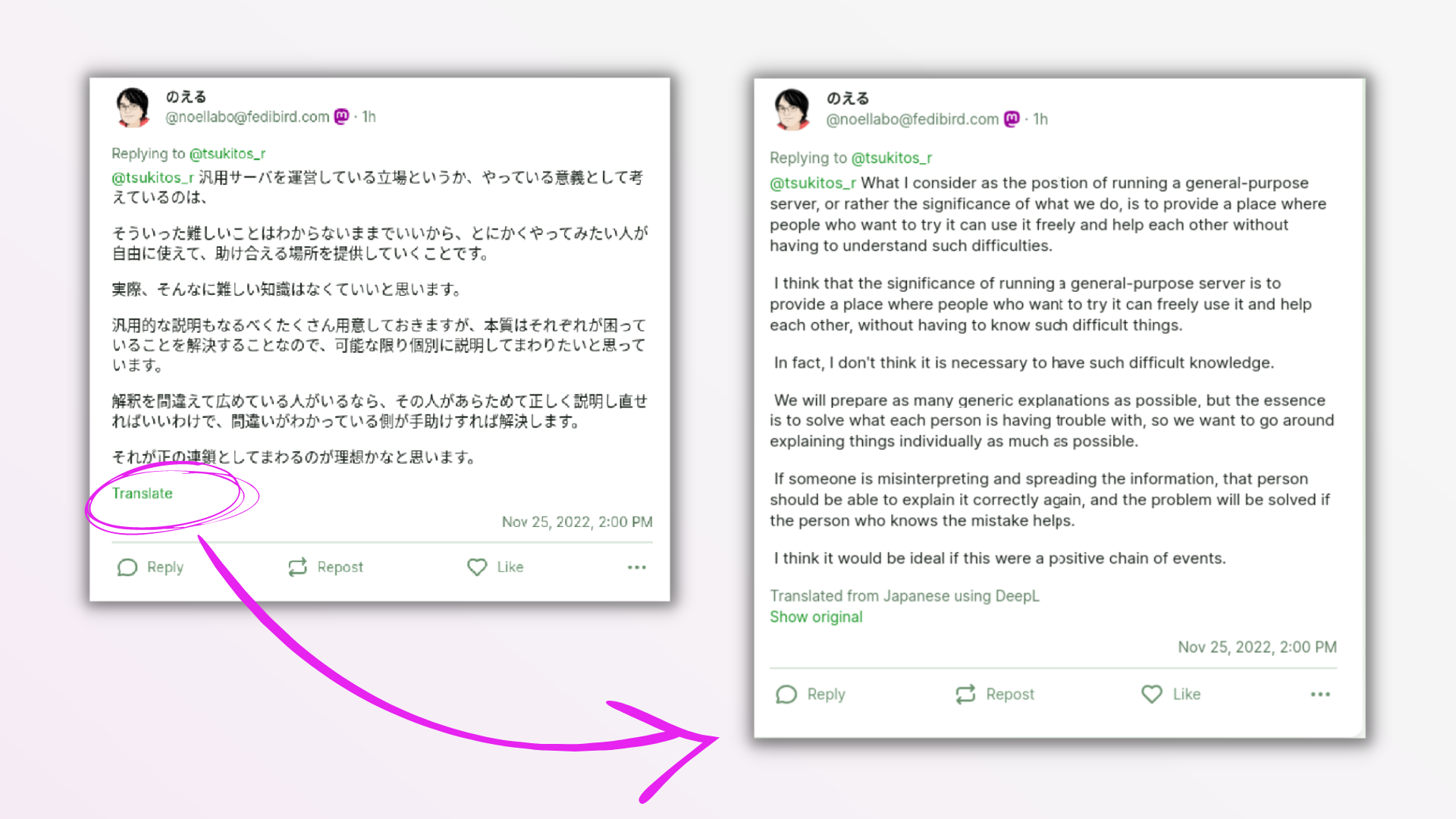 Spinster is an international platform and we have always enjoyed connecting with our global sisters. Now, the new Spinster "Translation" feature will make this even easier by uniting users of different languages! The UI will detect if a post is in a different language than your browser, and offer translations using DeepL.
Streamlined Settings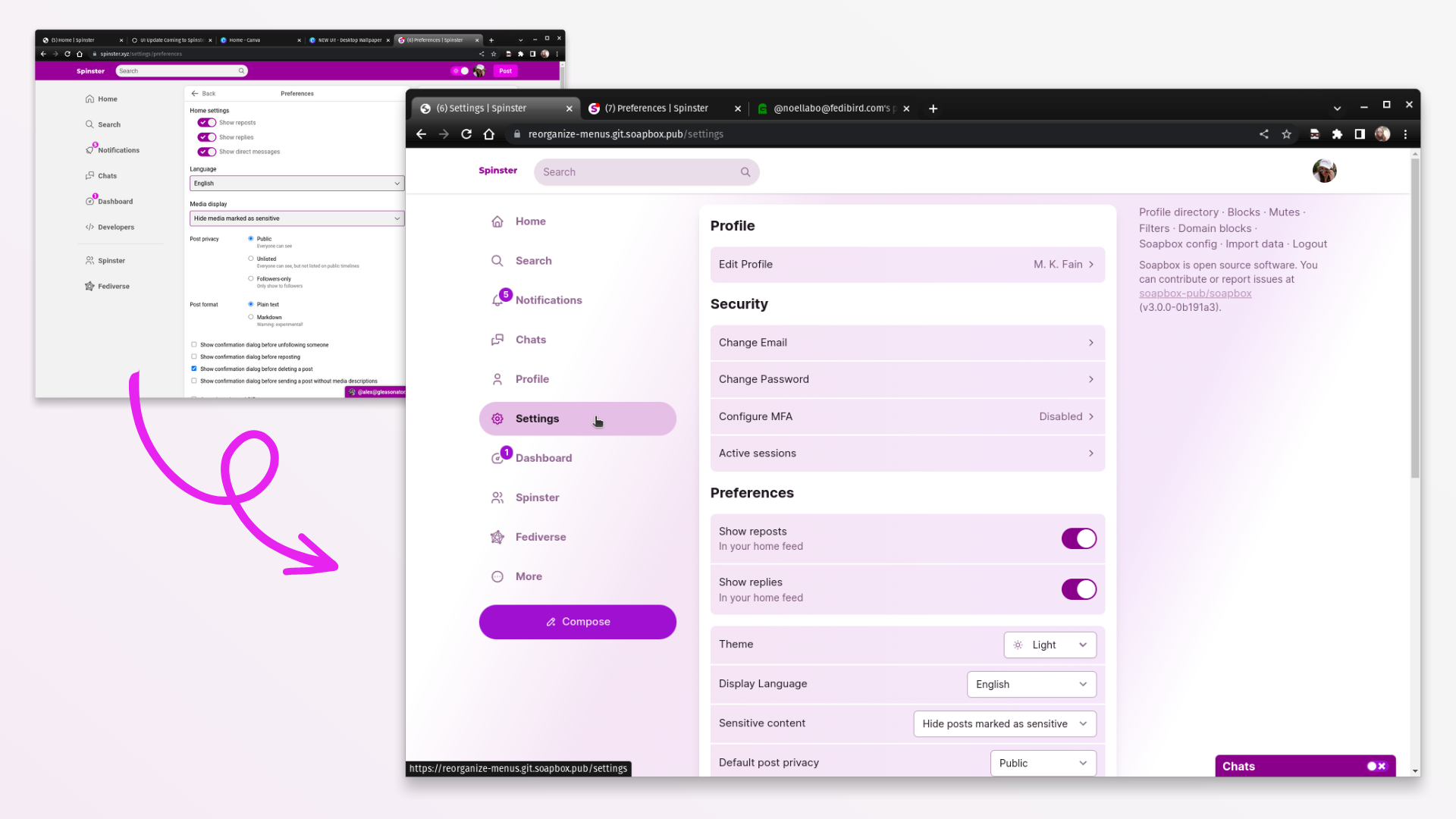 The new Spinster Settings page collects various security features, options, and user configurations that were spread out across multiple confusing views in the previous version of Spinster. We hope this makes it easier for users to customize their Spinster experience.
Updates to Content Warnings & Sensitive Content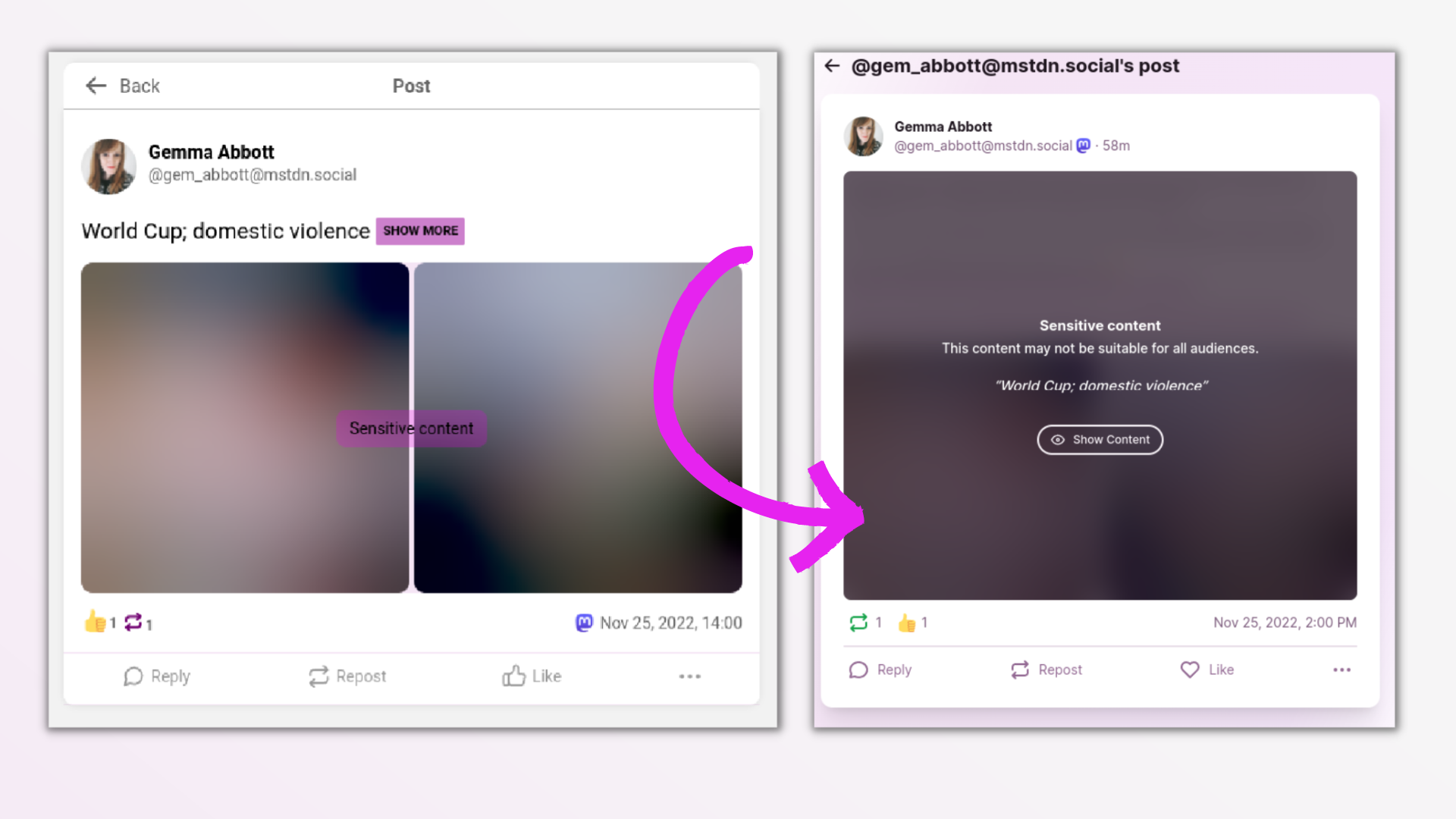 Content Warnings (CW) and NSWF image censors have been merged so that text on NSWF posts will now also be hidden. Previously, only attachments on posts marked "sensitive" were hidden. Now selecting the exclamation point in the composer marks the whole status sensitive, including the text. An optional content warning can be added to the sensitive overlay.
Other Notes
Improved Performance
Significant work has been put in by the Soapbox team over the past few months to speed up timeline rendering.
System Theme
By default, dark or light theme is chosen depending on the theme of your device. For example, if your phone is in dark mode, Spinster will be too.
Codebase Improvements
The codebase was refactored into TypeScript, which will make it easier to contribute to and help developers catch bugs faster. Soapbox also created a UI framework with Tailwindcss, which helps enforce a consistent design throughout the whole UI.
Admin Improvements
The Admin UI has been streamlined making content and user moderation easier. Custom badges have also been introduced which admins can add to profiles. Stay tuned for how we plan to use them!
Hate it? That's Fine!
Don't respond well to change? That's okay! Here at Spinster, we hear you and we care. That's why we provide the old versions of Spinster available to all users!
You are welcome to bookmark these URLs to access the old designs of Spinster at any time. However, please be aware that we will not be maintaining backwards compatibility with previous Spinster versions when developing new features so, for the best experience, we truly do recommend accepting that change is inevitable and resistance to progress is a natural human experience and you'll get over it in time.
Version 1: https://old.spinster.xyz
Version 2: https://v2.spinster.xyz
Happy spinning!
---
Support Spinster and Online Feminist Spaces
Spinster relies on community donations! Support this unique feminist space by funding site maintenance and the ongoing development of new features. We truly could not keep this site running without our wonderful supporters!
Or, donate via Paypal and shop Spinster merch!
Enter your email below to sign in or become a 4W member and join the conversation.
(Already did this? Try refreshing the page!)