Australia
Australian National Uni Students' Association Offers Binders, Tucking Underwear to Students
The "Queer* Department" of the ANU Students' Association is offering potentially harmful "gender affirming gear" to students in Canberra.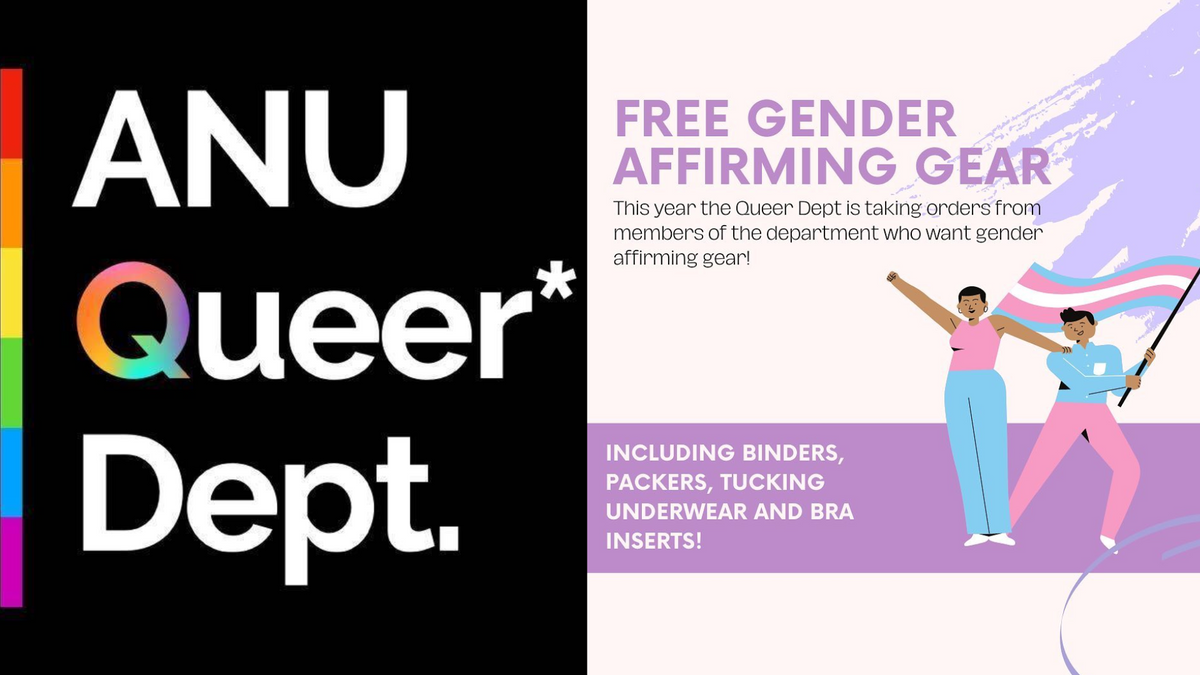 The ANU Students' Association Queer* Department, one of ANU's 7 autonomous departments, is a social and representative group for LGBTQIA+ students on ANU campus. On August 7, the Department posted on its Facebook page "we're excited to offer free gender affirming gear for the collective!"
Interested students just needed to fill out a form and the Queer* Department would be in contact when the "gear" arrives.
The "gender affirming gear" includes breast binders and tucking underwear.
"Items like binders and tucking underwear can be necessary for alleviating dysphoria for trans students," said ANUSA Queer* Department Queer* Officer Remi Prica, adding, "Hopefully in [the] future the Queer* Department can extend the range of gender affirming products on offer with the help of student guidance."
Research indicates that both breast binding and genital (penis and testicle) tucking are harmful practices which can cause long-term injury. Breast binding is the act of compressing the breasts and chest for females, and genital tucking is the practice of "moving the penis and scrotum between the buttocks, or moving the testes up into the inguinal canals" for males to achieve a smooth appearance and hide any external genitals.
"Tucking can cause a variety of complications. These include mechanical damage due to pulling or tearing, and urinary trauma or infections."
Prolonged genital tucking may cause urinary reflux and symptoms of prostatism or infection including epididymo orchitis, prostatitis, or cystitis (inflammation of the bladder).
"As [genital] tucking has the potential to cause mechanical damage, and insertion of the testes in the inguinal canals can raise the temperature of the testes, there is the potential for fertility issues."
In April, I wrote about my investigation into Australian charity TransFolk of WA and its "Pay it Forward" binder program. Posing as a 14 year old girl, I was able to receive a harmful breast binder within days of sending in a form to TransFolk of WA. There were no safeguarding measures in place and no medical oversight was required.
Breast binding is a harmful and dangerous practice and, contrary to advice from mainstream groups, data does not support the claim that commercial binders are the safest method of compressing breasts. Long-term damage can be caused by binding breasts, whether or not it is done the "right way." There is also reason to suspect a correlation between girls and young women binding their breasts and later wanting "top surgery," which is another term for a double, or bilateral, mastectomy.
ANUSA's president Christian Flynn said the "gender affirming gear" was an "incredibly important way" in which the department can support ANU students. "ANUSA wholeheartedly supports the ANU Queer* Department's work in this space," he added.
Concern about "gender affirmation" is increasing in the Australian community. This seems reasonable considering recent international developments and reports surrounding the medical and psychological care for people that are on an "affirmation only" pathway regarding "gender identity."
Affirmation pathways have been shown to cause significant harm to adolescents and young people, and gender affirmation is steadily becoming known as the less desirable option of treatment for people that experience distress due to their biological sex and/or body parts.
An ANU spokesperson clarified that "the ANU Queer* Department is part of the ANU students' association and is independent and separate [from] the University. The students' association is elected by the ANU student body to represent their interests."
---
Do you want to bring the "gender madness" to an end? Help us write about it! 4W is able to support our all-female staff and writers thanks to the generous support of our paid monthly subscribers.
Enter your email below to sign in or become a 4W member and join the conversation.
(Already did this? Try refreshing the page!)