Opinion
They Were Criminalized for 'Transphobia'
Since 2018, 12 people worldwide have been either investigated, charged or sentenced for alleged transphobia.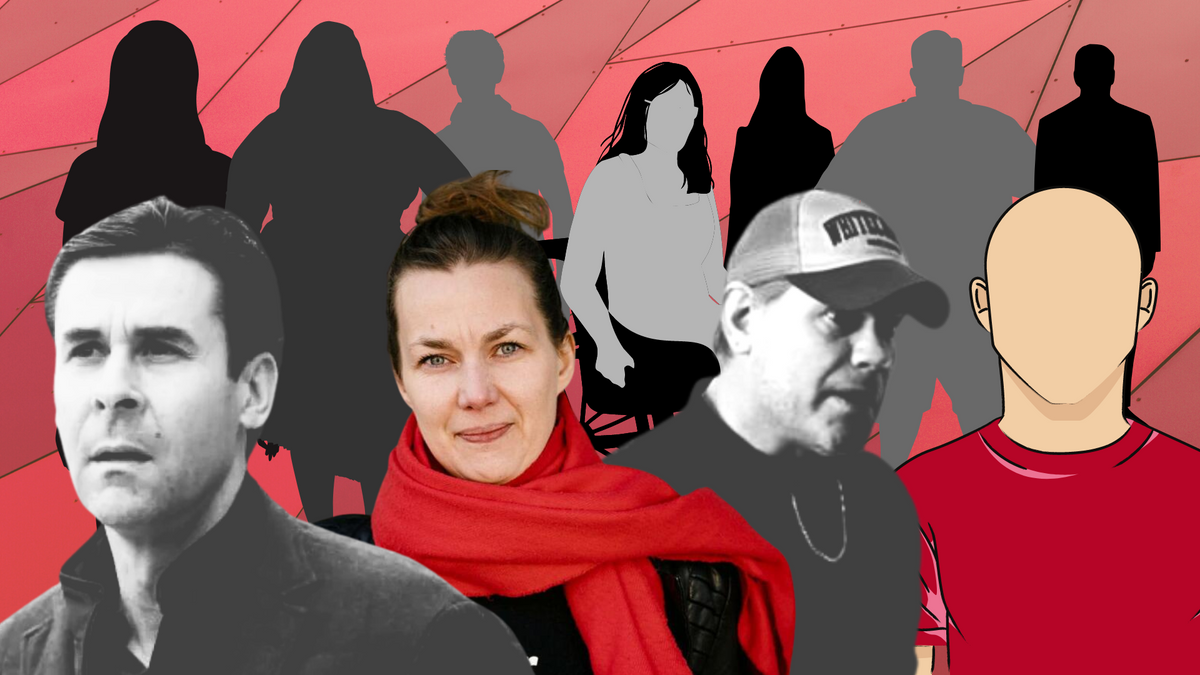 Around the world, professionals, experts and members of the general public are facing criminal charges for "hate speech against trans-identified individuals" if they assert that humans can't change sex. Some have been slapped with the accusation for insulting a trans person, some for "misgendering."
Norway
Christina Ellingsen, of Women's Declaration International, was accused by Amnesty International Norway of hate crimes in 2022. The charge came after she tweeted at a trans-identified man, who adopted the name "Christine Marie Jentoft," referring to him as a male. Jentoft has been seen posting controversial tweets, calling himself a lesbian and a mother. On December 13, Ellingsen tweeted that the charges against her have been dropped.  
Another woman, a lesbian artist called Tonje Gjevjon who founded all-lesbian group Hungry Hearts, was notified on November 17 that she was under police investigation for hate speech over a Facebook post, where she had said that "It's just as impossible for men to become lesbian as it is for men to become pregnant. Men are men regardless of their sexual fetishes." Gjevjon singled-out the actions of Jantoft, the same trans activist that filed criminal charges against Christina Ellingsen.
Norway has also seen the case of a 52 year old man, known only as MF, who was convicted of hate speech after he got into an argument with his acquaintance, a trans-identified man. During an exchange of comments in a Facebook group, MF made a series of statements, such as: "Do you really believe that a single human being thinks that you are a woman and not an old man with strange fantasies? (...) That being said, I can't fathom how the authorities still permit you to take care of children. (...) Perverted male pigs who are permanently (role playing) that they are small girls have no real destructive power."
MF was subsequently convicted and given a suspended prison sentence plus a fine of 15,000 krone ($1500), for "deliberately or grossly negligently publicly presenting a discriminatory or hateful statement, including using symbols." The court decision stated that "discriminatory or hateful speech means threatening or insulting someone, or promoting hatred, persecution or contempt towards someone because of their gender identity or gender expression."
Canada
Robert Hoogland learned in 2019 that his teen daughter was being "encouraged by her school counselor in British Columbia's Delta School District to identify as a boy." His daughter started on testosterone injections shortly after, without Hoogland's consent. He sought an injunction to stop the testosterone treatment but a judge decided the injunction constituted "family violence." The Canadian government then forbade Hoogland from talking about the case to the media. After giving interviews to The Federalist, he was arrested. For this and because he referred to his female child as "my daughter," he received a six-month jail sentence. He was released on bail two months later and is waiting for his appeal hearing at British Columbia, which has been set to 2023. He still has 4-month jail time to do and owes a 30k Canadian dollars fine to BC Province.
Greece
In 2022, a former Greek soccer player, Vassilis Tsiartas, was charged with "transphobia" for his Facebook posts. In 2017, he had commented on the legalization of "gender identity" laws, stating he hoped that "the first sex changes are carried out on the children of those who ratified this abomination." In another part of the post, Tsiartas said that "God created Adam and Eve" and "Legitimize pedophiles, too, to complete the crimes." He was taken to court by Transgender Support Association and was fined 5,000 euro, besides a 10-month suspended prison sentence. On November 4, 2022 the former soccer player stated that he is now seeking to appeal his sentence.
Brazil
Isabela Cêpa, an influencer known as FEMINISA who advocates against sexual and domestic violence, was reported by the state on behalf of a male politician, who calls himself Erika Hilton. In 2020, Hilton was elected as a city councilor for Sao Paulo. He made the list of the top 10 most voted for candidates at the time and was considered the only "woman" to make the list. As the media was reporting that "the most voted woman in Brazilian history was a transwoman," Cepa reacted with a video on Instagram saying that "the woman with the most votes was a man." Since Brazil's courts ruled in 2019 that discrimination against the LGBT community is a form of "social racism" and Hilton is black, Cepa was accused of racism. She learned about the charges from a mainstream newspaper, Folha. The article said she could be facing 25 years in prison, which Cepa said is a "manufactured figure" to "intimidate and silence women," since actual jail time for racism in Brazil is two to five years.
Investigations
Most of the cases above are still ongoing, but there have been other cases in which critics of gender ideology were faced with police warnings, questioning, house visits or even arrest. The following cases all happened in the UK under the non hate crime incident law.
Caroline Farrow, a catholic journalist and mother of four was investigated for using male pronouns to refer to a young trans-identified man on social media. The man was the son of Mermaids founder Susie Green. The investigation ended when Susie Green withdrew her complaint.
In October 2022, Farrow was arrested after being reported by "Stephanie" Hayden, a trans-identified man, for "doxxing" posts on Kiwi Farms, an online forum. Farrow also had her phone and computer seized by the police. She later tweeted that she was playing the organ at her local church at the time the alleged posts were made and that the accounts posting the alleged doxxing on Kiwi Farms didn't belong to her.
On December 1, 2019, Kate Scottow, a mother from Hertfordshire, was arrested at home and in front of her children. The arrest came after Ms Scottow used male pronouns to refer to Stephanie Hayden, and called him "pig in a wig." Scottow was detained for several hours, "without sanitary products," which she told the police she needed, and like Farrow, had mobile phones and computers confiscated by the police. Initially, Scottow was deemed guilty of a "public communications network to cause annoyance, inconvenience and anxiety." She subsequently won her appeal in 2020.
Hayden is also responsible for sending the police to several other people since 2019, like Graham Linehan, the writer of "Father Ted" and "IT Crowd," who was given "a verbal harassment warning by West Yorkshire Police" for using male pronouns to refer to Hayden. Adrian Yalland, a British barrister, was also targeted by the same individual. According to Hayden, the fact that Yalland assisted women who Hayden had denounced for "transphobia" constituted "harassment."
Another man who was visited by the police over alleged "transphobia" for tweets is Harry Miller. Between November 2018 and January 2019, Miller posted "limericks" mocking the idea that humans can change sex, which were reported to Humberside Police as being allegedly transphobic and Mr Miller was visited by officers at his workplace. In 2021, Miller won a legal challenge against a national policy which was recording "gender-critical views" - such as that human can't change sex - as "non-crime hate incidents". This ruling ended up forcing the UK to update their guidance on non-hate crime to reflect freedom of expression.
In October 2021, the UK Scottish Crown Office also dropped the case against Marion Millar, an accountant who had taken work with campaign group For Women Scotland. She was questioned by the police over "threatening and abusive" tweets in 2020. Initially, the complainants reported Ms Millar for posting a picture of a ribbon with the suffragette colors hanging from a fence, saying that the ribbon was shaped like a "noose" and that Millar was advocating for the hanging of trans-identified people.
Jennifer Swayne, a former teacher who uses a wheelchair, was arrested in the beginning of 2022 for stickers which were deemed "transphobic and abusive" by the police of Newport, UK. She was seen "spraying stickers to two lampposts." According to Swayne, the stickers had messages like "3 women are killed by men each week" and "domestic violence kills," while Newport police said she was not arrested over these stickers. The investigation was subsequently dropped as well.
---
Do you want to bring the "gender madness" to an end? Help us write about it! 4W is able to support our all-female staff and writers thanks to the generous support of our paid monthly subscribers.
Enter your email below to sign in or become a 4W member and join the conversation.
(Already did this? Try refreshing the page!)