child safeguarding
AUS: City of Fremantle Organized Youth Drag Workshop
The City of Fremantle, along with Headspace Fremantle and Palmerston Association (a not-for-profit drug and alcohol service), had been planning the youth drag workshop since February.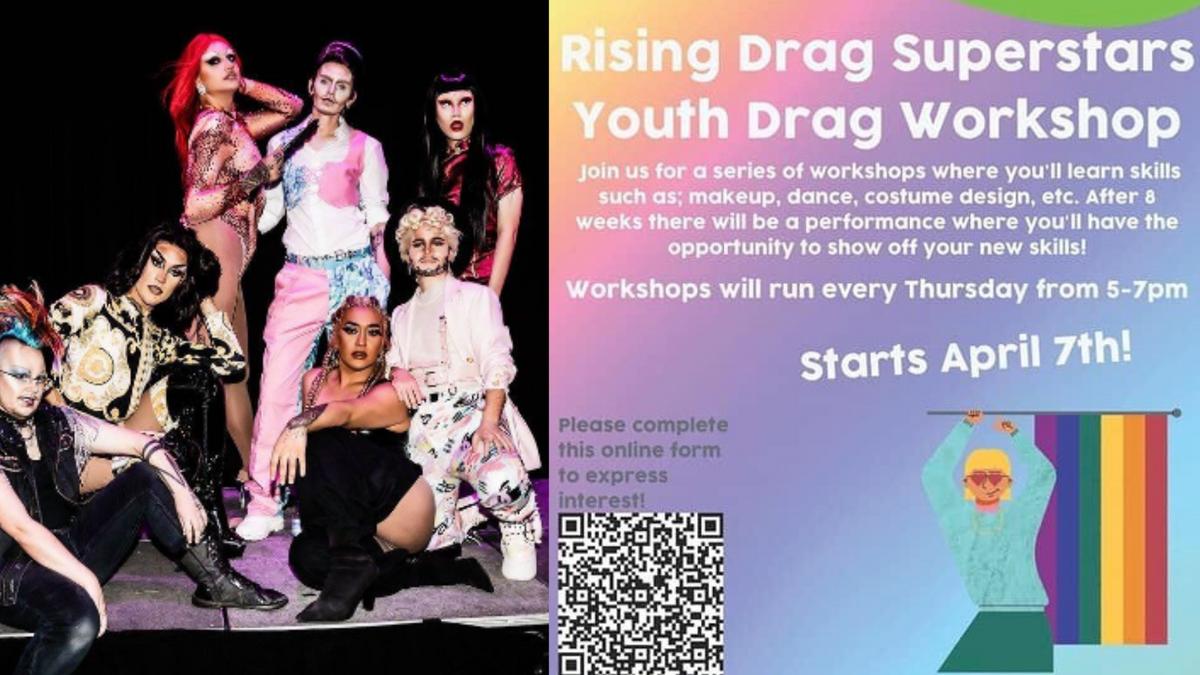 The Rising Drag Superstars Youth Drag Workshop, described as Fremantle's first ever drag program, was advertised to children and youth under 18 years of age and aimed to help attendees discover their "drag persona" and release their "inner drag superstar" with support from drag performers.
The youth drag workshop was originally advertised to take place every Thursday evening between April 7th and May 29th, but was postponed until late April due to a vacant CoF Youth Officer role; the role of the person meant to lead the coordination of the workshop. A flier calling out for drag performers which was posted to social media suggested the event was postponed again until September.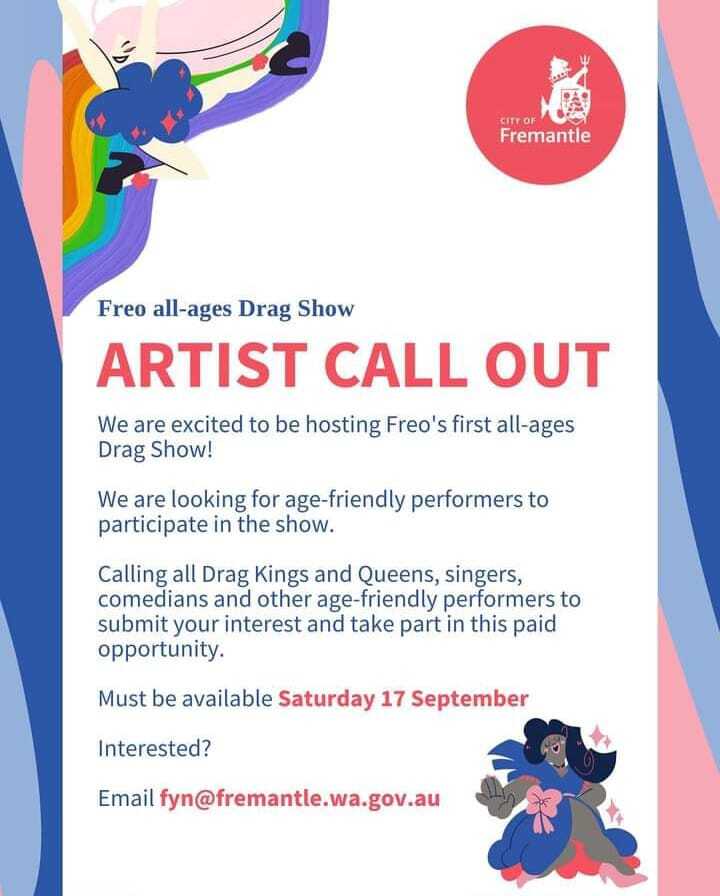 It can be revealed that members of a private lobby group in Western Australia, the WA Feminist Lobby Network (WAFLN), sent numerous emails and letters expressing their concerns to City of Fremantle officials and to relevant WA Ministers and MP's early in April. WAFLN members shared their concerns on social media to inform other people.
Members of the public and different groups expressed their solicitude on various posts to social media, with some seeming to show concern that the event had been canceled. The Australian Christian Lobby published a statement saying that its members were urged to contact the Fremantle Mayor and Councilors with their reservations about the "under 18s" youth drag workshop.
Posts made to Facebook by Palmerston Association and Fremantle Youth Network advertising the event were deleted. PA quickly posted an explanation for the deletion, stating that the program offered youth "a creative way to explore mental health, drug and alcohol and identity focused issues" although it is unclear how.
More recently, an image of a response alleged to be from the City of Fremantle was circulated which stated that the "public event" was not going forward and instead there would be "performers coming together to perform," just not for the public.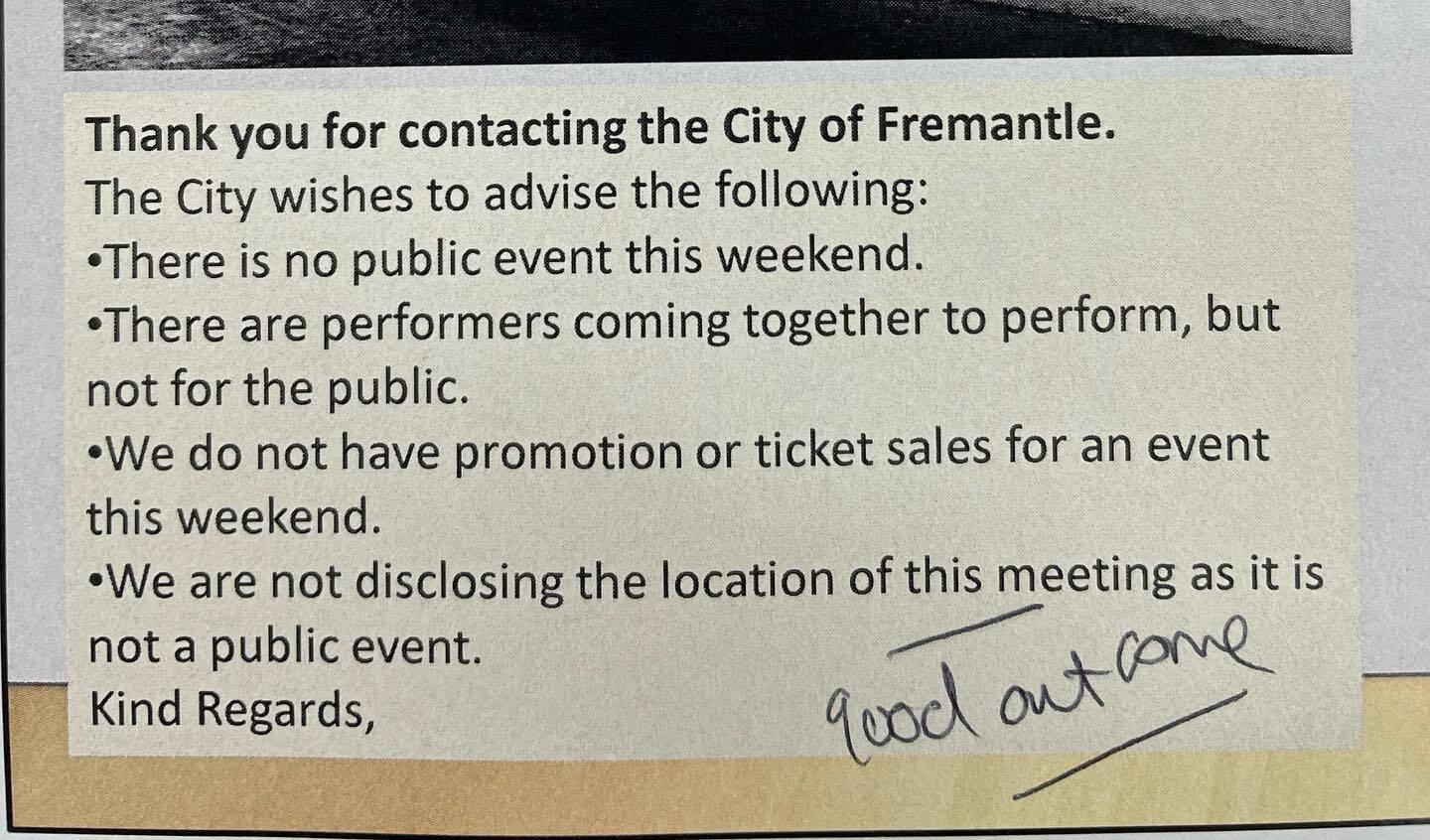 An independent investigation took place to confirm whether or not the Rising Drag Superstars Youth Drag Workshop was canceled.
It can be confirmed that the City of Fremantle Council received a lot of complaints about the event, and were not able to find a location for the event to take place, so the decision was made to not host a public event. Ticket sales and promotion of the Youth Drag Workshop ceased and it was said that the performers were coming together to perform, but not for the public.
Through previous correspondence between myself and a Community Program Officer working for Fremantle Library, it was confirmed that the idea for the youth drag workshop came from the Fremantle Youth Network (FYN), part of the City of Fremantle.
FYN has been in operation since 2019 and "fosters communication between young people and the City of Fremantle and advocates on youth needs and concerns." It is difficult to understand how a drag workshop for "under 18's" fits into that directive.
A member of WAFLN received a response from Bek Slavin, Team Leader of Community Development with City of Fremantle, where she says "Drag is art form, just as dance is or creating fashion items, not a sexual expression." However, this conflicts with sentiments expressed from people within the drag industry and raises the question of why dance lessons or another artistic activity could not be offered for children without the drag stars or performances being involved.
Drag stars were booked in to be facilitators of each session where the children and teenagers would be instructed in different areas like drag makeup, outfit and stage choreography, all culminating with a performance night. It is unclear whether or not the drag performers have Working With Children Checks or any type of training or education regarding childcare and child safeguarding.
One of the drag stars, a woman that performs as a drag king named "Justin Sider" and has a show called "Dickless," is part of the cast for an "all ages" drag show through Propel, a youth association in Western Australia.
The team at Propel, with the help of drag king "Justin Sider" are "striving to break down age barriers between young performers and the industry."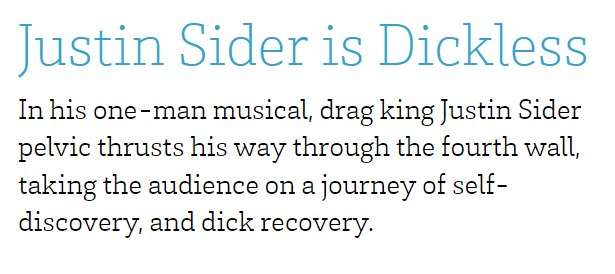 In an article titled Drag Kids: the new generation, which features the Propel drag show cast, the writer, Gabrielle Mellet, says, "Drag is typically performed at nightclubs and bars and often includes overtly sexual content, with some considering it an adult-only industry. Framed like this, it is not accessible to those under 18…"
In response, Sider is quoted in the article saying, "Drag can sometimes be looked at with a critical eye and I think that's a product of the constant prejudice and persecution of trans people" but drag performance has nothing to do with "transgender" ideology. It is a form of adult entertainment based on the provocative, often sexualized, mockery of women. Furthermore, being critical of children being exposed to a form of adult entertainment is not solely an example of prejudice or persecution against anyone.
Another drag performer and Propel cast member, a man that calls himself Maven, is quoted in the article, saying, "I remember being a young kid and not being able to go to [drag] shows because I wasn't 18 yet. Sometimes shows didn't have adult content in them, but they were done in adult venues or alongside adult acts."
"Maven" states that the all age drag shows come "without the limitations that are usually there."
This type of language and the desire to break down age barriers between children and drag performers raises very serious questions about safeguarding practices & standards for children and teenagers during these types of workshops and performances. Perhaps this is why the societal norm that drag shows are strictly a form of adult entertainment was standardized in the first place.
---
Do you care about safeguarding? Help us publish female authors who bravely expose practices harmful to children! We pay our all-female staff and writers thanks to our subscribers. Join today!
Enter your email below to sign in or become a 4W member and join the conversation.
(Already did this? Try refreshing the page!)