News
Gay Man Assaulted by Belfast Pub Manager after Let Women Speak Rally
A manager at a Belfast pub allegedly headbutted an elderly gay man who intervened on behalf of women refused service.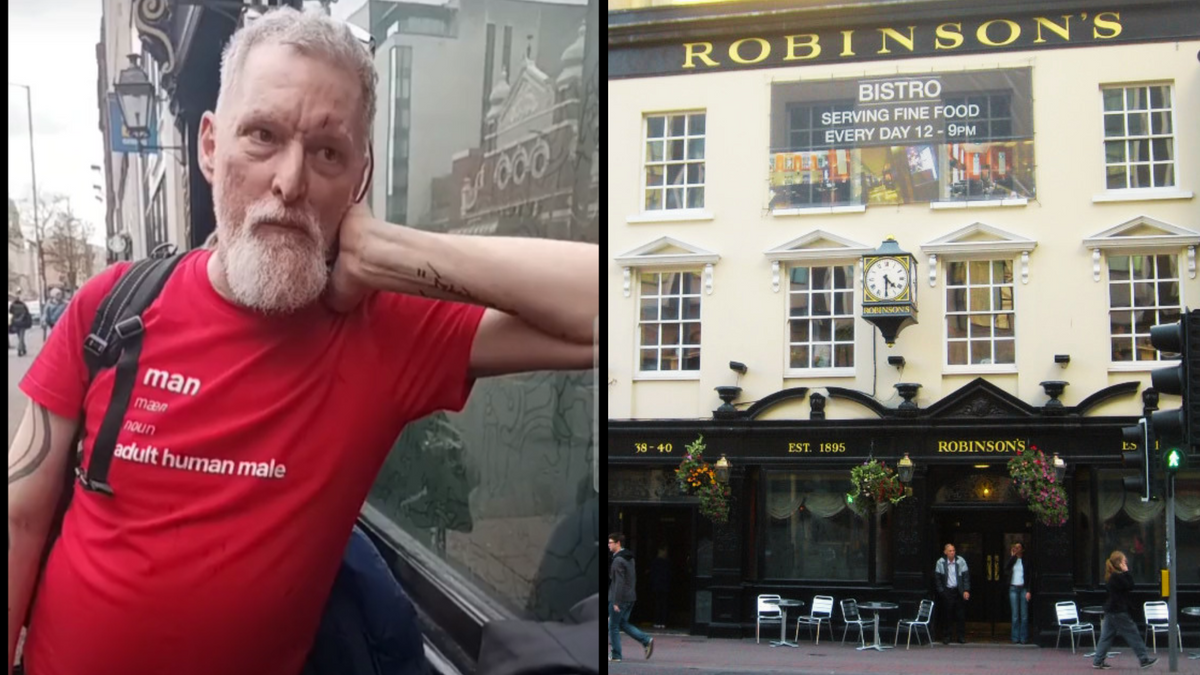 Anthony, an elderly gay man, who attended a Let Women Speak rally in Belfast on April 16, 2023, was allegedly "headbutted" by the manager of Robinson's Bar. The assault happened after he intervened on behalf of female patrons, who were being told by the bar's staff that they could only be served if they covered-up or removed T-shirts with "offensive" language.
"We were initially served [by the] @ROBINSONSBAR and then they decided our t-shirts were offensive," tweeted an attendee. She posted a picture of herself wearing a black top with the words "Woman - adult human female."
Another woman was allegedly refused service for wearing a top where it could be read "Women Won't Wheesht" and resorted to taking her T-shirt off and placing her order wearing only her bra. The incident was recorded on video, where the woman is seen saying that she covered-up the words on her T-shirt with the bar's menu and ordered a burger. According to her, the bar staff told her she had to cover it up and "not to be wearing that top, because it's offensive, so I just took it off." She says in the same video that she was still not served after taking off her T-shirt.
Even women wearing T-shirts with the colors white, purple or green, or a combination of these three colors were being targeted by the bar staff, according to other attendees. "After taking women's money for a few hours, the manager is now refusing to serve anyone wearing Suffragette colors," user Womando tweeted. Another attendee, Dr EM, confirmed in a tweet: "Robinsons has declared that women's money isn't as good as men's money. Refusing to serve women with purple green and white on."
Hearing about the women who were refused service, Anthony went to the counter to speak to the bar's staff on women's behalf, wearing a red top with the words "Man, adult human male." Feminist Julia Long, who was present at the scene, asked Anthony to give an account of what had happened to him after the assault at Robinson's Bar and posted the video to Facebook.
"I heard that one of the bar staff refused to serve someone wearing a certain T-shirt," Anthony says in the video. He tells Dr Long that he asked a female staffer whether she would refuse to serve him for wearing a top saying "man - adult human male," and told her that the idea that "men have vaginas and women have penises" was ridiculous. Anthony is then seen telling Ms Long that the bar staff said "I don't have to listen to this" and the manager came out from behind the bar to tell Anthony to leave and to escort him out. The manager then "headbutted" Anthony, unprovoked. The man suffered a cut to his forehead.
According to barrister Anya Palmer, the Belfast bar Robinson's discriminated against patrons. She wrote on Twitter: "For anyone refused service by @RobinsonsBar in Belfast for wearing the wrong kind of T-shirt: discrimination based on religious or philosophical beliefs is unlawful under the Fair Employment and Treatment (Northern Ireland) Order 1998."
"Religious belief includes philosophical belief," she continued. "And we know from Forstater v CGD Europe that that includes the belief eg that a woman is an adult human female and a man is an adult human male."
In August 2021, 4W covered a story about the staff at another bar in the UK, this time in Edinburgh, which told patrons to leave because of their clothes with feminist themes. They had been to a feminist Fringe show and were "dressed for the occasion." According to Scottish feminist Marion Millar and other witnesses, while they were enjoying their food and drinks peacefully, the bar manager, a trans-identified male, recognized Ms Millar and told her "I know who you are, finish your drink and leave, terf!"
Apart from the assault on Anthony, another recent case when  trans activists used physical violence against attendees of Let Women Speak events happened in March. Activist Kellie Jay Keen, founder of Standing For Women, who started the Let Women Speak rallies, was attacked by a mob in Auckland, New Zealand. The counter protesters threw liquids on her (juice, soup and water) on her way to host the event. She was forced to leave after the violent attackers "pushed down barriers" to reach her, making her fear for her life.
At the same event in Auckland, a 70 year old woman, "Emily Steel," was "viciously" attacked by a trans activist, sustaining "serious injuries," with a head fracture and a swollen eye.
---
Do you want to bring the "gender madness" to an end? Help us write about it! 4W is able to support our all-female staff and writers thanks to the generous support of our paid monthly subscribers.
Enter your email below to sign in or become a 4W member and join the conversation.
(Already did this? Try refreshing the page!)