internet
A Pedophile's Playground
KidsChat is part of a larger porn pipeline, sending children directly into the arms of predators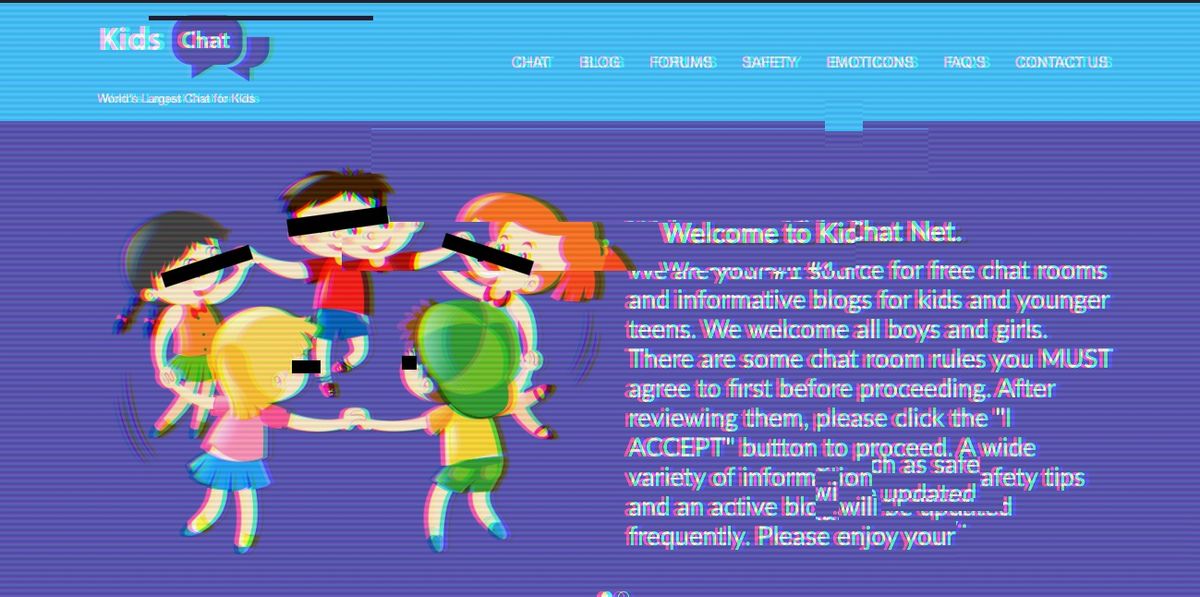 Content Warning: This article deals with explicit themes of child sexual abuse and pedophilia. Please note that any and all information of law enforcement use gathered from this investigation was submitted to CyberTip.
Method note: I want to make it clear that during this investigation, I did not initiate any conversations. If someone did message me, I would reply. All of my responses were as vague, non-sexual, and disinterested as possible. My goal was not a snare, but to simply record the experience of visiting one of these sites.
---
With Twitter and PornHub facing lawsuits for their roles in child exploitation, many people are realizing that the darkest parts of the internet are right beneath our noses.
While I have investigated many such dark parts, there seems to be a never-ending supply of more and more depraved rabbit holes to explore.
I was recently tipped off to the existence of a small Reddit community dedicated to a site called KidsChat. It has only 27 members and was created a year ago. But its tagline – a place to discuss the evils of KidsChat – caught my attention, and I began my descent into one of the worst investigative experiences I have ever had.
The innocently-named sites KidsChat and its affiliate Teens-Chat are the epitome of every parent's worst nightmare – not only because it's filled to the brim with predators, but because the site itself is part of a larger porn pipeline in which children are just collateral damage in the quest for profit.
There is no age verification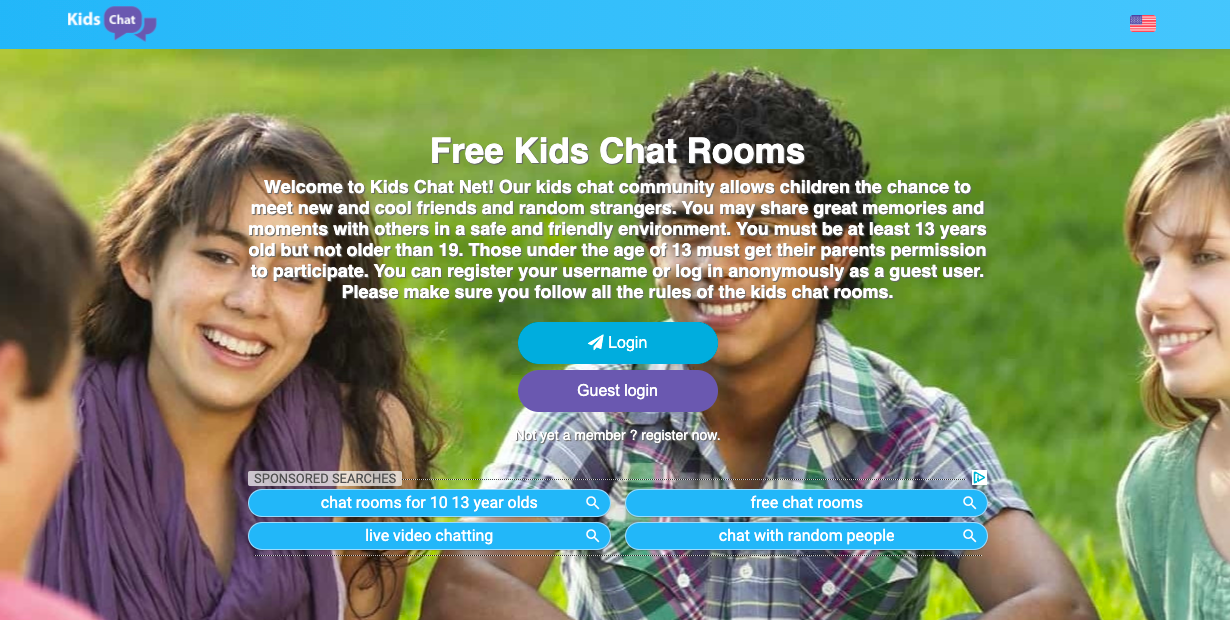 The sites are aimed at youth "13-19" years of age and have absolutely no child safeguarding in place whatsoever.
A simple declaration of your age, name, and one captcha later, and you are instantly connected to hundreds of other "kids and teens" you can chat with. You don't even need to register for an account if you don't want to, leaving you completely anonymous to the site but still allowing you to use all of the functionality.
The sites state that no one under the age of 13 or older than 19 are allowed to use the platforms, but there is nothing but an honor system in place – evidenced by the fact I was able to quickly sign up for accounts at both.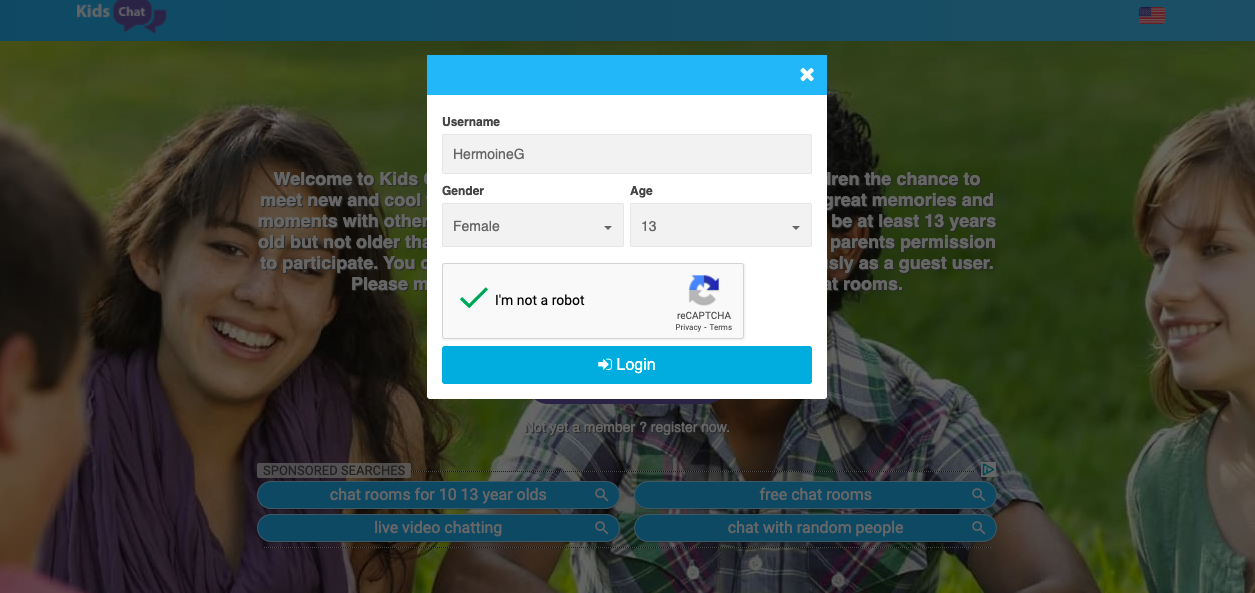 Beginning with KidsChat, I selected my sex, set my age as 13, created a randomly generated Harry Potter-related username... and entered.
I immediately noted that any young kid would be enticed by the site. With colorful emojis and a fun, pop music radio playing in the browser, it reminded me of all of the chat sites I tried to access under my mother's nose as a child. Perhaps that is why I got so caught up in it – I could absolutely see my young self being drawn in to this very place.
Parents know full well that kids are drawn to any space with a lack of oversight, and KidsChat offers that feeling of mid-2000s internet freedom that so many sites lack nowadays. That this is aimed directly at children is a serious concern.
The site appeared to be far more directed at young girls than young boys. Between Taylor Swift playing and glittery, bubbly fonts – it is clear what the target demographic is. The (claimed) sex of every user is broadcasted in their avatar, so people can filter for girls or boys.
After joining the site, users are greeted with a bustling live chatroom of hundreds of users discussing every tween subject imaginable. Most were posting cute pictures, gifs, and lame jokes. Even in the public chats, I immediately saw predatory users on the prowl for DMs from young girls. User Neverlike was asking for 11 and 12-year-olds to message them, despite the "hard limit" lowest age of the site being 13. Another user, Kelly_12, was posting a link to a private live streaming site.
A common tactic was to share links to Whereby, a Zoom-like video stream where individuals can broadcast their webcams and invite others into the chat. It is not an inherently sexual website, and many people use it for business or school – but the intention of those publishing the links appeared to be to lure kids into video chat rooms with strangers.
Predators are able to identify underage users instantly, grooming them for sexual abuse

While there, I did not interact in the chats directly, and instead waited and watched after introducing myself.
Almost immediately after entering the chatroom, the safeguarding failure was obvious. A "boy," claiming to be under the age of 13, asked for girls his age or younger to DM him to be "friends."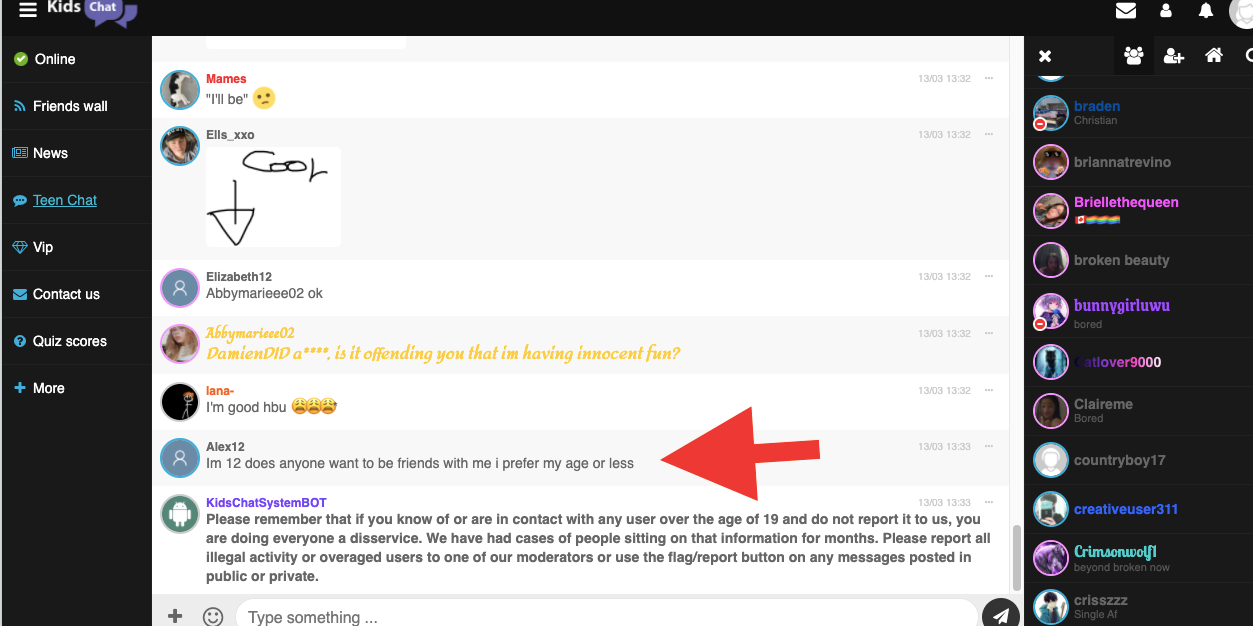 Since all users and their names, ages, and genders are available in the sidebar of the chat – this user, Alex12, would quickly DM me.
Alex12 asked how I was. I simply replied "bored," and one message later asked if I wanted to "talk dirty" with him.
I responded vaguely and said I did not know what that was. I tried to change the subject, but he persisted. Quickly, the topics turned to what color my underwear were and if I had any younger sisters.
Upon stating that I had a (made-up) five-year-old sister, the "12-year-old boy" asked if she was around and if she could "dirty chat" with us.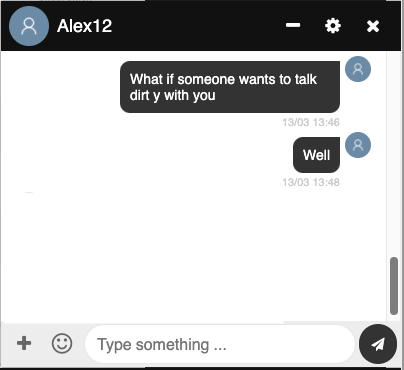 Though thoroughly disgusted, my attention was caught by the official KidsChat bot recommending users visit another site called Teen-Chat.org.
I quickly followed the prompt and found another site that was almost identical in every way. Again, it was supposedly for 13 to 19-year-olds and had no verification system in place. I entered the site, again, as a 13-year-old girl.
While my (admittedly short) experience at KidsChat was isolated to a single DM, within 20 minutes at Teen-Chat, I had amassed over 40 DMs. All were overtly sexual from the get-go, most from men who had selected 18 or 19 as their ages.
My first message, from an "18-year-old" user named BradtheBoy18, immediately asked me if my mother was home. He then asked if I was "into older guys" and wanted to see his penis.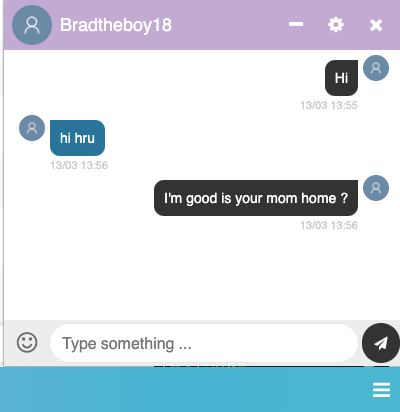 I asked him how old he was, and he said 18. He then gave me a link to a private streaming site where I could watch him masturbate, claiming that I could join other 13-year-old girls that were watching him there. I did not visit, and the link and the log of this conversation was immediately submitted to CyberTip.
Quickly, another user, named MrNobody and profiled as being "19-years-old," perplexingly asked me if I had binder clips. I had a gut feeling that I knew what he was going to say next.
When I confirmed I had school supplies and asked why, he then told me I could "orgasm" with them.
As I continued to vaguely respond with "I dunno" and "what's that," this "19-year-old" user attempted to groom what he believed to be a 13-year-old girl into "kink."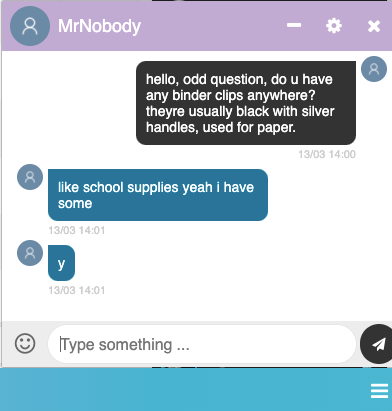 Often, when I do research into darker subjects, I keep myself on a alarmed timer to ensure I check out and stretch my mental and emotional legs. But when my timer clocked 45 minutes, I decided it was time to check out completely.
I had a horrible, churning pit in my stomach knowing that among the obvious pedophiles on these sites were young, lonely, vulnerable children who just wanted someone to talk to.
While I rummaged through the small box that was my DMs, I could see them in the main chat – young girls and boys talking about depression, about school woes, about isolation. My heart sank, knowing how ripe for the plucking by predators they were.
As I started in the warning for this piece, I immediately reported everything of use to law enforcement to CyberTip, complete with links and chat logs.
But even with my report number in hand, I can't help but feel useless.
The rising problem of online child exploitation, and lack of accountability
According to the Crimes Against Children Research Center, one in 25 youth have received an online sexual solicitation where the solicitor tried to make offline sexual contact. Further, FBI stats show that 89 percent of predatory behavior towards minors takes place in internet chatrooms and instant messaging, just like KidsChat and Teen-Chat.
Screentime for minors has surged during the COVID-19 pandemic. With more and more kids locked away inside due to school, park, and mall closures, children's internet activity has doubled in the last year, increasing the likelihood of idle hands wandering through the web and perhaps stumbling into chatrooms like KidsChat with the hope of making some friends.
I decided to reach out to KidsChat for comment and any answers they could provide to my questions on their lack of safeguarding and monitoring, but attempting to figure out who was behind the KidsChat/Teen-Chat operation proved to be an insane rabbit hole in and of itself.
The sites provide no information on the umbrella organization they fall under, who owns and operates them, how their revenue is generated, or any of the basic details one would be able to find on a legitimate website.
Instead, KidsChat provides a list of 'moderators,' all identified only by their KidsChat usernames. They have no photos, no profiles, and nothing which would allow them to be identified off of the internet.
The primary administrator appears to be a man called Arkham (as in, the Arkham Insane Asylum in Batman). Arkham is the faceless-face of KidsChat, creating posts in its "blog," addressing every post with the jovial greeting of 'Hey Kids!'
In 2020, Arkham made multiple posts in the KidsChat blog targeting and condemning "predator hunters," people who had visited the site with the intention of exposing pedophiles. The tone of the posts were of an adult attempting to appeal to children's sentimentality. They were dramatized, dumbed down, and full of emojis and gifs – but the intention of them was clear: To make the underage users who may be reading the post afraid of the possibility that the site could be taken down, and to put the blame of that on negative media and anti-pedophile activists.
In one of these blog posts, Arkham responds directly to these criticisms on behalf of KidsChat:
"There has been a surge of users recently with the sole purpose of predator hunting.   Unfortunately, their motives are not what you think.  They actually try to find predators and then take this as evidence that we do nothing here.  Then labelling us as some sort of underground secret "pedo-ring".   Without beating this subject to death, we have already stated that we do not allow any overage users to our website (let alone predators).   Now, is that to say that they still won't come.  Of course not, that would be quite foolish for us to say.  We have users from all over the world.   Some of these predators are desperate and will do anything necessary to gain access to children.   Imagine, if we had to take identification for the millions of users who pass through this website every year.  Collecting their ID card or giving a lie detector test to that 16 year old kid from Germany might be a little bit hard, wouldn't you say?.   This doesn't happen on any other platform, but it's expected to happen on kidschat.net. 😂 Uhhhh right."
KidsChat is using the same logic of porn sites to justify the activity that takes place on their site – it would be inconvenient for us to verify a user's age, so why should we? All of the danger to children is just the cost of doing business. The fact that KidsChat sounds like a porn site is not just a coincidence. It's a warning for what lies beneath the glittery, cartoon-colored surface.
Across the KidsChat forum, Arkham is treated by users with an almost God-like reverence, with users begging him for forgiveness if they were suspended or banned from the chat for whatever small reason. In one instance, a 13-year-old user was told to send her identification to Arkham's private email address to "verify her age" in order to allow her to return to the site. "Trust me, ark is a trustworthy person," the child is told. Apparently this has happened before in "many cases." The user is not told to hide her address or other personal details from the document verifying her age.

This, is in fact, how I finally managed to find any working contact for KidsChat. In a post telling a 13 year old to send copies of her identification to prove she was 13. While KidsChat and Arkham himself says it is "impossible" or "unreasonable" to have an official system in place to verify the ages of users to protect them – individual kids are being told to provide personal information to private email addresses.
The "Contact Us" form on KidsChat's own site leads no where. After clicking submit, you receive a 404 error message. This is made even more concerning when you realize that this contact form is the method users are told to use to submit reports of abusive and predatory behavior.
KidsChat, Chat-Avenue, and the MyFreeCams porn pipeline
Despite nearly endless insistence from the site that KidsChat takes safeguarding seriously, including a page on the site listing basic safety tips such as "Do not ever meet anyone in real life," these assertions are nearly always paired with victim-blaming and excuses such as "Safety is a two way street" and "We have already had many documented cases of predatorary and abusive people using platforms such as Snapchat, Skype, Kik, Facebook, Instagram, etc. This website is no different."
While these things may be independently true, they do nothing to actually mitigate the risk faced by children on these sites – and considering how quickly predators found me, there, it seems this network is particularly overrun with them. This may have something to do with the parent company that appears to own KidsChat.
As I researched more into Arkham, I found that he was affiliated with the moderation team of not just KidsChat but of an entire chat system called Chat-Avenue.
The main page of Chat-Avenue features 21 different chatrooms including an 18+ adult chat link right above the kids and teens chatrooms. All of the splash pages for the sites were nearly identical to those of KidsChat.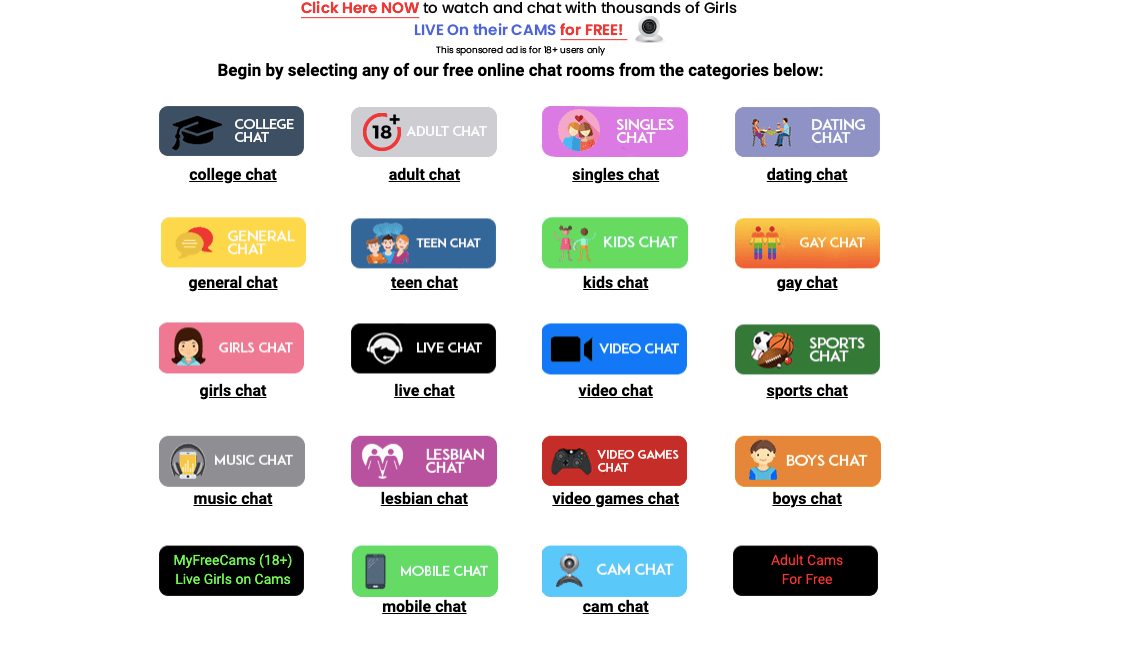 The chat sites, including KidsChat, appear to make money from ads – mostly Google Ads. However, splashed across nearly every Chat-Avenue site, besides some of the ones explicitly targeted towards children, is the name of one sponsor: MyFreeCams.com, a porn site that makes money by selling "tokens" which users can exchange to coerce "models" into doing sexual acts.
MyFreeCams is advertised on nearly all Chat-Avenue properties, including some directly sites marketed to children: GirlsChat and BoysChat.
It's unclear what the exact relationship between Chat-Avenue, the parent company of KidsChat and Teen-Chat is to the porn site, but it appears to be a close one. Chat-Avenue even set up a subdomain on their hosting for MyFreeCams: myfreecams.chat-avenue.com, calling it the "#1 Chat Avenue."
Adult users who find Chat-Avenue in their search for porn will easily see KidsChat and Teen-Chat listed among the available platforms, making it no surprise that site is easily accessible by predators. Even worse, KidsChat explicitly directs to Chat-Avenue, which features at least three prominent links to MyFreeCams, on their FAQ page – leading children right to porn sites.
KidsChat and Teen-Chat are both playgrounds for pedophiles, whether the company wants to admit it or not. The deep connections between these platforms and some of the largest porn sites on the web should, if nothing else, make anyone question the sincerity of the "extraordinary amount of safeguards" KidsChat claims to have in place. At the end of the day, this network of sites is a money-making machine, and the sexual grooming, exploitation, and abuse that is taking place here is just considered collateral damage.
---
KidsChat or Arkham did not reply to request for comment.
---
Do you care about safeguarding? Help us publish female authors who bravely expose practices harmful to children! We pay our all-female staff and writers thanks to our paid subscribers. Join today!\
Enter your email below to sign in or become a 4W member and join the conversation.
(Already did this? Try refreshing the page!)