News
Felony Hate Crime Charges Dismissed Against Feminist
Thistle Pettersen was facing up to two years in prison and a $10,000 fine for allegedly placing a "TERF Collective" sticker in Madison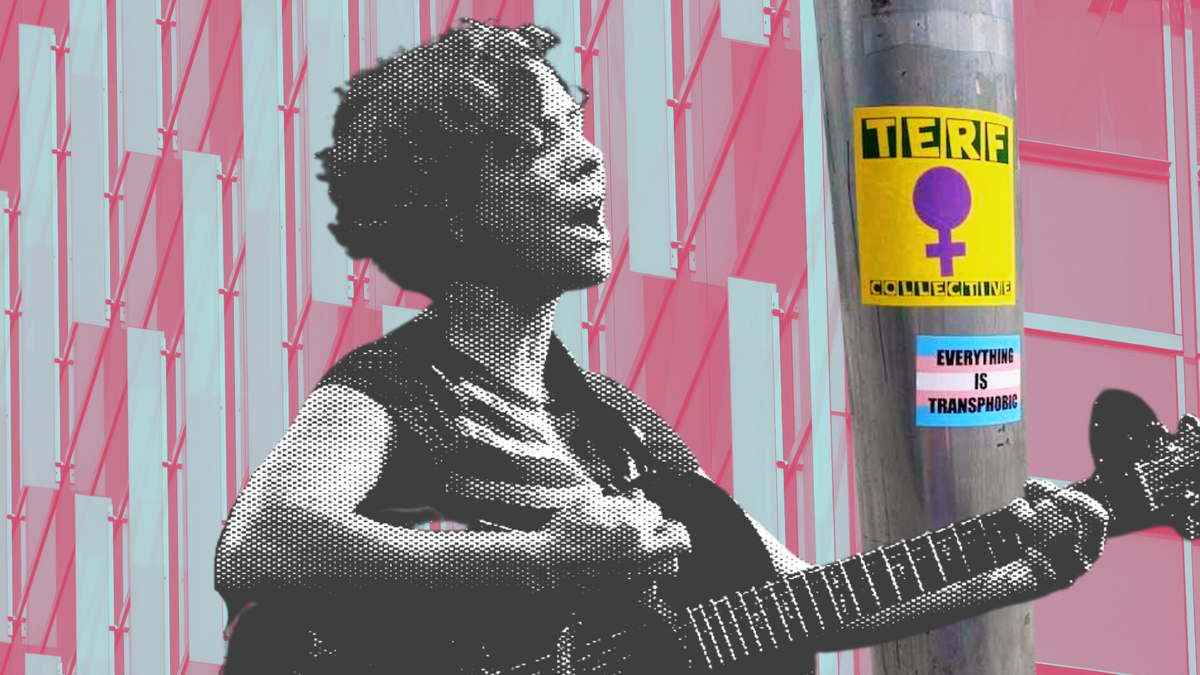 Charges against Thistle Pettersen, a Wisconsin-based feminist singer and songwriter, were dismissed in a hearing today on First Amendment grounds, according to the Women's Liberation Front (WoLF).* Pettersen was facing felony hate crime charges for allegedly placing an "anti-transgender" sticker in downtown Madison. The win comes after over 1,600 people signed a WoLF petition asking the Dane County DA to drop the charges against Pettersen.
According to Lauren Adams, WoLF Legal Director, the judge in the case stated that the facts of the case did not support the charges, which could result in a maximum fine of $10,000 and a prison sentence of two years. A September 25 update from WoLF stated that the hate crime enhancer had been based on "sexual orientation," as "gender identity" is not a protected class in the jurisdiction.
Pettersen, who is the founder of the feminist radio station WLRN and a WoLF member, has been the target of a years-long campaign of harassment by local gender extremists. In July, she was contacted by Madison Police and cited after they received a call warning of an "anti-transgender activist" placing stickers on news media boxes around the city.
In the report, the caller is only identified by the initials "PJF" and it is noted that he was the owner of Our Lives Magazine, the media boxes of which had some stickers placed on them. This appears to be a reference to Patrick Farabaugh, owner of the magazine.
According to the report, Farabaugh told police he believed Pettersen was responsible for the "anti-transgender" stickers he had been finding on his boxes, and even provided police copies of tweets from Pettersen's Twitter account which showed Pettersen had been making stickers in her apartment.
Farabaugh told police that he felt "attacked and intimidated" by the stickers, and advised that the readers of his magazine felt the same way.
The sticker in question was for the "TERF Collective," a radical feminist and gender critical group that describes its goal as "working to end the international campaign of female erasure."
After Farabaugh lodged his complaint, Madison City police reviewed city camera footage to try and track down evidence Pettersen had stickered the boxes. They found her placing stickers around the city on July 13th, on both lightposts and the media boxes belonging to Our Lives Magazine. Seemingly not sparing any details, Police even went so far as to cross-reference the bicycle Pettersen had been riding in the footage with photos from her Facebook page.
Pettersen was ultimately contacted, and charged with disorderly conduct and a hate crime – a Class B misdemeanor which carries with it a potential fine of up to $1,000 and/or up to 90 days in jail. However, the ADA erroneously attempted to increase the penalty to a felony despite the fact that there is no corresponding felony charge, according to WoLF.
In a September 24 WoLF press release, Adams stated:
"The pursuit of these charges is intended to chill the free speech of women's rights advocates. If the police want to stop hate crimes, they should investigate the threats against Thistle instead of using tax-payer money to facilitate anti-woman bullying by extremist activists."
Adams told 4W the case represents "an unambiguous win for free speech."
Pettersen, on the other hand, is frustrated that taxpayer dollars were spent essentially supporting the harassment of a private citizen.  "I feel greatly relieved that the charges were dropped but they never should have been brought in the first place," she told 4W. "I have endured public humiliation and harassment from trans activists for years in my community."
According to Pettersen, threats have been made against her in local neighborhood Facebook groups including one local man encouraging others to "just beat her up yourself." A community garden where she volunteers has also been vandalized twice by trans activists since July. Pettersen says she plans to continue to fight back against this harassment.
---
*This article has been updated to clarify that charges against Pettersen were dismissed, not dropped
---
Do you want to bring the "gender madness" to an end? Help us write about it! 4W is able to pay our all-female staff and writers thanks to the generous support of our paid monthly subscribers.
Enter your email below to sign in or become a 4W member and join the conversation.
(Already did this? Try refreshing the page!)