News
Irish Women Organized Online Protest against Trans-Identified Male Speaker at Lesbian Conference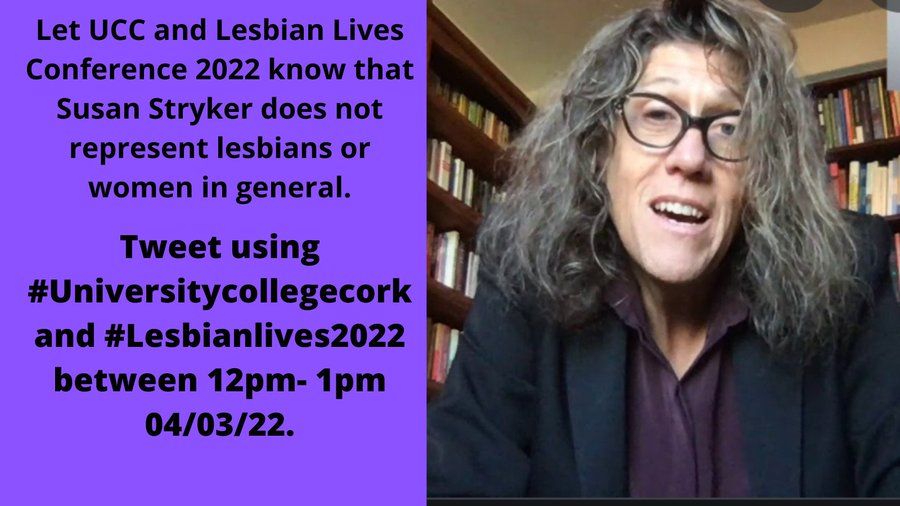 A Twitter storm started on March 4, 2022, protesting against a trans-identified man speaking at University College Cork (UCC), Ireland. "Susan" Stryker is speaking at UCC at Lesbian Lives Conference 2022 in March on Women's History Month.
"Susan" Stryker, a trans-identified man who also claims to be a lesbian woman, is one of the keynote speakers at UCC, and the very first listed on the event's post sign shared by UCC. The Lesbian Lives Conference 2022 is set to happen on March 4 and 5. This will be the 25th Lesbian Lives Conference at the Irish university.
The online protest was called "Lesbian Lives Resistance Action" and started posting the hashtags #UniversityCollegeCork and #LesbianLives2022 at around 12-1 pm on March 4. An hour later, there were more nearly 500 tweets.
Stryker is a man whose bio on Twitter says that he is a Barbara Lee Distinguished Chair in Women's Leadership from Mills College, Oakland, Canada. Stryker is also a gender studies professor at the University of Arizona.
The conference was announced on UCC's Twitter account on January 19 for registration. But according to several women commenting, Striker is one of the people who have campaigned to remove Vancouver Rape Crisis Centre government funds, because the shelter insisted in remaining a female-only service, following the complaints of another trans-identified male who applied to work there. After more than a decade of campaign, Vancouver Rape Crisis, one of the oldest shelters of this kind in Canada, lost their funding and has been helped by volunteer donations since them.
According to feminist publication Reduxx, he also wrote an essay in 1993 called "Performing Transgender Rage," with himself described as a "Harley-straddling, dildo-packing leatherdyke from hell."
The Twitter storm was organized by Shay Woulahan, a lesbian feminist activist from Northern Ireland, who specializes in social media content creation for women and lesbian Rights groups in Ireland, UK and USA. "As an Irish Lesbian, I was shocked and disappointed that University College Cork had decided to platform Susan Stryker, a biological male who identifies as a lesbian, as one of their keynote speakers," she told 4W.
"To me, this felt like they were taking the word used to describe female homosexuals and giving it to any man that wants it."
She stated that platforming a man at a Lesbians Lives Conference leaves lesbian women with "no words of our own."
"How can we tell the world we are gay and lesbian if gay and lesbian no longer refer to homosexuality?," Ms Woulahan asked. "This is lesbian erasure and normalised homophobia."
According to Shay, women are now "being shamed for their sexual boundaries" in case they do not include trans-identified men who say that they are also lesbians in their dating pool.
"Sexual orientation is being called a bigoted "preference" and even a fetish. UCC is contributing to this problem," she concluded.
---
Do you want to bring the "gender madness" to an end? Help us write about it! 4W is able to pay our all-female staff and writers thanks to the generous support of our paid monthly subscribers.
Enter your email below to sign in or become a 4W member and join the conversation.
(Already did this? Try refreshing the page!)