A Houston mother is expressing outrage after finding thongs she says were made for little girls at her local Burlington during a shopping trip.
On November 30, Texas mom Shaye Thomas made a post to her Facebook calling attention to a disturbing discovery she made at Burlington while doing holiday gift shopping.
"So I'm at Burlington doing some Christmas shopping and I go down to the little girl's section to get my daughter some socks and to my surprise they have thongs for little girls..." Shaye wrote, continuing: "This is heartbreaking and on top of that they had a nerve to attach little hair ties ... "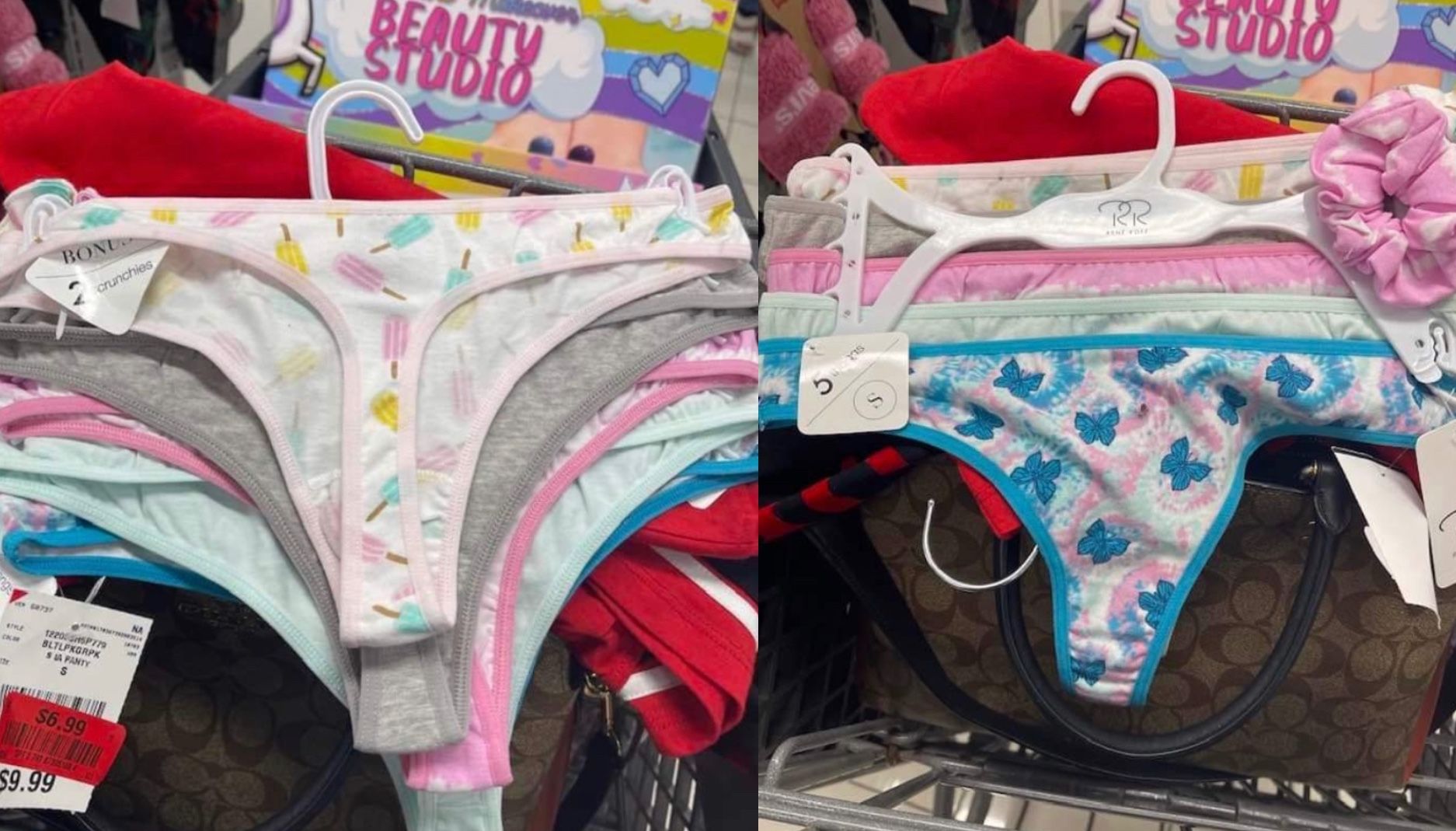 Shaye posted photos of the discovery, showing one pack of colourful thong-style panties with popsicles, butterflies, and other cartoonish designs on them. The pack was affixed with a pink hair scrunchie bonus.
Speaking to 4W, Shaye asserts there was no mistake that they were made for children, the underwear being small enough that they could have fit her 9-year-old daughter.
Shaye says she was so upset that she pulled them all off the rack and brought them to store staff as she was leaving – noting that there were over 10 pairs on the display.
"I asked [an employee] when did they start selling thongs for little children, and she told me they had for a while." Shaye says, "They said anything with a scrunchie attached is for children."
Shaye's November 30 Facebook post has since gone viral and racked up over 21,000 shares, commenters outraged at Shaye's discovery.
One reply asked "... so who [are] they supposed to be showing that their panties match their scrunchies?" While another said "Not okay! Why [are] they trying to rush our children to be adults and sexualized?"
Shaye tells 4W the find made her "extremely sad and angry" as a survivor of sexual violence. "A well-known store is okay with selling sexual underwear for little children. Those underwear would fit my daughter. This is just unacceptable in so many ways and on so many levels."
Burlington has yet to respond to Shaye over her post, and the mother says that when she returned to the store on December 3 there were more of the thong sets available in the children's section.
In the past, there have been multiple scandals regarding inappropriate underwear being sold targeting young girls across several clothing companies. Abercrombie and Fitch once sold thongs and push-up bras for pre-teens, and European brand Jours Aprés came under fire for creating an entire range of lingerie for girls aged 4 to 12.
UPDATE 06/12/2021: Burlington has responded to 4W and had stated that they are working to remove the product from their shelves.
---
Do you care about safeguarding? Help us publish female authors who bravely expose practices harmful to children! We pay our all-female staff and writers thanks to our paid subscribers. Join today!
Enter your email below to sign in or become a 4W member and join the conversation.
(Already did this? Try refreshing the page!)