News
Child Sexual Abuse Charity Founder Propels Lesbian to Unlearn her 'Transphobic Penis Repulsion'
"Gender preferences ultimately lead to violence against trans people" says Tashmica Torok to 25 years old lesbian on TikTok.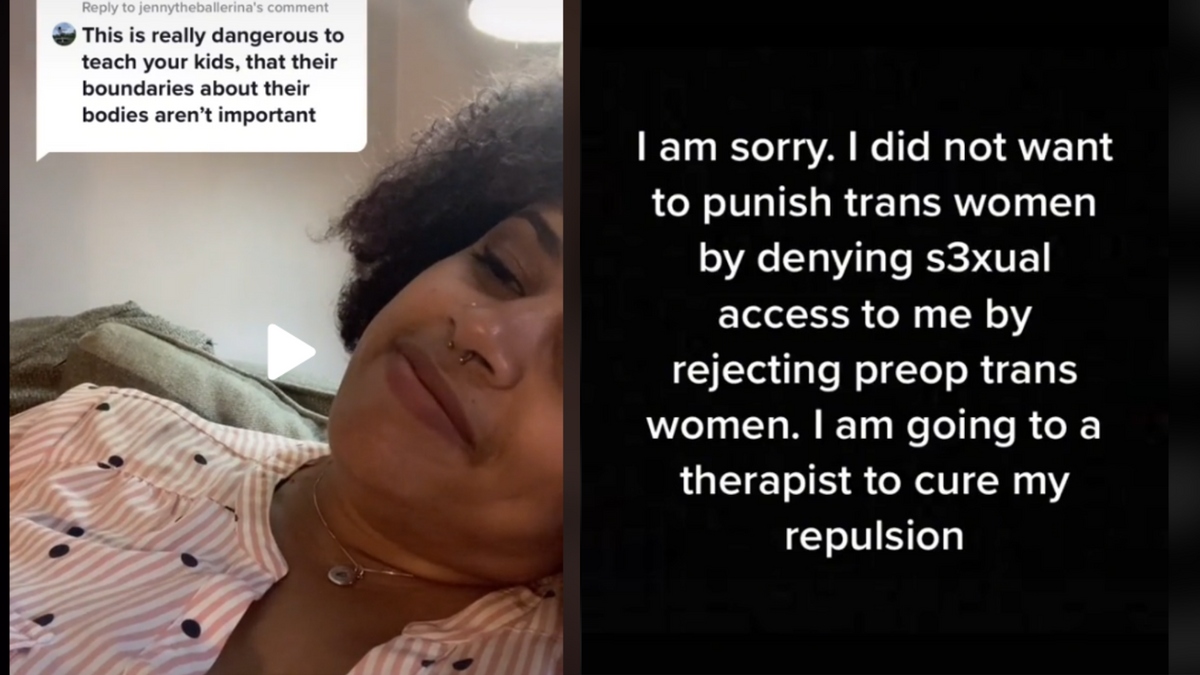 On her TikTok, a US charity founder that serves kids "between the ages of 3-17 who are survivors of sexual violence," Tashmica Torok, devoted five videos in response to user @jennytheballerina, a self-described 25 years old woman from Texas.
In four of her video responses, Tashmica Torok, founder of The Firecracker Foundation, a Michigan based organization, challenged Jenny's "transphobic genital preferences."
In video number two, Tashmica responded to the following comment by Jenny: "You're kinda saying this boundary about your body is a bad thing though" by implying Jenny is "hyper focused on genitalia":
Tashmica:
"It's actually not what I'm saying. I'm saying that we can derive pleasure from lots of different ways that our bodies show up and through other ways that we interact with others' bodies. (...) While you do not have to engage in those interactions with people, I do expect that my children will never be violent or harmful to someone because they are hyper focused on genitalia."
Tashmica Torok continued by bringing the murder of transwomen into the conversation:
How you derive pleasure and with whom, is really none of my business. But, if we are hopeful about creating a community where trans people are not being murdered more than anybody else and particularly black trans women, we need to really unpack some of the ways we talk about our bodies.
In the two following videos, the charity founder's language gains in intensity.
To a another comment by Jenny, stating: "But you're shaming people for not liking penises. That's coercion," Tashmika replies by mentioning being a survivor of sexual violence herself.
"So, what you don't know about me is I am a survivor of both child sexual violence and incest, but my whole entire organization that I founded and job that I do, nationally, locally.. Is related to the prevention and intervention and healing around the topic of sexual violence.
At the same time, the charity founder claimed gender preferences lead to violence against trans people:
"Never in a million years would I advocate for coercion.. And shaming people is not my game.. But what I will never stop doing is I will challenge unapologetically any idea that causes more violence to people in my community. And, that's what gender preferences ultimately lead to, violence against trans people."
Amping up the intensity with expressive language, in the fourth video of the series, the US charity founder claimed Jenny does "not, fucking, deserve the grace" she gave her that day.
Reparations make it into the mix, when Tashmica Torok replies to the following comment by Jenny, a white woman: "Are you a lesbian btw? Because if you're not, I'd appreciate you not speaking over us.":
Tashmica:
"What you're experiencing, is my fucking grace, okay? And I will speak over you if you're being transphobic, just as I would if you were being racist or ableist. You're wrong and this education is coming to you free.. Like, what an amazing and benevolent person I am.. You should be thanking me. Also, my Venmo is in my profile. You owe me money for this consultation. I'm sure you won't pay it, because, historically, your people steal [sic] from my people.. I get it. I'm just saying, if you wanted to offer some volunteer reparations, I wouldn't say no, because you do not, fucking, deserve the grace I gave you today.
After these exchanges, the 25 years old user @jennytheballerina created a new TikTok account devoted to an apology to trans people.
In her two posts, Jenny promised to "get therapy" and expressed that "she doesn't want to hurt anyone with her genital preferences"
"I am sorry. I did not want to punish trans women by denying sexual access to me by rejecting preop trans women. I am going to a therapist to cure my repulsion"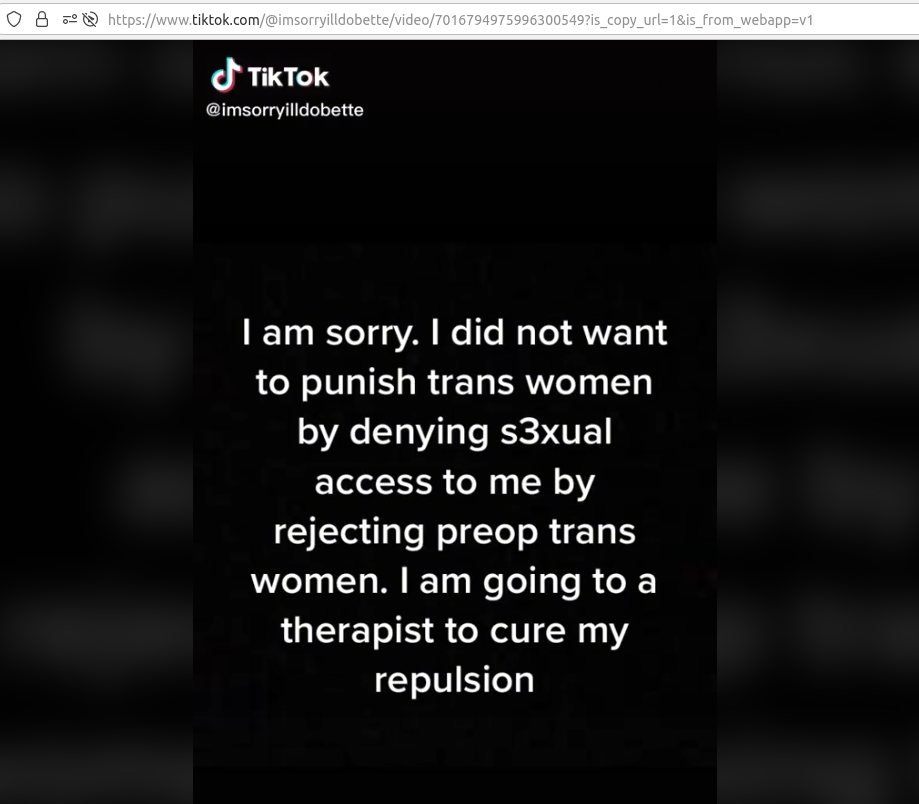 Her second post read:
"You're right, it's transphobic to be repulsed by penises. I'm meeting with my therapist Monday and I'm going to ask her how to fix it. I'm researching exposure therapy. I'm going to work to be better. Trans women are women and I always believed that. The last time I tried to cure my repulsion, it led to a suicide attempt. That's why I was so defensive. Hopefully she has safer methods we can use so I'm not hurting trans people with my genital preference."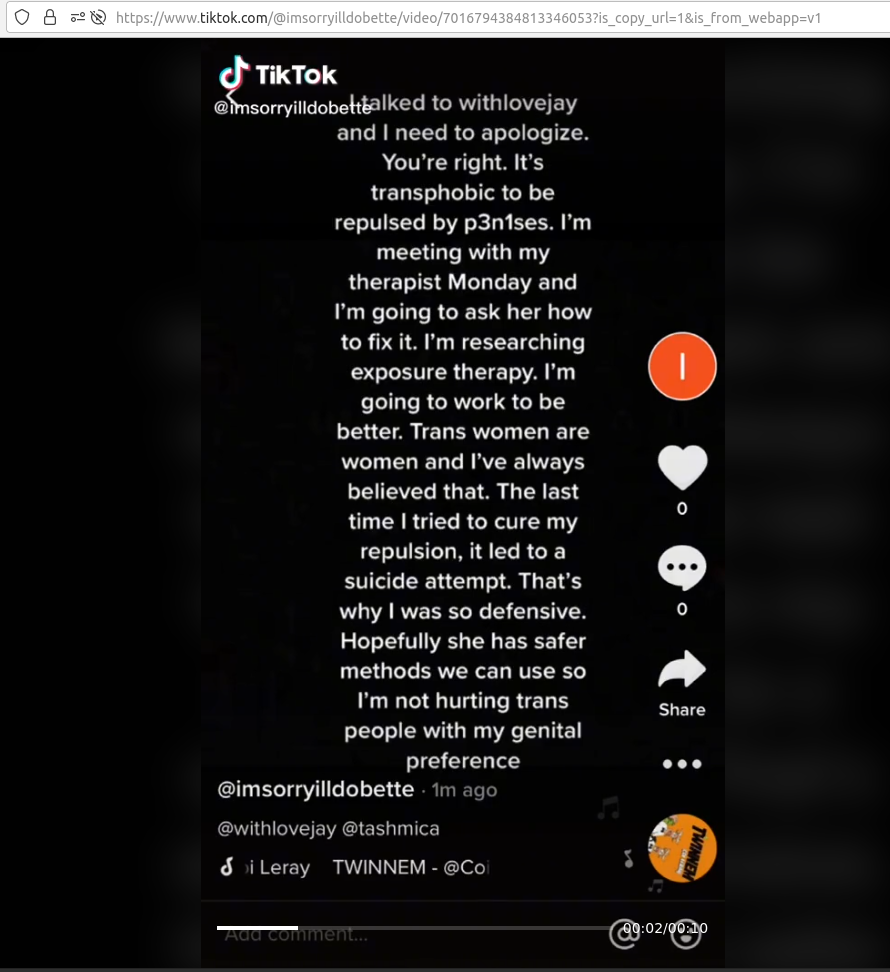 ---
Yesterday, The Firecracker Foundation's founder followed up on Jenny's apology in another video response.
Here, she applauded Jenny's decision to "get therapy," expressed sympathy with the 25 years old lesbian for "being the victim of corrective rape" and offered this piece of advice to her:
"..be gentle with yourself while recognizing that the way that you're feeling and the things that you're unpacking are internalized transphobia"
Tashmica Torok also advised Jenny to keep "those things to yourself while you reflect on them and grow and build your capacity.."
4W.pub has contacted Tashmica Torok with request for comment and will update the article when she replies.
---
Do you want to bring the "gender madness" to an end? Help us write about it! 4W is able to pay our all-female staff and writers thanks to the generous support of our paid monthly subscribers.
Enter your email below to sign in or become a 4W member and join the conversation.
(Already did this? Try refreshing the page!)